Subscribe

to What The Beaches Do The One Where Uncle Mark Does The Floss

Yes. You read that right. Picture this. A grown man with a Duck Dynasty, ginger beard in shorts and a button-down plaid shirt getting...
Yes. You read that right. Picture this. A grown man with a Duck Dynasty, ginger beard in shorts and a button-down plaid shirt getting David (12) to teach him how to do a dance move called the floss. This is not how our day began but was a great hilarious end to a beautiful March day. But for now, let's start at the beginning of our adventures.
Today we decided to go on a road trip to Paris, Ontario in Brant County. We discovered Paris after reading this article online entitled "10 Small Towns You Have To Visit When You Want To Get Away From The Big City". I had been to Paris once before but it was so long ago I don't have much memory of the town. It was definitely time to head over and check it out. We also figured we could search out some geocaches during our visit to Paris.
We took the backroads from Welland, Ontario that follows the Welland River for a time. Nothing beats that feeling when you break out of the bustle of the city and break out into the open green space of the countryside. After a time we reach highway 403 and passing Brantford, Ontario we come to our exit to take us into the town of Paris.
Our first goal today was to find some caches in Paris. We pulled into a small parking lot near an entrance to the Cambridge to Paris Rail Trail and began our hunt for the first cache of the day. No luck. After a 20 minute search, we still couldn't find the cache that was supposed to be next to the parking lot. We then decided to move on and search for the second cache. Again, no luck on finding it either. Walking further on down the trail we attempted to find yet another geocache supposedly hidden just off the trail. Notice I said, "attempted". Yes, that was our third unsuccessful search for geocaches today. Was it the snow? Were we cursed? Is Paris a GPS anomaly? Was a sinister geocache power at work inhibiting us from finding caches today? Who knows, but at this point, we were ready to give up searching on this trail and head into town to explore the shops and life of Paris.
We decided to head towards the downtown area and on the way stop to look for a multi-cache. A multi-cache is a geocache that will lead you more than one location. Most often you have to find the first cache, which contains coordinates to other caches. The final location is the cache you're looking for. With some effort, we were able to locate the first cache however we off our game on locating the second and third one.
We didn't find the multi-cache however we were rewarded with a beautiful find of another kind. The area we were searching was incredibly beautiful. This is where the Nith River empties into the Grand River as a railroad bridge runs overhead and the water makes a two-foot drop creating a small cascading waterfall. Across the river the backs of downtown shops and restaurants overhang the river banks creating a very European feel to this tiny Canadian town. Paris, we found, is named after the gypsum deposits found nearby used to create Plaster of Paris.
Moving on from our disappointing geocache hunting and into the downtown area of Paris we spotted a bakery, parked our car and walked down the street of this picturesque town. The Paris Bakery is a tiny shop littered with pastries, fresh baked bread, cakes and tea biscuits. We made our choice of pastry, paid and hopped back out to the street to devour our tasty find.
Not far from the bakery was a small courtyard with a pergola and a railing that overlooks the mighty Grand River. Steph checked her phone and sure enough she discovered that there was a geocache somewhere in that courtyard. We began to look, and look, and look. Frustrated with our lack of finding caches that day it was time for us to give up. As we started back toward the street I noticed something attached to the garbage can closer to the street. It was the geocache we had been searching for about 20 feet away. We were so thrilled to have finally found one cache for the day.
After finding the cache we visited a tea shop, a linen store which also double as a cute little gift shop, a thrift store, chocolate shop and market.
Now to finally come back around to Uncle Mark dancing in his living. Mark and his wife Theresa live in Brantford which is only about a twenty minute drive from downtown Paris. Earlier that day we had contacted them to see if we could drop by and say hi and see their new house. Once we finished our exploring we drove over to their house and had a visit with them that included some donuts from Donut Monster in Hamilton and Mark and I attempting to dance. It was a perfect end to a perfect day.
Paris, Ontario is a wonderful place that contains a great deal of beauty and adventure. I can't wait to return here when the trees are full of green and the weather is much warmer.
---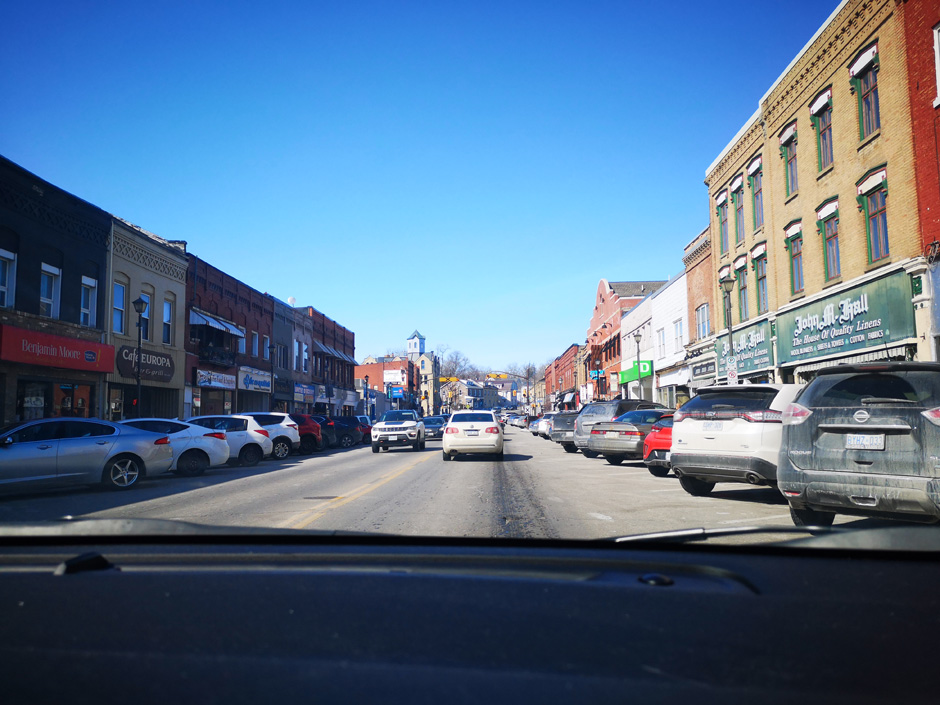 The One With The Teeny Tiny Cache
Elizabeth had an Irish Dance workshop this Saturday, so after dropping her off at the dance studio in Niagara Falls, David, Steph and I w...
Elizabeth had an Irish Dance workshop this Saturday, so after dropping her off at the dance studio in Niagara Falls, David, Steph and I went out hunting for some more geocaches. We had 6 hours to spend hunting down geocaches before we had to pick Elizabeth back up and managed to find a total of 17 caches in that time. We also found one of the coolest tiniest caches that we have seen yet.
We looked up the nearest cache to the dance studio and began our hunt. The first one was a success! We were however pretty close to giving up on this one until David spotted it cleverly hidden. I don't think I would've noticed it at all.
From there we moved on to our second cache which was in a very residential area on a public pathway between houses. We located the cache... or at least the remnants of it. The cap of the tube was hanging in the tree but the tube itself was missing. We logged it on the app and made sure the owner of the cache was notified.
With two relatively quick caches under our belt, we moved on to the third cache. Driving through a residential area not far from the QEW in Niagara falls we made our way to a park to find the Gutter Punks geocache located in a park with a playground. Sadly after reaching our coordinates and going by the hints, we were given we came to realize that the cache was missing. Most of the fun is in the hunt for the geocache but it's still pretty disappointing when you don't find it or you know it's gone missing.
Candy's cache led us to Valour Park in the middle of a residential area and we began our search. The hint that was left for us was "very GRATE to meet you". So you can use your imagination as to where we found this cache.
The next geocache takes us to the Mewburn Road bridge. In 2009 the city closed the CN Rail bridge that was built in 1924 to connect the two municipalities of Niagara Falls and Niagara On The Lake. It's a small one-lane bridge that allows cars to pass over the CN railroad tracks below. A dirt road leads right up to the bridge where a concrete barrier has been placed to prevent cars from traveling any further. The bridge's iron railing and cracked concrete road are adorned with graffiti. Litter is strewn everywhere across the ground underneath the bridge indicating this may be a popular hangout place for the local teens.
Here's an article about the future plans of the Mewburn Road bridge.
The coordinates bring us to a place a few meters off to the right side of the bridge. It's a mud infested incline dotted with some small bare trees and brush. We begin our search and after 15 mins of searching everywhere we can think of we still have nothing to show for it.
This is one of those caches where you hunt and hunt and can't find it. Just when you are about to give up, you happen to catch something unusual out of the corner of your eye. That something just happens to be the very thing you're looking for. On a naked tree branch hanging about halfway in was a very tiny green metal capsule with the geocache symbol on it. Luckily we were searching for this one in winter when the trees are bare, it would have been much more difficult to spot in the middle of full-grown green leaves.
Our next adventure would lead us out into the wilderness of Niagara Falls in search of a series of 7 geocaches. Not far from the Mewburn road bridge is a largely undeveloped area of land. The land is full of thick prickly brush and damp wet soil. While we were searching for one cache we all stepped in a pool of water getting our shoes soaked.
After finding the seven caches we returned to our car to begin heading back to the dance studio. We had some more time and decided to find some more caches along the way. Not only did we find the smallest cache we had seen today but we also found the largest cache. The Zander cache is located across the street from a banquet hall and is contained in a large dog crate placed beside a tree.
After locating Zander we went looking for three more caches, two we located and one we were unable to find. Our geocaching time had run out and it was time to head back and pick Elizabeth up from dance. We eventually returned home elated and exhausted with our work that day.
Complete List Of The Caches Visited
Cache 1: Pooped N 43° 06.597 W 079° 07.473
Cache 2: Brian's Path N 43° 07.412 W 079° 06.794
Cache 3: Gutter Punks N 43° 07.836 W 079° 07.199 (DNF)
Cache 4: Candy's Cache N 43° 07.306 W 079° 07.087
Cache 5: Mewburn Road Bridge N 43° 08.668 W 079° 08.004
Cache 6: In The Mewburn Brush N 43° 08.561 W 079° 07.939
Cache 7: Mewburn Road Recreation Area N 43° 08.523 W 079° 07.808
Cache 8: Not A Trail in Mewburn Rd Rec Area N 43° 08.552 W 079° 07.667
Cache 9: Zamboni Here? Maybe One Day... N 43° 08.491 W 079° 07.571
Cache 10: Vapour Trails in Mewburn Rd RA N 43° 08.410 W 079° 07.630
Cache 11: Xtra Mewburn Fun N 43° 08.275 W 079° 07.724
Cache 12: Ouch Tree in Mewburn N 43° 08.336 W 079° 07.811
Cache 13: Little Tree in Mewburn N 43° 08.427 W 079° 07.856
Cache 14: Zander N 43° 07.909 W 079° 08.341
Cache 15: 7th Inning Stretch N 43° 08.008 W 079° 08.072 (DNF)
Cache 16: Corner store? N 43° 05.952 W 079° 07.503
Cache 17: Preakness Park N 43° 06.090 W 079° 07.760
---
The One With The Crazy Hill
Geocaching can be a crazy adventure and often you get a rush of adrenaline attempting to locate a cache. We found this out on our hunt to...
Geocaching can be a crazy adventure and often you get a rush of adrenaline attempting to locate a cache. We found this out on our hunt today.
From thinking we were being followed, to trying to avoid parking tickets and dangerous climb up a steep hill. It was all in day of geocache hunting.  Today we accomplished finding 7 caches in total and had one unsuccessful search. 
,,,
---
Geocache 1 - THRIFTY  N 43° 10.342 W 079° 15.900
We decided on trying to locate this one for two reasons.  First of all it was close to home.  Second it was in the parking lot of a thrift store and right beside the thrift store is a Dollarama.   
We first made a stop at the Dollarama to buy some items that we could drop at some of the caches we found.
After picking up some lucky St. Paddy's day coins, mini skirt guns, squishy animals and pins we headed out into the parking lot to search.
---
,,
Geocache 2 - Floral Clock   
,,
N 43° 08.926 W 079° 02.858
,,
After locating THRIFTY and a short Tim Hortons stop we headed on down the QEW and over the Garden City Skyway to Niagara Falls Ontario.   Along the Niagara Parkway there is a tourist spot known as the Floral Clock and it is exactly as it sounds.   A big giant clock and in the warmer months is filled with hundreds of flowers and plant life.  Its a great spot for pictures. 
Finding the cache was relatively easy.   Inside we found a real treat, our first trackable.   A trackable is an item which has a code number that is logged online.  This item is something that is intended to be moved around to various caches. The one that we found was very interesting as it was half a heart and the idea is for it to eventually find it's other half.    With the tracker was a note stating that the origin of the item was in South Africa.
---
,,
Geocache 3 - Birds, Bees and Butterflies  
,,
N 43° 08.928 W 079° 02.715
,,
About 200m away from the Floral Clock geocache was the Birds, Bees and Butterflies.   This was what they call a micro cache.   A micro cache or micro geocache is a small container that usually only contains a log book.    This was our first micro so it was pretty exciting for us.  Steph hadn't been the one to locate a cache yet and was determined to find this one.   Sure enough she spotted it and was all giddy and excited when she found it. 
The one thing that we really enjoyed about finding this geocache was the stunning views we had of the Niagara River and gorge in the winter time.   Even if your not up for geocaching you should head down there for the view itself.
---
,,
Geocache 4 - A Powerful View  
,,
N 43° 08.648 W 079° 02.689
,,
Just down the road from the last cache we found was another one.   We hopped back into the car and drove towards the falls for about two minutes where we found a small parking lot for tourists looking to snap some pics of the stunning gorge.  Only about 20m from our car we spotted the cache which was very cleverly hidden.   When I began to open the cache the rest of the Beach Clan thought I was doing something wrong.  Inside were a few trinkets and a musty wet log book which we attempted to sign.
---
Geocache 5 - Concrete Prints  N 43° 05.551 W 079° 04.244
Concrete Prints was a fun cache.   It's in a high tourist area and very difficult to locate parking without paying for it.   We only wanted to find this one cache and weren't willing to pay the $10 to $20 to park.    After driving around the location a couple of times looking for a spot we could hopefully get away with leaving the car for a few mins we pulled into an underground parking area for a large hotel next to the old Planet Hollywood.   I stayed in the car while Steph, Elizabeth and David ran out to hunt for the cache.  After a few minutes of frantic searching while I was barking orders from the car I felt the need to get out and help.   I moved the car to  a spot that was supposed to be for buses only and jumped out to go help hoping not to get caught.   When I arrived they had already found the cache.   Way to go!
---
,,
Geocache 6 - Always!!! Getting Stepped On   
,,
N 43° 04.162 W 079° 03.970
,,
Our next adventure took us further down the road and past the American Falls, the Bridal Veil Falls and the Horseshoe Falls to the Dufferin Islands an oasis of nature with trails, wildlife and stunning winter lights.   This cache was near the entrance to the park and was a bit tricky to find.   We thought it was incredibly smart how this small cache was hidden.   In the cache there was simply a log book.
---
,,
Geocache 7 - Travel Bug Hangout 
,,
N 43° 04.065 W 079° 04.218
,,
Crossing over a bridge and about a hundred or so metres down a path our phone starts buzzing again to let us know we are close to our next find.  David had picked this one out and is what initial led us over to Dufferin Islands.
In the icy water ducks were swimming around and the bridge to the island itself was closed off due to the winter light displays.  We were a bit confused as we had first believed that the cache was on the island.   However after some searching we discovered its hidden location.   In this cache we came across our second trackable a small metal tag attached to a leather key chain with the name Neil on it.  The tag itself was a Penguin. On the back it read "Peter The Penguin" and the tracking number.  David asked if we could take it so we left one of our items and took Peter along with us. 
When we arrived home we looked it up on geocaching.com and found out that someone in Scotland had started Peter on his journey in memory of her husband Neil.   What a touching story and we are excited to be a part of him finding his way to South Africa, one of Neil's favourite places to visit.
---
Geocache 8 - Ground Zero  N 43° 03.985 W 079° 04.265
Our last cache of the day and definitely the most difficult.   Looking at the coordinates on our phone it appeared as if this geocache wasn't far from the Travel Bug Hangout.   We had to walk back around the pond and over the bridge to reach it and it seemed it was close to the public washrooms.  However just behind the facilities was a steep hill and when we arrived we noticed that for us to find the cache we had to climb the hill.  Up we went grabbing on to any tree or branch that we could to keep us from falling back down the steep incline.
Once at the top we kept searching for the cache which was described as "a small camo'd pill bottle".  When our phones buzzed to indicate we were close to it we began searching everywhere we thought it might be with no success.   The GPS on our phones seemed to be acting up as well.   Suddenly it indicated to us that we were 12m away.   When we would go to the spot it would then say we were 10m away in another direction.   After some time of hunting for the cache we realized we had to give up, head back home and log this as DNF (did not find) on the geocache site.    This was the first cache we were unable to find.    We'll save this one for another day and next time try and find a spot to park our car and approach it from the top of the hill.
The One Where We Discovered Geocaching
Saturday February 9, 2019 In our quest to get outside more often and enjoy the fresh air,  Steph has an idea that we should check out geo...
Saturday February 9, 2019
In our quest to get outside more often and enjoy the fresh air,  Steph has an idea that we should check out geocaching.   I remember having some friends many years ago being into this past time.   At the time I thought it wasn't really my thing.    Man was I ever wrong.   We downloaded the geocache app (on Google Play) (on The App Store) onto our phones and started looking up some caches near us.  On Saturday we had a couple of hours before David's taekwondo potluck so we set out to find two caches.  Now we're hooked.
,,
Cache 1 - A Concrete Cache
This was an easy find and close to where we live so it made a great choice for our first geocaching adventure.   We hopped into the car and after about a three minute drive pulled into a parking lot.  Having a look at our geocache app we noticed that we were only about 35m away from the cache. The app works great in that it will help guide you to within 3m of the exact location of the cache your looking for.   However the caches are usually hidden pretty well, not buried, but cleverly hidden.  It could be hiding under a log, in a cinder block or up in a tree.   
Once we were close enough to the location our phones started to buzz to let us know we where there.   We still didn't see the cache however after some searching we found it and were thrilled.   Keeping to the code of geocaching secrecy I can't tell you where it was hiding.   That would just spoil the fun if you decide to go looking for it yourself.  Part of the fun of finding the cache was to sign and read the log book.  We discovered that this cache had been there since 2015.
---
,,
Cache 2 - Travel Bug Coffee Shop II
We saved this one for our second and last find of the day as it seemed like there was a bit more involved in finding it.    We drove our car over the rushing Twelve Mile Creek to a small gravel parking lot on the west side of the creek.   From there we had a 500m walk into the cache location.  Sounds simple enough however being new to all this it wasn't as easy as we thought.   
We crossed the bridge over the creek and came to a small trail.   However there was a gate and some "No Trespass" signs.   The signs seem to indicate the danger of the creek itself.   The water flows fast and has some dangerous undertows.   So we continued on down the path staying away from the water.
About 10m in there was a path off to the left that went up into the forest.    Looking at my phone I figured we were supposed to take that path up the hill.   We arrived at the top of the hill exhausted and after walking another 100m or so we realized that we should've kept on the path at the bottom of the hill. 
There was a house and some kind of industrial building with a fence preventing us from going any further. We walked back and found a small path back down the hill and made our way down to the path that runs along side the creek. 
We followed that path for a short bit until the gps on our phones seemed to lead us back up the hill.   There was no path to follow and we started walking right into the bush following our phones.    At one point we knew we couldn't go any further as the winter brush was so thick.
Back down the hill we go and return once again to the main path we had been following.   We decided to keep on the path until we were in a straight line from the geocache.   Once we could see that we had a straight line we started back up the hill again.   This area wasn't as dense as the previous area of the hill we had climbed.   Suddenly our phones buzzed and we knew we were close.   We began looking around eventually found what we were looking for.
This cache was in a larger container and had a few small trinkets.   We couldn't sign the log book as we forgot to bring a pen and no pen was left in the cache.
After our first day of discovering Geocaching we're hooked and looking forward to more adventures searching for cache treasure.
The One With The Opossum
Bruce Trail Hike South Terminus to Radar Tower It's a mild mid January day as we start out to locate and hike the southern most part of t...
Bruce Trail Hike South Terminus to Radar Tower
https://youtu.be/t9JKWcF3IKQ
It's a mild mid January day as we start out to locate and hike the southern most part of the Bruce Trail. Our plan was to stop off at Starbucks and get a beverage to help keep us warm on our journey. One thing I neglected to do was to look up where the closest Starbucks was to the hiking trail which meant we would wander around Niagara for a bit. So lesson learned we grabbed our Starbucks and headed back towards the trail.
The trail was very easy to find. Not far from the Brock Monument at Queenston Heights, where the first battle of the war of 1812 was fought,  there is a great big parking lot. At one end you'll find the stone marker and plaque indicating the southern most terminus. At the other end you'll find a sign stating that you're on the Bruce Trail.  That sign is where we begin our journey. 
As we enter the trail the only other life we encounter was a man walking his dog that looked like an overweight husky who was in his element sniffing out every interesting smell his nose could find.  As we hike further in, off to our right there is a beautiful view of the Niagara Region countryside.     The land is separated into squares and rectangles and the wintering vineyards are everywhere.    It's an amazing site to see and I'm sure that in the summer time when the vegetation is in full growth it would only be even more stunning.
After only about five minutes into the hike David notices something.    He draws our attention over to a tree stump just feet away from the trail.   Beside the log sitting very still is a creature with a bright pink pointed nose,  white fur on his face, grey fur on his body and a long slender tail.   Not an animal we get to see often but we knew right away that this cute furry little creature was an Opossum.   He posed perfectly for us as we took some pictures and video.
Moving along we came across a small stream completely frozen over.   I'm sure its a beautiful site in the summer time, however observing it in a state of pause during the winter time is stunning.   It almost seems the water has gone into hibernation.   Taking a rest until the weather warms. 
We continue further on along the path and Steph comments about how different this place would look in the summer time and how lifeless it is in the mid of winter.  Regardless we are happy to be out there and enjoying each others company and chatting about cottages in the summer and future career plans.    There's something very magical about getting out into the woods and hiking a trail.   It's a cure for stress and a great way to create a precious bond with others.
Roughly forty five minutes into our hike we noticed a steel rusted frame ahead.   Immediately I knew it was the old Military Radar tower that I had read about in my All Trails app, where I found the trail.   It was in good shape considering it has most likely been neglected for decades.    This is one of those exciting finds on a hike.   A little piece of history left there for us to wonder about the people who built it, those who may have used it and what was used for.
Elizabeth's first comment, on seeing the radar tower, was something to the affect of "I could climb this".   It was minutes later and she was half way up and mentioning about how cold the steel was on her hands, even through her gloves.    At this spot we took a lot of photos.
From there we turned back and hiked back to the parking lot where our car was.   Chatting the whole way back and taking in the cold crisp January air.
~ And this... is what the Beaches did.
Date Of Hike: January 12, 2019
Temperature: -3 C
Length Of Hike: 4.28km (In and out)
Total Time Of Hike: 1hr 20mins
Terrain:  Easy
Starting Point Location: 43.15841  -79.05881