Subscribe

to Travel Busy 5 Best Portable Massage Tables for Traveling

Last Updated: Saturday, March 23, 2019Looking for the best lightweight portable massage tables? For anyone in the massage business, a massage table is one of, if not, the biggest investment you can make. However, buying a massage table is not as straightforward as dressing up for weekend brunch, donning a party hat and hitting the [...] The post 5 Best Portable Massage Tables for Traveling appeared first on...

Looking for the best lightweight portable massage tables?

For anyone in the massage business, a massage table is one of, if not, the biggest investment you can make. However, buying a massage table is not as straightforward as dressing up for weekend brunch, donning a party hat and hitting the town.

There are several considerations you need to make because the market is inundated with choices. Many of them.
Plus, a table you think is perfect for you is not necessarily going to be perfect for your clients, a common pitfall many therapists succumb to.

Here are 5 best portable massage tables you should consider.

The Harmony DX portable massage table from Earthlite makes a strong case as the best portable massage table out there. At first glance, what will impress you most is the top-of-the-line Hard Maple wood frame which makes for a striking look while promising durability. The legs are stable and the feet are non-slip to keep the table from moving during a massage session.

If you feel like this goes against the conservationist in you, you need not worry. The hardwood is sourced from managed forests and environmentally-friendly glues and water-based lacquer are used to treat it. Then there is the plywood decking supporting the table. This is made from a special plywood – aircraft-grade Russian Birch – which makes the table incredibly strong.
It is equipped with a full-strength piano hinge which strengthens the frame even more, with a cabling system rated at 1,000 pounds.
But the Earthlite Harmony DX has managed to remain surprisingly lightweight (33 lbs.) and can take up to 600 pounds of user weight.
A light cushioning system by 'Nature's Touch' covers the table, with silky padding and PU upholstery guaranteeing maximum comfort.
The Cloudfill poly-gel used in the construction of the plush face cradle is great quality and super comfortable, and what else you will appreciate about it is that it is adjustable. The cradle can be adjusted horizontally and vertically to accommodate different needs and preferences. We love the fact that the table can be adjusted from 23 to 33 inches as this means more versatility. Disassembling the Earthlite Harmony DX is a cinch and storage should be super easy.
There is a carry bag to stow it away in, and you have the choice of 4 colours for the upholstery.The manufacturer offers a three-year warranty on the foam and upholstery, but you get a limited lifetime warranty on the frame.
Overall, the design of the Earthlite DX is very well thought-out and it is just the perfect portable massage table for long-term investment.
The Earthlite Avalon offers even more colour options (eight!) and is a strong contender for best portable massage tables.
Saloniture Portable Massage Table is one of the best-sellers on Amazon, and while the fact that its attractive price has something to do with it, this is a table that punches well above its weight division. The thing that makes this product different from other budget options is the model has not compromised on quality for the sake of keeping costs down.
One thing you will like most about it is the robust hardwood frame. Its stability is reinforced further by steel cables which make it even sturdier than it already is. The Saloniture Folding Massage Table allows for easy height adjustment between 24.5 and 34.5 inches, providing a sufficient range for any use.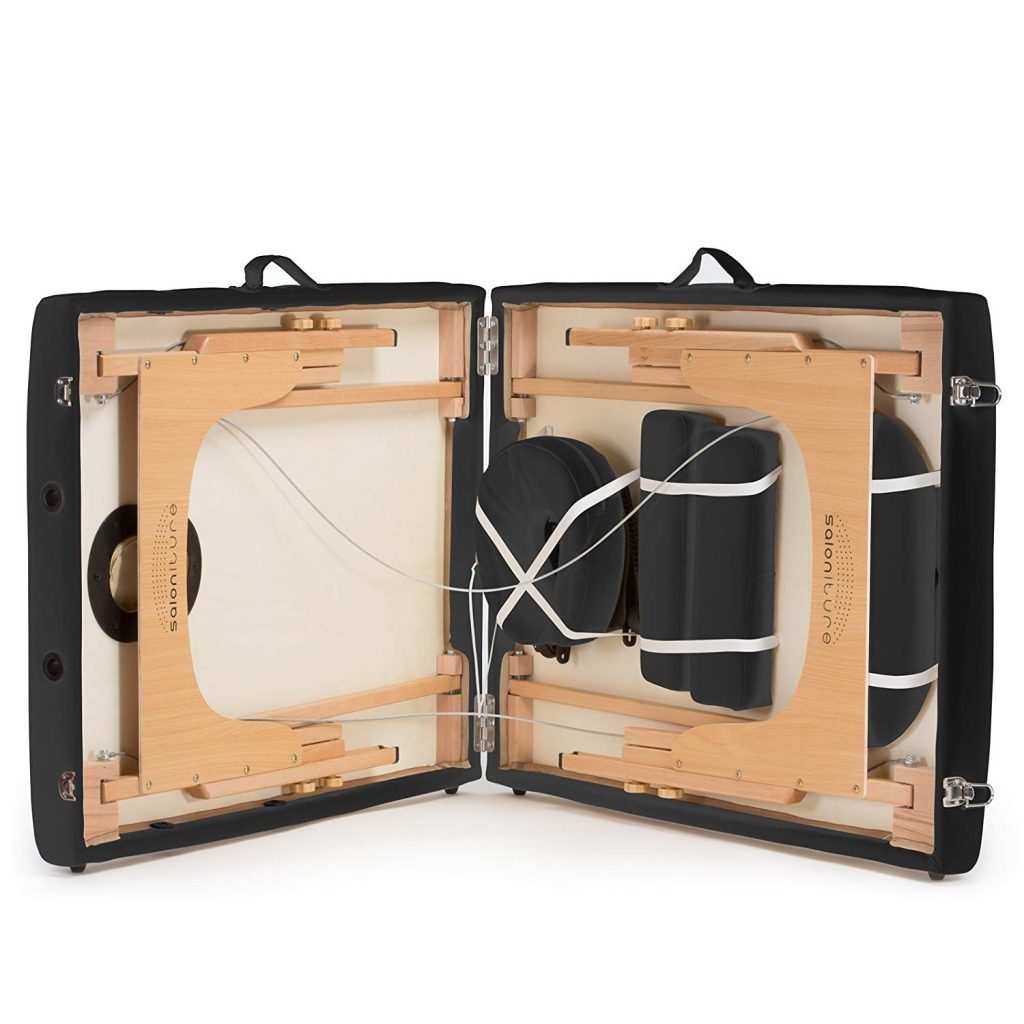 It comes in a 2-inch high-density foam cushioning for premium comfort, while the face cradle has a 3-inch padding with a removable cover.
What else we like about this portable massage table is it has a detachable headrest, arm sling and winged armrests, making it possible to adjust based on individual client needs.
On the whole, the deck is very comfortable and each accessory slots in nicely in its respective spot.
This portable table weighs 36.8 pounds and can support a user weight of up to 450 lbs. It is very easy to whisk around, and easy to fold and unfold when you need to.
A nylon carrying case enhances the table's portability, and short and slim individuals will find it utterly practical. This Saloniture Lightweight Portable Massage Table carries a one-year warranty.
Master Massager makes some of the best portable massage tables around, and as with Earthlite, they could easily stake a claim in the best portable massage tables list with several entries.
But if we could pick one, the Del Ray Pro would be it.
And here's why: The Master Massage Del Ray Pro is a very lightweight portable massage table many massage therapists will find a solid business investment. This is a professional-grade table made from managed forest hard European Beech Wood, one of the factors that has driven the cost up. A hi-gloss warm walnut finish with Dura-seal protection rounds out the elegant look.
Its aesthetics and overall quality makes it an ideal table for use in high-end establishments. The Quik-Set Knows feature is one of the things you'll like about this massage table. It allows you to adjust the table's height with minimum fuss, with a range of between 24 and 34 inches.
The Master Massage Del Ray Pro also boasts an incredibly high capacity, making it perfect for heavy users. It can hold a weight of up to 750 pounds, thanks to its aircraft-grade steep support cables.
At a super light 34 pounds , it has managed to remain impressively light, even lighter than other options on our list with lesser weight capacity.
What's more, the Del Ray Pro comes with innovative accessories which include an ErgonomicDream face cradle and ErgonomicDream face pillow. The latter is a lush addition which wraps around the face gently, adding cool to what is an already cossetting affair.
Other welcome accessories include a contoured armrest shelf and two-pocket carrying case.
The Master Massage Del Ray Pro features luxurious sand-coloured PU leather upholstery with warm walnut legs, culminating in a richly elegant look. It is water- and oil resistant, not to mention CFC-free.
Beneath the upholstery is a 3-inch thick cushion made from a multi-layered small-cell foam, guaranteeing maximum comfort for your clients.
With all these high-end features, it is easy to see why this massage table carries that price. But it is extremely durable and well worth every penny.
It comes with a 5-year manufacturer's warranty.
The Coronado Portable Massage Table is another offering from Master Massage worth considering.
Sierra Comfort has branded this massage table all-inclusive as it comes as a complete bundle with everything you need as a massage therapist to get up and running. This includes pure cotton massaging sheets, oil pocket, a towel hanger and a semi-circle bolster – all to keep your essentials at arm's length. A carry bag with handles makes it easy to move the table from one location to the next. It folds up neatly, making it super convenient.
This Sierra Comfort offering was intended to be a basic product, the aim being to cut back on costs. However, you don't have to worry about a compromise on its quality, otherwise we wouldn't even recommend it. The frame of this portable massage table is constructed from solid hardwood (Beech Hardwood to be specific) which is a short way of saying three things…
One, the table is very sturdy and stable; two, it boasts great aesthetics, and three, this is a durable frame that will give you years of service.
At 35.3 pounds, this table plays within the confines of lightweight portable massage tables. The same goes for its weight capacity: it can support up to 450 pounds, an adequate maximum threshold for these types of tables.
It has an adjustable height of between 23 and 33 inches which means you won't have to bend unnecessarily as you administer massage therapy. The face cradle is also adjustable. These two things mean the table can be altered to suit different body types.
The Sierra Comfort All-inclusive Portable Massage Table comes with a luxurious 2.5-inch high-density foam to keep your customers comfortable during treatment.
The deck is waterproof and oil resistant which makes cleaning easier.
This product comes with a 5-year manufacturer's warranty.
>> Check out our guide to the best pop up beach tents
ultra light portable massage table
For masseurs and masseuses who prefer aluminium over wood, the Merax Aluminium 3 is just the table for you. The lightest portable massage tables mostly tend to be constructed from aluminium. But they are still able to hold a good amount of weight – the good ones, that is. This table is a good example. So robust is it that it can accommodate more weight than most wood models of the same size, and we're not talking about cheap, run-of-the-mill wooden tables.
With a weight capacity of 500 pounds, this aluminium portable table even surpasses some top-notch wooden models on this list, namely the Saloniture and Sierra Comfort models.
It weighs 37 pounds, which should be portable enough. The face cradle, arm extenders and armrest shelf are both adjustable and removable, while a high quality carrying case promises easy portability. The impressive aluminium frame aside, also worth mentioning is the thick padding on this table. The body of the table is swathed in 2-inch high-density padding which provides good comfort.
The upholstery is made from an ultra-soft PU-coated synthetic leather, and is available for purchase in two colour options – a mix of red and black, and an all-black shade.
The face rest has been faulted for being a bit challenging to assemble, and a width of 27 inches may be an inch or two thinner.
Other than that, the Merax Aluminium 3 is a great portable massage table for anyone in the market for a good metallic model.
The Artechworks Lightweight Massage Table is another aluminium portable massage table we would recommend.
Choosing the Right Portable Massage Table

Regardless of the considerations you need to make, deciding on the ideal portable massage table doesn't have to be as complicated as mapping out the periodic table.
Materials – The best frames for a massage table are either made of wood or aluminium. Wooden frames have better stability, are more durable and look nicer. But they tend to be heavier and could get creaky when you lean in on them or when massaging a heavier client.
Aluminium frames are newer entrants into this space, and an influx of low-quality frames have not endeared them to many masseuses. But there are good ones in the market, although these are high end. Aluminium is stronger and lighter than wood, but avoid low-quality tables.
Table Weight – A portable massage table should not be too heavy because it is designed for moving around with. Weight varies from one table to the next, but it's almost always disproportionate to the price.
The more expensive the table, the lower its weight. High-end wooden tables and high-quality aluminium models are usually lighter. Anywhere between 25-35 pounds is a reasonable enough weight.
Padding – Client comfort is always top priority when massaging, and as such, the foaming is a big factor to think about. Thicker is not always better. After all, you do not want something to make customers feel like they are floating in a NASA zero-gravity chamber.
If the foam is too thick, your clients might not be comfortable. And if it is not dense enough, client comfort too could get compromised.
While high-density foam might not be as soft as low-density, it is definitely better. Even better is a type of high density known as small-cell foam. Opt for tables that include memory foam technology as they contour nicely to the body.
Table Upholstery – Good upholstery improves comfort and enhances the table's look while increasing the table's durability. PU leather and PVC vinyl leather are the two main materials used for upholstery.
Cheaper PVC vinyl is both oil- and waterproof, and is low maintenance. PU leather, on the other hand, is oil- and water-resistant (not oil and waterproof) but it is the closest thing to natural leather. If you want to keep costs down, don't dwell too much on the type of upholstery. After all, most of it will spend more time draped in covers and sheets (for hygienic purposes) so you might want to think about directing the funds to good quality sheets and other protective accessories.
Portability – The whole point of investing in a portable massage table is to have a table that is easy to whisk from one appointment to another.
Ideally, you want a table that can fold in a matter of minutes as opposed to spending half an hour folding it up after every appointment. Bulky portable tables also beat the purpose. Make sure the products comes with a portable massage table carry bag.
Dimensions – The length and width of the table are other factors to think about when deciding on the right massage table to buy, although the length not so much. That's because most massage tables come with a standard length of 70 inches which should accommodate most individuals comfortably – unless you work with very tall clients or athletes.
As for the width, majority of massage tables fall between 27 and 34 inches. Anywhere between 28 and 30 inches is ideal since the width of the table affects your body mechanics too, and you don't want a table that will give you difficulty in reaching over.
The height is usually adjustable (18-37 inches) and should correspond to the height of the therapist.
Cable System – A necessary addition to a portable massage table, cables increase the strength and stability of the table and prevent it from rocking sideways or back and forth during a massage session.
Good cables should be made of high-quality aluminium or steel, so opt for these over plastic ones. Cheap plastic joints are a no-no.
Accessories – These include extras like the face cradle, armrest, towel hanger and bolsters.
Cost – Portable massage table costs can vary greatly. You'll find some fetching at $100 but as with most things, you get what you pay for.
Massage sessions are an opportunity to pamper oneself, so unless you're fresh off college and have exhausted all your finances on tuition, it's always best to avoid bare-bones tables. You don't want the sessions to be one-offs, but for clients to give you repeat business.
You will find plenty of great portable massage tables available on Amazon and it is very easy to order. As with any other product, though, you won't find every specific option being offered.
But there are more chances of finding it here, and it comes with the benefit of getting a great model delivered to your doorstep without emptying your wallet.
The post 5 Best Portable Massage Tables for Traveling appeared first on TravelBusy.
Best Places in the World to Paddle Board (SUP)
Last Updated: Friday, March 15, 2019 If there's a watersport that's rapidly gaining in popularity, then it's certainly stand-up paddle boarding (SUP) the fastest growing sport in the world. Quality inflatable paddle boards can now be bought for under US$500 making the sport more popular.  From practising SUP Yoga to paddling with your dog, SUP [...] The post Best Places in the World to Paddle Board (SUP) appeared first on...
If there's a watersport that's rapidly gaining in popularity, then it's certainly stand-up paddle boarding (SUP) the fastest growing sport in the world. Quality inflatable paddle boards can now be bought for under US$500 making the sport more popular.  From practising SUP Yoga to paddling with your dog, SUP can offers hours of family fun.  However, one of the main reasons why you should go paddling is to enjoy the best of nature such as alpine lakes, mangrove forests, tropical beaches, marine life, and many more.
Therefore, this insightful post will take you through some of the best places to SUP in the world that you should visit.
1. Hawaii
Hawaii is popularly known for its laid back lifestyle as well as the beautiful beaches. In fact, Hawaii is one of the world's most famous watersport destinations. Recently, this destination has become very popular with paddlers because it's home to some of the best SUP locations in the world. You'll actually be spoilt for choice for the best spot to paddle your board as well as rent a SUP board for your adventure. Places such as Oahu, Ala Maona, Kealakekua Bay, Sunset beach, and many others will leave you with some fond SUP memories.
2. Californi
a
The California coastline is certainly famous for a reason. The Pacific Coast Highway will treat you to some stunning scenery, delicious dinners, peeling waves, and most importantly lots of paddling spots. You'll get to enjoy your favorite watersport in some classic spots such as Lake Tahoe, San Onofre, Malibu, Santa Barbara, Morro Bay, Santa Cruz, and many more. It goes without saying that this top destination is also filled with very nice 5-star restaurants, luxurious resorts, coastal campgrounds, and dirt parking lots.
3. Bali
Our next top place takes us all the way to Bali, Indonesia. For most riders around the world, Bali is definitely a surfing mecca because this thrilling island boasts of some of the most beautiful coasts in the world. You could choose to go paddling in Kuta beach. This place credited to be the pioneer of surfing in this island, and is comfortable for SUP as well due to the combination of flat rides and rideable swells.
Alternatively, you can visit Nusa Dua or Sanur beaches which have nearer coastal waters perfect for some exciting rides beyond. Western coasts such as Jimbaran Bay and Kuta are less windy making them perfect for flat wave riders.
4. Florida Keys
Florida State is almost entirely surrounded by water and this is one of the main reasons why SUP is flourishing here. That said, Florida Keys boasts of hundreds of launching spots for your paddleboard as well as a rich marine life including stingrays and manatees. You'll also enjoy the splendid sight of the mangrove forests, Caribbean-like waters, and the generally diverse ecosystem.
Moreover, you can cover long distances using your SUP with the aid of the trade winds. You can even use your paddleboard for fishing, meditation, or SUP Yoga when there's no wind. All in all, Florida is arguably the most scenic SUP place in the world.
5. New Zealand
What make New Zealand stand up among the rest the availability of abundant wildlife and the exceptionally rich culture. To add on that, the variety of lakes, rivers, beaches, as well as bays surrounded by mountains make it the perfect SUP destination. The subtropical climate of the Northland's Bay of islands as well as the warm water throughout the year make NZ the best destination for most SUP lovers. Don't forget to check out the few dolphins or a pod during your ride. To wind up your adventure, visit Lake Wanaka, the country's fourth largest lake.
6. Turks and Caicos Islands
For paddle boarders, the turquoise waters surrounding these islands are certainly a treat. To make it even better, the calm, clear waters of the Grace Bay are ideal for your favorite watersport. For those who like exploring spectacular backcountry, the Big Blue Unlimited will offer you SUP tours around the archipelago. Don't forget to check out the mangrove swamps as well as the wading herons and the juvenile nurse sharks just underneath your board as you enjoy your paddling.
7. Perth, Australia
If you're looking for the best place to go SUP in Australia, head over to Perth. Despite New South Wales being more popular among surfers due its big waves, Perth offers beautiful, flat waters from the Swan River, making it an ideal place for novice riders to hone their skills. You can also enjoy laid-back paddle boarding at the Cottesloe Beach due to its stretch of sand.
8. Washington
There is definitely no better place to go stand-up paddle boarding than Washington State. To begin with, Seattle which is surrounded by both freshwater Lake Washington and saltwater from the Pacific Ocean is a place so hard to beat when it comes to SUP. You can go paddling in Elliot Bay, Green Lake, Lake Union or Shishole Bay.
If you think its ends there, then you're very wrong. You haven't visited the magnificent Kenilworth Park for laid-back paddling, Potomac River Rapids, Theodore Roosevelt Island and the Lake Barcroft. All these spots coupled with being close to the big city make Washington one of the best places to go paddleboard.
9. Cape Town, South Africa
Apart from being popular for its blessed wildlife safaris, Africa also has an array of waves coupled with beautiful scenery. Because of this, SUP is rapidly gaining in popularity with Cape Town being the leading destination due to its flat water canals and the ocean surf. There's a variety of places to hire a guide, rent a boat, or even get both, making Cape Town a top place to go paddling. You could try Blouberg and the Sunset beach in the north or the Strand and Muizenberg in the south.
10. Costa
If Costa Rica isn't on your top SUP destination list, then it's time to change that. In this tropical country, SUP is seriously gaining in popularity. To start with, Playa Danta located in the Guanacaste region is a popular premier SUP spot that is attracting lots of attention. This secluded, flat-water bay has an abundance of exotic sea life that you could enjoy while surfing or paddling. Also, with water temperatures of around 30 degrees Celsius all year round, Costa Rica is truly a paradise here on earth.
The Summing up
All in all, the world is filled with lots of wonderful SUP destinations for you to choose from. However, the above paddle boarding hotspots will give you the perfect blend of nature and wildlife that will make your adventure is a great success. Happy paddling!
The post Best Places in the World to Paddle Board (SUP) appeared first on TravelBusy.
Best Cameras For Hiking 2019
The review team look at the 4 top cameras to take on your hiking trips. We look at the most durable and compact cameras on the market that can be easily stored in your hiking daypack. The post Best Cameras For Hiking 2019 appeared first on...
The post Best Cameras For Hiking 2019 appeared first on TravelBusy.
The Best Travel Trailer Generators 2019
Our guide to the best portable inverter generators for people using travel trailers & RVs The post The Best Travel Trailer Generators 2019 appeared first on TravelBusy.
(more…)
The post The Best Travel Trailer Generators 2019 appeared first on TravelBusy.
15 Things to do in Philadelphia
Last Updated: Monday, December 17, 2018 The great city of Philadelphia was founded in 1682 by William Penn to serve as the capital of Pennsylvania. It briefly became the capital of the United States while Washington DC was being built. It's one of America's oldest and most historically important cities, instrumental in the American Revolution [...] The post 15 Things to do in Philadelphia appeared first on...
The great city of Philadelphia was founded in 1682 by William Penn to serve as the capital of Pennsylvania. It briefly became the capital of the United States while Washington DC was being built. It's one of America's oldest and most historically important cities, instrumental in the American Revolution where the Founding Fathers met, signed the Declaration of Independence (1776) and later the Constitution (1787). With notable firsts including the first US library, the first zoo and the first children-oriented museum, Philadelphia has the cachet of being part of the USA's cultural and historical bedrock and also that of a pioneering city with its eye on the future. A holiday here will fire the imagination and give you a glimpse into what makes Americans tick.
1. Independence Seaport Museum
This anchor attraction is Philadelphia's home to its maritime history and features artefacts and archive materials documenting the Greater Delaware Valley and the timeline of the Port of Philadelphia. It's also where you will see the USS Olympia, victorious Admiral Dewey's flagship and the only ship to survive the Battle of Manila Bay during the Spanish-American War.
USS Olympia
2. Liberty Bell
The Liberty Bell is an iconic symbol of American Independence and the abolition of slavery. Originally shipped in from the UK, the bell cracked during its first sounding. Subsequent recasts added copper, lead and tin but the bell sounded dull and then cracked again. The Liberty Bell Center has free admission, informative videos and boards detailing the extraordinary history of this troubled but emblematic bell.
Liberty Bell
The post 15 Things to do in Philadelphia appeared first on TravelBusy.
8 Best Lightweight Suitcases for International Travel
Frequent flying comes with luggage. Choosing the best lightweight suitcase will ensure that you comply with strict airline rules about weight and size. The post 8 Best Lightweight Suitcases for International Travel appeared first on TravelBusy.
Frequent flying comes with luggage. Choosing the best lightweight suitcase will ensure that you comply with strict airline rules about weight and size. Before you start going through all the colors and styles, it is important that you familiarize yourself with the provisions of luggage regarding the airlines you plan to use.
US carriers including Delta, United Airlines, and American Airlines all stipulate suitcase sizes for international travel for carry-on as 18-22 inches high, 9 inches deep, and 14 inches wide. For checked luggage, different airlines have their recommendations, but they range from 24 to 30 inches high. This comes with a weight limit too.
source: sendmybag.com
Buying a Lightweight Suitcase for International Travel
• Suitcase Size
It's an obvious consideration because you will want luggage that can squeeze in all your essential items while still complying with size restrictions. Consider how long your travel will be so that you don't leave anything out. It's always important to be realistic and not stuff the things you hope to use but in reality are just by the way items that take up valuable space.
• Soft vs. Hard Lightweight Suitcases
Soft bags are flexible and can easily fit in an overhead compartment. Their flexibility also means you can fit an extra outfit. But they can rip easily if you don't pick a high-quality suitcase made of dense materials. Hard suitcases, on the other hand, are ideal for storing fragile items. They are lightweight, durable, and less likely to be damaged in transit. Since they have hard sides, you will mostly carry the necessary items because it's hard to go over the limit. With hard carry-on suitcases, you have to get the right size because you will not be able to squeeze it into an overhead compartment if it is not the right fit.
• Wheels on Your Lightweight Case
You can choose to go with a suitcase with two or four wheels and some have double wheel sets so are called  8-wheel.  Four-wheeled luggage is easy to move since the spinner wheels move in all directions. For navigating through airports, 360-degree wheels are more comfortable to pull through since you can turn a corner without having to stop. But they can be hard to pull on cobblestone roads mostly found in Europe. That is why you may need to consider two-wheeled suitcases if your destination is Europe. Two wheels move in two directions only which makes them stable on rough surfaces.
The cost of being overweight (not literally!)
If your luggage is overweight or over sized you can expect to be hit with a hefty fine of up to $550 on some flights, basically the cost of the flight again! Here's some charges from the American airlines page.
Best Lightweight Carry-On Suitcases for International Travel (Cabin Luggage Approved)
We class ultra lightweight carry-on cases as weighing under 5lbs, but these may not be the best choice for you. The ultra-light suitcases tend to only have 2 wheels, which can get a bit annoying when queuing to board the plane.  In our tests, we preferred the carry-on cases weighing under 7lb with hard shells and at least 4 wheels.
Samsonite Omni PC Hardside Spinner Suitcase (Best Carry-On)
At 19 inches, Samsonite Omni PC Hardside Spinner is an excellent option in carry-ons. It comes in a lightweight and robust design for improved durability, weighing in at 6.8lbs. Being hard-sided, it is not a suitcase prone to damage so even if it is in a squeezed compartment; chances are everything in it will remain intact for the journey.
You can count on it, not only because it meets international luggage size but because it is easy to store lots of stuff. It has a full-zip interior with a divider and cross-straps to help squeeze in every item for your trip. Remember not to overstuff it because airlines will charge you extra fees or even worse still be grounded for not abiding by airlines' carry-on rules.
This luggage uses a micro-diamond texture such that no matter how many trips you take; your suitcase will look as good as new every time.
Samsonite Omni PC Hardside Spinner also explores 360-degree wheels. They make it super easy to move with your luggage as they manage the weight of the luggage for you. And your luggage will always be protected since it also comes with a TSA-compatible combination lock.
Drawbacks but not Deal Breakers
This suitcase does not include a side handle. You will have to use the main retractable handle to lift and remove it from overhead compartments.
Travelpro Maxlite 4 International Expandable Rollaboard Carry-On Suitcase
Travelpro is known for their outstanding quality in their luggage. They have a line of different travel bag styles, and the Maxlite 4 is one of their top sought models. With its professional styling, this carry-on rollaboard will make your journey simple and straightforward.
It is absolutely light weighing only 5.9 pounds. When you add your travel essentials, you will not be dealing with a heavy carry-on luggage to give you trouble fitting it into airplane compartments. It comes with two rollaboard wheels. Since they usually require more effort to pull, you will find that Maxlite 4 does not put any pressure on your wrists and joints because it is lightweight.
You will like that it comes with a telescoping handle that can stop at your ideal height whether at 38 inches or 42.5 inches. The handle is built using airline-grade aluminum that speaks durability. Not to mention, it boasts a honeycomb frame and polyester fabric construction that is water and stain resistant.
This suitcase can expand to 2 inches to allow packing of extra stuff. It also includes an interior lid pocket, adjustable hold-down straps, and a side accessory pocket.
For security, this luggage has durable zipper pulls that are deemed some of the best in the industry.
Drawbacks but not Deal Breakers
Maxlite 4 is prone to tipping. We find this is a common issue with two-wheeled models since they cannot stand on their own. For a stable model, you can opt for the Maxlite 3 spinner that is lighter but smaller than the Maxlite 4.
>> You might also like our best day packs for 2019, these can packed in your suitcase ready for explore when you arrive
Kenneth Cole Reaction Out of Bounds 4-Wheel Carry-On Luggage
Available in many different colors, the Kevin Cole Reaction Out of Bounds will let you travel in style. Whether you want a chic or professional look, all you have to do is pick a color. At only 19 inches high, this is one of the hard-sided suitcases that you never have to worry about flexibility.
Four spinner wheels will glide effortlessly beside you to make your movements around the airport smooth. It is very stable on smooth surfaces of any airport so you won't have to keep your hand or foot on the bag at all times.
This luggage weighs only 6.25 pounds. With a construction from tough ABS, it still manages to bring the weight considerably low so you will meet airline restrictions with no problem. You will like that the interior has a soft lining, and it even includes zippered flaps still on the inside where you can put dirty items separate from the rest of the stuff.
On the exterior of the suitcase, you will find a U-shaped zipper pocket. It also increases the storage capacity of the luggage. The zipper is credited to take pressure even when you squeeze in an extra pair of shoes.
Drawbacks but not Deal Breakers
This suitcase will not do well on rugged surfaces. The wheels will most likely break off if you roll it on a rough path.
Eagle Creek No Matter What Flatbed Carry-On Duffel  (Best for Europe)
The Eagle Creek No Matter What 20-inch duffel is all about convenience. It will easily fit on most airline overhead compartments since it is soft sided. It is quite a durable suitcase as it showcases construction from a Bi-tech material with bartack reinforcements around all the points that are prone to tears.
The oversized wheels are all reinforced for smooth glides in all types of surfaces. If you are traveling in areas you know are going to need some more effort to pull, this luggage exempts you from such stress. You will like that it is weatherproofed meaning water will not get into the interior.
A robust handle graces the system to provide simple handling. The handle is stored in a recessed design to keep it safe from scraping or breaking when it's not in use. It also comes with a side handle to help in lifting the suitcase up and down the stairs where the steps are too steep.
When it comes to organizing stuff, you have a stash bag on the top and a smaller compartment with No.10 lockable zippers. The inside of the duffel includes a mash panel organizer and the main compartment where most of your items will go.
Drawbacks but not Deal Breakers
The retractable bag is not padded. It may bring some sought of discomfort if you pull it for extended periods.
Best Lightweight Checked Suitcases for International Travel
Samsonite Mightlight 2 Softside Spinner Checked Suitcase
If you are looking for lightweight checked luggage with spinner wheels, you will want to consider the Samsonite Mightlite 2. It is a soft side spinner weighing in at only 8 pounds. It's not that any compromises have been made with the construction since it is made of a heavy-duty nylon fabric. It includes a samguard water-resistant coating to make it weather resistant and improve its durability.
The multi-direction spinner wheels are important in making it easy to maneuver through crowded spaces. This is because they are easy to turn and will also be easy on your joints and wrists. The alloy pull handle is beveled for comfortable handling. It eliminates any extra stress when you are pulling a full suitcase over a long distance.
Apart from the main compartment, this luggage also comes with three zippered pockets on the outside. You will have enough room to bring every essential item that you want for your trip.
Drawbacks but not Deal Breakers
There are complaints about a broken zipper if you overstuff the suitcase. It is vital to understand your limits instead of risking a snapped zipper when you are at the airport.
TravelPro Elite Platinum 25" Expandable Spinner Checked Suitcase
TravelPro is always ahead of the game when it comes to international travel. It is evident in their Platinum Elite that this brand brings perfection in your travel. This particular checked luggage has a height of 25 inches. It is a medium-sized model that is ideal for medium and long trips.
With its tapered design, you can expand it to get two more inches when you have more than a few travel necessities to bring along. We like that its weight is easy to manage thanks to the four Magnatrac spinner wheels. If you feel the weight is still too much, you can go for the Maxlite 5 that is 2 pounds lighter than this Platinum Elite model.
With the Platinum Elite, you get a 4-stop PowerScope handle with a contoured grip. It comes with a foldout suiter that keeps clothes wrinkle-free. The suiter will fit in two suits, and it is not removable. You also have accessory pockets that will give you more organized space.
What's more, this luggage has durable Supra zipper heads and a TSA lock to keep everything protected. It has a lifetime warranty which is unlike other checked luggage.
Drawbacks but not Deal Breakers
Like many spinner suitcases, TravelPro Platinum Elite also faces the same struggles of cruising on rough surfaces. They inhibit movement and most likely will break off if mishandled.
AmazonBasics Hardside Spinner Luggage 3-Piece Set
AmazonBasics offers an affordable option to get carry-on and checked luggage size suitcases. This 3-piece set allows you to make an easy choice for all your international travels. The protective hard shell ensures that your luggage arrives in good condition. It has a scratch-resistant finish that also helps to maintain its sparkly condition.
This luggage is as good on the outside as it is on the inside. It has a 150-Denier polyester interior with dividers. For smaller items, you have three zippered compartments that are as important as the main pocket.
The telescoping handle locks into place such that together with the four spinner wheels, it is quite easy to get it rolling even when you are carrying the maximum weight limit. The short handle is securely mounted on the side to facilitate safe and comfortable lifting of your luggage.
If you are traveling large, the three suitcases can be used as they all meet airline size restrictions. But you won't be getting a strap that can hook the three suitcases together.
Drawbacks but not Deal Breakers
The 28-inch suitcase if expanded may exceed size limitations. We don't see why AmazonBasics included this option if it is going to be a challenge to use it.
If you are looking for more 3-piece sets, IT luggage  touts itself as producing 'The World's lightest luggage sets'. Their best seller is the 8 wheel 3-piece set .
Wrapping Up – The Best Lightweight Suitcases: Our Verdict
It feels good when you have all your belongings in the right size luggage. Our Best Lightweight Suitcases for International Travel are from some of the top brands. These pieces of luggage are all of high-quality, durable, and meet international suitcase size recommendations by most airlines. We hope you will find the one that is right for you.
The post 8 Best Lightweight Suitcases for International Travel appeared first on TravelBusy.