Subscribe

to Travel Busy Best Tent Air Conditioners

Camping is great family fun, until you get a really humid night and cannot sleep a wink. Portable air conditioners are the answer, you will thank us for these reviews of the best aircons to take camping. The post Best Tent Air Conditioners appeared first on...

The post Best Tent Air Conditioners appeared first on TravelBusy.

Best Binoculars for Traveling: Compact is Key

We take a deep dive into the best compact binoculars to take traveling this summer. Our team review the 5 best options to help with your decision making The post Best Binoculars for Traveling: Compact is Key appeared first on TravelBusy.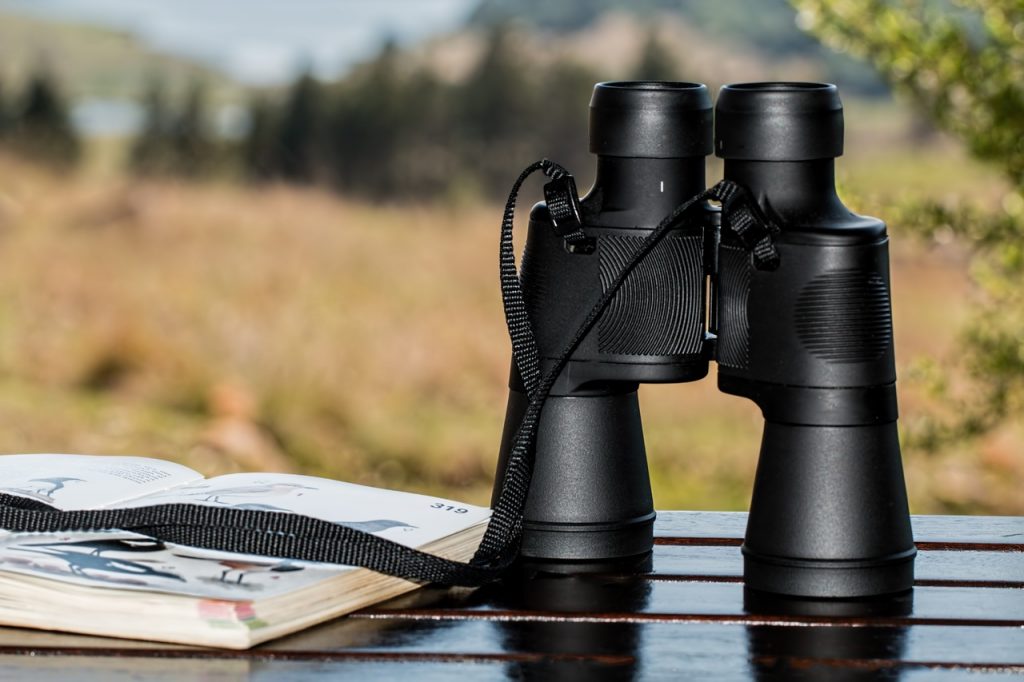 Wondering which are the best binoculars for travelling? This is a simple guide that sheds light on the basics you need to be privy to, along with a few recommendations of the best travelling binoculars on the market.
Make
Nikon 8x42 ProStaff 3S Binocular (Black)
Bushnell Legend L-Series Binocular, Black, 8x42mm
Nikon Travelite 10x25mm Black Binoculars
The looks
Make
Nikon 8x42 ProStaff 3S Binocular (Black)
The looks
Make
Bushnell Legend L-Series Binocular, Black, 8x42mm
The looks
Make
Nikon Travelite 10x25mm Black Binoculars
The looks
Binoculars are one of those things every man, or household rather, needs to have.
It's like that toolbox that comes with a set of tools – screwdrivers, pliers, a hammer, tape measure etc. You just never know when you will need it, but you can bet it will come in handy at some point.
In the case of binoculars, matters not whether you think you'll need them in your lifetime or not. But you can bank on the fact that once you own a pair, you will not be short of opportunities to flash it out.
And no, you don't need to be a traveller. Or travel writer. Or survivalist. Although it's an essential carry if you are either.
Truth is, binoculars are fun. But you never really get to appreciate them until you own a set. It's like a nice pair of sunglasses in the scorching summer heat.
More importantly, though, they are one of the most essential (and practical) gadgets for every outdoor lover. Whether you are into birding, horse racing, game viewing, hunting, stargazing or simply an old school traveller, you will find binoculars extremely useful as they get you closer to the action.
Sure, you can obviously watch things without binoculars, but the benefit of magnification is that you see those minute details that you otherwise wouldn't with the naked eye. Think the eye markings of a bird perched some distance away, the little hairs on an elephant's body or the impressive views of meteor showers.
It's the small things that matter, heard the phrase?
As avid travellers ourselves, the question of the best binoculars for travelling always comes up at some point.
Do we really need binoculars?
What type of binoculars would you recommend?
How can I determine the best binoculars for me?
These are questions we often hear on a regular basis.
So we thought this would be a good subject to talk about for anyone who might be deliberating on what to look for in a good pair of binoculars or those curious as to which models are the best binoculars in the market.
Binocular Basics you need to be Aware of
When choosing the best binoculars for travelling, there are several important features you need to consider.
Magnification, for instance.
Every bino comes with a two-number designation. For example, 8x32mm, or 10x50mm.
The first number is the magnification. The second is the lens diameter or field of view and is usually in millimetres. In photography circles, you will hear this number being referred to as the aperture of the lens.
A good rule of thumb when considering these two aspects is to divide the field of view by the magnification. The bigger the number, the brighter your view since more light is getting in. To avoid disappointment, this figure should be at least 4, although this applies more to lower quality devices.
For example, using our two examples above, 8×32 and 10×50 – divide 32 by 8 (you get 4, which is good) while 10×50 gives you 5 (50 by 10) which is also good.
You will likely come across many marketing gimmicks such as stabilizers, zoom etc. In truth, these things are likely to compromise the quality of the optics, unless the binocular is extremely high quality. So avoid getting carried away by all the marketing speak.
Size also matters when choosing the best binoculars for travelling. Little, cute pairs can be tempting because they fit so well into the pocket. But they won't be much use. Sure, there are some top-notch pairs of small binoculars, but this is the exception rather than the norm.
Prism type, which influences the design, is another consideration.
Binoculars generally come in two types: we have the porro prism and then there is the roof prism.
Porro prism binoculars have a 'dog-leg' type of appearance (more traditional) because their objective lenses are more spaced out than the eyepiece lens. These two sets of lenses are more in line with each other in roof prism devices, which makes them more streamlined and compact.
The type of glass used to manufacture the instrument has an effect on image quality. Two glass types to give priority to are fluoride (FL) glass and extra-low dispersion (ED) glass. Reason is because they provide clearer and sharper colours with less blurring (fringing).
Speaking of quality, one of the notable differences between cheap binoculars and high-quality ones has to do with lens coating. A binoculars worth your money has at least one coat over the lenses. This not only protects the lenses from scratches, but also helps improve clarity.
Other things to think about include night viewing, waterproofing, rubber eyecups, weight, ease of use, brand and price, all of which are more of a personal decision.
If you intend to use your binoculars for viewing images up-close (such as observing insects), consider the close focus feature – the smaller the better.
Those who wear glasses should opt for instruments with longer eye relief. Eye relief refers to the maximum distance you can position the eye and view the object without the image darkening around the edges (vignetting).
Our 5 Best Binoculars for Traveling 2019
Nikon 16030 Prostaff 3S
Nikon 8x42 ProStaff 3S Binocular (Black)
8X magnification binocular
42 mm objective lens diameter
Roof prism optical path design
Lead and arsenic-free Eco-glass 
High-reflectivity silver-alloy mirror coating prism
Nikon is one of the biggest names in the digital camera segment, but their forays into the binoculars niche have not gone unnoticed either. The Japanese multinational has been serving travellers with outstanding binoculars through the years, and one of their standout gadgets recently has been the Nikon 16030 Prostaff 3S.
The Prostaff line of optics from Nikon has long provided travellers with affordable and reliable binoculars. Released in 2016, this magnificent roof prism bino has gone on to become a bestseller in many stores.
Available in two versions – 8×42 and 10×42 – the Prostaff 3S comes with 42mm objective lenses, yet the body has managed to remain noticeably lightweight and compact. This means it is highly portable.
Its wide field of view means you can easily spot the subject, making sure you never miss a thing. Nikon went out of its way to provide plenty of eye relief on the Prostaff 3S design, ensuring the device is friendly for everyone, including those who wear eyeglasses.
This is accentuated by the fact that the binocular features rubber eyecups that are turn-and-slide with multi-click adjustments, although it could be said these are not of the highest quality.
But it is not all about comfort. The binocular has a dielectric high-reflective mirror with multi-coated lenses which guarantees sharp and vivid picture quality.
The Nikon Prostaff 3S is waterproof up to three feet or so for ten minutes and the nitrogen gas and O-ring seals ensure it stays fog-free.
The company has a No-Fault Repair/Replacement Policy for its binoculars. This means you can send your pair for repair or replacement even when it succumbs to a repair or service issue not covered by the company's Limited Lifetime Warranty.
You really couldn't ask for more in terms of guarantee of quality.
Amazingly, the Nikon 16030 Prostaff 3S goes for under $120 and you could say this is one of those gadgets which vastly outperform their price point.
Pros
Compact and lightweight
All-purpose and fully weatherproof
Wide field of view
Extended eye relief
Price
Cons
Bushnell Legend L-Series 8x42mm Compact Travel Binoculars
Bushnell is a big shot in the United States when it comes to imaging products. They manufacture everything from first-rate rifle scopes, telescopes, microscopes, and of course, binoculars.
The Bushnell L line of binoculars is one in a three-series offering that the company differentiates based on performance and price.
The E Series is the starting point and what you could term mid-range devices. It is followed by the L Series (the category our pick falls in) which adds a plethora of higher-end features and known for offering amazing bang for buck.
And then there is the M Series, designed with an emphasis on outright performance with less focus on the financial aspect.
Now, the Bushnell Legend L-Series 8x42mm Binocular is a newer version of a set that was voted Binocular of the Year by binoculars.com when it was released: the famed Bushnell Legend Ultra HD.
As with all Legend Series binos, the L-Series 8x42mm model features a high-quality magnesium alloy chassis. It is sealed and 100% waterproof, and the company made sure the internal glass would not fog up by adding dry gas (nitrogen) to the interior.
There is also a special hydrophobic lens coating which keeps water (and water stains) from settling on the glass when it rains.
It has a large wheel for adjusting the focus that is positioned at the instrument's centre. It also comes with that diopter that has become a regular on the right eyepiece of all Legend models, only that in this case, it is also lockable. Its purpose is to help you calibrate the device to match your particular eyesight.
The L-Series 8x42mm has an impressive 426-ft field of view, an improvement on the Legend Ultra HD which boasted a 340-ft field of view, with an also improved eye relief of 18mm.
It makes use of ED glass which minimises blur and serves to sharpen and make already clear images clearer.
There is little not to love about the Bushnell Legend L-Series 8x42mm Binocular Black, save for issues with edge sharpness.
Pros
High performing optics
Good field of view
Firm grip and design
Comfortable viewing
Weatherproof
Cons
NIKON 7278 Travelite VI Binoculars
Nikon Travelite 10x25mm Black Binoculars
Multicoated, Eco-Glass optics made without lead and arsenic reduce glare and improve light transmission, color rendition and contrast
BaK4 high index prisms for extra-high resolution images
Compact 25mm diameter objective lenses help to maintain a small form factor for easier handling and packing
Aspherical lens design minimizes field curvature, especially at the edges, and enhances sharpness
Durable and protective, rubber-armored coating
The Nikon 7278 Travelite VI binoculars is one of the most cost-effective Nikon binos on the market. Sometimes, though, like in this case, price tags can be fooling. In fact, in the case of entry-level Nikons, you always get what is outlined in the sales brochure. And then some.
If you are on the market for a reasonably-priced, good-looking, multi-purpose pair of binoculars that serves your family needs sufficiently, then look no further.
One of the first things that will strike you about this Nikon model is that it is highly compact. Boasting a pretty cool design, the Nikon Travelite VI is very portable and will not be a burden for those not used to, say, long hiking expeditions.
As far as clarity goes, the 7278 Travelite VI 10x25mm has multicoated optics that ensure you enjoy colourful rendering, crisp images and vivid sensations, revealing even the smallest details of your object of focus.
The clarity of these images is emphasised by the BAK4 high index prism (arguably the best material for prisms) and the presence of a click-type diopter adjustment ring.
The binocular also has a large focusing knob located at the centre, which somehow comes across as very convenient especially if you want to use the equipment at a moment's notice.
This handy little device also offers a surprisingly stable view, with a rubber coating that allows for a perfect grip so you don't have to worry about the little thing slipping from your hands.
Overall, the Nikon 10x25mm Travelite punches well above its weight and is certain to exceed your expectations.
As far as downsides go, we don't have a lot against this little power puncher, bar the low power. For the average traveller, though, the bino should serve just fine.
A good alternative for those who fancy a beefier objective lens is the Nikon 7548 Monarch 7 8x42mm Binocular, but it comes with a steeper price tag.
[/color-box]
Pros
Cool, compact design
Highly portable
Clarity
Great value for money
Cons
Some users might need a more powerful objective lens
[/color-box]
Zeiss 8×25 Terra ED Compact Travel Binocular
Zeiss 8x25 Terra ED Compact Pocket Grey-Black Binocular
TECHNICAL DATA: 8x magnification for delivering quality enlarged images; field of view at 1000m - 119 m; apparent field of view - 52°
WEATHERPROOF: the operating temperature range of -4 to 145°F and the waterproof body, these outdoor binoculars are a reliable companion even under extreme conditions; water resistance - 100 mbar
EASY TO USE thanks to the smooth, exact focus in any situation. The index finger automatically positions itself on the focus wheel. You no longer have to think about how best to hold the binoculars if an exciting scene appears right in front of you
INTENDED USE: suitable for birdwatching, nature observation, events, travelling and outdoor activities. Less suitable for hunting. The TERRA ED Pocket 8x25 is not suitable for marine and astronomy
COMPACT: extremely compact and can be easily transported thanks to the folding design and the low weight of just 310 grams - for everyone who wants to see every detail without dragging around extra weight
In the world of binoculars, the Zeiss brand is the motor equivalent of Porsche. Power. Finesse. Perfection.
And it shows in the price.
European binocular brands boast the best optics, and Carl Zeiss happens to be one of the most reputable optics and imaging companies not just in Europe, but the world over. Like Porsche, it has its roots in Germany where it was established in 1846, making it one of the oldest optics firms around.
Zeiss binoculars are some of the best and most expensive, so if you plan on splashing out on a pair of good binos, this is one of the brands you should be looking at.
One particular model that is sure to appeal to travellers is the Zeiss Terra ED Compact binocular, a professional level set suitable for any use.
It is available in a range of objective lenses, but the 8x25mm model should comfortably meet the needs of the ordinary traveller.
The Terra ED Compact Binocular promises crystal clear images and immaculate performance even in low light conditions. This has a lot to do with its hydrophobic lenses (fully multi-coated) which are meant to deliver clarity as well as precision, even in foggy or wet weather conditions.
The Terra ED Compact is also shockproof and features a sturdy, beautiful design with a body reinforced in fiberglass. It has an adjustment wheel for smooth focusing which is designed with ease of use in mind, allowing you find and hone in on objects fast and easily.
Looking at these features, it is hard to fathom how Zeiss managed to package this product into a small package that weighs just 10.9 ounces.
But that's just what the Zeiss Terra ED bino is meant to be: a feature-rich but lightweight instrument in a compact design capable of withstanding extreme conditions while offering best-in-class performance irrespective of weather.
For all the good, the cost of the Terra ED locks out many travellers who just want an affordable device under $300 (it's current asking price) to capture the best moments of their travels in real time.
But if extra optical quality matters a lot to you, you can never go wrong with this model.
Pros
Impeccable clarity
Compact design
Weatherproof
Ease of use
Multi-purpose
Cons
Celestron 71330 Nature DX 8×32 Travel Binoculars
Celestron 71330 Nature DX 8x32 Binocular (Green)
Designed with the outdoor enthusiast in mind, waterproof and fully rubber armored.
Phase coated BaK-4 prisms for increased contrast and resolution.
Fully multi-coated optics provide brighter images by increasing light transmission through the entire optical path.
Close focus of 6.5 feet for viewing nearby subjects.
Sturdy, twist-up eyecups with multiple stops. Eyeglass friendly with 17.5 mm of eye relief.
If you are on the hunt for a quality budget-priced binocular that promises superior viewing and boasts many high-end features, few instruments manage to strike this balance as well as the Celestron 71330 Nature DX Binocular.
Fetching at less than $100, there is a reason this pair stacks up well against many others in a price range that is notoriously competitive.
It features a fully-coated optics that delivers a bright viewing experience devoid of glare. It is important to note that at this price point, the level of image quality you get with this binocular is highly unusual.
With a total weight of just 18 ounces, they are delightfully lightweight and compact. They have a rubber coating that makes them waterproof so they don't get ruined when you find yourself caught up in the inevitable rain in the course of your many travels.
The Celestron 71330 Nature DX is also fog-proof, a feature you don't come across often on devices in this price range. The twist-up eyecups are sure to appeal to eyeglass wearers as they allow for comfortable viewing while also guaranteeing plenty of eye relief (17.5mm).
This particular model has a power magnification of 8x, but Celestron has them available in a wide range that stretches all the way to 12x56mm.
So, what's not to love about the Nature DX's?
Well, looking at extras such as neck strap and carry case, it could be said that they don't match the quality of the binocular itself.
On the upside, though, it can be argued that it is better when the inevitable compromises you're likely to encounter with such a price tag are not made on the actual instrument itself but rather, somewhere else.
Moreover, these extras are just comparable to those of other devices in this class.
[/color-box]
Pros
Crisp images
Weatherproof
Good sturdy product
Price
Cons
Accessories don't reflect quality level of binocular
Small eye relief can make it slightly less comfortable
[/color-box]
The post Best Binoculars for Traveling: Compact is Key appeared first on TravelBusy.
5 Best Tent Heaters to Keep You Toasty Warm
If you are camping anywhere high up this summer, things could get chilly at night when the sun goes down. We review some of the best portable heaters which are perfect for you tent. The post 5 Best Tent Heaters to Keep You Toasty Warm appeared first on...
(more…)
The post 5 Best Tent Heaters to Keep You Toasty Warm appeared first on TravelBusy.
5 Best Portable Massage Tables for Traveling
Last Updated: Saturday, March 23, 2019Looking for the best lightweight portable massage tables? For anyone in the massage business, a massage table is one of, if not, the biggest investment you can make. However, buying a massage table is not as straightforward as dressing up for weekend brunch, donning a party hat and hitting the [...] The post 5 Best Portable Massage Tables for Traveling appeared first on...
Looking for the best lightweight portable massage tables?
For anyone in the massage business, a massage table is one of, if not, the biggest investment you can make. However, buying a massage table is not as straightforward as dressing up for weekend brunch, donning a party hat and hitting the town.
There are several considerations you need to make because the market is inundated with choices. Many of them.
Plus, a table you think is perfect for you is not necessarily going to be perfect for your clients, a common pitfall many therapists succumb to.
Here are 5 best portable massage tables you should consider.
EARTHLITE Portable Massage Table HARMONY DX - Eco-Friendly Design, Hard Maple, Superior Comfort, Deluxe Adjustable Face Cradle, Heavy-Duty Carry Case (30" x 73")
ALL-IN-ONE MASSAGE TABLE: Table, patented Deluxe Adjustable Facecradle with proprietary Cloudfill poly-gel blend facecradle cushion and durable nylon carry case. Table folds easily and transports easily in its rugged nylon carry case, weighs 38lbs.
SUPERIOR COMFORT: Full sized 30" x 73" table fits people of all sizes, adjustable height range 23-33". Hand upholstered with 2.5" of soft dual density cushioning that you won't bottom outon. The Natursoft fabric is durable yet soft and supple to the touch
PATENTED FACE CRADLE: The massage table packages includes a deluxe adjustable head rest with a proprietary Cloudfill poly-gel blend face cradle cushion for a perfectly positioned &comfortable client.
PROFESSIONAL QUALITY FEATURES: This table was designed for years of professional use and also features non-slip stable feet, sure-grip knobs, full length piano hinge for strength & attractive dual maple outlets and a heavy duty, single pocket carry case
MADE BY THE WORLD'S MOST TRUSTED BRAND IN MASSAGE: Founded in 1987,Earthlite is world's largest & most trusted massage supplier. LIFETIME LIMITED WARRANTY: Lifetime warranty on frame & construction, 3 year warranty on the foam & upholstery, CE Mark
The Harmony DX portable massage table from Earthlite makes a strong case as the best portable massage table out there. At first glance, what will impress you most is the top-of-the-line Hard Maple wood frame which makes for a striking look while promising durability. The legs are stable and the feet are non-slip to keep the table from moving during a massage session.
If you feel like this goes against the conservationist in you, you need not worry. The hardwood is sourced from managed forests and environmentally-friendly glues and water-based lacquer are used to treat it. Then there is the plywood decking supporting the table. This is made from a special plywood – aircraft-grade Russian Birch – which makes the table incredibly strong.
It is equipped with a full-strength piano hinge which strengthens the frame even more, with a cabling system rated at 1,000 pounds.
But the Earthlite Harmony DX has managed to remain surprisingly lightweight (33 lbs.) and can take up to 600 pounds of user weight.
A light cushioning system by 'Nature's Touch' covers the table, with silky padding and PU upholstery guaranteeing maximum comfort.
The Cloudfill poly-gel used in the construction of the plush face cradle is great quality and super comfortable, and what else you will appreciate about it is that it is adjustable. The cradle can be adjusted horizontally and vertically to accommodate different needs and preferences. We love the fact that the table can be adjusted from 23 to 33 inches as this means more versatility. Disassembling the Earthlite Harmony DX is a cinch and storage should be super easy.
There is a carry bag to stow it away in, and you have the choice of 4 colours for the upholstery.The manufacturer offers a three-year warranty on the foam and upholstery, but you get a limited lifetime warranty on the frame.
Overall, the design of the Earthlite DX is very well thought-out and it is just the perfect portable massage table for long-term investment.
The Earthlite Avalon offers even more colour options (eight!) and is a strong contender for best portable massage tables.
What we Like
• Elegant wood and finishing
• Super sturdy and guarantees premium comfort
• Deluxe adjustable headrest
• Nature's Touch 100% PU upholstery
• All-round eco-friendly construction
• 3-year warranty on foam & upholstery and Lifetime warranty on frame & construction
• Colour options
What we Don't
• There is little not to like about this Earthlite

Saloniture Professional Portable Folding Massage Table with Carrying Case - Burgundy
PREMIUM COMFORT: Table features deluxe cushioning, providing the ultimate comfort for your clients. The table top and armrest wings both are composed of a plush, 2" thick layer of high-density foam, and the face pillow contains 3" of foam with a removable cover.
STRONG, STURDY SUPPORT: Precision crafted of premium-grade materials, this professional massage table features a hardwood frame and durable steel support cables, designed to accommodate a maximum weight capacity up 450 pounds. The adjustable headrest features a premium composite support, resistant to bending and warping. The table legs feature secure, non-slip, non-marring feet, which prevent sliding during massage as well as provide floor protection.
CONVENIENT & PORTABLE: Lightweight yet sturdy construction in a streamlined fold-and-carry design makes setup and breakdown a breeze. Weighing 37 pounds, the table's compact design can even accommodate all accessories to be stored inside the table if desired. It locks securely with two professional chrome clasps, and features double handles for easy travel. Includes a durable nylon carrying case with an adjustable shoulder strap and side pocket to hold oils and supplies.
OIL & WATER-PROOF: The entire table cover is draped in a luxurious PU synthetic leather, a highly durable, soft, and vegan-friendly material that is not only easy to clean, but has no offensive smell like other synthetic materials. It is also oil and water-proof to resist stains.
DETACHABLE ACCESSORIES: Customize the table for each client, with an arm sling under the headrest as well as winged armrests, allowing for comfortable repositioning as needed.
Saloniture Portable Massage Table is one of the best-sellers on Amazon, and while the fact that its attractive price has something to do with it, this is a table that punches well above its weight division. The thing that makes this product different from other budget options is the model has not compromised on quality for the sake of keeping costs down.
One thing you will like most about it is the robust hardwood frame. Its stability is reinforced further by steel cables which make it even sturdier than it already is. The Saloniture Folding Massage Table allows for easy height adjustment between 24.5 and 34.5 inches, providing a sufficient range for any use.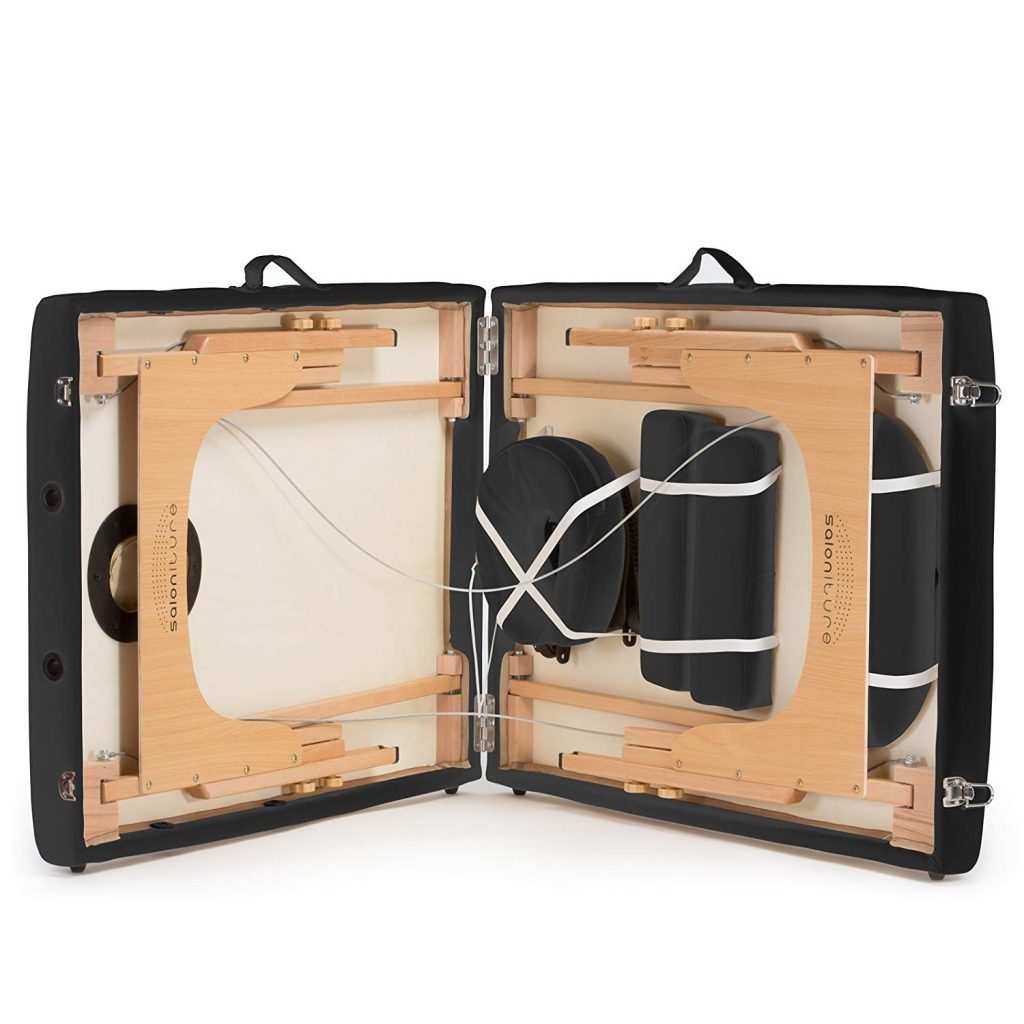 It comes in a 2-inch high-density foam cushioning for premium comfort, while the face cradle has a 3-inch padding with a removable cover.
What else we like about this portable massage table is it has a detachable headrest, arm sling and winged armrests, making it possible to adjust based on individual client needs.
On the whole, the deck is very comfortable and each accessory slots in nicely in its respective spot.
This portable table weighs 36.8 pounds and can support a user weight of up to 450 lbs. It is very easy to whisk around, and easy to fold and unfold when you need to.
A nylon carrying case enhances the table's portability, and short and slim individuals will find it utterly practical. This Saloniture Lightweight Portable Massage Table carries a one-year warranty.
What we Like
• PU synthetic leather is highly durable and is oil- and waterproof
• Price
• Robust hardwood frame and steel cables make it strong and sturdy
What we Don't
• Armrests are weak
• Width of 28" might not comfortably accommodate wide-structured clients

Master Massage 30" Del Ray Pro Portable Massage Table Package, Sand Color, Luxurious with 3" Thick Cushion of Foam
30" width x 84" length x 24" to 34" adjustable height, the table itself only weighs 34lbs.
1,500 lbs. aircraft-grade steel support cables give the table a working capacity of 750lbs.
3" thick cushion of Multi-Layer Small Cell foam, patented to be more dense than standard foam
The sand/beige PU upholstery is oil- and water-resistant, CFC-free and with denim-like reinforcement backing for extra durability; it's protected by a 2 Year Guarantee.
Accessories include: innovative ErgonomicDream face cradle, ErgonomicDream face pillow, Contoured arm rest shelf,and two-pocket carrying case.
Master Massager makes some of the best portable massage tables around, and as with Earthlite, they could easily stake a claim in the best portable massage tables list with several entries.
But if we could pick one, the Del Ray Pro would be it.
And here's why: The Master Massage Del Ray Pro is a very lightweight portable massage table many massage therapists will find a solid business investment. This is a professional-grade table made from managed forest hard European Beech Wood, one of the factors that has driven the cost up. A hi-gloss warm walnut finish with Dura-seal protection rounds out the elegant look.
Its aesthetics and overall quality makes it an ideal table for use in high-end establishments. The Quik-Set Knows feature is one of the things you'll like about this massage table. It allows you to adjust the table's height with minimum fuss, with a range of between 24 and 34 inches.
The Master Massage Del Ray Pro also boasts an incredibly high capacity, making it perfect for heavy users. It can hold a weight of up to 750 pounds, thanks to its aircraft-grade steep support cables.
At a super light 34 pounds , it has managed to remain impressively light, even lighter than other options on our list with lesser weight capacity.
What's more, the Del Ray Pro comes with innovative accessories which include an ErgonomicDream face cradle and ErgonomicDream face pillow. The latter is a lush addition which wraps around the face gently, adding cool to what is an already cossetting affair.
Other welcome accessories include a contoured armrest shelf and two-pocket carrying case.
The Master Massage Del Ray Pro features luxurious sand-coloured PU leather upholstery with warm walnut legs, culminating in a richly elegant look. It is water- and oil resistant, not to mention CFC-free.
Beneath the upholstery is a 3-inch thick cushion made from a multi-layered small-cell foam, guaranteeing maximum comfort for your clients.
With all these high-end features, it is easy to see why this massage table carries that price. But it is extremely durable and well worth every penny.
It comes with a 5-year manufacturer's warranty.
What we Like
• Elegant wood and finishing
• Sturdy and comfortable
• PU leather makes it luxurious and durable
• Impressive user weight limit
What we Don't
• Headpiece has been accused of being a little too hard

The Coronado Portable Massage Table is another offering from Master Massage worth considering.
Master Massage 30" Del Ray Pro Portable Massage Table Package, Sand Color, Luxurious with 3" Thick Cushion of Foam
30" width x 84" length x 24" to 34" adjustable height, the table itself only weighs 34lbs.
1,500 lbs. aircraft-grade steel support cables give the table a working capacity of 750lbs.
3" thick cushion of Multi-Layer Small Cell foam, patented to be more dense than standard foam
The sand/beige PU upholstery is oil- and water-resistant, CFC-free and with denim-like reinforcement backing for extra durability; it's protected by a 2 Year Guarantee.
Accessories include: innovative ErgonomicDream face cradle, ErgonomicDream face pillow, Contoured arm rest shelf,and two-pocket carrying case.
Sierra Comfort All-Inclusive Portable Massage Table
Table is made of high-quality beach timber with 2.5-inch high-density foam deck
Height (adjustable): 23 to 33-inches , closed dimensions : 38 Long x 28 Wide x 7 Thick. Base Table Weight - 36 pounds (39 pounds with Accessories)
Includes carrying bag; measures 74 x 33 x 28 inches (W x H x D); 5-year warranty
Sierra Comfort has branded this massage table all-inclusive as it comes as a complete bundle with everything you need as a massage therapist to get up and running. This includes pure cotton massaging sheets, oil pocket, a towel hanger and a semi-circle bolster – all to keep your essentials at arm's length. A carry bag with handles makes it easy to move the table from one location to the next. It folds up neatly, making it super convenient.
This Sierra Comfort offering was intended to be a basic product, the aim being to cut back on costs. However, you don't have to worry about a compromise on its quality, otherwise we wouldn't even recommend it. The frame of this portable massage table is constructed from solid hardwood (Beech Hardwood to be specific) which is a short way of saying three things…
One, the table is very sturdy and stable; two, it boasts great aesthetics, and three, this is a durable frame that will give you years of service.
At 35.3 pounds, this table plays within the confines of lightweight portable massage tables. The same goes for its weight capacity: it can support up to 450 pounds, an adequate maximum threshold for these types of tables.
It has an adjustable height of between 23 and 33 inches which means you won't have to bend unnecessarily as you administer massage therapy. The face cradle is also adjustable. These two things mean the table can be altered to suit different body types.
The Sierra Comfort All-inclusive Portable Massage Table comes with a luxurious 2.5-inch high-density foam to keep your customers comfortable during treatment.
The deck is waterproof and oil resistant which makes cleaning easier.
This product comes with a 5-year manufacturer's warranty.
What we Like
• Sturdy, stable and durable
• Easy to dismantle and re-assemble
• Accessories make work easier
What we Don't
• Face cradle might be a bit thin for some people

>> Check out our guide to the best pop up beach tents
ultra light portable massage table
Merax WF015763BAA Aluminium 3 Section Portable Folding Massage Table Facial SPA Tattoo Bed
27 inch wide massage table ensures full support and coverage of every body part with pressure evenly distributed for relaxing comfort
Removable side armrests allows therapists to cater to larger clients and while the adjustable head rest allows the client to be put in different positions
Adjustable backrest allows clients to be put in an upright sitting position for either salon treatments, anterior leg & arm treatments, physiotherapy and more
Simple to set up, no tools necessary. Table Dimensions: 73"L x 27"W x (24"-32")H
Product weight: 37 lbs., weight capacity: 500 lbs.
For masseurs and masseuses who prefer aluminium over wood, the Merax Aluminium 3 is just the table for you. The lightest portable massage tables mostly tend to be constructed from aluminium. But they are still able to hold a good amount of weight – the good ones, that is. This table is a good example. So robust is it that it can accommodate more weight than most wood models of the same size, and we're not talking about cheap, run-of-the-mill wooden tables.
With a weight capacity of 500 pounds, this aluminium portable table even surpasses some top-notch wooden models on this list, namely the Saloniture and Sierra Comfort models.
It weighs 37 pounds, which should be portable enough. The face cradle, arm extenders and armrest shelf are both adjustable and removable, while a high quality carrying case promises easy portability. The impressive aluminium frame aside, also worth mentioning is the thick padding on this table. The body of the table is swathed in 2-inch high-density padding which provides good comfort.
The upholstery is made from an ultra-soft PU-coated synthetic leather, and is available for purchase in two colour options – a mix of red and black, and an all-black shade.
The face rest has been faulted for being a bit challenging to assemble, and a width of 27 inches may be an inch or two thinner.
Other than that, the Merax Aluminium 3 is a great portable massage table for anyone in the market for a good metallic model.
What we Like
• Aluminium frame is sturdy
• Impressive weight capacity
• Good portability
• 2 colour options
What we Don't
• Face rest is daunting to assemble
• 27-inch width is a bit trim

The Artechworks Lightweight Massage Table is another aluminium portable massage table we would recommend.
Artechworks Lightweight Massage Table with Aluminium Frame, 2 Fold Beauty Therapy Bed, w/Free Carry Case, Face Cradle, Arm Rests (Black)
Removable side arm rests allows the therapist to cater for larger clients and with the adjustable head rest allows the client to be put in different positions.
Lightweight&Sturdiness: Our massage table with Aluminium Leg is your best choice which offers perfect client comfort and experience with lightweight convenience and quality performance.Specially designed sturdy frame structure make it a table with exceptional stability.
Complete package includes a soft carry case to carry and protect your table. Easy to use, No tool needed to assemble.
Table Adjustable Height: 25" to 34"(height from seat to ground) ,Table Dimensions: 73.23" Long (without face cradle) × 28" Wide (without side arm rests),Product weight: 33.1 lbs
Usage: The massage table is widely used in professional therapy clinics,massage centers,salon, health club,beauty parlor and home.
Choosing the Right Portable Massage Table

Regardless of the considerations you need to make, deciding on the ideal portable massage table doesn't have to be as complicated as mapping out the periodic table.
Materials – The best frames for a massage table are either made of wood or aluminium. Wooden frames have better stability, are more durable and look nicer. But they tend to be heavier and could get creaky when you lean in on them or when massaging a heavier client.
Aluminium frames are newer entrants into this space, and an influx of low-quality frames have not endeared them to many masseuses. But there are good ones in the market, although these are high end. Aluminium is stronger and lighter than wood, but avoid low-quality tables.
Table Weight – A portable massage table should not be too heavy because it is designed for moving around with. Weight varies from one table to the next, but it's almost always disproportionate to the price.
The more expensive the table, the lower its weight. High-end wooden tables and high-quality aluminium models are usually lighter. Anywhere between 25-35 pounds is a reasonable enough weight.
Padding – Client comfort is always top priority when massaging, and as such, the foaming is a big factor to think about. Thicker is not always better. After all, you do not want something to make customers feel like they are floating in a NASA zero-gravity chamber.
If the foam is too thick, your clients might not be comfortable. And if it is not dense enough, client comfort too could get compromised.
While high-density foam might not be as soft as low-density, it is definitely better. Even better is a type of high density known as small-cell foam. Opt for tables that include memory foam technology as they contour nicely to the body.
Table Upholstery – Good upholstery improves comfort and enhances the table's look while increasing the table's durability. PU leather and PVC vinyl leather are the two main materials used for upholstery.
Cheaper PVC vinyl is both oil- and waterproof, and is low maintenance. PU leather, on the other hand, is oil- and water-resistant (not oil and waterproof) but it is the closest thing to natural leather. If you want to keep costs down, don't dwell too much on the type of upholstery. After all, most of it will spend more time draped in covers and sheets (for hygienic purposes) so you might want to think about directing the funds to good quality sheets and other protective accessories.
Portability – The whole point of investing in a portable massage table is to have a table that is easy to whisk from one appointment to another.
Ideally, you want a table that can fold in a matter of minutes as opposed to spending half an hour folding it up after every appointment. Bulky portable tables also beat the purpose. Make sure the products comes with a portable massage table carry bag.
Dimensions – The length and width of the table are other factors to think about when deciding on the right massage table to buy, although the length not so much. That's because most massage tables come with a standard length of 70 inches which should accommodate most individuals comfortably – unless you work with very tall clients or athletes.
As for the width, majority of massage tables fall between 27 and 34 inches. Anywhere between 28 and 30 inches is ideal since the width of the table affects your body mechanics too, and you don't want a table that will give you difficulty in reaching over.
The height is usually adjustable (18-37 inches) and should correspond to the height of the therapist.
Cable System – A necessary addition to a portable massage table, cables increase the strength and stability of the table and prevent it from rocking sideways or back and forth during a massage session.
Good cables should be made of high-quality aluminium or steel, so opt for these over plastic ones. Cheap plastic joints are a no-no.
Accessories – These include extras like the face cradle, armrest, towel hanger and bolsters.
Cost – Portable massage table costs can vary greatly. You'll find some fetching at $100 but as with most things, you get what you pay for.
Massage sessions are an opportunity to pamper oneself, so unless you're fresh off college and have exhausted all your finances on tuition, it's always best to avoid bare-bones tables. You don't want the sessions to be one-offs, but for clients to give you repeat business.
You will find plenty of great portable massage tables available on Amazon and it is very easy to order. As with any other product, though, you won't find every specific option being offered.
But there are more chances of finding it here, and it comes with the benefit of getting a great model delivered to your doorstep without emptying your wallet.
The post 5 Best Portable Massage Tables for Traveling appeared first on TravelBusy.
Best Places in the World to Paddle Board (SUP)
Last Updated: Friday, March 15, 2019 If there's a watersport that's rapidly gaining in popularity, then it's certainly stand-up paddle boarding (SUP) the fastest growing sport in the world. Quality inflatable paddle boards can now be bought for under US$500 making the sport more popular.  From practising SUP Yoga to paddling with your dog, SUP [...] The post Best Places in the World to Paddle Board (SUP) appeared first on...
If there's a watersport that's rapidly gaining in popularity, then it's certainly stand-up paddle boarding (SUP) the fastest growing sport in the world. Quality inflatable paddle boards can now be bought for under US$500 making the sport more popular.  From practising SUP Yoga to paddling with your dog, SUP can offers hours of family fun.  However, one of the main reasons why you should go paddling is to enjoy the best of nature such as alpine lakes, mangrove forests, tropical beaches, marine life, and many more.
Therefore, this insightful post will take you through some of the best places to SUP in the world that you should visit.
1. Hawaii
Hawaii is popularly known for its laid back lifestyle as well as the beautiful beaches. In fact, Hawaii is one of the world's most famous watersport destinations. Recently, this destination has become very popular with paddlers because it's home to some of the best SUP locations in the world. You'll actually be spoilt for choice for the best spot to paddle your board as well as rent a SUP board for your adventure. Places such as Oahu, Ala Maona, Kealakekua Bay, Sunset beach, and many others will leave you with some fond SUP memories.
2. Californi
a
The California coastline is certainly famous for a reason. The Pacific Coast Highway will treat you to some stunning scenery, delicious dinners, peeling waves, and most importantly lots of paddling spots. You'll get to enjoy your favorite watersport in some classic spots such as Lake Tahoe, San Onofre, Malibu, Santa Barbara, Morro Bay, Santa Cruz, and many more. It goes without saying that this top destination is also filled with very nice 5-star restaurants, luxurious resorts, coastal campgrounds, and dirt parking lots.
3. Bali
Our next top place takes us all the way to Bali, Indonesia. For most riders around the world, Bali is definitely a surfing mecca because this thrilling island boasts of some of the most beautiful coasts in the world. You could choose to go paddling in Kuta beach. This place credited to be the pioneer of surfing in this island, and is comfortable for SUP as well due to the combination of flat rides and rideable swells.
Alternatively, you can visit Nusa Dua or Sanur beaches which have nearer coastal waters perfect for some exciting rides beyond. Western coasts such as Jimbaran Bay and Kuta are less windy making them perfect for flat wave riders.
4. Florida Keys
Florida State is almost entirely surrounded by water and this is one of the main reasons why SUP is flourishing here. That said, Florida Keys boasts of hundreds of launching spots for your paddleboard as well as a rich marine life including stingrays and manatees. You'll also enjoy the splendid sight of the mangrove forests, Caribbean-like waters, and the generally diverse ecosystem.
Moreover, you can cover long distances using your SUP with the aid of the trade winds. You can even use your paddleboard for fishing, meditation, or SUP Yoga when there's no wind. All in all, Florida is arguably the most scenic SUP place in the world.
5. New Zealand
What make New Zealand stand up among the rest the availability of abundant wildlife and the exceptionally rich culture. To add on that, the variety of lakes, rivers, beaches, as well as bays surrounded by mountains make it the perfect SUP destination. The subtropical climate of the Northland's Bay of islands as well as the warm water throughout the year make NZ the best destination for most SUP lovers. Don't forget to check out the few dolphins or a pod during your ride. To wind up your adventure, visit Lake Wanaka, the country's fourth largest lake.
6. Turks and Caicos Islands
For paddle boarders, the turquoise waters surrounding these islands are certainly a treat. To make it even better, the calm, clear waters of the Grace Bay are ideal for your favorite watersport. For those who like exploring spectacular backcountry, the Big Blue Unlimited will offer you SUP tours around the archipelago. Don't forget to check out the mangrove swamps as well as the wading herons and the juvenile nurse sharks just underneath your board as you enjoy your paddling.
7. Perth, Australia
If you're looking for the best place to go SUP in Australia, head over to Perth. Despite New South Wales being more popular among surfers due its big waves, Perth offers beautiful, flat waters from the Swan River, making it an ideal place for novice riders to hone their skills. You can also enjoy laid-back paddle boarding at the Cottesloe Beach due to its stretch of sand.
8. Washington
There is definitely no better place to go stand-up paddle boarding than Washington State. To begin with, Seattle which is surrounded by both freshwater Lake Washington and saltwater from the Pacific Ocean is a place so hard to beat when it comes to SUP. You can go paddling in Elliot Bay, Green Lake, Lake Union or Shishole Bay.
If you think its ends there, then you're very wrong. You haven't visited the magnificent Kenilworth Park for laid-back paddling, Potomac River Rapids, Theodore Roosevelt Island and the Lake Barcroft. All these spots coupled with being close to the big city make Washington one of the best places to go paddleboard.
9. Cape Town, South Africa
Apart from being popular for its blessed wildlife safaris, Africa also has an array of waves coupled with beautiful scenery. Because of this, SUP is rapidly gaining in popularity with Cape Town being the leading destination due to its flat water canals and the ocean surf. There's a variety of places to hire a guide, rent a boat, or even get both, making Cape Town a top place to go paddling. You could try Blouberg and the Sunset beach in the north or the Strand and Muizenberg in the south.
10. Costa
If Costa Rica isn't on your top SUP destination list, then it's time to change that. In this tropical country, SUP is seriously gaining in popularity. To start with, Playa Danta located in the Guanacaste region is a popular premier SUP spot that is attracting lots of attention. This secluded, flat-water bay has an abundance of exotic sea life that you could enjoy while surfing or paddling. Also, with water temperatures of around 30 degrees Celsius all year round, Costa Rica is truly a paradise here on earth.
The Summing up
All in all, the world is filled with lots of wonderful SUP destinations for you to choose from. However, the above paddle boarding hotspots will give you the perfect blend of nature and wildlife that will make your adventure is a great success. Happy paddling!
The post Best Places in the World to Paddle Board (SUP) appeared first on TravelBusy.
Best Cameras For Hiking 2019
The review team look at the 4 top cameras to take on your hiking trips. We look at the most durable and compact cameras on the market that can be easily stored in your hiking daypack. The post Best Cameras For Hiking 2019 appeared first on...
The post Best Cameras For Hiking 2019 appeared first on TravelBusy.