Subscribe

to Travel Busy 8 Best Lightweight Suitcases for International Travel

Last Updated: Wednesday, October 24, 2018Frequent flying comes with luggage. Choosing the best lightweight suitcase will ensure that you comply with strict airline rules about weight and size. Before you start going through all the colors and styles, it is important that you familiarize yourself with the provisions of luggage regarding the airlines you plan [...] The post 8 Best Lightweight Suitcases for International Travel appeared first on...

Frequent flying comes with luggage. Choosing the best lightweight suitcase will ensure that you comply with strict airline rules about weight and size. Before you start going through all the colors and styles, it is important that you familiarize yourself with the provisions of luggage regarding the airlines you plan to use.

US carriers including Delta, United Airlines, and American Airlines all stipulate suitcase sizes for international travel for carry-on as 18-22 inches high, 9 inches deep, and 14 inches wide. For checked luggage, different airlines have their recommendations, but they range from 24 to 30 inches high. This comes with a weight limit too.
source: sendmybag.com
Buying a Lightweight Suitcase for International Travel

• Size
It's an obvious consideration because you will want luggage that can squeeze in all your essential items while still complying with size restrictions. Consider how long your travel will be so that you don't leave anything out. It's always important to be realistic and not stuff the things you hope to use but in reality are just by the way items that take up valuable space.
• Soft vs. Hard Suitcases
Soft bags are flexible and can easily fit in an overhead compartment. Their flexibility also means you can fit an extra outfit. But they can rip easily if you don't pick a high-quality suitcase made of dense materials. Hard suitcases, on the other hand, are ideal for storing fragile items. They are lightweight, durable, and less likely to be damaged in transit. Since they have hard sides, you will mostly carry the necessary items because it's hard to go over the limit. With hard carry-on suitcases, you have to get the right size because you will not be able to squeeze it into an overhead compartment if it is not the right fit.
• Wheels
You can choose to go with a suitcase with two or four wheels and some have double wheel sets so are called  8-wheel.  Four-wheeled luggage is easy to move since the spinner wheels move in all directions. For navigating through airports, 360-degree wheels are more comfortable to pull through since you can turn a corner without having to stop. But they can be hard to pull on cobblestone roads mostly found in Europe. That is why you may need to consider two-wheeled suitcases if your destination is Europe. Two wheels move in two directions only which makes them stable on rough surfaces.
The cost of being overweight
If your luggage is overweight or over sized you can expect to be hit with a hefty fine of up to $550 on some flights, basically the cost of the flight again! Here's some charges from teh American airlines page.
Lightweight Carry-On Suitcases for International Travel (Cabin Luggage Approved)
We class ultra lightweight carry-on cases as weighing under 5lbs, but these may not be the best choice for you. The ultra-light suitcases tend to only have 2 wheels, which can get a bit annoying when queuing to board the plane.  In our tests, we preferred the carry-on cases weighing under 7lb with hard shells and at least 4 wheels.
Samsonite Omni PC Hardside Spinner (Best Carry-On)
At 19 inches, Samsonite Omni PC Hardside Spinner is an excellent option in carry-ons. It comes in a lightweight and robust design for improved durability, weighing in at 6.8lbs. Being hard-sided, it is not a suitcase prone to damage so even if it is in a squeezed compartment; chances are everything in it will remain intact for the journey.
You can count on it, not only because it meets international luggage size but because it is easy to store lots of stuff. It has a full-zip interior with a divider and cross-straps to help squeeze in every item for your trip. Remember not to overstuff it because airlines will charge you extra fees or even worse still be grounded for not abiding by airlines' carry-on rules.
This luggage uses a micro-diamond texture such that no matter how many trips you take; your suitcase will look as good as new every time.
Samsonite Omni PC Hardside Spinner also explores 360-degree wheels. They make it super easy to move with your luggage as they manage the weight of the luggage for you. And your luggage will always be protected since it also comes with a TSA-compatible combination lock.
Drawbacks but not Deal Breakers
This suitcase does not include a side handle. You will have to use the main retractable handle to lift and remove it from overhead compartments.
Travelpro Maxlite 4 International Expandable Rollaboard Carry-On Suitcase
Travelpro is known for their outstanding quality in their luggage. They have a line of different travel bag styles, and the Maxlite 4 is one of their top sought models. With its professional styling, this carry-on rollaboard will make your journey simple and straightforward.
It is absolutely light weighing only 5.9 pounds. When you add your travel essentials, you will not be dealing with a heavy carry-on luggage to give you trouble fitting it into airplane compartments. It comes with two rollaboard wheels. Since they usually require more effort to pull, you will find that Maxlite 4 does not put any pressure on your wrists and joints because it is lightweight.
You will like that it comes with a telescoping handle that can stop at your ideal height whether at 38 inches or 42.5 inches. The handle is built using airline-grade aluminum that speaks durability. Not to mention, it boasts a honeycomb frame and polyester fabric construction that is water and stain resistant.
This suitcase can expand to 2 inches to allow packing of extra stuff. It also includes an interior lid pocket, adjustable hold-down straps, and a side accessory pocket.
For security, this luggage has durable zipper pulls that are deemed some of the best in the industry.
Drawbacks but not Deal Breakers
Maxlite 4 is prone to tipping. We find this is a common issue with two-wheeled models since they cannot stand on their own. For a stable model, you can opt for the Maxlite 3 spinner that is lighter but smaller than the Maxlite 4.
Kenneth Cole Reaction Out of Bounds 4-Wheel Carry-On Luggage
Available in many different colors, the Kevin Cole Reaction Out of Bounds will let you travel in style. Whether you want a chic or professional look, all you have to do is pick a color. At only 19 inches high, this is one of the hard-sided suitcases that you never have to worry about flexibility.
Four spinner wheels will glide effortlessly beside you to make your movements around the airport smooth. It is very stable on smooth surfaces of any airport so you won't have to keep your hand or foot on the bag at all times.
This luggage weighs only 6.25 pounds. With a construction from tough ABS, it still manages to bring the weight considerably low so you will meet airline restrictions with no problem. You will like that the interior has a soft lining, and it even includes zippered flaps still on the inside where you can put dirty items separate from the rest of the stuff.
On the exterior of the suitcase, you will find a U-shaped zipper pocket. It also increases the storage capacity of the luggage. The zipper is credited to take pressure even when you squeeze in an extra pair of shoes.
Drawbacks but not Deal Breakers
This suitcase will not do well on rugged surfaces. The wheels will most likely break off if you roll it on a rough path.
Eagle Creek No Matter What Flatbed Carry-On Duffel  (Best for Europe)
The Eagle Creek No Matter What 20-inch duffel is all about convenience. It will easily fit on most airline overhead compartments since it is soft sided. It is quite a durable suitcase as it showcases construction from a Bi-tech material with bartack reinforcements around all the points that are prone to tears.
The oversized wheels are all reinforced for smooth glides in all types of surfaces. If you are traveling in areas you know are going to need some more effort to pull, this luggage exempts you from such stress. You will like that it is weatherproofed meaning water will not get into the interior.
A robust handle graces the system to provide simple handling. The handle is stored in a recessed design to keep it safe from scraping or breaking when it's not in use. It also comes with a side handle to help in lifting the suitcase up and down the stairs where the steps are too steep.
When it comes to organizing stuff, you have a stash bag on the top and a smaller compartment with No.10 lockable zippers. The inside of the duffel includes a mash panel organizer and the main compartment where most of your items will go.
Drawbacks but not Deal Breakers
The retractable bag is not padded. It may bring some sought of discomfort if you pull it for extended periods.
Best Lightweight Checked Suitcases for International Travel
Samsonite Mightlight 2 Softside Spinner Checked Suitcase
If you are looking for lightweight checked luggage with spinner wheels, you will want to consider the Samsonite Mightlite 2. It is a soft side spinner weighing in at only 8 pounds. It's not that any compromises have been made with the construction since it is made of a heavy-duty nylon fabric. It includes a samguard water-resistant coating to make it weather resistant and improve its durability.
The multi-direction spinner wheels are important in making it easy to maneuver through crowded spaces. This is because they are easy to turn and will also be easy on your joints and wrists. The alloy pull handle is beveled for comfortable handling. It eliminates any extra stress when you are pulling a full suitcase over a long distance.
Apart from the main compartment, this luggage also comes with three zippered pockets on the outside. You will have enough room to bring every essential item that you want for your trip.
Drawbacks but not Deal Breakers
There are complaints about a broken zipper if you overstuff the suitcase. It is vital to understand your limits instead of risking a snapped zipper when you are at the airport.
TravelPro Elite Platinum 25" Expandable Spinner Checked Sitcase
TravelPro is always ahead of the game when it comes to international travel. It is evident in their Platinum Elite that this brand brings perfection in your travel. This particular checked luggage has a height of 25 inches. It is a medium-sized model that is ideal for medium and long trips.
With its tapered design, you can expand it to get two more inches when you have more than a few travel necessities to bring along. We like that its weight is easy to manage thanks to the four Magnatrac spinner wheels. If you feel the weight is still too much, you can go for the Maxlite 5 that is 2 pounds lighter than this Platinum Elite model.
With the Platinum Elite, you get a 4-stop PowerScope handle with a contoured grip. It comes with a foldout suiter that keeps clothes wrinkle-free. The suiter will fit in two suits, and it is not removable. You also have accessory pockets that will give you more organized space.
What's more, this luggage has durable Supra zipper heads and a TSA lock to keep everything protected. It has a lifetime warranty which is unlike other checked luggage.
Drawbacks but not Deal Breakers
Like many spinner suitcases, TravelPro Platinum Elite also faces the same struggles of cruising on rough surfaces. They inhibit movement and most likely will break off if mishandled.
AmazonBasics Hardside Spinner Luggage 3-Piece Set
AmazonBasics offers an affordable option to get carry-on and checked luggage size suitcases. This 3-piece set allows you to make an easy choice for all your international travels. The protective hard shell ensures that your luggage arrives in good condition. It has a scratch-resistant finish that also helps to maintain its sparkly condition.
This luggage is as good on the outside as it is on the inside. It has a 150-Denier polyester interior with dividers. For smaller items, you have three zippered compartments that are as important as the main pocket.
The telescoping handle locks into place such that together with the four spinner wheels, it is quite easy to get it rolling even when you are carrying the maximum weight limit. The short handle is securely mounted on the side to facilitate safe and comfortable lifting of your luggage.
If you are traveling large, the three suitcases can be used as they all meet airline size restrictions. But you won't be getting a strap that can hook the three suitcases together.
Drawbacks but not Deal Breakers
The 28-inch suitcase if expanded may exceed size limitations. We don't see why AmazonBasics included this option if it is going to be a challenge to use it.
If you are looking for more 3-piece sets, IT luggage  touts itself as producing 'The World's lightest luggage sets'. Their best seller is the 8 wheel 3-piece set .
Wrapping Up
It feels good when you have all your belongings in the right size luggage. Our Best Lightweight Suitcases for International Travel are from some of the top brands. These pieces of luggage are all of high-quality, durable, and meet international suitcase size recommendations by most airlines. We hope you will find the one that is right for you.
The post 8 Best Lightweight Suitcases for International Travel appeared first on TravelBusy.
4 Tips for Staying Healthy While On the Move!
Last Updated: Thursday, August 23, 2018   No matter what travel plans you made, becoming sick or being physically unable to travel is never good. Whether it is the fatigue of jet lag, a physically demanding hike or climb, or the general wear and tear of traveling, you need to keep your body strong while [...] The post 4 Tips for Staying Healthy While On the Move! appeared first on...
No matter what travel plans you made, becoming sick or being physically unable to travel is never good.
Whether it is the fatigue of jet lag, a physically demanding hike or climb, or the general wear and tear of traveling, you need to keep your body strong while you are on the move if you want to travel as well as possible.
Check out these tips that will help keep you healthy and happy while you are traveling!
1) Set Your Schedule on the First Day
It is important to set a "sleep and wake" schedule for yourself while traveling, especially if you are crossing over any time zones. A lot of people enjoy relaxing while they are traveling and avoid an alarm clock or bedtime, but this can be a costly mistake. Jet lag or other forms of travel fatigue can quickly damage your immune system and leave you susceptible to illness or physical fatigue.
If you have a lot of plans for sight-seeing or other activities while you are traveling, you cannot risk losing your physical energy. Setting an approximate bedtime and a firm wake-up time is a great way to keep your internal biorhythm on schedule and keep you rested even with a lot of activities.
2) Remain Hydrated
One of the big issues that a lot of people have while traveling is forgetting to drink enough water or eating and drinking too many dehydrating products. A lot of people rely on caffeine from coffee or energy drinks to power through their days while traveling, and then relax at night with a beer or other alcoholic beverage at night. Unfortunately, this is an unhealthy and dangerous combination.
Staying hydrated supports your immune system and entire body while you are traveling. If you are going to drink a lot of caffeine or alcohol during your travel, make sure that you are drinking more than enough water to make up the difference!
3) Choose Natural Energy Drinks
As I mentioned before, many people rely on heavily-caffeinated drinks such as coffee or pre-workout drinks to push through their travel plans. The side-effect of drinking heavily-caffeinated beverages is that your body will wear down and crash sooner, rather than later. Instead of pounding coffee or Red Bull all day, choose a natural energy provider for drinking instead.
According to professional model Anna Targoniy (who has experience working and traveling throughout the world), choosing natural energy drinks with lower caffeine such as beetroot juice or green tea can provide longer-lasting energy and numerous other health benefits.
There are many options for lower-stimulant energy drinks, and they are very helpful while you are traveling!
4) Try Intermittent Fasting and Fasted Cardio
Intermittent fasting is a growing fad in the diet world, but it does have legitimate benefits. Intermittent fasting calls for a 16-hour daily fast, while you are allowed to consume food and drinks during the other 8-hours.
One of the benefits of intermittent fasting is that your body goes through a process known as cell autophagy while fasting, which is the process where your body cleans dead cells from within. As you can imagine, this is especially important while you are traveling. Many people eat and drink more than they should while traveling. Coupled with the fact you are probably less-active than normal while you are traveling, means that your body will become heavy and lethargic over time.
Intermittent fasting is an excellent way to keep your body fresh no matter how long you are on the move! Fasted cardio is a widely debated subject, but it does have many potential benefits. TO perform "fasted cardio" you simply need to perform low-intensity cardio while in a fasted state. If you are traveling, starting your morning with a 45-minute fasted walk is an incredible way to keep your body fresh, healthy, and ready for adventure!
Concluding Thoughts | Tips for Staying Healthy While Traveling
When you are adventuring somewhere new in life, the last situation that you want to happen is that your body is sick or tired and you cannot explore as much as you want. However, this type of situation does happen more often than you can imagine.
To defend your body (and your travel plans) use the tips listed above and follow basic health and wellness rules while you are on the move!
The post 4 Tips for Staying Healthy While On the Move! appeared first on TravelBusy.
Best Beach Tents with Easy Pop Up 2018
Last Updated: Saturday, June 30, 2018   Do you always plan on getting a beach tent every time you visit the beach? Well its time you stop thinking and order one. Beach tents not only make great picnic spots but can also be used by kids at home for playing. Now while this might not [...] The post Best Beach Tents with Easy Pop Up 2018 appeared first on...
Do you always plan on getting a beach tent every time you visit the beach? Well its time you stop thinking and order one. Beach tents not only make great picnic spots but can also be used by kids at home for playing.
Now while this might not appear to be a difficult job, truth is, there are multiple factors you need to consider when making this purchase. Price isn't the only factor that comes into play, but family size, privacy requirements, setup difficulty, sun and water protection as well as additional accessories also need to be considered. While some options may appear pricier, they have a lot of customization to offer, which in turn becomes more convenient once you're out there, camping.
The main factor we looked for in our testing was how easily and quickly did the the beach tent pop up. Here we have shortlisted the best beach tents:
This beach tent is the perfect package in every way which also has a lot of customization to offer. Although it can only accommodate up to two people, it is the best vacation partner you can ask for. Unlike other beach tents, it has two zipped doors which can be used as windows simultaneously. The zippered door is also covered with a nylon layer for additional privacy. Its multipurpose door/windows provide excellent ventilation so you don't have to step out of it on sunny beach days.
The tent is big enough to fit a twin sized bed, so if you're in the mood to relax and unwind, you can also bring a mattress along. Since this tent has a floor, you won't risk covering your mattress in sand. It's an extremely lightweight pop up tent so doesn't require any hassle for its setup. By following the instructions in the manual or a YouTube tutorial, pop it open automatically and fold it according to it to avoid any problems.
It can be used indoors for play if you don't get to go to the beach often. Long story short, it has great value for money to offer with a variety of functions for a beach tent.
This beach tent is better termed as a beach shade since it has one sidewall fully protected from the sun and wind, while the rest three sides are open. This makes it ideal for taking it to your trip to the mountains, lakesides or the beach. Its classed as a beach canopy.
With plenty of room and a large floor, it can accommodate up to 4 people. Simply set your chairs up in its shade and watch your kids play without having to fear of being sunburnt. It comes with a. detachable side panel to provide extra shade when needed. The support polls are strong enough to hold the tent sturdily in moderately windy conditions. Its dome shape helps against strong wind pressure.
It can be set up and disassembled with its bottom-pull drawstring hub system that takes half the time and effort average beach tents do to assemble. This also makes managing it easier on windy days when the pressure on the beach is high.
Its the little details that make the most difference, which is why this beach tent is equipped with 4 mesh pockets to keep your accessories and belongings. For the given price, it has great quality to offer, which makes it a good option to consider, provided you're okay with the open sides.
This InstaPalm beach tent is ideal for couples on their honeymoon or those with no kids. Just what you need on those sunny beach days to protect yourself from the harsh sun rays. It is UV protected and water resilient so you're safe from the UV rays and sudden weather changes.
Assembling it couldn't get easier than this. All you have to do is pop it out of its bag. In case you have trouble packing it, you can always look at Youtube tutorials and instruction manual that comes with it for a step by step guide.
It doesn't require any poles for stability which make it extremely lightweight. Simply fill up the sand pockets and you're good to go. For additional privacy, it comes with a mesh window on the back, which can be zipped or unzipped as you may please. To keep your stuff safe and free of dirt, it has a tent floor, which is not present in many beach tents.
The beach tent is perfect for kids to play, since it has a proper floor and a design with no sharp edges and corners like most beach tents.
For such a reasonable price, we believe this is a great product for all your beach shelter needs.
Best for beach tent for windy locations
If you're looking for a well ventilated beach tent which keeps mosquitoes and flying insects at bay, then its time to bring home this KingCamp beach tent. With double layered mesh windows on all four sides, it keeps bugs away, lets wind flow freely, while you get to enjoy the view. Pull down the second layer when you want to nap or need some time to yourself. The tent has a covered floor so you don't need to pack extra sheets along.
This multipurpose tent lets you use the inner removable tent alone, alongside using it as a full camp. It comes with a door rainfly that can be set up with 2 steel poles to stay safe from rain and the sun. Its 8 ropes and 12 nails keep the tent sturdy and stiff to resist high pressure winds.
What we like best about it is the roof ring it has to hang lantern, so that you don't have to use mobile flashlight and torches when you want to find something after sunset. It has small built in pockets to store stuff.
Looking for something compact and easy to set? This Alvantor beach tent is as easy as things could get. Pops up automatically in a second and takes roughly about 30 seconds of your precious vacation time.
Its key feature is its light weight which makes it highly portable. Despite being made up of a fiberglass frame, it weighs lighter than other commercially available alternatives.Its versatility lets you use it as a beach tent, a canopy, a sun tent or simply a shade at a park or by the poolside. So whether you're traveling or simply taking it to the beach, this foldable beach tent is your perfect vacation companion, that fits in your travel bag easily without taking up space.
Enjoy breathtaking views while sitting in the tent since rain and heat aren't a problem anymore with its UV protected, rust free and waterproof material.
Although designed for 2-3 people, it comes with an extendable floor for extra leg space to accommodate more people. Proper ventilation is ensured with its back mesh window, that allows sufficient airflow, letting you enjoy windy and sunny weather alike. The beach tent is also wind resistant up to 25mph, given its light weight which is both a pro and a con.
However, its 3 sand pockets and 4 extra sandbags and stakes provide stability against strong wind and keeps it intact in its place.
All of this for a very reasonable price makes it a great choice for those who just want to have a good time vacationing in their camp without breaking the bank.
Best family pop up tent
If you're planning on buying a more sturdier beach tent for your hole family, then you would probably want to consider this large sized EastHills Outdoor tent.
Despite being huge in size, it is easy to fold and store, perfect for fitting in the trunk of your car. Once you're at your vacation spot, it won't take longer than a minute or so to set up, especially with the step by step instruction manual given with it.
Not only that but it is ultra lightweight for better portability. This, however, in no way compromises its stability as it comes with extra pegs and guy lines in addition to its sand pockets that come with the product.
What we like best about this beach tent is its zippered front that gives you additional privacy which you probably won't find elsewhere at a place where you'll be out camping.
Its sand pockets are easy to clean as they have Velcro on the sides, which considerably reduces labour time when emptying the sand pockets and taking down the tent. you might find it pricier when compared to other options, but is a worthwhile investment provided you are from one of those families who tend to camp out a lot.
Probably the cheapest deal you can find for a beach tent is this Semoo product that is perfect for those who use beach tents less frequently but want to own one. Take it everywhere you go, the beach, mountains, parks, and lakesides, in its lightweight carry bag which barely takes up any space, making it your ultimate beach companion.to set it up firmly and provide sturdiness in windy weather conditions.
Ideally designed for couples, this beach tent shouldn't be used for more than two people. It can also be used as a kids' tent or play camp in your house and outside, both.It is UV protected, so you can spend all day at the beach without the fear of getting sunburned. This beach tent has a lot of convenience to offer for a very low price, through its easy assembling/disassembling and interior pockets to keep your belongings without having to reach your bag over and over again.
It doesn't however, have a closed door or opening so it will stay open at all times, which is a pro if you want to enjoy the view but definitely a con if you want some privacy.
This ShadeShack is both, a beach umbrella and a beach tent in one. Perfect for a small family of four, this beach tent lets you enjoy the scenic views of the beach without suffocating you in. It has three walls and an open back which keeps you cool during sunny beach days. If you simply want to use this as a beach umbrella, you can unzip its back and let your toddlers play in the sand and enjoy their time. You can always zip up the back if you're looking for some privacy to change or breastfeed your toddlers.
As far as setting it up is concerned, it has to be the simplest beach tent to have ever existed. Simply taking it out of its carrying case pops it open and boom, your beach tent is all set. Being extremely light weight makes it ideal for vacation. Filling the side pockets with sand keeps it intact and the sturdy structure protects it against the wind pressure. The material is UV protected and made from zinc coated polyester, so you're safe from all the harmful sun rays and all the extra tan you don't need. Given the price, we would however suggest that other alternatives with 4 sided protection can be purchased in a similar price range.
This FiveJoy beach tent is a three sided shade, designed ideally for families with babies and toddlers. With mesh windows on its sides, this beach tent allows cool air to flow through whilst protecting you from harsh UV rays simultaneously. With babies, you need more clean space to change diapers, clothes and simply place all your stuff which is why it comes with a groundsheet so all of your stuff doesn't get messy in the sand.
The structure needs to be weighed down by filling the pockets with sand and anchoring it down with stakes in the corners. This isn't a problem at all when you're packing it, as it is extremely portable and lightweight to carry. Its the perfect size you would want for a family beach tent and the perfect size for carrying it anywhere with you. However, some users often face difficulty while packing it, so thats one downside to it. Not too high end and not too low on the price continuum, this beach tent is a convenient option for those not looking for a big investment at the moment.
Image credits: Amazon.com
The post Best Beach Tents with Easy Pop Up 2018 appeared first on TravelBusy.
Best Daypacks For Hiking 2018
Last Updated: Wednesday, November 14, 2018 Going for a long walk can be one of the best ways to spend your time. Not only is it a great source of exercise but is also the ideal time to bond with friends and family members. If you're a nature lover then this should be right down [...] The post Best Daypacks For Hiking 2018 appeared first on...
Going for a long walk can be one of the best ways to spend your time. Not only is it a great source of exercise but is also the ideal time to bond with friends and family members. If you're a nature lover then this should be right down your alley; hiking gives you the opportunity to take in everything that's around you and relax in the wild. What you take with you on your trip will also be very important, if you're only going for a day hike, and not planning to stay overnight then you won't need to take a massive backpack with you.
Daypack Buying Guide
Daypacks are measured on a number of different factors, the most obvious of these being its size (Normally in Litres). Certain features and capabilities will set bags apart, for example, some are shower proof some have extra pockets, more space on the inside/outside and much more! Before we start our list of the best small backpacks for day long hiking trips we will give you a quick buying guide, this will help you decide which features suit you best in Backpacks.
What should I look out for in a daypack?
Comfort is one of if not the main factor when you are picking a small daypack, especially when it will be used all day long, Nobody wants to haul an irritating/uncomfortable backpack around with them all day. There are many different things which will affect how comfortable a Bag is, one of the main things being the build material and padding used. Most daypacks come with breathable material that allows heat to escape from your back instead of keeping it all trapped, making you hot and sweaty. The Shoulder straps are also surprisingly important to make sure you pick a daypack with padded and durable straps that will last many years into the future!
Durability obviously when you are looking at all of the options available you will want to pick one which will be taken on multiple trips. The materials used and build quality are the main factors when working out how durable a daypack is. But all you will have to do is read a review to find out what people think of a product. How long it will last etc.
Weatherproof, another really important part of a bag is the way it defends against the weather. Which features you look out for in this case may depend on where you live, for example, if you live in a very wet area you will probably want a big which won't let the rain seep through. In most cases, daypacks are only weatherproof, not fully waterproof which pretty much means they will be fine as long as you don't just leave them in the rain for hours on end. But if you are looking for backpack that you can literally drop into the sea and everything inside will stay dry then check this 100% waterproof backpack from DryTide. If you live in a hot area make sure you pick a Bag which breathable and will let fresh air get to your back. There is nothing worse than being sticky and Sweaty whilst trying to navigate your way over tricky terrain.
Storage Space, although you will only be using this bag for short walks you will still need quite a bit of storage space. After all, that is the whole point of taking a daypack with you. Make sure you pick one which has more than enough room for everything you want to take on your journey. It never hurts to have a bit more room than you originally thought was needed. Even if you just end up filling it with extra snacks. One thing we would recommend to look out for in a daypack is Bungees/secure pockets on the outside of the daypack, these are great for storing a drink and mean you can easily grab it while on the go!  If you are looking to power smart devices, you might want to check out our guide to smart backpacks.
What should I do before buying a daypack?
Well first off we would recommend measuring your Torso so that you know what size will be right for you if you are a bigger person we'd say it's a given that you will want a bigger daypack. Take into consideration any personality traits, for example, you may simply have broad shoulders, allergic to certain materials etc. If possible you will probably want to pick a few different daypacks that you like the look of and go to your local outdoor shop to try them on. Even if you don't purchase them there and then at least you will have an idea of its size, weight and much more!
Price
Obviously, your budget will have a massive effect on what daypack you can buy. But don't ever let the price of an item put you off. Just because a Bag is cheaper, that doesn't make it worse. Make sure you read a couple of reviews and pick the best option within your price range. Plus everybody has different needs so what you look for in a bag may not even be included in the most expensive version!
Conclusion
With there being literally hundreds of options out there you will have to search wide and far to find your overall favorite. But there should definitely be a daypack out there for everyone! Going on a day long hike is an invigorating and amazing experience which will reconnect you with nature and be a great source of exercise. Maybe you have a friend or family member who always complains about being too hungry/thirsty throughout. If one of you takes a small daypack this problem will be easily avoided.
Below we have found what we believe are the best daypacks for a day long hiking trip. We have taken all factors into consideration and read multiple reviews on each product; so that you don't have to! Everything we've learned about each product has been compiled into one easy to read and informative review. Hopefully, after reading this buying guide you know exactly what to look out for in each daypack. Anyway, let's get on with it!
 CamelBak Fourteener 24 Daypack
If you're planning to go on a Day trip/walk then the Camelbak Fourteener is one of the best options on the market today. They have really tried to add features that people will use and appreciate; it will be hard for you to find a better Backpack than this! Below we will go over some of the key features, pro's, cons and much more!
Features
-Lower Back Padding.
-Side Stretch Pockets.
-Hydration Bladder and system.
-Fleece Lined Sunglass Pocket.
-Independent suspension Slider.
Dimensions
Hydration Bladder- 100oz/3 Litres.
Total Capacity- 1342 Cubic Inches / 22Litres + Bladder.
Overall Dimensions- 22 x 12.2 x12.60 inches / 56 x 31 32 centimetres.
Suggested Maximum Weight Capacity- 25-27.5 pounds (lbs).
Pros
The added water reservoir and hydrations system are one of the best features you could wish for in a backpack. This way before setting off you will be able to fill up the 3 Litre reservoir and stay hydrated for the whole trip. With the big bite valve, you won't even have to stop walking to have a drink! You can easily refill the bladder at any time and it fits perfectly in the backpack.
More than enough storage room, especially when you take into consideration the fact you won't need to take any drinks with you! There are added pockets on the outside, a specific storage space for your Sunglasses. Specific storage space for your water, Places you can attach Tools etc.
Really comfortable, if you want a comfortable backpack which you will forget is even there then look no further. The CamelBak has added extra padding in many different parts of the Bag from the lower back panels to NV panels.
Cons
Limited water resistance, this is far from waterproof but doesn't claim to be either. If you live in an area where the weather is not the greatest then you may want to look at some of the other options.
Price, although this is far from the most expensive backpack on our list, this is still quite expensive at around $100 when compared to some other Backpacks.
If you are looking a dedicated hydration bladder backpack try here.
Conclusion
A great backpack for anyone who wants a lot of storage space, comfort and doesn't isn't too bothered about the rain finding a way in. It will be really difficult to find a better bag when it comes to storage, and CamelBak has really impressed us by including a water hydration system within this backpack. This means if you enjoy running, going on a bike ride or pretty much any form of exercise you could simply put this on and take then have the ability to drink whilst on the go. Again that does mean the bag is slightly heavier than some of the other options, but not overly weighty.
Eddie Bauer Unisex Stowaway Daypack
One of the most affordable options online is the Eddie Bauer Daypack, this is truly impressive and comes in at an amazing $28 on the Amazon marketplace. There are 3 different colors available Black, Brown and True blue. All of which look really nice and Eddie Bauer have created an amazing value for money backpack here. Which in our opinion is the best option when it comes to purchasing a 'cheap' bag for them day-long hiking journeys!
Features
-100% Polyester.
-Storm and Water Repellent.
-Exterior Zip Pockets.
-Four D rings.
-Padded Shoulder Straps.
Dimensions
Total capacity- 20 Liters / 1,220 Cubic Inches
Overall Dimensions- 18 x 10 x 9 inches
Pros
Storage space, the Eddie Bauer team have clearly put a lot of thought into how they can get the most storage space out of this bag. Not only are there 2 exterior pockets but the added D rings give you the ability to add a bottle of water, tools or anything else you may want to take on your walk!
Price, seen as this is the cheapest day pack on our list the price is undoubtedly one of the biggest pros. Coming in at an amazing $18 you will be getting great value for your money if you decide to go with the Eddie Bauer.
The shoulder pads are not only padded but also breathable, which means at no point throughout your walk will your shoulders become uncomfortable or too hot.
Secure, most of the Storage spaces on this bag come with zips, Velcro's and other safety features. There is nothing worse than getting to the end of a hike to realize that you dropped your water bottle, food, tools or anything else.
Cons
Not the most durable Backpack out there. When you compare this to some of the $75+ models it probably won't last anywhere near as long. Although that doesn't go to say you won't have this for years to come. A lot of this simply depends on how often you plan to use the product.
The water repellent finish is good, but not perfect.
Conclusion
This is one of the best 'cheap' daypacks on the market today and certainly, shouldn't be overlooked by consumers. It comes with some impressive features and much more storage than we expected for a backpack in this price range! We hope that you decide to give the Eddie Bauer a second look. It will be really hard to find a product that is not only on the same level quality wise but also one which is waterproof and has clearly thought about adding features that the customer will appreciate and use.
>> You might also like our guide to the best cargo boxes 
Osprey Stratos 24 Daypack
Osprey is one of the biggest names in the hiking industry and prides themselves on making high-quality and good value for money products. The Stratos 24 certainly doesn't let us down and has to be rated as one of the greatest daysacks out there. Although it will cost consumers a massive $125 which is more than 4 times the cost of the Eddie Bauer we reviewed above, we can see where the extra costs came from. There are some amazing features that have been implemented into this fantastic backpack and if you take your hiking journeys seriously then this bag could be the perfect choice for you!
Features
-Integrated rain cover.
-Front panel storage Pocket.
-Mesh, Stretch pockets on either side.
-Internal hydration Reservoir Sleeve.
-Stow on the go Trekking Pole attachment.
Dimensions
Overall Dimensions- 56 x 30 x 30 Centimeters
Pros
Not only Does the Osprey already have an impressive amount of storage space, but there are also a couple of external pockets which allow you to store any extra items you may need.
They have thought about additional trekking essentials that you are likely to take with you. They've included a slot for a hydration bladder which means you will be able to stay hydrated without even slowing in speed and there is also a very effective on the go trekking pole attachment for the more serious walkers.
The back is completely breathable as are the shoulder straps, that means you should never get too hot or sweaty throughout your Hike. This proves that Osprey has really thought about the design and how it will benefit users.
It has amazing reviews and is incredibly durable. If you want a backpack that will last you many years going into the future, one which is reliable and high-quality then look no further. There are 4 different colors available also if you aren't a fan of the usual Black (Gator Green, Eclipse Blue, and Beet Red are the other options )
Cons
Price, if you're not on a huge budget than the $125 price tag may put you off, although there are a lot of features and other factors that make it this expensive; it may just be out of your price range!
Conclusion
What has to be one of the best daypacks out there Osprey have done a great job of creating a top of the line option for people who take their walking seriously. Although it does come with a hefty price tag it is certainly justified! Unique and amazing features are dotted around this Bag and there's no doubt that this would soon become your go to equipment organizer when going on day long hikes. There is no doubt that this backpack will still look immaculate and be your best friend in a couple of years, whereas some of the cheaper options would have completely fallen apart. If you take your walks seriously and want a high-quality, durable Backpack then this is one of if not the best option out there.
>> Read also our guide to the best watches for hiking
Granite Gear Virga 26 Daypack
With all of the different options that are out there, it can be extremely difficult to pick the right one for you. Although each product has its own features, capabilities etc the Granite Gear Virga has clearly tried to do something unique and set themselves apart from the competition. This Backpack has a really cool look and certainly attracted our attention when we saw it. But the question is how does it actually perform when using it for a long day of hiking? Well, continue reading below to find out…
Features
-Tool Loop
-Large Stretch Side pockets.
-10mm web straps
-Hydration ports
Dimensions
Total Capacity- 26 Liters / 1586 Cubic Inches
Pros
Lightweight, many people don't want to be hauling around lots of weight and if the bag itself weighs a lot then that could affect the amount of gear they can actually take on their journey.
Padded shoulder straps mean that the bad is pretty nice on your shoulders, although there are more comfortable options out there they have tried to make this backpack; or at least the shoulder straps comfy.
Simple yet attractive design, obviously a lot of this will be left down to personal preference but we really liked the look of this backpack.
This backpack has loads of straps on the outside, this is great for attaching any extra items that you'd like to able to gain quick access to.
Cons
Certainly not the comfiest Backpack out there, if you spend a lot of time aligning the items you are putting inside then it won't be too bad, and the shoulder straps are pretty nice. But you will still be disappointed by the overall feel of this Backpack.
Not very easy to get into the main compartment once it has been closed.
Conclusion
Although this is far from the greatest rucksack available, it has some very impressive features and a unique design, which alone could attract lots of customers. There are two different color schemes available, they are Brilliant Blue/Moonmist and Tiger/Java. Both of which will look great on this Nylon Backpack. Costing users around $120 and getting an average rating of 4.8 on Amazon this is a Daypack that will look very appealing.
Deuter Speed Lite 20 Daypack
This is the last product on our list, however, that doesn't mean it's the worst, in fact, this is one of the best day packs on the market today and shouldn't be underestimated. It is highly rated In most reviews and comes in at around $90, which is one of the cheaper products we've reviewed. There are four different color schemes available and these are Black/Granite, Black/Titan, Fire/Arctic and Petrol/Arctic. All of these look incredibly nice and there's definitely going to be one that you like!
Features
-Fully Breathable Back and Shoulder Straps.
-Hydration reservoir compartment.
-Mesh side pockets.
-Re-enforced pull loops on zippers.
Dimensions
Overall Dimension- 19 x 10 7 Inches
Total capacity- 19.5 Litres / 1200 Cubic Inches
Pros
Extremely lightweight, when you compare this Backpack to some of the others that we've reviewed it is extremely lightweight. If you are worried about your day pack being too heavy then this is one of the best options to eliminate that fear.
Durable, although there are some more trustworthy bags when it comes to durability Deuter have clearly put a lot of thought into making this bag as strong as possible. They've used a reinforced base and multiple materials in the construction of this fantastic Backpack!
Price, to say this bag comes with a lifetime guarantee and has some useful features it comes in at a good price. Costing consumers only $80 the Deuter Speed Lite 20 should definitely be one of the options you take a look at if you're not on a massive budget.
The back and Shoulder straps are fully breathable, this is great news for anybody who takes their walking seriously and doesn't want their back and shoulders to become hot and sweaty after a short journey.
Cons
It was pretty hard for us to find any negatives surrounding this Daypack. It could be slightly cheaper but other than that it is one of the best all round backpacks currently on the market.
Although Theresa slot for a hydration bladder, you will have to purchase your own as one does not come with the Backpack.
Conclusion
The last Backpack on our list is probably one of if not the best which we have included so make sure you give this one a second look. There are lots of features which you, the user will appreciate and more than enough storage space for everything you'll need on a day long hike. If you're a more serious walker then this bag could be ideal, however, there are also some other high-quality options on the market that offer slightly more. Deuter has always done a great job in the customer service department also so if you do happen you have any issues with the bag when it's still under warranty don't worry about getting your replacement!
Honorable Mention 
REI Co-Op Flash Daypack
What has to be rated as one of if not the best value for money backpack out there the REI Co-Op Flash is an unbelievable bag. Plus it's one that won't leave your wallet feeling lonely. Costing consumers only $40 and coming with some impressive abilities this is one that shouldn't be overlooked. Many people automatically count out the cheaper products but as we said in our buying guide, sometimes they may be better than the more expensive ones. Carry on reading to find out more about the REI Co-Op Flash.
Features
-Whistle with Sternum Strap.
-Easily adjustable straps.
-Appropriate in all places.
-Really Lightweight.
Dimensions
Total Capacity- 18 Litres / 1,100 Cubic Inches
Overall Dimensions- 16 x 9.5 x 8 Inches /
Pros
Really lightweight, there isn't much to this Backpack which means it is really light. When compared to some of the other options it is less than half of the weight, and that's won't affect the durability of the product, fortunately!
Price, because this is one of the cheapest in our list of the best Backpacks for day long walking trips the price has to be seen as a positive. If you're not on a massive budget but refuse to give to accept a low-quality Backpack then it will be difficult to find a one better than the REI.
Although this bag doesn't come with a water reservoir there is a slot for one if you already have your own, or that is something that would benefit you throughout your walk. The REI team have clearly put a lot of thought into the design of this Bag and have done everything they can to keep the cost down!
Cons
There isn't as much storage space on the inside or outside of this bag when you compare it to some other backpacks. There are only 2 pockets on the whole bag, and even they aren't very large.
No air circulation in the back area which means your back may get a little sweaty, however, because this backpack doesn't have the ability to carry massive amounts in weight you this issue shouldn't be too bad.
Nowhere near as much padding as there is on other bags, none on the shoulder straps, back panels or most other areas of the Rucksack.
Conclusion
Although it may look as if there are a couple of cons which might put you off of this bag, it really isn't that bad. When you take the price tag into consideration this is still an exceptionally good product. If you have a low budget good luck trying to find a better Daysack than the REI Co-Op. It still has some really impressive features as well as the ability to store a water reservoir and is extremely light!
Thank you
Well, that brings an end to our list of the best small Backpacks for day-long Hiking trips, we hope that you have found a Bag that suits you and will soon become one of your best friends whilst navigating through the wild. Whether this is your first backpack or simply a replacement there are hundreds of great options and it can be a really difficult task to pick between them. If you are struggling with that decision then we would recommend that you read our buying guide (if you haven't already)! This way you know exactly what to look out for when choosing a Daypack.
Anyway thank you for reading and you are having trouble picking any other equipment for your journey then make sure you check out some of our other pieces! See you again soon and more importantly have a fun time in the wild!
The post Best Daypacks For Hiking 2018 appeared first on TravelBusy.
Best Jungle Hammocks on the Market Right Now
Last Updated: Friday, May 18, 2018 This guide reveals the best jungle hammocks on the market right now while shedding light on the things to look for in a good jungle hammock. Whether you are planning a weekend getaway for camping with family or friends, or hitting the back trail around the world, getting a [...] The post Best Jungle Hammocks on the Market Right Now appeared first on...
This guide reveals the best jungle hammocks on the market right now while shedding light on the things to look for in a good jungle hammock.
Whether you are planning a weekend getaway for camping with family or friends, or hitting the back trail around the world, getting a good night's sleep can make or break your experience.
The notion of sleeping under the stars with nature serving as a natural backdrop can especially come across as a magical experience. But ask anyone who's been there and they will tell you sleeping on the ground can be a lot less comfortable than you are used to.
Sure, communing with the splendour of the natural world has been scientifically proven to reduce stress levels and improve your sleep. But a comfortable night sleeping in a tent, or sleeping pad, camping bed, hammock or whatever your preference is not always a given.
It can quickly turn into a horror show in which everyone is whinging about being uncomfortable, too many mosquitoes or too much heat (or cold).
But a good jungle hammock can eliminate your sleeping problems for good.
A jungle hammock is a type of hammock designed for expeditions or adventure. It is designed differently than most other hammocks, taking into account things like climate, weather and insects. It also comes with additional perks like extra storage to stuff valuables like flashlights, maps and so on.
Jungle hammocks are the most durable type of hammock. They are tough and extremely comfortable, making them the perfect hammock not just for long-term use, but also for those who go camping or backpacking on a regular.
They are the full kit, but their main drawback is they can be a bit heavy and pricy – at least compared to other types of hammocks.
How to Choose the Best Jungle Hammock
The best jungle hammocks tend to be versatile, and can be used in virtually any setting. They can be set up between two trees, down low or high up, or even out over water if need be.
When choosing a jungle hammock, the key things to think about include:
Size
When it comes to size, the choice is usually between single and double hammocks.
Single hammocks: Majority of singles have a width averaging four to five feet. The benefit of choosing a single over a double is it shaves off the pounds you need to carry, a biggie for backpackers.
Most have a weight capacity of between 300 and 400 pounds, but ultra-light versions support 250 pounds. The obvious downside associated with singles is less space for either lounging or guaranteeing a perfect sleeping experience.
Double hammocks: The width for doubles falls in the five- to six-foot range. These are the go-to choice for those looking to share some hammock time, but we wouldn't recommend it as you'll end up squishing into each other.
If you love some ample wiggle room, a double is a great choice. Unless, of course, you are claustrophobic.
On the downside, double hammocks are heavier, so not suited for the light backpacker. But they have an incredible weight capacity of 400 to 500 pounds on average.
Length: Unlike widths, hammock lengths don't vary much. For the most part, this is not a dimension that should be much of a concern, unless you are extra tall.
A good tip to remember when considering hammock length is to opt for a hammock that is two feet longer than your height.
Fabric
Jungle hammocks are mostly made from nylon or polyester.
The fabric is measured in denier which basically shows the thickness of the individual threads. The higher the denier, the heavier the fabric.
Suspension System
The suspension system for jungle hammocks mostly encompasses carabiners and straps. A lot of jungle hammocks come with the suspension system, but not always.
Longer straps will give you the flexibility to set up in a range of situations, which obviously affords you more options when it comes to attachment points. No one wants to find a perfect spot between two spaciously spaced trees only to find the straps fall short.
Also, opt for straps thicker than 0.75 inches. Thinner ones tend to dig into barks, damaging trees in the process.
Accessories
Jungle hammocks come with a slew of accessories:
Under-quilt: Without insulation underneath your hammock, it can get pretty cold at night depending on where you are. Some opt to carry a sleeping pad, but this is not always the best choice.
Because it hangs outside, a separate under-quilt is warmer since it doesn't compress the insulation between you and the hammock.
Rain Tarp (Rainfly): This is also separate from the hammock and suspends higher up the hammock using guy-lines which ensure a taut pitch. A good tarp has flaps on the side that shield you from the rain, keeping you completely dry. The bigger the tarp, the more protection it can provide.
Mosquito Net: No jungle hammock is complete without a bug net. The netting should be able to zip over you to effectively keep mosquitoes and other insects away while you sleep – ideally, a 360-degree protection model which hangs underneath. The net can be rolled away when not in use.
These accessories are the standard features.
The Best Jungle Hammocks on the Market
Choosing the right hammock can be daunting what with the array of options available out there.
We decided to save you the hassle of doing the research so you don't have to.
We have scoured the stores, looked at what's new, what's old and what's changed, while taking the opinion of previous customers into account. Then we proceeded to assemble a list of the five best jungle hammocks money can get you in 2018.
Here is our select 5.
Hennessy Expedition Hammock
To kick us off is a hammock that has earned the status of 'ultimate all-in-one hammock'. Reason is because it comes as a complete package that doesn't require you to purchase any extra add-ons.
The Hennessy Expedition Hammock comes with tree straps, steel carabiners, rain tarp, mosquito net and guy-lines, complete with a branded polyester stuff sack to keep everything in.
The Expedition jungle hammock is designed with extreme conditions in mind. So, if you are looking for something that can withstand serious conditions – rain, extreme cold or rugged terrain – few tick the box better.
It has a thick fabric (210D Oxford nylon) which is extremely durable to withstand several years of frequent use. However, this also makes it heavy, totalling about 1.65kg including accessories. This either makes it an asset or liability depending on circumstance.
However, while that is generally heavy in hammock speak, you can also look at it from the point of view that it is still lighter than most sleeping bags. It does compact down well too.
Despite its heavy fabric, the Hennessy Expedition allows for breathability, while the mosquito net protects you from annoying bugs.
If you deem the Hennessy Expedition Hammock quite heavy for your adventures and need something lighter that doesn't compromise on the quality, the Hennessy Ultralite Backpacker Hammock is a great alternative.
It is a Hennessy Expedition minus the weight, and the name itself leaves little to the imagination as to whom it is targeted at.
The Hennessy Expedition can support 114kg (250 lbs) of weight, and it comes with a waterproof rain tarp that can double up as a sunshade.
In terms of comfort, the Hennessy Expedition jungle hammock provides high comfort levels irrespective of weather or terrain. It is also easy on the trees, thanks to web straps that prevent damage to the bark.
As with all things, though, quality and durability comes at a cost, and this is no exception.
Pros
Weatherproof
Highly durable
Quality suspension system
Comfort
Cons
Kammok Roo
For some people, sleep is a ritual. They don't just get into bed and wander deep into slumber land. They need to 'get in the zone' before they can enjoy restful sleep.
For these guys, doing it in the comforts of their home poses challenges of its own, unless they have honed the art of relaxing bedtime rituals over time. Suffice to say that for them, getting good sleep outdoors can be hell.
If this sounds like you, it's time to acquaint yourself with the Kammok Roo.
Kammok offers two hammock models: the Roo and the Wallaby. The Roo is more spacious than the compact and ultralight Wallaby, employing a comfortable LunarWave material for its fabric.
It is considered one of the most luxurious jungle hammocks on the market. It is huge, it is tough, it is comfortable.
One of its best features of the Kammok Roo is its python straps. They are designed in such a way as to make them easy to set up. They are tough as the hammock itself and can support up to about 230kg (500 lbs.) of weight.
The hammock's size and weight capacity means it can fit two people comfortably. Actually, this is a double hammock.
But if you are one of those who have trouble sleeping, the last thing you want is to be breathing on each other's face. Which is perfectly fine because the Roo need not be used by two.
After all, the roomier, the merrier.
The Kammok Roo is constructed with LunarWave fabric which is both strong and soft, not to mention light.
However, this is more of a parachute than jungle hammock, so many of the standard accessories that come with the latter need to be purchased separately. These include the straps, rain tarp and mosquito net.
Good thing is, the hammock on its own costs less than $70, so including quality add-ons should come to around $150-$160.
See Kammok Python Straps ($19) + Hammock Bug Net Universal ($29.99) + Chill Gorilla Hex Tarp ($41.99).
Pros
Roomy
Extreme comfort
Tough
Ease of setup
Lifetime warranty
Cons
Proforce Equipment Jungle Hammock by SnugPak
SnugPak is a British company that has been producing gear for military forces across the years, so it is not surprising to find one of their products in our top recommendations.
The Proforce Equipment Jungle Hammock is considered one of the best jungle hammocks on the market for a reason.
With a shape resembling a giant pea, SnugPak designed this hammock as a sleeping bag inside a hammock bag. The goal was to avoid one of the biggest drawbacks of sleeping suspended above ground: the cold that builds up underneath.
While the hammock alone is sufficient to keep you heated up in warm weather or hot climates without adding blankets or a sleeping bag, it can be a bit thin for colder weather.
Its fabric is made from very light, albeit strong material that has undergone tests in some of the toughest environments.
It features a mosquito net built into the hammock such that there is no chance of you misplacing it. Most importantly, though, it helps keep pestering insects at bay, leaving you to enjoy a good night's sleep.
In terms of space, the Proforce Equipment Jungle Hammock is big and quite spacious inside, allowing for a maximum capacity of 182kg (400 lbs.). The mosquito net hangs high off the hammock so there are no chances of it getting all up in your face, allowing for cosy naps.
When you don't feel the need to use the netting, you can easily turn it over and use the hammock without the net.
It comes with a suspension attachment and four guy ropes stretching 10 feet each, and the whole system is designed to allow for quick and easy setup. And when it's time to break it down, it is easy to fold up into the provided stuff sack.
On the downside, some users have faulted the netting for being more difficult to set up than the hammock itself, therefore taking more time than is necessary. This, despite the hammock coming with an instructions guide.
If you are on the market for a hammock to see you through multiple seasons unscathed, this SnugPak offering is strong, but definitely not the most durable.
Pros
Highly portable
Comfortable
Easy to set up
Accessories
Cons
Netting can be cumbersome to set up
Durability could be an issue for serious users
Grand Trunk Skeeter Beeter Pro
Next up on our list of best jungle hammocks on the market is the Skeeter Beeter Pro by Grand Trunk, a hammock that is considered one of the most complete on the market.
If you curious about hammock camping and in search of a quality, feature-laden hammock that doesn't force you to break the bank, the Skeeter Beeter Pro should be one of the top contenders.
With a list price of less than $70, you will be hard pressed to find a cheaper hammock that doesn't trade off the quality.
This hammock is extremely light, which is another way of saying it is constructed from very strong material. Strong indeed, for the fabric is made from 70D nylon, one of the strongest materials used for the construction of hammocks.
You would thus expect it to support a good amount of weight, which it does. The Grand Trunk Skeeter Beeter Pro has a weight capacity similar to the SnugPak Jungle Hammock (182kg/400lbs.).
It is very spacious inside (it measures 10'6" x 5') so can comfortably accommodate both tall individuals and the well fed.
Despite the price, this hammock comes with its own mosquito net so you don't have to buy one separately. This is no-see-ums netting which makes it very tight thereby reducing the chances of bugs creeping in through the holes.
For those days when you don't feel like sleeping under a net or when in an environment with no bugs, you can flip this hammock over and lie on the other side.
On the downside, while the Skeeter Beeter Pro has a unique double ridgeline that lifts the bug net nicely, some people might find the net a bit low for their liking.
This hammock also noticeably misses one crucial feature which you need to buy separately: the rainfly. The GT All-purpose Rainfly is a good option, but tarps are available in a range of choices.
The suspension cord is also too short for some settings, so it might be a good idea to get separate cords when purchasing the hammock.
Pros
Quality construction
Good room
Great packability
No-see-ums bug net
Ease of setup
Price
Cons
No tarp
Poor suspension system
GoRoam Outdoors Camping Hammock
Rounding off our list of best jungle camping hammocks is the GoRoam Outdoors Camping Hammock.
This full-kitted jungle hammock is for the serious camper or backpacker out there.
Made from 210T breathable nylon, it is very strong and withstand extreme use while supporting a good deal of weight.
It has an incredible weight capacity of 227kg (500 pounds), with a design that can accommodate a 9-foot person. That basically makes it universal, or free size if you rather. Its design also features triple interlock stitching which makes it even stronger.
This jungle hammock is known for its high comfort levels, so if comfort is high on your agenda, this GoRoam model ticks that box.
Despite the size, the GoRoam Outdoors Camping Hammock is super lightweight and easy to carry (largely thanks to the nylon fabric).
For its price, it is amazing how GoRoam managed to sneak in all the accessories offered by this hammock.
It comes with a rainfly, so consider it perfect for wet weather.
It also includes a no-see-ums mosquito net designed to keep out even the smallest of bugs. Held up with a shock rope, this net unzips from both the inside and outside.
And if you find yourself in conditions that don't require its use, you can simply flip your hammock over to use without the netting.
On the downside, the netting has been faulted for being weak at the seams.
What else you will love about this model is the top-notch suspension system which features 10-foot long straps (tough nautical grade rope) with steel carabiners and 12 attachment points.
It comes complete with separate stuff sacks for the hammock and tarp, as well as a nylon pouch for the straps.
All these features combined go to show why this is considered one of the best jungle hammocks on the market. The GoRoam Outdoors Camping Hammock punches well above its price.
Pros
Excellent suspension system
Great weight capacity
Lightweight
Super strong 210T nylon
Stainless steel carabiners
Carrying case + tarp and strap bags
Price
Cons
Bug net seams are low quality
The post Best Jungle Hammocks on the Market Right Now appeared first on TravelBusy.
Best Binoculars for Travelling: The Beauty is in the Detail
Last Updated: Friday, May 18, 2018 Wondering which are the best binoculars for travelling? This is a simple guide that sheds light on the basics you need to be privy to, along with a few recommendations of the best travelling binoculars on the market. Binoculars are one of those things every man, or household rather, [...] The post Best Binoculars for Travelling: The Beauty is in the Detail appeared first on...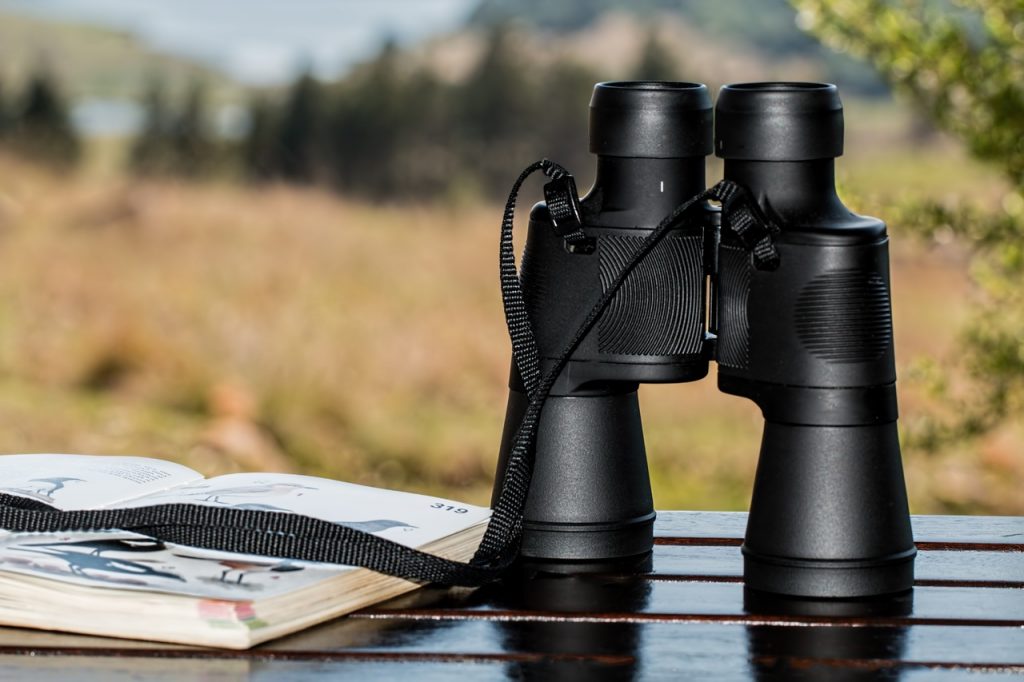 Wondering which are the best binoculars for travelling? This is a simple guide that sheds light on the basics you need to be privy to, along with a few recommendations of the best travelling binoculars on the market.
Binoculars are one of those things every man, or household rather, needs to have.
It's like that toolbox that comes with a set of tools – screwdrivers, pliers, a hammer, tape measure etc. You just never know when you will need it, but you can bet it will come in handy at some point.
In the case of binoculars, matters not whether you think you'll need them in your lifetime or not. But you can bank on the fact that once you own a pair, you will not be short of opportunities to flash it out.
And no, you don't need to be a traveller. Or travel writer. Or survivalist. Although it's an essential carry if you are either.
Truth is, binoculars are fun. But you never really get to appreciate them until you own a set. It's like a nice pair of sunglasses in the scorching summer heat.
More importantly, though, they are one of the most essential (and practical) gadgets for every outdoor lover. Whether you are into birding, horse racing, game viewing, hunting, stargazing or simply an old school traveller, you will find binoculars extremely useful as they get you closer to the action.
Sure, you can obviously watch things without binoculars, but the benefit of magnification is that you see those minute details that you otherwise wouldn't with the naked eye. Think the eye markings of a bird perched some distance away, the little hairs on an elephant's body or the impressive views of meteor showers.
It's the small things that matter, heard the phrase?
The Best Binoculars for Travelling
As avid travellers ourselves, the question of the best binoculars for travelling always comes up at some point.
Do we really need binoculars?
What type of binoculars would you recommend?
How can I determine the best binoculars for me?
These are questions we often hear on a regular basis.
So we thought this would be a good subject to talk about for anyone who might be deliberating on what to look for in a good pair of binoculars or those curious as to which models are the best binoculars in the market.
Binocular Basics you need to be Aware of
When choosing the best binoculars for travelling, there are several important features you need to consider.
Magnification, for instance.
Every bino comes with a two-number designation. For example, 8x32mm, or 10x50mm.
The first number is the magnification. The second is the lens diameter or field of view and is usually in millimetres. In photography circles, you will hear this number being referred to as the aperture of the lens.
A good rule of thumb when considering these two aspects is to divide the field of view by the magnification. The bigger the number, the brighter your view since more light is getting in. To avoid disappointment, this figure should be at least 4, although this applies more to lower quality devices.
For example, using our two examples above, 8×32 and 10×50 – divide 32 by 8 (you get 4, which is good) while 10×50 gives you 5 (50 by 10) which is also good.
You will likely come across many marketing gimmicks such as stabilizers, zoom etc. In truth, these things are likely to compromise the quality of the optics, unless the binocular is extremely high quality. So avoid getting carried away by all the marketing speak.
Size also matters when choosing the best binoculars for travelling. Little, cute pairs can be tempting because they fit so well into the pocket. But they won't be much use. Sure, there are some top-notch pairs of small binoculars, but this is the exception rather than the norm.
Prism type, which influences the design, is another consideration.
Binoculars generally come in two types: we have the porro prism and then there is the roof prism.
Porro prism binoculars have a 'dog-leg' type of appearance (more traditional) because their objective lenses are more spaced out than the eyepiece lens. These two sets of lenses are more in line with each other in roof prism devices, which makes them more streamlined and compact.
The type of glass used to manufacture the instrument has an effect on image quality. Two glass types to give priority to are fluoride (FL) glass and extra-low dispersion (ED) glass. Reason is because they provide clearer and sharper colours with less blurring (fringing).
Speaking of quality, one of the notable differences between cheap binoculars and high-quality ones has to do with lens coating. A binoculars worth your money has at least one coat over the lenses. This not only protects the lenses from scratches, but also helps improve clarity.
Other things to think about include night viewing, waterproofing, rubber eyecups, weight, ease of use, brand and price, all of which are more of a personal decision.
If you intend to use your binoculars for viewing images up-close (such as observing insects), consider the close focus feature – the smaller the better.
Those who wear glasses should opt for instruments with longer eye relief. Eye relief refers to the maximum distance you can position the eye and view the object without the image darkening around the edges (vignetting).
Our 5 Best Binoculars for Travelling 2018
Nikon 16030 Prostaff 3S
Nikon is one of the biggest names in the digital camera segment, but their forays into the binoculars niche have not gone unnoticed either. The Japanese multinational has been serving travellers with outstanding binoculars through the years, and one of their standout gadgets recently has been the Nikon 16030 Prostaff 3S.
The Prostaff line of optics from Nikon has long provided travellers with affordable and reliable binoculars. Released in 2016, this magnificent roof prism bino has gone on to become a bestseller in many stores.
Available in two versions – 8×42 and 10×42 – the Prostaff 3S comes with 42mm objective lenses, yet the body has managed to remain noticeably lightweight and compact. This means it is highly portable.
Its wide field of view means you can easily spot the subject, making sure you never miss a thing. Nikon went out of its way to provide plenty of eye relief on the Prostaff 3S design, ensuring the device is friendly for everyone, including those who wear eyeglasses.
This is accentuated by the fact that the binocular features rubber eyecups that are turn-and-slide with multi-click adjustments, although it could be said these are not of the highest quality.
But it is not all about comfort. The binocular has a dielectric high-reflective mirror with multi-coated lenses which guarantees sharp and vivid picture quality.
The Nikon Prostaff 3S is waterproof up to three feet or so for ten minutes and the nitrogen gas and O-ring seals ensure it stays fog-free.
The company has a No-Fault Repair/Replacement Policy for its binoculars. This means you can send your pair for repair or replacement even when it succumbs to a repair or service issue not covered by the company's Limited Lifetime Warranty.
You really couldn't ask for more in terms of guarantee of quality.
Amazingly, the Nikon 16030 Prostaff 3S goes for under $120 and you could say this is one of those gadgets which vastly outperform their price point.
Pros
Compact and lightweight
All-purpose and fully weatherproof
Wide field of view
Extended eye relief
Price
Cons
Bushnell Legend L-Series 8x42mm Binocular Black
Bushnell is a big shot in the United States when it comes to imaging products. They manufacture everything from first-rate rifle scopes, telescopes, microscopes, and of course, binoculars.
The Bushnell L line of binoculars is one in a three-series offering that the company differentiates based on performance and price.
The E Series is the starting point and what you could term mid-range devices. It is followed by the L Series (the category our pick falls in) which adds a plethora of higher-end features and known for offering amazing bang for buck.
And then there is the M Series, designed with an emphasis on outright performance with less focus on the financial aspect.
Now, the Bushnell Legend L-Series 8x42mm Binocular is a newer version of a set that was voted Binocular of the Year by binoculars.com when it was released: the famed Bushnell Legend Ultra HD.
As with all Legend Series binos, the L-Series 8x42mm model features a high-quality magnesium alloy chassis. It is sealed and 100% waterproof, and the company made sure the internal glass would not fog up by adding dry gas (nitrogen) to the interior.
There is also a special hydrophobic lens coating which keeps water (and water stains) from settling on the glass when it rains.
It has a large wheel for adjusting the focus that is positioned at the instrument's centre. It also comes with that diopter that has become a regular on the right eyepiece of all Legend models, only that in this case, it is also lockable. Its purpose is to help you calibrate the device to match your particular eyesight.
The L-Series 8x42mm has an impressive 426-ft field of view, an improvement on the Legend Ultra HD which boasted a 340-ft field of view, with an also improved eye relief of 18mm.
It makes use of ED glass which minimises blur and serves to sharpen and make already clear images clearer.
There is little not to love about the Bushnell Legend L-Series 8x42mm Binocular Black, save for issues with edge sharpness.
Pros
High performing optics
Good field of view
Firm grip and design
Comfortable viewing
Weatherproof
Cons
NIKON 7278 Travelite VI Binoculars
The Nikon 7278 Travelite VI binoculars is one of the most cost-effective Nikon binos on the market. Sometimes, though, like in this case, price tags can be fooling. In fact, in the case of entry-level Nikons, you always get what is outlined in the sales brochure. And then some.
If you are on the market for a reasonably-priced, good-looking, multi-purpose pair of binoculars that serves your family needs sufficiently, then look no further.
One of the first things that will strike you about this Nikon model is that it is highly compact. Boasting a pretty cool design, the Nikon Travelite VI is very portable and will not be a burden for those not used to, say, long hiking expeditions.
As far as clarity goes, the 7278 Travelite VI 10x25mm has multicoated optics that ensure you enjoy colourful rendering, crisp images and vivid sensations, revealing even the smallest details of your object of focus.
The clarity of these images is emphasised by the BAK4 high index prism (arguably the best material for prisms) and the presence of a click-type diopter adjustment ring.
The binocular also has a large focusing knob located at the centre, which somehow comes across as very convenient especially if you want to use the equipment at a moment's notice.
This handy little device also offers a surprisingly stable view, with a rubber coating that allows for a perfect grip so you don't have to worry about the little thing slipping from your hands.
Overall, the Nikon 10x25mm Travelite punches well above its weight and is certain to exceed your expectations.
As far as downsides go, we don't have a lot against this little power puncher, bar the low power. For the average traveller, though, the bino should serve just fine.
A good alternative for those who fancy a beefier objective lens is the Nikon 7548 Monarch 7 8x42mm Binocular, but it comes with a steeper price tag.
Pros
Cool, compact design
Highly portable
Clarity
Great value for money
Cons
Some users might need a more powerful objective lens
Zeiss 8×25 Terra ED Compact Binocular
In the world of binoculars, the Zeiss brand is the motor equivalent of Porsche. Power. Finesse. Perfection.
And it shows in the price.
European binocular brands boast the best optics, and Carl Zeiss happens to be one of the most reputable optics and imaging companies not just in Europe, but the world over. Like Porsche, it has its roots in Germany where it was established in 1846, making it one of the oldest optics firms around.
Zeiss binoculars are some of the best and most expensive, so if you plan on splashing out on a pair of good binos, this is one of the brands you should be looking at.
One particular model that is sure to appeal to travellers is the Zeiss Terra ED Compact binocular, a professional level set suitable for any use.
It is available in a range of objective lenses, but the 8x25mm model should comfortably meet the needs of the ordinary traveller.
The Terra ED Compact Binocular promises crystal clear images and immaculate performance even in low light conditions. This has a lot to do with its hydrophobic lenses (fully multi-coated) which are meant to deliver clarity as well as precision, even in foggy or wet weather conditions.
The Terra ED Compact is also shockproof and features a sturdy, beautiful design with a body reinforced in fiberglass. It has an adjustment wheel for smooth focusing which is designed with ease of use in mind, allowing you find and hone in on objects fast and easily.
Looking at these features, it is hard to fathom how Zeiss managed to package this product into a small package that weighs just 10.9 ounces.
But that's just what the Zeiss Terra ED bino is meant to be: a feature-rich but lightweight instrument in a compact design capable of withstanding extreme conditions while offering best-in-class performance irrespective of weather.
For all the good, the cost of the Terra ED locks out many travellers who just want an affordable device under $300 (it's current asking price) to capture the best moments of their travels in real time.
But if extra optical quality matters a lot to you, you can never go wrong with this model.
Pros
Impeccable clarity
Compact design
Weatherproof
Ease of use
Multi-purpose
Cons
Celestron 71330 Nature DX 8×32 Binocular
If you are on the hunt for a quality budget-priced binocular that promises superior viewing and boasts many high-end features, few instruments manage to strike this balance as well as the Celestron 71330 Nature DX Binocular.
Fetching at less than $100, there is a reason this pair stacks up well against many others in a price range that is notoriously competitive.
It features a fully-coated optics that delivers a bright viewing experience devoid of glare. It is important to note that at this price point, the level of image quality you get with this binocular is highly unusual.
With a total weight of just 18 ounces, they are delightfully lightweight and compact. They have a rubber coating that makes them waterproof so they don't get ruined when you find yourself caught up in the inevitable rain in the course of your many travels.
The Celestron 71330 Nature DX is also fog-proof, a feature you don't come across often on devices in this price range. The twist-up eyecups are sure to appeal to eyeglass wearers as they allow for comfortable viewing while also guaranteeing plenty of eye relief (17.5mm).
This particular model has a power magnification of 8x, but Celestron has them available in a wide range that stretches all the way to 12x56mm.
So, what's not to love about the Nature DX's?
Well, looking at extras such as neck strap and carry case, it could be said that they don't match the quality of the binocular itself.
On the upside, though, it can be argued that it is better when the inevitable compromises you're likely to encounter with such a price tag are not made on the actual instrument itself but rather, somewhere else.
Moreover, these extras are just comparable to those of other devices in this class.
Pros
Crisp images
Weatherproof
Good sturdy product
Price
Cons
Accessories don't reflect quality level of binocular
Small eye relief can make it slightly less comfortable
The post Best Binoculars for Travelling: The Beauty is in the Detail appeared first on TravelBusy.