Subscribe

to This is Barry - Film Explanation Vivarium Movie Explained: What is the meaning of it all?

Vivarium is a 2020 Science Fiction, Thriller movie directed by Lorcan Finnegan. The plot is centered on a couple who are looking to purchase their dream house, but soon findContinue readingVivarium Movie Explained: What is the meaning of it all? The post Vivarium Movie Explained: What is the meaning of it all? appeared first on This is...

Vivarium is a 2020 Science Fiction, Thriller movie directed by Lorcan Finnegan. The plot is centered on a couple who are looking to purchase their dream house, but soon find that they are unable to leave the house shown to them by a mysterious real estate agent. The Vivarium cast has Imogen Poots and Jesse Eisenberg in the lead roles. It's a lovely film and shares some themes with films like Under The Skin and The One I Love, but it is more fast-paced. Thanks a ton for the recommendation Tisha. Here's the plot analysis and ending of the movie Vivarium explained.

You can rent or buy Vivarium by clicking below:

In case you're new to the site, here's how it works. If the article doesn't answer all of your questions, drop me a comment or an FB chat message, and I'll get you the answer to your question. You can find other films using the search option on top of this page.
Contents
Here are links to the key aspects of the movie:
The Cuckoo Bird: Nesting Habits
We must first talk about the cuckoo bird. Many consider the bird cute and sweet sounding. That might be, but the cuckoo is a Brood Parasite and sneaks in one of its eggs into the nest of a smaller species of bird. It finds the right moment and knocks off one of the poor bird's eggs and lays its own. Now, this is not all. When the cuckoo chick is born, the first thing it does is throw over the other eggs and young chicks from the nest. It does this insidious deed so that it can trick the poor mama bird into feeding it the quota of the full nest. But wait, there's more. The cuckoo can produce a sound that tricks mama the bird into hunting and gathering food endlessly. Eventually, the cuckoo chick grows larger than the feeding bird, and the nest, and exists the nest, leaving the poor mama bird with an empty nest and heart.
Vivarium: How is the Cuckoo Bird Connected to the film?
The cuckoo bird is key to Vivarium's plot. Apart from quickly witnessing the act of the cuckoo bird destroy another bird's family at the film's beginning, this is precisely the thing that happens to the two leads in the movie. In the beginning, Gemma tells her student that the cuckoo's doing is part of nature, and that's the way things are. To this, the child says that it's terrible. Gemma replies by saying it's only horrible sometimes. And unfortunately, she and Tom are going to be a victim to one such horrible thing.
Vivarium Ending Spoiler
Let me say this right in the beginning. The Vivarium spoiler is that humans are trapped, using the bait of low-cost homes, by a species (alien or otherwise) to bring up a non-human child as a human (this is in the same sense as a cuckoo chick that tricks another bird into raising its young). Once done, the proxy-parents are killed off, and the non-human man goes out into the world to trap more humans.
Vivarium: Plot Explained
Gemma and Tom, a loving young couple, go to a real estate agent looking to buy a home. The agent turns out to be someone straight out of a Courage: The Cowardly Dog episode – a creepy man with creepy mannerisms and a creepy intention. They laugh it off and follow him into a maze of row houses that they are unable to escape from.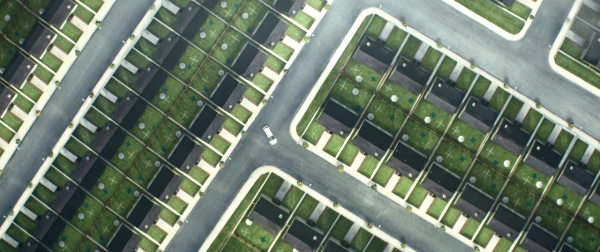 Vivarium: Where is the house?
House Number 9 in Vivarium seems to be placed in a reality of space that folds on itself. It is later shown that other people are trapped in various such realities. One needs to take the right set of turns to get in and out of the maze. Magically, a box that contains assorted tasteless food is left behind each day. In fact, everything about this place is tasteless. There is no variety to the houses, the clouds, the sunshine, the weather, the wind, nothing.
Vivarium: What is the boy?
A box arrives that has a baby in it with a note that reads, 'Raise the child and be released'. It's never mentioned, but release is death. This baby is not human and belongs to a different unnamed species, possibly aliens, because they can warp reality to trap humans. The creepy real-estate agent is also one from this mimic-species. Like the cuckoo, the boy grows quickly, imitating humans and screaming when in need of food and attention. I'm not saying that a human child's scream is that horrendous, but they do come close at times. Parents will know best.
---
As the director explains, we now witness three stages in Gemma's and Tom's life – youth, the middle years, and the old-age. While they don't age in years, their life is still being sucked out of them. The mimic child drains them of all energy demanding for timely food and playing around creepily while calling Gemma mother, which she detests. Tom happens to toss his cigarette on the artificial lawn, which gives way to disclose the ground beneath. Looking for a way out, Tom begins digging in desperation. He does this till the film's ending, and his health deteriorates thanks to the plastic food and physical strain.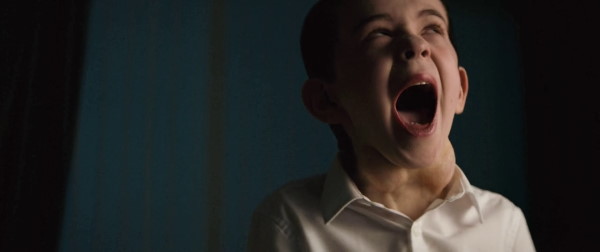 Kill the kid!
Tom even tries to starve the kid to death, but Gemma being a good person, saves him. She regrets this later when the kid returns from someplace with a book. This book has been handed to him by an elder of his species. And no, this is not a demon from hell. It is, however, something that is hideous, and the kid transforms for a short moment to show its original form. We see this creature with the inflated neck in the book too. Would Gemma and Tom have survived had they killed the kid? Not likely, they would have probably just got another box with another baby. What did you guys think?
Vivarium: What does the boy watch on TV?
The patterns on TV are analogous to the mindless repetitive programming that kids are addicted to these days. The visuals and sounds are indeed quite annoying to parents when their kids are watching these shows in full volume.
The Child grows rapidly into a man
Before they get a hold of the situation, the kid grows up to be a strong man. And like the cuckoo chick, the kid becomes much bigger than the force-adopted parents. It's not shown on screen, but a fight may have ensued between Tom and the man which turned out badly for Tom. His ailment has increased and is in considerable pain, perhaps from wounds caused by the man, the plastic food, and the strain from the non-stop digging.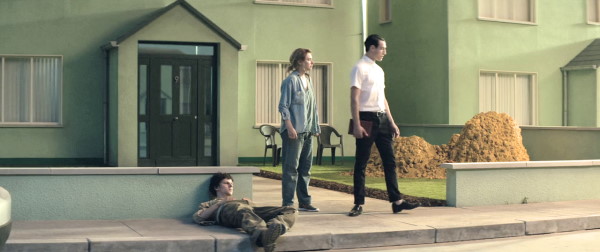 Vivarium: What was in the hole?
Tom continues to dig the hole and finds a dead body deep below. All he has been doing is digging his own grave. There is no light at the end of this tunnel, only death. This dead body is perhaps the previous resident who was similarly trapped in this house. It looks like Tom wasn't the first one to dig a hole in desperation to get out. 
Vivarium: Gemma falls through other realities
The man locks Gemma and Tom as he leaves for his day. Tom dies on the pavement, and the man returns with a box that contains a body bag. He seals Tom's body and tosses him over into the hole, and Gemma cries helplessly. Gemma tries to attack and kill the man as she knows it was a mistake saving him. The man suddenly stops mimicking a human and drops on all fours and moves like a critter. He escapes under the pavement, which he lifts up like a carpet. Gemma chases him down. She crosses over from the fabric of her warped reality and falls through others where different couples are held prisoners. But sadly, she comes tumbling back into her own reality-prison and breaks down crying, knowing there is no escape.
Vivarium Ending Explained
The ending of the movie Vivarium shows us that Tom and Gemma were both utilized as proxy parents to raise the child that belongs to an unnamed species. This is analogous to the cuckoo chick being raised by another species of bird at the cost of the bird's family. It's sad, but in the context of this film, it is part of nature, which is only horrible sometimes. Tom and Gemma were trapped in a warped reality, and many such humans were trapped in their own reality-prisons. 
Here's the final conversation between man and Gemma:
Gemma: What am I in this? A mother?
Man: Yes. Someone who prepares her son for the world.
Gemma: What does a mother do then?
Man: She dies.
According to the mimic species, humans are required only to raise them, to prepare them for the world, precisely what a cuckoo bird wants. After that, the parents are fit for just one thing, death. You can see how the father is of no relevance. The man picks up the British accent, the mother's. This cycle is also endless as this is done by force, no one is going to be good parents to the young boys. They will all grow up cold and heartless, a classic case of bad parenting.
Vivarium Ending Scene
The final words in the conversation are:
Gemma: I am not your f#*king mother.
Man: Whatever.
The ending scene in Vivarium shows that the man is now able to fully mimic the subtleties of humans and their way of expression through body language and words. He is ready and sets out with Tom's and Gemma's car to the real-estate shop. The real-estate agent, in this short while, has aged till the point of death, as the species ages rapidly. The man puts the agent in a bodybag and folds him up like a newspaper showing us that they decay quickly too, and their human form is only a cover. The man takes on the name tag and continues on his work of luring other humans as the film comes to a close.
Vivarium Explained By The Director
Have a look at this interview with the Director, Lorcan Finnegan.
Vivarium, as explained by the director, talks about two things. The first is a metaphor for all the soulless, half-built, rowhouses sold in many parts of the world, which went uninhabited when the markets crashed. Those who owned it were left "trapped" in debts that sucked them [financially] dry. The second is the existential crisis that one species of bird (the cuckoo) puts another in by replacing the bird's eggs with its own. The film is a what-if humans were put through something like that? For a summary from the video, read on.
Vivarium Movie Meaning: What's the point?
In a nutshell, the movie Vivarium shows the absurdity of life by amplifying reality. A vivarium literally means a container, often with a glass-front, in which small animals, especially small reptiles, are kept as pets or so that they can be studied. Tom and Gemma are put in a warped science-fiction version.
Is Buying A Home Really A Dream?
If you take a look, the only commodity that is skewed way out of order in terms of cost is property (a house). This is the situation all over the world because builders have found a way to endlessly price it up. While you can manage with all other costs of living, property is mostly unaffordable, and super inflated. Purchasing a house is a dream for most people, just like Gemma, and end up doing this by getting a mortgage, which runs for decades. These loans are enormous, and people begin feeling the strain when it comes to supporting their families and kids. This is when they get caught in the corporate grind of jobs they hate for the sake of paychecks, which pays back the mortgage. As the director mentions, young people take loans, pay it back most of their lives, and then die. The irony is that it's the buyer who takes the effort to get the mortgage.
During the crash of 2007-2008, the builders were constructing residential rowhouses with hundreds of identical houses. It was maximum utilization of minimum area to create the look and feel of a luxurious home. Being overpriced, these houses were left unsold and were as empty as the place where Tom and Gemma are taken to. Because many were unfinished at the time they were sold, owners moved into mostly uninhabited grids of houses.
Cuckoos are a lot scarier than they look and sound!
The element of a Cuckoo infiltrating a next with its egg is ominous enough. But the idea that a newborn cuckoo has the genetic programming to throw away the other eggs and chicks that have hacked is evil. A concept like this taken and applied to humans provides for that day-time horror masterfully. There is, except for that one inflating neck scene, nothing hideous about that kid. But when something is devoid of expression, the resultant insipidity is cringeworthy. Oh and the screams, the screams, ouch. The cuckoo angle was used to provide the horrific aspect to the film and is not a metaphor like the rowhouses.
The post Vivarium Movie Explained: What is the meaning of it all? appeared first on This is Barry.
The Platform Movie Ending Explained (2019 Netflix Film)
The Platform, a.k.a El Hoyo, is a 2019 Spanish science-fiction, psychological-thriller on Netflix. The Platform movie cast includes Iván Massagué, Antonia San Juan, Zorion Eguileor, Emilio Buale Coka, and Alexandra Masangkay inContinue readingThe Platform Movie Ending Explained (2019 Netflix Film) The post The Platform Movie Ending Explained (2019 Netflix Film) appeared first on This is...
The Platform, a.k.a El Hoyo, is a 2019 Spanish science-fiction, psychological-thriller on Netflix. The Platform movie cast includes Iván Massagué, Antonia San Juan, Zorion Eguileor, Emilio Buale Coka, and Alexandra Masangkay in the leading roles. The film is based in a vertical prison where food is lowered top to bottom, and each subsequent level eats the leftovers of the floor above. The movie sounds a lot like Snowpiercer, doesn't it? Don't worry, it's not. It's actually more like Cube but very original in its concept. Do give it a watch and thanks for the recommendation Momchil. Here's the detailed plot analysis and the ending of the film The Platform explained. You can watch the film here.
In case you're new to the site, here's how it works. If the article doesn't answer all of your questions, drop me a comment or an FB chat message, and I'll get you the answer to your question. You can find other films using the search option on top of this page.
Contents
Here are links to the key aspects of the movie:
Don Quixote Meaning: Who is he?
The colloquial meaning of Don Quixote is someone determined to change what is wrong, but who does it in a way that is silly or not practical. This is a reference to Don Quixote de la Mancha by Miguel de Cervantes. Don Quixote aims to be a knight like the characters he admires in old stories, but when he tries to be like them, he makes many stupid mistakes.
Source – Don Quixote
The book: How is Don Quixote related to The Platform movie? 
Well, this is the book that the protagonist of the film brings with him to the Hole. Imagine Arnold or Silvester of the 90s playing the character in this film. You can imagine how flawless their execution would become? They'd emerge from this with a light scar on their foreheads. When Goreng decides to take matters into his own hands, the plan is clumsy and not really thought through. He barely scrapes through, hoping to make a difference.
The Platform: What is The Hole? What are the Rules?
The Hole is a prison with hundreds of vertical levels. Each level has 2 prisoners. Level 0 lowers a tray full of carefully prepared food, which stops at each level for a few minutes. Each floor consumes the leftovers of the level above. If someone retains food after the platform leaves, then the level will either heat up and burn them or go cold and freeze them to death. Each person is inserted randomly at a level for a month, then drugged and relocated to another random level. If the person can last a set duration, he/she is released.
Why are people being sent to the Hole? What's the Diploma?
There seem to be at least two ways to get to the Hole. One is by choice, the other is because you have committed a crime. Survivors are given a Diploma if they survive their tenure. Going by the floating platform and the tech behind it, we can assume this is set in a far future where the diploma earns you a good living. The Hole is a shortcut to get to that diploma, however, it appears no one really leaves the Hole alive.
The movie starts with the lines, "There are three kinds of people. Those at the top, those at the bottom, and those who fall". The ones at the top are representative of people with wealth and power. The ones at the bottom are the impoverished strata who are fed upon. And the ones who fall are the ones who either fall literally or metaphorically – people who die trying. 
What is The Platform movie's meaning?
The film shows that people who rise from the bottom to the top continue to treat people below without mercy. They know very well that the next time around they could be back in the lower levels, yet the nearsightedness only guides them to think about themselves and for that moment (month). This is the reason for the suffering in the Hole. It is not very different from how things work in real life. Someone who has been taken advantage of, many a time, does not hesitate to take advantage of another just to get ahead, and as a species we suffer.
The food is prepared keeping in mind it is for all the levels. But the people on top overeat. Only if every level cooperated with each other, can everyone survive. As mentioned in the film, this is an experiment to understand if there ever will be a spontaneous sense of solidarity. Meaning, if all of a sudden, every level would just unite to survive. The protagonist also mentions that if that solidarity emerged, they'd know how to prevent it from happening on the outside. This is to say that any hierarchical structure has the few people on top enjoy privileges while the masses below struggle. This is leveraged by many governments to draw things in their favour, and a spontaneous sense of solidarity would never be good for business. The film Parasite is another film based on the top down structure of the society.
The Platform: Who is Goreng?
Goreng, the protagonist, has volunteered to be in the Hole to get his hands on that diploma. He claims his favourite food is snails, which metaphysically represent patience, but also being emotionally distracted. He starts off on level 48.
The Platform:

Who is Trimagasi?

Trimagasi is an old man who's committed the crime of accidentally killing someone by tossing his TV out of his window in a fit of rage. He chose The Hole over prison. He's been on many other levels and has killed and eaten his floor-mate as there was no other option down there for food.
The Platform:
Who is Miharu?
Miharu is a mentally disturbed woman who has been in the Hole for 10 months. We don't know what actually happened to Miharu, she is an example of one who has fallen in the metaphorical sense. She doesn't really talk to anybody, but Trimagasi claims that she's looking for her daughter. He also mentions that Miharu murders her floor-mate, hoping to be reunited with her daughter in the following month. Each month, she descends – searching, hunting. Now, this information is mostly urban legend as she doesn't bother speaking to anyone. So it's unlikely to be the truth.
When she came to the Hole, Miharu was an actress with no children. Her choice of item to bring with her was a ukulele. It appears that the initial months were very harsh on her, and she lost her mind. She's vengeful and has become a self-appointed disrupter of the system. Anyone who gets in her way, she kills.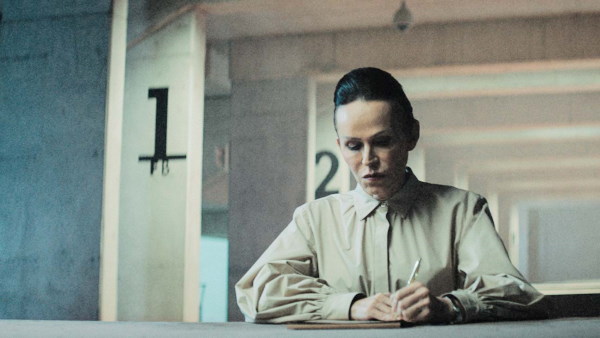 The Platform:
Who is Imoguiri?
Imoguiri was an employee of the Administration for 25 years. She interviewed the people who were sent to the Hole. Unfortunately, she developed cancer and lost her fight against it after 3 years. Hence, she decided to be sent to the Hole to try and be of help. While she thinks she knew everything about the Hole, it's gruesome nature is a surprise to her as well. Imoguiri hopes to instill a spontaneous sense of solidarity to save the Hole's residents. In the past it was she who selected both Goreng and Miharu for the Hole.
The Platform: Plot Explained
Before we get to ending of The Platform, let's quickly run through the plot to get a perspective of The Platform movie.
Level 48
Goreng wakes up on level 48 and meets his floor-mate, Trimagasi. He initially attempts to get a system of rationing the food but fails miserably and gives up. Trimagasi explains that the people above have a full stomach and have time to contemplate, which causes them to commit suicide because there might be no way out. Goreng sees Miharu descending and tries to help her when the men below assault her, but understands that she's well equipped with self-defense when she guts the two men.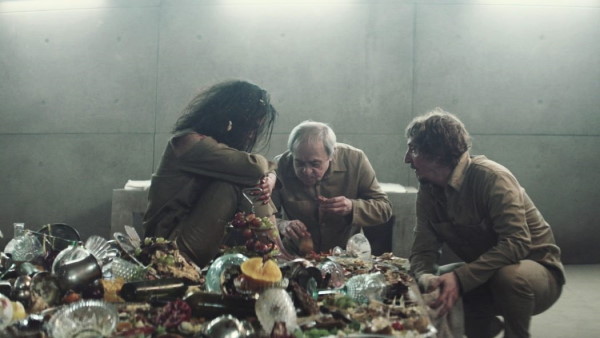 Level 171
The next month, Goreng wakes up in level 171 and finds himself tied to the bed. Trimagasi explains that hunger makes people go mad and that he will be kind enough to feed on small pieces of flesh from Goreng, and then tend to his wounds. A week in, Trimagasi begins cutting Goreng but is attacked and killed by Miharu, who's passing through. She then treats Goreng's injuries and feeds him Trimagasi's flesh to keep him alive. Miharu knows Goreng tried to help her, and that's why she's being kind to him.
Level 33
The following month, Goreng wakes up in level 33 with his new floor-mate, Imoguiri, who unsuccessfully tries to instill solidarity in the levels below to ration the food. Miharu passes on the platform unconscious, and they nurse her. Unfortunately, Miharu wakes up at night and feasts on Imoguiri's dog. Sadly, the sausage dog does turn out to be more sausage than dog. The month passes by eventlessly, and Goreng uses fear to force the level below ration food, but that doesn't percolate all the way down.
Level 202 
In the next month, Goreng wakes up in level 202 and sees that Imoguiri has hung herself. She assumed there were only 200 levels, but she realizes that she had the wrong information despite working for the Administration. Although, she doesn't kill herself because of that. She was anyway suffering from cancer, and 202 is going to have no food. She leaves her dead body so that Goreng could survive the month feeding on her. Goreng does just that, and another month passes by painfully.
Level 6
Goreng wakes up in Level 6 in the following month with a new floor-mate, a man name Baharat, who's a man of faith. Baharat tries to climb his way to the top placing way too much faith in humanity and gets literally sh*t on. After that, Goreng convinces Baharat that they should just force the rationing by going down on the platform and using power and fear to break the system. They decide that they will go down 50 floors and start handing out food only from the 51st floor. The ones on top have had full bellies. Goreng mentions that he counted the time taken for the platform to shoot back up and calculates about 250 levels (he doesn't account for the platform not stopping on floors with no one left alive, so there are way more floors). The remainder of the film is how the descent of Goreng and Baharat pans out. Sadly, not too well, read on.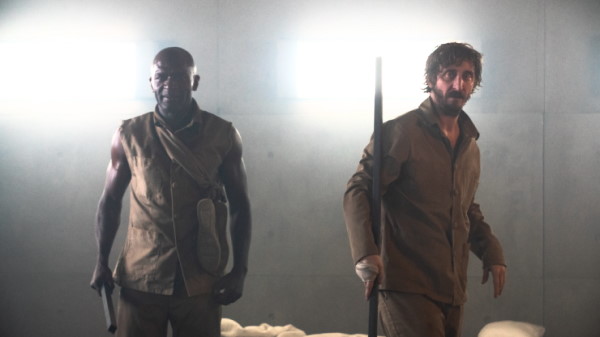 Who is the man in the wheelchair?
In the previous months, Baharat has shared a floor with the man in the wheelchair, he refers to him as a wise-man. There is an uncanny calm to this person. He points out that the two of them are wasting much of the food by standing on it. Despite the circumstances, he advises that dialogue must come first, and only if that fails, must they strike. There's more about him in the section – The Platform's Ending Explained – Alternate Theory.
Why is the panna cotta the message?
The wise man explains that the Administration has no conscience, but there is a slim chance that the people working on level 0 do. He suggests that a message is sent up with a symbol, a delicious, perfectly presented dish, untouched. If the people working got a meal like that sent back from the Hole, they would understand the message – that there has been a spontaneous sense of solidarity. He suggests the luxurious panna cotta should be the message.
Miharu's Death
Goreng and Baharat see a lot of success in forcefully rationing the food. They use dialogue and violence to do this in a clumsy, quixotic manner. In one of the lower levels, they see Miharu being attacked and stabbed to death. This scene is significant to explain the ending of The Platform. The two floor-mates turn out far too strong for Goreng and Baharat. While they kill the blade-wielding floor residents, they barely make it back alive on to the platform. They then descend to lower levels which just has dead people. 
The Platform: Ending Explained: Primary Theory
It's hard to explain the ending of The Platform because it's way too open-ended, so I'd like to put theories to bring closure. My principal theory is that both Goreng and Baharat die from the wounds they receive trying to save Miharu. Everything that happens after that is only inside Goreng's mind as he fades. They reach the metaphorical level of 333, which gives the devilish outlook to the Administration of performing their horrible experiment with 666 people. Goreng tries to disrupt the system but sadly dies trying. An analogy would be all those people who gave their lives to plan Hitler's assassination, but in the end, the mission failed.
Floor 333 was conveniently uncanny. The level didn't heat up or freeze over when the pana cotta was retained after the platform moved down. There is no reason for the rule to be broken for just one floor. There is a child who is entirely unscared and looks too clean to be in the bottom-most level. Even if this is Miharu's kid, she comes down once a month, there is no way that one trip is enough to keep her child fed and healthy the whole month. Each month the prisoners are shuffled, so Administration knows well about the existence of the kid. They have no reason to have allowed this child into the Hole despite their published rule – no one under 16. If the kid served the Administration a specific purpose, the film would have hinted upon the nature of that purpose, but it doesn't. And here's my favourite argument. Did you see the speed at which that platform traveled back up? It doesn't slow down even on the higher floors else the prisoners would get on top of it and escape. If the platform, with the child, came to a halt abruptly on Level 0 from that speed, the kid would just become pulp. What I'm trying to say is that there is no salvation for the characters in the film.
Who is the little girl? Why is she the message?
Goreng owes his life to Miharu as she saved him from Trimagasi. But he's unable to return the favour, and she's stabbed to death. He is left fatally wounded and dies with regret in his heart. Regret for not completing his mission, regret for not being able to save Miharu. In his dying mind, this manifests as the daughter of Miharu, who is indeed in the Hole. Goreng only imagines the child. A child represents purity, and Goreng's consciousness makes her the mission. The ending of The Platform sees Goreng divinely descend with the child. After that, he gets off the platform and allows the child to ascend, as she is the message and needs no messenger. The Platform film's ending is metaphorical of Goreng dying in peace, believing that he made a difference, and walks away into nothingness. But the sad reality is that the Hole continues on inflicting pain on its inmates.
The Platform Ending Explained: Alternate Theory
This is not a theory about just The Platform movie ending, but the entire movie is a representation of purgatory. The 666 people in the Hole are being punished for their sins. The diploma that they earn by staying in the Hole long enough is their salvation. But most people are shown to not last and thereby fall. The metaphor of the snails, and purging its impurities is Goreng's atonement. The Platform is his journey of repenting for his sins by sacrificing himself for the survival of others and, finally, something pure, a child. The man on the wheelchair can be seen as God (or the Devil) and that would explain his uncanny calmness. 
What did you think about the film, what are your theories about the film and its ending?
The post The Platform Movie Ending Explained (2019 Netflix Film) appeared first on This is Barry.
The Killing Of A Sacred Deer: Ending Explained
The Killing Of A Sacred Deer is a 2017 Psychological Thriller, Drama, directed by Yorgos Lanthimos. The film's leading cast includes Colin Farrell, Nicole Kidman, Barry Keoghan, Raffey Cassidy, Sunny Suljic, andContinue readingThe Killing Of A Sacred Deer: Ending Explained The post The Killing Of A Sacred Deer: Ending Explained appeared first on This is...
The Killing Of A Sacred Deer is a 2017 Psychological Thriller, Drama, directed by Yorgos Lanthimos. The film's leading cast includes Colin Farrell, Nicole Kidman, Barry Keoghan, Raffey Cassidy, Sunny Suljic, and Alicia Silverstone in a cameo. The plot is centered on a teenager coping with his dad's tragic death. But soon, we are witness to a bizarre turn of events that builds up to an agonizing end. Here's a detailed plot analysis and the ending of the film The Killing Of A Sacred Deer explained.
You can rent of buy the film by clicking below:
In case you're new to the site, here's how it works. If the article doesn't answer all of your questions, drop me a comment or an FB chat message, and I'll get you the answer to your question. You can find other films using the search option on top of this page.
Contents
Here are links to the key aspects of the movie:
The Killing Of A Sacred Deer: Movie Title Meaning
The Sacred Deer is a reference to Iphigenia, who is represented by a deer in Greek mythology. She is to be sacrificed to appease the goddess Artemis, and as payment. I won't get into this as it is based very loosely on this. However, you can read all about it – here.
The Killing Of A Sacred Deer: Plot Explained
Murphy, a successful surgeon, lives a visually happy life with his wife, Anna, and two kids, Kim and Bob. I say visually happy because everything about them is very mechanical, the way they talk, go about their lives, their sex, everything seems artificial. But that is just the nature of the world in this film. The film opens with one such bland conversation between Murphy and his anesthetist friend about a watch.
What was Murphy's mistake in The Killing Of A Sacred Deer?
Murphy got drunk just before an operation and committed an error during surgery, leading to his patient's (Martin's dad's) death. You know this is the truth because you see him covering up details about how Martin's dad died to his wife. Murphy lies to her, saying he died in a car accident and was killed instantly. He is also unremorseful about it and blames it on the anesthetist.
Character Relationships
Murphy feels sorry for Martin and, as a result, meets and spends time with him. Meet-ups start off occasionally but soon become a frequent event. Murphy decides to invite Martin home to meet the family. I feel he does this hoping that a personal connection with his family would remove any grudges that Martin has.
Murphy's adolescent daughter takes an instant liking to Martin. Soon they hit it off. Martin returns the favour by having Murphy visit his home. Martin's mother comes on to Murphy, so he leaves. We'll talk more about Martin's mother in a bit. Martin pursues to meet Murphy, who avoids him.
What the heck is going on in The Killing Of A Sacred Deer?
One day, Bob wakes up and can't feel his legs. The look Murphy has in his eyes is not of just fear, but of recognition, as though he already knew this was going to happen. It appears Martin has previously mentioned that this is going to take place. At the hospital, where Bob is admitted, Martin meets Murphy for a short moment and says this.
That critical moment we both knew would come someday, that time is now. Just as you killed a member of my family, now you gotta kill a member of your family to balance things out, understand? I can't tell you who to kill, of course, that's for you to decide. But, if you don't do it, they will all get sick and die. Bob will die. Kim will die. Your wife will die. One: paralysis of the limbs. Two: refusal of food to the point of starvation. Three: bleeding from the eyes. Four: death. Don't worry, you won't get sick. You've just gotta stay calm, that's all.
This indeed is the summary of the film's rules. The universe automatically balances out one wrong deed with another. Martin says these lines as though he's only reminding Murphy about them, and that Murphy should snap out of his state of denial. In short, the film world has a mechanism of punishment for one's wrongs, and it's not being executed by Martin.
What's up with Murphy and Martin's mother?
Martin and his mother have both assumed that Murphy will kill his wife to save his children. Even to the viewers, this looks like an apparent turn of events. Martin's mother is attracted to Murphy. I believe Martin and his mother hope that Murphy will marry her after Anna is dead and gone. This is why the two of them make it very clear to Murphy about this through words and actions. Martin later tells Anna that Murphy has always flirted with his mother. Now, this appears to be a teenager's exaggeration rather than the truth. While Kim likes Martin, and he agrees she's beautiful, he doesn't cross any lines with her as he's primarily looking out for his mother.
Kim is next
Kim's legs are the next to go, and she and her brother both lose their will to eat. Going by the behaviour of Kim, we can say that she and Martin have been talking about her father's mistake. She is convinced that one person from her family has to pay the price for his blunder. Her infatuation with Martin causes her to emotionally distance herself from her family. Kim seems to comprehend the situation well and tells Anna that she too won't be able to move her legs soon.
How does Kim walk momentarily?
One day at the hospital, Martin in on the phone with Kim, who suddenly gains movement in her legs to go to the window. But soon after, they become paralyzed again. We're witness to a film universe and its internal rules. If you remember, even Bob initially gains movement in his feet and eventually loses it again. This is how it happens to Kim. I don't believe Martin is orchestrating this, but instead, he just simply understands what's happening. Because of him, Kim does too, and that explains her calmness about it.
Kidnapping Martin
With no further treatment for Kim and Bob, they are taken back home. Murphy kidnaps Martin and beats him silly, demanding that he revert the situation. We see clearly that Murphy is now over his denial and has opted to persuade Martin. But it doesn't help. Anna tries to ask Martin nicely, that doesn't work either. Kim offers that he run away with her, and it doesn't move him one bit.
Martin explains with the example of biting Murphy. He doesn't bash his teeth in but bites his own arm. Even though his teeth were the one to wrong, it was his hands that had to pay the price though they were innocent. A hand for a hand. Martin goes on to explain that apologies were like touching an open wound, it would only make it worse.
Reaction to the Truth
Anna offers Murphy's colleague a sexual favour to find out the truth behind Martin's father and that Murphy was drunk that day. This leads to an unbelievable turn of events. Knowing now that Murphy has to kill one of Anna, Kim, or Bob to save the rest, everyone tries their best to not be the one to die. It's just bizarre, let's look at this one person at a time.
Why didn't Dr. Murphy just kill himself and end it?
Murphy could sacrifice himself and end this as blood for blood, but he doesn't even consider that. On the other hand, he goes to his children's school and meets the principal to find out which child is "better". He's trying to logically calculate each kid's value.
Anna puts herself up ahead of her children
Any mother would typically offer herself as a sacrifice to save her children. But not Anna, she, in fact, suggests the opposite. She tells Murphy that it would be the logical thing to kill one of their kids because they could have another child. Later, she also tries to seduce him to remind him that the two can continue to be happy together even if one of the kids died.
Kim wants to run away with Martin
Kim goes up to Martin when in the basement to convince him to get her to walk so that they could run away together. She's already decided that it's her brother, Bob, who is going to die. She even mentions this to Bob, asking him for his MP3 player after he's dead. Soon she realizes that it's not in Martin's hands, and Murphy is the one to decide. She escapes the house in desperation. When Murphy and Anna find her an bring her back, we can see her go out of character and become exceedingly loving towards Murphy, even offering herself as a sacrifice in a cunning manner. She's trying her best to not get picked for death.
Bob is a kid and is doing his best to stay alive
Bob decides to cut his hair to appease his dad. He apologizes as earnestly as possible and says how he should have listened to his father about the haircut. After that, Bob crawls on to go water the plants. He even says he would like to become a cardiologist like his father. Bob unleashes all he can to ensure he's not picked to die.
In all, the characters in this film are devoid of normal human emotion and are more calculative in nature. This is exactly like how the film's universe is, it is calculative – an eye for an eye.
Does Murphy kill Bob?
Yes. Murphy ties up his kids and Anna in three different chairs and blinds himself. He spins around enough to lose orientation and fires his gun, emulating a human Russian roulette. While the first two bullets hit no one, the third one fires at Bob and kills him.
The equation is now balanced. The ending scene shows Murphy, Anna and Kim come in and eat an all American burger with fries and ketchup. Martin shows up and eyes them. They each give him a look of acknowledgment. Kim still seems to be infatuated with him. They don't speak a word, and they leave as Martin watches on.
Killing Of A Sacred Deer Explained By The Director
Take a look at this video that shows the director, Yorgos Lanthimos, and Colin Farrell discuss the film and its meaning:
Based on this video, one thing is apparent. The film presents itself in a world where karma plays out automatically. As though there is an external observer that balances the wrong deeds with punishments. So right off the bat, I'm going to take a stance that Martin is not someone with superpowers. He's not from the occult trying to avenge his father's death. Had that been the case, he might have protected his father from dying in the first place, or avenged him much sooner. And yes, there is that theory of hypnotism, I'll get to that in a bit.
The Killing Of A Sacred Deer: Movie Meaning
You'll better understand this film if you've seen the director, Yorgos Lanthimos's, previous films. What he loves doing is creating a movie world with its own rules. He doesn't strive for realism because he doesn't believe it exists in cinema, after all, the film world is manufactured and be experimented with. Lobster is a good example where the rules of our real lives don't apply to the movie. 
The Killing Of A Sacred Deer is no different. The characters live in an altered world where karma is part of their existence. The characters lacking life is also a function of the world they live in. Considering the camera angles mentioned in the film, it appears that all the characters are being watched by omnipresent gods. The camera is presented to be another entity that sometimes hovers above, or looks on creepily from below. There is a voyeuristic element to the film, and the consequences of people's actions are governed by the universe. Even at Martin's place, the movie they watch is Groundhog Day, which also is a film that has its own obscured reality.
Who or What is Martin? How did he do it?
As the director explains, Martin is a teenager who is naive, nice, awkward, and at the same time, evil and menacing. His origin is purposely not explained. He knows very well that Murphy's family will all become paralyzed one by one and then die if Murphy doesn't pay for his mistake with blood. An eye for an eye is the justice that prevails in the universe of this film. Murphy knows this as well as Martin, but the former is in denial. I wouldn't call Martin a normal kid though, he's undoubtedly got his mental issues. After all, he bites his own flesh clean off just to demonstrate the metaphor, and doesn't flinch. The director clearly did not intend for Martin to be a super-being. He's just a boy who's been wronged, and the universe is taking corrective action.
Martin's Hypnotism? No.
There is a theory that Martin is a master hypnotist, and the loss of leg control and appetite is a result of that. I don't like this theory because it doesn't explain why the family members behave selfishly, trying to somehow save themselves. This is the very definition of the nature of the characters in the film. Martin is not really orchestrating their conversations and behavior. This theory is too uni-dimensional and takes away the otherwise complex and bizarre universe that the director has created.
Where are the cops in The Killing Of A Sacred Deer?
A kid has been kidnapped for days and beat up real bad. Another has gone missing. Wouldn't this be enough for someone to complain, for the cops to snoop around? I initially felt I had a fantastic breakthrough and thought perhaps this film world didn't need cops because there was a godly justice system in place. There would be no need for cops or prison if what goes around comes around, people would just behave. But sadly, this is not the case because Murphy threatens Martin that he'd die in prison. Anna mentions going to the police to take some precautionary measures. It's just that situation is heavily guarded, and the cops are never alerted about it.
The Killing Of A Sacred Deer: Ending Scene Explained?
Murphy has committed a terrible crime, and his family has been witness to it. Perhaps they together got rid of Bob's body. Remember, he was shot, so his body had to be stashed, possibly buried in the yard. They would have had to come up with something substantial to explain the disappearance of Bob. Additionally, they had kidnapped and held Martin prisoner. Clearly, he hasn't gone to the cops because he got his justice. The nervousness on their faces is because they are all criminals on the loose. And about Kim, she still seems to be infatuated with Martin as she enjoys her burger and then fries just the way Martin likes it.
The post The Killing Of A Sacred Deer: Ending Explained appeared first on This is Barry.
How I Moved From Wix To WordPress in 2020 Without Losing SEO
This is not a generic article but a summary of my own personal experience of successfully migrating from Wix to WordPress without losing my SEO rankings. Yes, this very siteContinue readingHow I Moved From Wix To WordPress in 2020 Without Losing SEO The post How I Moved From Wix To WordPress in 2020 Without Losing SEO appeared first on This is...
This is not a generic article but a summary of my own personal experience of successfully migrating from Wix to WordPress without losing my SEO rankings. Yes, this very site was once on Wix. Now I know the ton of internet articles make the migration sound super easy, but I'll go right ahead and tell you it was a long and tedious process. But it was worth it. In this article, I will explain the steps I followed to make the switch from Wix to WordPress, keeping the site and page ranks intact. I'll be focusing on how I preserved my SEO. I hope this article will help make it a faster process for you than it was for me.
Content
Here are the links to the key sections of the article
Why I chose Wix
I started my website using Wix because it was well priced and gave me the ability to visually design a stunning site. I was pretty impressed with what I had made. Over time, my blogging became a more serious affair. Though slow and steady, I put up a hundred posts. All was well, I started seeing traffic, my rakings went up, and I started building my first email list. Even now, I recommend Wix for all of my artist friends looking to develop their stunning portfolio site and link to their music or films via other platforms like YouTube, or PodCasts. The best part is it's drag-and-drop from the get-go, and no programming skills are needed.
Why I Moved Out Of Wix
I started with the intention of a portfolio site, and it suddenly started seeing traction for the blog segment, and the other pages were hardly getting any visitors. Wix is based on a Single Page Architecture, and it is client-side rendered. What does this mean? Well, when you right-click on a Wix site's blog and hit "view-source", you will notice a lot of code, but you will not find the content of your blog. If you did the same on a WordPress site, you'll see your content inside the code. Does this mean it's bad for SEO? No. 
The Wix folks have worked their platform to be Google friendly. So it's a myth that Wix will lead to terrible SEO. However, the way a Single Page Application loads is better for a site where you know there's going to be a lot of navigation. Meaning multiple pages per session (lower bounce rates). A lot of blog-based sites today do well, but the bounce rates are expected to be far higher than a company website or artist profile. This is natural, you look for something, you find it, you read it, and you bail. Though I was getting thousands of views in one day, I had a very high bounce rate. And this is where your Single Page Architecture is unsuitable, it loads far too much even though the reader consumes just one post.
As the number of blogs increased, the individual posts started loading slower. In addition to this, the client-side rendering did not take into account the H tags. H tags are your header tags – H1 being the title, H2 being a sub-heading, and H3 being a sub-sub-heading and so on. Though the blog texts were being served to Google's crawler through a static version of the post, the information structure was not being passed on. This makes you lose out on some of the SEO.
The Fear To Migrate The Website
Over time, my page rankings started falling. Long story short, I decided to move out of Wix and into WordPress.
But I had a lot to lose. Even if the rankings had dropped, I was still receiving thousands of views in a day. I did not want to jeopardize that. I didn't want to leave my comfort zone. I'm sure you feel the same way too, all of the unknowns and the fear of losing everything is scary. But eventually, I bit the bullet. I also realized it's not as frightening as it appears.
Steps I Followed To Move From Wix To WordPress Without Losing SEO Rankings

Set-up A Domain Name For Wix If You Don't Have One
The final phase of your migration will be to pass on the link juice from your individual Pages and Posts on Wix to the new ones on WordPress. And this cannot be done without a domain name associated to your Wix site. Meaning, if your site's URL is https://mysite.wixsite.com/mysitename, it needs to become https://mysitename.com. So first buy a domain and attach it to Wix. For more information on this go through – this page.
A word of caution, don't buy your Domain from Wix. Go for a generic site that sells domains. This is because you want to eventually move out of Wix, so having a domain provider that is not Wix is important. If you had already bought your domain from Wix, then first transfer that to a generic domain provider.

Set-up A WordPress Site
There are a lot of articles out there that can help you with how to set up a new WordPress website. I would not recommend setting up something on WordPress.com. Use a hosting service like SiteGround to set it up. In fact, that's what I did. I took their WordPress Hosting. SiteGround has excellent Support, and they pretty much help set up a simple website using a temporary domain.
Do not buy a different domain for your WordPress website!

Meaning if your Wix site is https://myoldsite.com, don't decide to create the WordPress site with https://mynewsite.com. This is very important if you want to preserve your SEO and rankings.
Click on the below image, to get started with a discount for your website:

Once you have your temporary WordPress site set up, it will have an IP instead of a domain name, e.g., 168.152.52.31/~mysitename. This is okay because, before you move your domain from Wix to WordPress, you will first need to move all your Pages and Posts from Wix to WordPress.
Once your WordPress site is running, you'll need to get a theme and apply it to your site. You can refer to this article to do that. Go straight to "Step 3. Select Your Theme", that's the only section you need to read, you can ignore the rest. I use Adonis by Catch.
When you created posts in Wix, you probably got used to folders to upload your images to. This is not the default set-up in WordPress, no worries here. All you have to do is install the Media Library Folders for WordPress plugin, and you'll get the ability to add images in folders. The only thing that will irritate you is that you can't access these folders when creating Pages and Posts in WordPress. You are going to have to first create a folder, upload the images, and when creating the Pages and Posts, you can access the photos directly using Add Media. So fair warning, when you migrate, do pictures for one Post/Page at a time.
Install The Yeost Plugin
SiteGround's WordPress Hosting should come with Yeost (an SEO tool) preinstalled, else install it. This plugin will help you structure your posts for better SEO ranking. The Yeost plugin also handles the creation and submission of your sitemap.xml to the various search engines and is important to get crawled correctly. This is a one-time set-up and is worth getting done.
Porting The Content from Wix To WordPress
Let me be truthful about this section. This not going to be easy; it's tedious, and there no one-click way to do this. Let's start with the Obvious.
The Single Pages In Wix to WordPress
You are going to have to manually copy the content from Wix and paste it in the new Page that you need to create in WordPress. This applies to the images as well. Download them and save them to your computer. Now use the Media Folders plugin to upload them into relevant folders. Once you have copied over all your static pages, you can add them to the Menu from the Appearances > Menu.
The Blog Posts In Wix to WordPress
Here comes the hard part. There are two ways to move the text from each of your Blogs on Wix to WordPress.
1) The RSS way
This is definitely the quickest way. It involves using a plugin to extract all the blogs from your Wix feed.xml and creating new Blog Posts. Go on over to your Wix site and add a /feed.xml at the end of it. So the URL you will be loading will look like  https://mysitename.com/feed.xml. You will see a screen with text that appears to be code. Don't panic. You don't have to do anything here except a right-click and save. This will prompt you to save an XML file. Just give it a name and save it in a convenient location on your computer.
Now go over to the WordPress site and go to Tools > Import and select RSS. You'll need to install it first, click on Install Now and follow the instructions. Finally, open the XML file you stored and let the tool do the job of importing all the blog posts.

2) The Manual Way
Here, you have to copy each Post content from Wix and create a New Post in WordPress and paste it in there. You then get the images from Wix and upload them using Media Folders. Go to your WordPress Post and add them in the appropriate locations.
This sounds horrible, right? But I still picked this method, and I'll tell you why. Migration is like moving homes. When you're packing and preparing to move, you will get a chance to assess if you really need everything. And if, what you are taking along requires to be re-looked at.
In the same way, when you port each Post, you can now restructure it and change up the content, to upgrade it. You are never going to really set time aside to do this otherwise. Remember, we spoke of Yeost, the SEO plugin. Now, as you port your Posts, you can read what Yeost is suggesting and change up the structure of your content to get that "green" score. This way, once you migrate, your site rankings will start going up.
Formatting and Organizing Your Posts In WordPress
I'd urge you to spend some time doing this step. WordPress has two elements that can be associated with a Post – Categories and Tags. You can use these to surface your Posts in the Menu and also format your URLs. Forget about the way Wix created your URLs. You can use the Settings > Permalinks to establish how you want your URLs in WordPress to look like. 
I prefer:
https://mysitename/%category%/%postname%/
This will make your post look like this following sample:
https://www.thisisbarry.com/film/predestination-2014-movie-plot-ending-explained/
Here, "film" is my category. This is referred to as the "slug" and the Category name is actually "Film Explanation". The slug will appear in the URLs, so keep them short.
By removing the dates from the URLs, it is now shorter and is better fitted to the SEO guidelines. 
Tags are similar to Categories but can be used to define another dimension to your posts. I the example of my site, I use Categories to identify the type of posts – film, music, or technology. And I use Tags as sub-classification – thriller, science-fiction. Categories form my Post URL, but Tags don't. But this is really up to you.
In the Menu, you can use both Categories and Tags to appear as menu items. Clicking on them will display a page that belongs to that Category or Tag.
Give yourself some time to think about this. Especially if you are going to have Category or Tag as part of your URLs. Changing this later would be painful as your URLs would change, and that is never good for SEO.

Prepare for SEO Transfer – 301 Redirects

As you can see from the heading, this step is very critical. 301 Redirects are a way to tell Google to pass on all the rankings of one URL to another. Because you are moving from Wix to WordPress, you are bound to have a change in the structure of Page and Post URLs. 
e.g., My Post URL looked like this in Wix:
https://www.thisisbarry.com/single-post/2016/03/29/Crash-Course-XMen-Series-Explained-Dummys-Guide 
But it changed to this in WordPress:
https://www.thisisbarry.com/film/x-men-series-all-movies-timelines-explained/
If you don't do anything about this change in the structure of the URL, your post will start showing a 404 error, and Google will take away the page ranking.
As you might have guessed, you have to write one 301 direct per Page and Post. It's pretty tiny, and the redirect looks as follows:
Redirect 301 /old-wix-url/ https://new-wordpress-url
There is no https://www part for the Wix URL, but you need to provide it for the WordPress URL.
An example of my post's 301 redirect is:
Redirect 301 /single-post/2016/03/29/Crash-Course-XMen-Series-Explained-Dummys-Guide https://www.thisisbarry.com/film/x-men-series-all-movies-timelines-explained/
The above code is all in one line. If you copy and paste it in Notepad you will see it. Now make one redirect per Page and Post. Do this in a Notepad, one per line. When done, copy them all to the clipboard.
Now go to SEO > Tools. And chose File Editor. On the page that follows, look for the .htaccess file. There will be a text box below that. Paste your 301 Redirects here and Save. Now you are ready to change your WordPress domain.

Change The Domain On WordPress
Remember, we spoke of having a domain for your Wix site, else this switch without any loss to the SEO would not be possible? Well, if you don't have that domain, get one, attach it to Wix and ensure that on Google's search pages, your domain name is appearing. Until then, do not do this switch.
Once you see your Domain appearing in Google's search pages, it's time to talk to Support. Reach out to your hosting Support and ask them to switch your temporary IP based URL to your domain URL. SiteGround's WordPress Hosting support team helped me do this. Also, tell them that you would like to have your site as HTTPS (Let's Encrypt certificate is free). I'm sure the Support of other hosting services would gladly help with this set-up for you.
Switch Your DNS from Wix to WordPress
Now you need to go over to your domain provider's configuration. You would have already set it to point to your Wix site. Now you have to change it to point it to your WordPress site. This is usually done by changing the domain's nameservers (NS) to point to your WordPress Hosting site. In the case of SiteGround's WordPress Hosting, you can go to your Accounts tab and see the two nameservers. Change your entries in the domain provider's nameservers to point to these values.
You will have to wait a while to ensure that your DNS propagation is in place. Meaning, for a while (up to 48 hrs), you might see your old Wix site loading when you open your site's link. Keep trying from different Internet networks, and you'll eventually notice your new WordPress site opens. Once it does, you are ready to test your pages.
Testing All Your Posts And Pages
You already have a list of your URLs because you created the 301 redirects. But I would suggest the best way to ensure that each of your Page/Post SEO will remain intact is to test each Page/Post via Google and hear is how.
Go to Google Search.

Enter your Page/Post keyword along with your site name.

Find your link and click on it.

Check if the new WordPress Page/Post opens and looks right.

Repeat for each Page/Post.
Doing it this way will leave no doubts about your SEO 301 redirects that you configured, and that they work correctly. If there is any problem that you see for a Page or Post, it means that the 301 redirects are not done right. Go back to the .htaccess file and fix it and retry.
Email List Migration After Moving From Wix To WordPress

Unlike Wix, WordPress doesn't come with an inbuilt with Email List collection. But there are many options like SendPulse that offer free Email collection and sending till up to 2000 active subscribers. They also have Push and Facebook Messenger services as part of the bundle. I've been a customer for a while, and it's been good so far. You can click on the below image to set up your free account:

Conclusion On The Wix to WordPress Migration
Now that you have your shiny new site on WordPress don't stop here. Start spending time writing more posts and check out the many plugins that are available to improve your user experiences. Be very careful with each plugin you install, ensure you read the reviews, and assess how good it is. Bad plugins could slow down your site, and that's never good for SEO. Get over that fear and start migrating now, I would suggest SiteGround as they are pretty solid with Support and Site Speed. Click below to get you discount and get started:


This an evolving article, so please feel free to comment below with any questions or feedback that you have, and I'll ensure I get you the answer and update the post so that all the readers can benefit from it. Share this article with anyone you know who has been contemplating this move from Wix to WordPress.
The post How I Moved From Wix To WordPress in 2020 Without Losing SEO appeared first on This is Barry.
The Head Hunter Ending Explained (2019 Film)
The Head Hunter is a brilliant visual narration of a solo warrior seeking revenge. The 2019 film is directed by Jordan Downey and is a cinematic spectacle created in aContinue readingThe Head Hunter Ending Explained (2019 Film) The post The Head Hunter Ending Explained (2019 Film) appeared first on This is...
The Head Hunter is a brilliant visual narration of a solo warrior seeking revenge. The 2019 film is directed by Jordan Downey and is a cinematic spectacle created in a tiny budget of $30,000. This is in the league of Shane Carruth, who gave us films like Primer ($7000) and Upstream Color ($50,000). Actor Christopher Rygh does a great job of expressing pain, both physically and mentally, as he decapitates monsters in search of the one that killed his daughter. The cinematography makes you feel like you are in the middle of a Skyrim cut-scene. Since there is only one character, the movie is bound to be a little slow, so you'll have to endure that. Thanks for the recommendation, Jess. Here's the plot and ending of the 2019 film The Head Hunter explained, spoilers ahead.
You can rent or buy The Head Hunter by clicking below:
In case you're new to the site, here's how it works. If the article doesn't answer all of your questions, drop me a comment or an FB chat message, and I'll get you the answer to your question. You can find other films using the search option on top of this page.
It's fantastic how the movie lets your mind imagine the brutality of each monster battle. Lack of funds didn't allow for elaborate CGI, so the filmmaker decided to show us only the aftermath of each fight. The makeup and the acting do the rest to portray the extent of the brutality.
Content
Here are links to the key aspects of the movie:
The Head Hunter: Plot Explanation
Why is the Warrior killing monsters?
The Warrior lives alone hunting monsters. He decapitates them and keeps the head impaled on his wall as trophies. And now you know why the movie gets its name. While he has collected numerous heads, he still waits to run into the monster that once killed his daughter. His life is run by his quest for vengeance.
The Head Hunter: What is that Grey Fluid in the Jars?
Through the help of ancient scriptures, the Warrior has learned to produce a substance that has extraordinary healing abilities. He uses this to treat the many gory gashes that he receives from the monsters he battles. Unknown to him, the fluid also has the power to bring the dead back to life.
Vengeance is Mine!
Finally, the monster that killed his daughter returns, and in an unseen epic battle, the Warrior defeats and beheads the beast. He's too worn down by the fighting and puts away the skewering of the head for later. The Warrior heals from his wounds and proceeds to his daughter's grave to tell her that she has been avenged, that she can now rest easy.
Body … Body …
Because of a carelessly placed jar of grey healing substance by an open window, the fluid falls on the head of the troll, bringing it back to life. It, well, heads out looking for a possible body to connect to. The evil, ironic turn of events leads to the monster attaching itself to the remains of the Warrior's daughter. Now, not only does he have to go kill it again, but he also has to endure the pain of separating his daughter's headless skeleton from the reanimated monster. To add to the agony, the monster conjures up words in the voice of his dead daughter. He repeatedly stabs the head and kills it, or so he thinks.
The Grey Substance Gives Immortality
There is a scene where the Warrior dabs some fluid on a dead spider, which springs back to life. He promptly squishes it and walks away. But we are shown the spider getting up again. The mystical substance has the power of eternal life. This also means that the monster's head is also not dead. But our warrior friend doesn't know this. He believes it's a one-time back-to-life thing.
The Head Hunter: Ending Explained
What happens to the Warrior at the end of the film?
Well, in an unfair turn of events, the monster head that is still alive (as seen in the gif above) sneaks up on the Warrior and kills him. It beheads him and inserts its spine into his body. We are not shown how exactly a head alone could take down this immense Warrior who slays monsters for a living. But consider this: 
He's tired and distracted. 

He has had to re-bury the headless skeletal remains of his daughter. 

He's not wearing his armour. 

The head still has a long spine attached to it.
I think it had a jump on our Warrior hero and strangled him. After that, it was the matter of taking control of his unconscious body and using his blade to decapitate his own head. We see the monster impale head of the Warrior on his own wall of trophies as it walks away, claiming his body.
Did the Warrior die in the end of The Head Hunter?
Remember, the grey substance gives eternal life, and the Warrior has used it more than anyone else. Clearly, he is immortal, but what good is immortality if your head is skewered on a wall-mounted stake? The last scene showing his dead eyes was a pretty dark way to the end of the film. I'm happy there were no corny elements of his eyes blinking or moving.
What's the significance of the Arrow Head?
It's an arrowhead from the last Radian City. They said that these arrows can carry souls to the afterlife. I don't believe in it, but here you go.
While he initially doesn't believe in this, thinking that it is all over, he shoots the arrowhead into the distance. This directly hits the decapitated head of another slain monster. Now, it would just be extremely twisted if his daughter resurrects as a monster. But we aren't shown what the effect of the arrowhead on the carcass is. But we do know that this head doesn't kill the Warrior.
The post The Head Hunter Ending Explained (2019 Film) appeared first on This is Barry.
Midsommar Explained (2019 Film): What is it about?
Midsommar is a 2019 Psychological Drama directed by Ari Aster, who gave us Hereditary. The film is centered on a bunch of students visiting Hälsingland for the midsummer celebration, whichContinue readingMidsommar Explained (2019 Film): What is it about? The post Midsommar Explained (2019 Film): What is it about? appeared first on This is...
Midsommar is a 2019 Psychological Drama directed by Ari Aster, who gave us Hereditary. The film is centered on a bunch of students visiting Hälsingland for the midsummer celebration, which occurs once every 90 years. While the cinematography and depiction of one's struggle with grief are both fantastic, the character development is quite poor. However, this is not a review of the film and I thank everyone who requested this write up. So, let's jump straight to the explanation of the plot and ending of Midsommar.
In case you're new to the site, here's how it works. If the article doesn't answer all of your questions, drop me a comment or an FB chat message, and I'll get you the answer to your question.
Contents
Here are links to the key aspects of the movie:
Midsommar: Plot Explained
Dani is in a toxic relationship with her emotionally absent boyfriend, Christian. Just as he's about to break up with her, Dani's sister kills both her parents and herself using elaborate piping from the car's exhaust to pump Carbon Monoxide. Dani gets hurled into despair, and Christian plays boyfriend for a while more. Assuming that Dani would never actually pack her bags, he invites her to the Midsommar festival that he's been planning with his friends Mark, Josh, and Pelle.
Midsommar: Who is Pelle?
Anyone who's seen films involving cults placed at the center of the plot will quickly identify with Pelle and his hometown festival as a ritual that is bound to include a sacrifice. Unfortunately for the kids in the film, that isn't the case. Dani agrees to join, and they all head out with two others Connie and Simon. Pelle is part of the cult that needs outsiders for their ceremony, and he herds the sheep for the slaughter.
It all begins well…
The group is joined by another couple, Connie and Simon, and are greeted with some magic mushrooms. They trip for many hours before Dani hallucinates pretty bad and makes a run for the woods. Nothing drastic happens until …
Midsommar: Jump off the cliff!
The group witnesses Ättestupa that is still followed by the cult. The ceremony is held for anyone who turns 72-years-old, and they willingly grotesquely kill themselves by dropping off a cliff. Their fall only to be broken by a rock. The lucky one becomes a pulp and perishes. The not-so-lucky one receives a well-aimed blow from a large mallet on his face as he screams in the agony of his decimated limbs. The other members of the village mimic the pain experienced by the fall, but would each actually experience it only if they turn 72.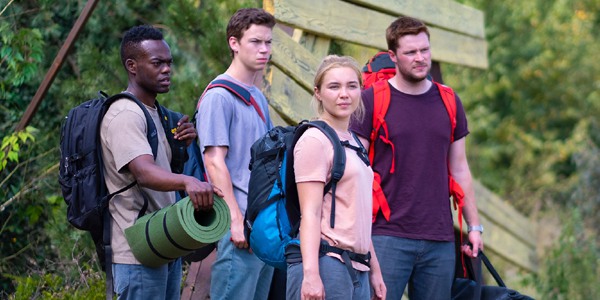 Midsommar: What happened to Simon?
Like any rational individual would, Simon reacts by screaming, "WHAAAAT?? I'm gettin' the heck out of here!". Little does he know, that is not an option. The members of the cult abduct and kill him off-screen. He's later found hung as a blood-eagle, ouch.
Midsommar: What happened to Connie?
As Connie is packing up, the elders meet her to let her know that Simon took a headstart to the train station. Connie is annoyed with Simon for leaving her behind, but the cult soon unites her with him in death, also off-screen, all we hear is a scream.
Midsommar: What happened to Mark?
Mark casually relieves himself on a tree that the cult considers being tied spiritually to all of their dead. It's the equivalent of Jake taking a leak on the Tree of Souls in Avatar. It was indeed a terrible choice of a tree, and it's soon affirmed when one of the cult women takes Mark away seductively to have him butchered.
Midsommar: What happened to Josh?
Christian and Josh both want to their thesis on the Hårga. While Josh was the first to pick it, Christian leeches on to the same subject. The elders graciously allow both of them to take notes on their culture because they already know that no one is leaving. To get a jump on Christian, Josh attempts to take photographs of the cult's sacred text, which he was explicitly told not to do. A naked man wearing Mark's face and his friend club Josh to death.
The Love Ritual in Midsommar
Here's the list of steps that are followed as part of the Midsommar Love Ritual: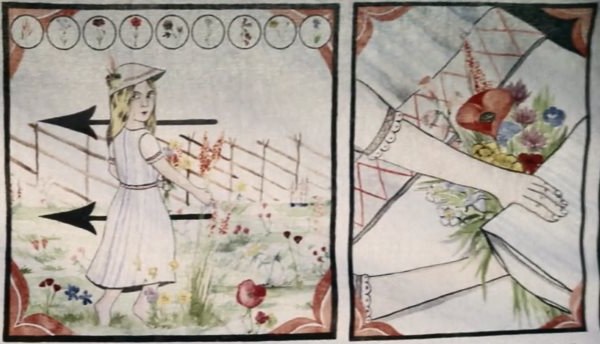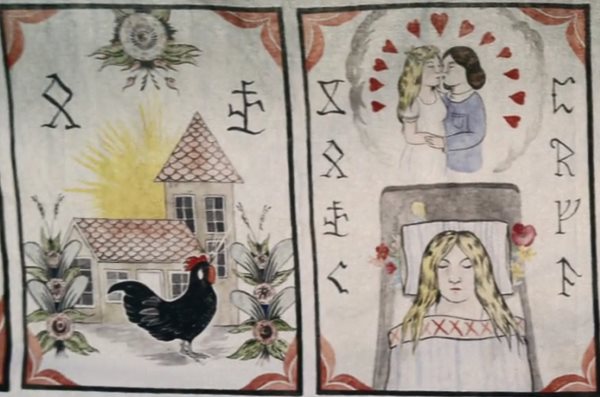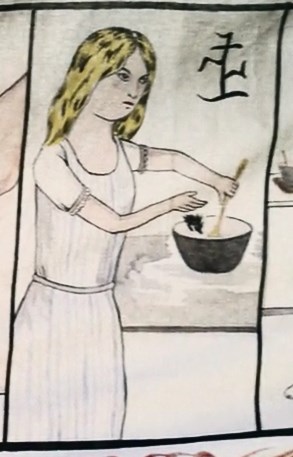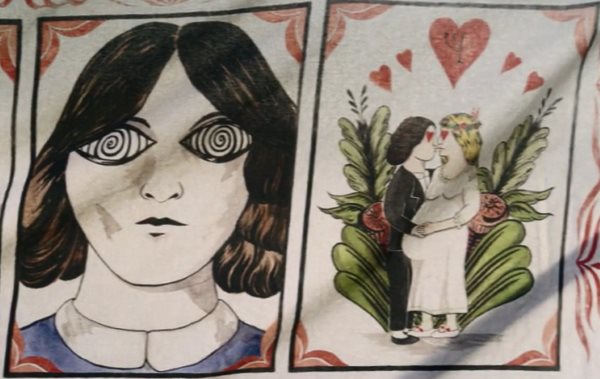 These paintings are made by a deformed person born of incest whom the cult deems the oracle. The virgin's name is Maja, and she takes a liking to Christian.
May Queen
Concurrently, the May Queen event is held. This has a whole bunch of women doing a dance-till-you-drop routine around the maypole and ends when only one is left standing.
A heavily drugged Dani wins and is crowned the May Queen. And Christian is taken through the ritualistic food, drink, and mating process in the middle of a ring of women assisting by moaning on. Dani peeps through the keyhole to witness this and has a panic attack. Other cult women mimic to participate in her agony as her brain (metaphorically) turns into goo.
Midsommar: Ending Explained
The end is revealed as Dani is asked to pick a person for the main act of the ritualistic sacrifice. Her choice is Christian as a "thank you" for the caring boyfriend that he's been. Christian is drugged and sowed into an emptied out bear and placed at the center of the yellow tetrahedron. Along with his dead friends and two other cult volunteers, he's burned alive to make way for a bright and prosperous next 90 years for the cult. Dani walks about laughing, for the first time, as she's engulfed by the mouth of madness.
It appears that this event that happens every 90 years is meticulously planned out. Dani or Christian (and his friends) were not there by accident. They've been methodically tracked and targetted by Pelle and his brother. For all you know, Dani's sister might have been psychologically tormented by this cult resulting in her suicide. This might have been the necessary trigger to get Dani into the right state of mind and bring her over to Sweden.
The post Midsommar Explained (2019 Film): What is it about? appeared first on This is Barry.