Subscribe

to This is Barry - Film Explanation Midsommar Explained (2019 Film): What is it about?

Midsommar is a 2019 Psychological Drama directed by Ari Aster, who gave us Hereditary. The film is centered on a bunch of students visiting Hälsingland for the midsummer celebration, whichContinue readingMidsommar Explained (2019 Film): What is it about? The post Midsommar Explained (2019 Film): What is it about? appeared first on This is...

Midsommar is a 2019 Psychological Drama directed by Ari Aster, who gave us Hereditary. The film is centered on a bunch of students visiting Hälsingland for the midsummer celebration, which occurs once every 90 years. While the cinematography and depiction of one's struggle with grief are both fantastic, the character development is quite poor. However, this is not a review of the film and I thank everyone who requested this write up. So, let's jump straight to the explanation of the plot and ending of Midsommar.

In case you're new to the site, here's how it works. If the article doesn't answer all of your questions, drop me a comment or an FB chat message, and I'll get you the answer to your question.
Contents
Here are links to the key aspects of the movie:
Midsommar: Plot Explained
Dani is in a toxic relationship with her emotionally absent boyfriend, Christian. Just as he's about to break up with her, Dani's sister kills both her parents and herself using elaborate piping from the car's exhaust to pump Carbon Monoxide. Dani gets hurled into despair, and Christian plays boyfriend for a while more. Assuming that Dani would never actually pack her bags, he invites her to the Midsommar festival that he's been planning with his friends Mark, Josh, and Pelle.
Midsommar: Who is Pelle?
Anyone who's seen films involving cults placed at the center of the plot will quickly identify with Pelle and his hometown festival as a ritual that is bound to include a sacrifice. Unfortunately for the kids in the film, that isn't the case. Dani agrees to join, and they all head out with two others Connie and Simon. Pelle is part of the cult that needs outsiders for their ceremony, and he herds the sheep for the slaughter.
It all begins well…
The group is joined by another couple, Connie and Simon, and are greeted with some magic mushrooms. They trip for many hours before Dani hallucinates pretty bad and makes a run for the woods. Nothing drastic happens until …
Midsommar: Jump off the cliff!
The group witnesses Ättestupa that is still followed by the cult. The ceremony is held for anyone who turns 72-years-old, and they willingly grotesquely kill themselves by dropping off a cliff. Their fall only to be broken by a rock. The lucky one becomes a pulp and perishes. The not-so-lucky one receives a well-aimed blow from a large mallet on his face as he screams in the agony of his decimated limbs. The other members of the village mimic the pain experienced by the fall, but would each actually experience it only if they turn 72.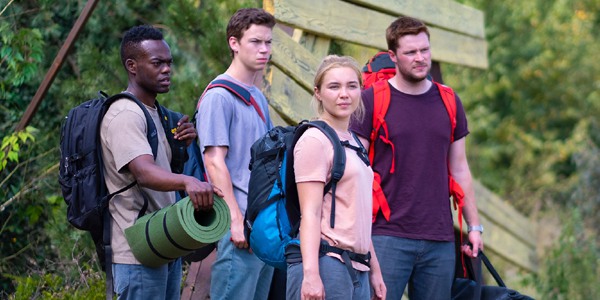 Midsommar: What happened to Simon?
Like any rational individual would, Simon reacts by screaming, "WHAAAAT?? I'm gettin' the heck out of here!". Little does he know, that is not an option. The members of the cult abduct and kill him off-screen. He's later found hung as a blood-eagle, ouch.
Midsommar: What happened to Connie?
As Connie is packing up, the elders meet her to let her know that Simon took a headstart to the train station. Connie is annoyed with Simon for leaving her behind, but the cult soon unites her with him in death, also off-screen, all we hear is a scream.
Midsommar: What happened to Mark?
Mark casually relieves himself on a tree that the cult considers being tied spiritually to all of their dead. It's the equivalent of Jake taking a leak on the Tree of Souls in Avatar. It was indeed a terrible choice of a tree, and it's soon affirmed when one of the cult women takes Mark away seductively to have him butchered.
Midsommar: What happened to Josh?
Christian and Josh both want to their thesis on the Hårga. While Josh was the first to pick it, Christian leeches on to the same subject. The elders graciously allow both of them to take notes on their culture because they already know that no one is leaving. To get a jump on Christian, Josh attempts to take photographs of the cult's sacred text, which he was explicitly told not to do. A naked man wearing Mark's face and his friend club Josh to death.
The Love Ritual in Midsommar
Here's the list of steps that are followed as part of the Midsommar Love Ritual: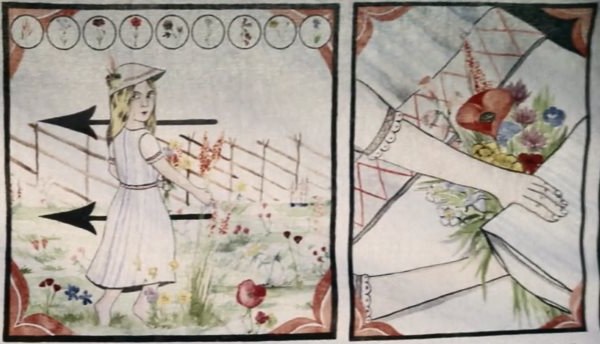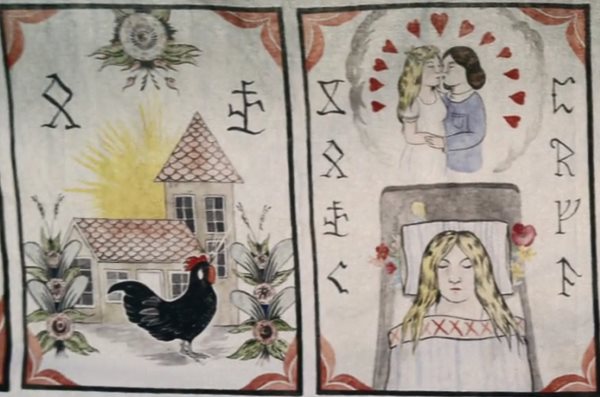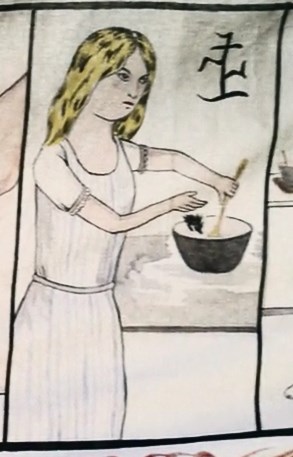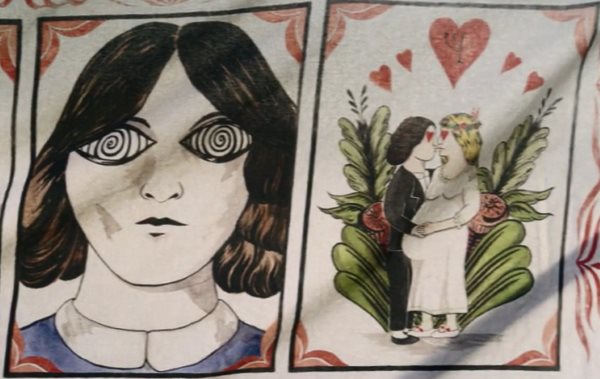 These paintings are made by a deformed person born of incest whom the cult deems the oracle. The virgin's name is Maja, and she takes a liking to Christian.
May Queen
Concurrently, the May Queen event is held. This has a whole bunch of women doing a dance-till-you-drop routine around the maypole and ends when only one is left standing.
A heavily drugged Dani wins and is crowned the May Queen. And Christian is taken through the ritualistic food, drink, and mating process in the middle of a ring of women assisting by moaning on. Dani peeps through the keyhole to witness this and has a panic attack. Other cult women mimic to participate in her agony as her brain (metaphorically) turns into goo.
Midsommar: Ending Explained
The end is revealed as Dani is asked to pick a person for the main act of the ritualistic sacrifice. Her choice is Christian as a "thank you" for the caring boyfriend that he's been. Christian is drugged and sowed into an emptied out bear and placed at the center of the yellow tetrahedron. Along with his dead friends and two other cult volunteers, he's burned alive to make way for a bright and prosperous next 90 years for the cult. Dani walks about laughing, for the first time, as she's engulfed by the mouth of madness.
It appears that this event that happens every 90 years is meticulously planned out. Dani or Christian (and his friends) were not there by accident. They've been methodically tracked and targetted by Pelle and his brother. For all you know, Dani's sister might have been psychologically tormented by this cult resulting in her suicide. This might have been the necessary trigger to get Dani into the right state of mind and bring her over to Sweden.
The post Midsommar Explained (2019 Film): What is it about? appeared first on This is Barry.
Parasite: கொரியன் படத்தின் விமர்சனம், முடிவின் விளக்கம்
Parasite (பாராசைட்) 2019ல் ரிலீஸ் ஆன ஒரு கொரியன் படம். ஆஸ்கார் அவார்டு வாங்கிய அருமையான , வித்தியாசமான படம். படத்தை ஏற்கனவே பார்த்த பலர் , இந்த படத்தினுடைய மைய கருத்து என்னனு யோசிச்சுக்கிட்டு...
Parasite (பாராசைட்) 2019ல் ரிலீஸ் ஆன ஒரு கொரியன் படம். ஆஸ்கார் அவார்டு வாங்கிய அருமையான , வித்தியாசமான படம். படத்தை ஏற்கனவே பார்த்த பலர் , இந்த படத்தினுடைய மைய கருத்து என்னனு யோசிச்சுக்கிட்டு இருக்கலாம்… இதை பற்றி பேசுவதற்கு முன்னால், கதையை சுருக்கமா சொல்லிட்டு, அதற்கு அப்புறம் கதை, பொருள் பற்றி விவாதிக்கலாம்.
For the explanation in English for the 2019 Korean Film Parasite, go here – Parasite Movie Explained
Parasite (பாராசைட்): விளக்கம் வீடியோ
Parasite (பாராசைட்): கதை விளக்கம்
இப்போ கதைக்கு போவோம். கதையில் இரண்டு குடும்பங்கள். ஒன்று – கிம்ஸ், இன்னொன்று பார்க். கிம்ஸ் ரொம்ப ஏழை. பேஸ்மென்ட் வீட்டில வாசிக்கிறவங்க. பார்க் குடும்பம் பணக்காரர்கள். மிக பெரிய வீட்டில இருக்கிறவங்க. பல வேலை ஆட்கள்னு வசதியா வாழறாங்க.
ஒரு நாள்… கிம்ஸ் குடும்பத்து பையன் , பார்க்கோட பெண்ணுக்கு டியூஷன் சொல்லிக்கொடுக்கிற சான்ஸ் கிடைக்குது. இதற்கு பிறகு நடக்கிற சம்பவங்கள் மிக சுவாரஸ்யமாக போகும். இந்த கிம்ஸ் பையன், பார்க் வீட்டில நுழைஞ்ச பிறகு, அங்கே ஏற்கனவே இருக்கிற வேலை ஆட்களை ஒவ்வொருவராக, தந்திரமா வெளியே அனுப்பிச்சிட்டு, கிம்ஸ் குடும்பம் முழுவதும் உள்ளே நுழைஞ்சிடுறாங்க.
Parasite (பாராசைட்): படத்தில் ட்விஸ்ட்
ஒரு நாள், பணக்கார பார்க் குடும்பம் அவங்க பையனோட பிறந்தநாள் கொண்டாட வெளியே போறாங்க.
அந்த சமயத்தில கிம்ஸ் குடும்பம் முழுவதும் , அந்த பெரிய வீட்டில , ட்ரின்க் பண்ணிக்கிட்டு ஜாலியா கொண்டாட்டிருக்காங்க. அந்த சமயத்தில இதுக்கு முன்னாடி இருந்த மெய்ட் கதவை தட்டி, தன்னை உள்ளே விடும்படி கெஞ்சறா. இதில் ஆச்சர்யமான ஒரு விஷயம் என்னன்னா, இந்த மெய்ட்ன் கணவன் பல வருடமா அந்த வீட்டு பங்கர்ல, கடன்காரன் தொல்லை தாங்க முடியாம, மறைஞ்சு வாழ்ந்துக்கிட்டு இருக்கார்னு தெரியுது!
வெளியே போன பார்க் குடும்பம் , மழை காரணமா திடீர்னு திரும்பி வந்திடறாங்க. பழைய மெய்ட்ய்யும் அவள் கணவரையும் பங்கர்ல அடிச்சுப்போட்டுட்டு, கிம்ஸ் குடும்பம் நைசா வெளியேறி அவங்க வீட்டுக்கு போயிடறாங்க. அவங்க வீடு இருக்கிற ஏரியா முழுவதும் தாழ்வான பகுதியில் இருப்பதால், எல்லார் வீட்டிலேயும் மழைத்தண்ணீர் புகுந்திடுது. வேற வழியில்லாம எல்லோரும் வெளியே தூங்கறாங்க!
மறு நாள் , பார்க் தன்னுடைய மகனுக்கு பிறந்தநாளை கொண்டாட பிளான் பன்றாரு . கிம்ஸ் குடும்பமும் இந்த பிறந்தநாள் பார்ட்டிக்கு வராங்க. இதற்கு பிறகு நடக்கும் காட்சிகள் விறுவிறுப்பான, செம்ம அக்க்ஷன், அடிதடி, கொலை அப்படீன்னு போகும்.
Parasite (பாராசைட்) படம் முடிவு
பணக்கார பார்க் கொல்லப்படுகிறார். கொலை செய்த கிம் , Bunker ல பதுங்கிக்கிறார். கிம்ஸ் மகன், ண்டையில , தலையில அடிபட்டதுனால கோமா நிலைக்கு போயிடறான். பல நாள் கழித்து , கிம்ஸ் மகனுக்கு நினைவு திரும்புது, பங்கர்ல பதுங்கியிருக்கிற கிம் மோர்ஸ் கோட் (Morse Code) மூலமா, தினமும் லைட் அடிச்சு , தான் இருக்கிறதை தெரிவிக்கிறார். ஒரு நாள் மகன் இதை பார்த்து புரிஞ்சிக்கிறான்.
கிம்ஸ் மகன் எதிர்காலத்துல , தான் இந்த வீட்டை வாங்கி , தன அப்பாவை மீட்பதாக ஒரு சீன் வருது. அனால், அவன் எவ்வளவு கஷ்டப்பட்டு உழைத்தாலும், பொருளாதார ஏற்ற தாழ்வு இருப்பதால், அவ்வளவு பெரிய செல்வத்தை அடைய முடியாது என்ற கருத்தை கடைசி கட்சி மூலம் சொல்லி படம் முடியுது.
Parasite (பாராசைட்) படத்தின் அர்த்தம்
Parasite (பாராசைட்) என்றால் ஒட்டுண்ணி. அதாவது ஒரு உயிரினம் , இன்னொருவர உயிர் சத்தில் வாழ்வது.
இந்த படத்தில் யார் உண்மையான Parasite?
பணக்கார வீட்டில் தந்திரமாக நுழைந்து வாழும் கிம்ஸ் குடும்பமா ?
இல்லை, பங்கரில் மறைந்து வாழ்ந்த பழைய மெய்ட் ன் கணவரா ?
இல்லை, ஏழைகளின் உழைப்பை உறிஞ்சி வாழும் பணக்கார பார்க் குடும்பமா ?
இந்த படத்தின் டைரக்டர் ஜூன் ஹோ வின் மற்ற படங்களை ம்பார்த்திருந்தால் ஒன்று தெரியும். அவர் படங்களின் முடிவில் , தெளிவாக யார் ஹீரோ, யார் வில்லன் என்று உணர முடியாது. இந்த படத்தில் வரும் எல்லோருமே , ஒரு வகையில் Parasite தான்.
கிம் போல இருக்கும் பல ஏழைகள் தங்கள் சுய நலத்திற்காக, மற்ற ஏழைகளின் வேலை வாழ்க்கையை கெடுப்பதில்லை . ஆனா கிம்ஸ் குடும்பம் கவலைப்படாம செய்யறாங்க. பணக்கார பார்க் குடும்பம், மழையினால் வீடு இழந்த ஏழைகளின் கஷ்டத்தை கொஞ்சம் கூட உணரவில்லை.. அதுக்கு பதிலா மழையையும், அழகான வானத்தையும் ரசித்துக்கொண்டிருக்கிறார்கள். ரொம்ப நேர்த்தியான வரும் பழைய மெய்ட் தன கணவனை காப்பாத்த, பார்க் குடும்பத்தின் வீட்டை பயன் படுத்தறா.
கடைசியா இதில் சொல்லப்படும் மைய கருத்து – படத்தில் வரும் எல்லோருமே ஒரு வகையில் Parasite தான். இதற்கு ன்பொருளாதார ஏற்ற தாழ்வே முக்கிய காரணம்.
The post Parasite: கொரியன் படத்தின் விமர்சனம், முடிவின் விளக்கம் appeared first on This is Barry.
In The Shadow Of The Moon: Explained (2019 Netflix)
In The Shadow Of The Moon is a 2019 Sci-Fi Thriller directed by Jim Mickle and was released on Netflix. The story is centered on a cop on the huntContinue readingIn The Shadow Of The Moon: Explained (2019 Netflix) The post In The Shadow Of The Moon: Explained (2019 Netflix) appeared first on This is...
In The Shadow Of The Moon is a 2019 Sci-Fi Thriller directed by Jim Mickle and was released on Netflix. The story is centered on a cop on the hunt for a serial killer who resurfaces mysteriously every decade. The cast includes Boyd Holbrook (from Logan), Cleopatra Coleman, and Michael C. Hall (the original serial killer of serial killers), to name a few. If you've watched and understood Predestination, this film should be a breeze. Here is the plot and ending of the film In The Shadow of the Moon explained, spoilers ahead.
In case you're new to the site, here's how it works. If the article doesn't answer all of your questions, drop me a comment or an FB chat message, and I'll get you the answer to your question.
While usually a plot gets simplified by walking through it linearly, in this film, it would be much better if we walked through it backward. The reason is apparent, the mystical character progresses through time in reverse.
Contents
Here are links to the key aspects of the movie:
In the Shadow of the Moon: Ending Explained 
The mysterious woman, Rya, is Thomas's granddaughter from the year 2042. She's from an alternate timeline where a hate-triggered civil war devastated the country. The first attack happened in the year 2024 and escalated from there. Rya travels back in time in intervals of 9 years to kill the key people responsible – first to 2015, then 2006, then 1997, and finally 1988, where she dies accidentally at the hands of Thomas. The result is a new timeline free from war and death. She's basically the angelic Terminator to the evil John Connors.
How does Rya kill people?
Rya injects the victim with an unstable isotope invented by Dr. Naveen Rao. This chemical can be triggered remotely from the future, from 2042. Rya attacks people at various points in time, but their deaths are triggered by Naveen all at once from 2042, and the world would always remember them as deaths separated by 9 years.
Time Travel: What is the significance of the 9-year interval?
A blood moon is an event of total lunar eclipse where the moon appears blood-red in color. This kind of eclipse occurs once every 9 years. The nature of time travel in this film is such that Rya can jump back from one blood moon to the previous and so on. The movie theorizes a major scientific significance to the blood-moon and some mumbo-jumbo about its gravitational forces reacting with electromagnetic pockets on Earth.
In short – the blood moon powers time travel backward by 9 years, and hence the movie's name.
In The Shadow Of The Moon: Who is Dr. Naveen Rao?
Dr. Naveen is a scientist studying the blood moon. After years of research, he harnesses this phenomenon to power time travel. He, too, is affected by the Civil War in the timeline Rye is from. He devises the time pod for Rye and also invents the unstable isotope death technic.
In The Shadow Of The Moon: Timeline Diagram
In The Shadow Of The Moon: Plot Synopsis From Thomas' Perspective
In 1988
Thomas Lockhart, a police officer, comes across mysterious deaths of three random people whose brains bled out through their noses and mouths. Thomas, his partner, Maddox, and his brother-in-law, Holt, track down the suspect, a young black woman. They try to corner her in a subway station, and Maddox has his ass handed to him. Thomas stabs the woman with her device, and she gets killed by a train. Later a bullet is recovered from her hand and keys to a plane from her pocket. The case goes cold. Meanwhile, Thomas' wife dies during delivery while giving birth to their daughter, Amy.
In 1997
Thomas, Maddox, and Holt find themselves chasing down a similar suspect from 9 years ago. Another set of victims have bled their brains out. Dr. Naveen tries to have a word with Thomas about time travel but is unsuccessful in getting the policeman's attention. Following the key from 1988, Thomas finds himself at an airfield. On confronting the killer there, Maddox gets shot dead. The killer escapes in a plane with Thomas as a hostage. She goes incognito after dumping him at a lakeshore.
In 2006
Thomas is a worn-out private investigator who has dedicated his life in search of the mysterious woman killer. His daughter is being raised by Holt. Thomas believes that the killer is a time traveler, and Dr. Naveen is somehow connected. Investigating an unreported victim from 1988, Thomas goes to meet the dead man's wife. The lady gives information about her dead husband being a white nationalist. She mentions that her husband's ex-wife was also a white nationalist. Thomas steals Holt's badge and locates the ex's house only to find her dead. The killer makes a run for it, and Thomas pursues and shoots at her. The bullet hits her hand, but she makes it into the sewers where her pod is ready. She enters and disappears in a poof of science as Thomas watches on.
In 2015
Thomas has become a complete recluse. All he's been doing is waiting and preparing for 9 years so that he can catch the killer. He knows that by stopping her from making any further jumps back in time, he can get his life back. Dr. Naveen locates and kidnaps Thomas and tries to explain that this killer is doing the right thing by erasing something terrible in their timeline. He also mentions that the equipment she's using is what he's currently designing. Thomas overpowers Dr. Naveen and heads back to the sewer exit. 
The killer appears and announces that she is his granddaughter from the future of an alternate timeline, one that was tormented by war. And that it's Thomas who prepped her in the future for this kill-mission. Thomas is devastated as he realizes he killed his own grandchild in 1988.
Amy gives birth to Thomas' granddaughter, who he cradles in his arms. Knowing that he can never get his time back with Amy, he devotes his remaining life to his grandkid and lives happily in the newly created timeline where peace would prevail.
In The Shadow Of The Moon: Plot Synopsis From Rya's Perspective
Rya was born in 2015 and was raised by her loving grandfather, Thomas. In 2024, a man blew up a truck full of homemade explosives. Powered by anger and fear, a war spread across the country and devastated it over the years. Eventually, in 2042, she teams with Dr. Naveen and takes up a mission to travel back in time and kill a specific set of people who were vital to instigating the war.
Arriving in 2015
Rya encounters Thomas waiting to kill her. She tells him that he is her grandfather. She leaves to kill a bunch of people and jumps back by 9 years.
Arriving in 2006
Rya murders more people. Just as she executes the white nationalist woman, she's chased down by Thomas, who shoots her in the arm. She manages to enter her pod in time and travels back 9 years.
Arriving in 1997
Rya continues to take out more people and gets to an airbase to steal a plane but is tracked down by Thomas and Maddox. Maddox sneaks up on Rya, and she puts a bullet in his head. She escapes holding Thomas hostage. She drops him at the lakefront and enters her pod and leaps back another 9 years.
Arriving in 1988
Rya completes her last set of kills and his trying to get out of town. She knows that time travel for her is a unidirectional trip. There is no going back. Besides, Thomas told her that he killed her in 1988. Thomas and Maddox track her down at a subway. She takes down Maddox, but Thomas strikes her with her own weapon. She falls on to the tracks of an oncoming train and, well … Fatality!
That wraps it up for In The Shadow Of The Moon. How did you feel about the film? Comment with your thoughts below.
The post In The Shadow Of The Moon: Explained (2019 Netflix) appeared first on This is Barry.
The Lobster Explained (Film Analysis and Ending Explained)
The Lobster is Romantic Drama directed by Yorgos Lanthimos and stars Colin Farrell, Rachel Weisz, Léa Seydoux, and John C. Reilly, to name a few. The Lobster is a 2015Continue readingThe Lobster Explained (Film Analysis and Ending Explained) The post The Lobster Explained (Film Analysis and Ending Explained) appeared first on This is...
The Lobster is Romantic Drama directed by Yorgos Lanthimos and stars Colin Farrell, Rachel Weisz, Léa Seydoux, and John C. Reilly, to name a few. The Lobster is a 2015 film set in an imaginary world where single people are given 45 days to find a partner else are converted to beasts and set out into the wild. I got multiple requests to pen an article for this movie, and I finally got down to it. Here's the plot and ending of The Lobster explained.
In case you're new to the site, here's how it works. If the article doesn't answer all of your questions, drop me a comment or an FB chat message, and I'll get you the answer to your question.
Contents
Here are links to the key aspects of the movie:
The Lobster: What is the movie about?
The Lobster is a satire on our present-day society that subliminally attributes life to be complete and meaningful only if you have a family of your own. Happily-single folks many a time receive sympathetic statements like "don't worry, hang in there, you will surely meet your perfect partner one day". Finding your partner is a massive milestone that everyone apparently must achieve. In many Asian countries, this extends to buying a car, buying a house, having a child, and so on. Many people give in to this societal pressure and find themselves in a relationship that they are not truly happy with. Lobster is set in a world where the milestone of partner-finding is taken to the extreme. 
The Rules of the world in The Lobster
Everyone must find a life partner by a particular age.

Couples have a "normal" life and live in the city, which is the representation of the active society. Couples must have similar traits. The similarity could be something as baseless as a nosebleed. This is to emphasize how shallow relations could be just to fit into society.

All the single folks are quarantined in a Hotel and are given 45 days to find themselves a partner. The newly formed couple have to prove their love by lasting 2 weeks in a double room and then in a yacht all alone by themselves for 2 more weeks.

Couples who happen to fight and argue a lot will also be allocated a child as that helps reduce the quarrels. (

I kid you not, I know friends who have had children because they weren't able to adjust with their spouses)

If Singles fail to find a counterpart, they are transformed into an animal of their choice and released. The movie also goes on to explain that much of the world's animals were once humans.

Masturbation is strictly prohibited in the Hotel, but it is mandatory to get a routine lap dance from the Maid as this combination is believed to do wonders for the mating process.

The residents of the Hotel can buy themselves extra days by hunting down a Loner.

Loaners are The Resistance. They stand for being single and free but are the extreme opposite. Loners believe that people should never fall in love or mate. Being single is the only way they think is correct.
I know, this world sounds completely insane? Well, it's just perspective, I suppose. It's our world ideologies taken to the extremes on both sides, much like Black Mirror. Her is another movie that comes to mind when we look at the romantic angle.
Lobster Beginning: Why does that lady shoot the donkey?
Well, the movie doesn't explain, but I'd reckon that the donkey is a former husband of the lady who cheated on her. The resulting divorce made them single. While he went off and opted to become a donkey, she hooked up unhappily with someone else to remain human. She now blames him for her miserable life and chooses to kill him. Sorry for sounding like Sherlock there. But did she really know which donkey was her husband? Perhaps not. The scene also shows how the validity of human life is not extended to animals.
The Lobster: Plot Explained
David
David has recently become single after a 12-year-old relationship and checks into the Hotel with a dog who was once his brother. While he seems eager to find a partner, he knows that he has no outstanding physical traits or a habit.
Lobster: What is the relevance?
David's choice of creature to be turned into is a Lobster as they live for over 100 years, are blue-blooded like aristocrats, and stay fertile all their lives. Even after his human days, David's thinking about buying himself as much time as he can to find a mate. That's how important it is to him.
Other single characters in the facility
John, whose wife passed away recently. He has a limp, which is his defining characteristic.

Robert, a man with a lisp.

The Heartless Woman who is entirely devoid of any emotions, and is, therefore, one of the best Loner hunters.

A woman with constant 

nosebleeds

, and her good friend with 

great hair

.

The biscuit woman who's ready to offer a variety of sexual pleasures to find her man.
How are people transformed into animals in The Lobster?
It is believed that the human's skin is first removed, and then the vital organs are taken through a procedure based on the animal selected. After that, the remains of the human are thrown away, and the blood is donated to hospitals. 
While this is how the process is believed to take place, it seems like an ideal corporate lie to mask the organ-harvesting of individuals who are not worthy enough for society. Perhaps no one is actually transformed, they're simply killed off.
John and the Nosebleed Woman
John fakes a bleeding nose to pair with the Nosebleed Woman. They are hailed a couple and are upgraded to a double room. After two weeks, they would go through a 2-week stay on a yacht. If they succeed, they will move to the city. But they start fighting and are promptly assigned a child (because, you know, a child solves all relationship issues).
Nosebleed Woman's good friend figures she doesn't have a thing in common with anyone and has resigned to the fact that she's better off being an animal. She's also clearly annoyed with her self-proclaimed "best friend". As Nosebleed Woman begins explaining how her fancy new life in the city will still involve the memory of her BFF, she gets slapped across her face for her scripted act. The friend chooses to watch Stand By Me all alone. She's clearly lost faith in humanity. 
Death of the Biscuit Woman – A new life for David?
David figures he's going to fake a relationship just like John. He approaches the Heartless Woman and says how he's worried the Biscuit Woman might not have died after jumping from her room. That the last thing he needs is "some woman dying slowly and loudly".
Later, he attempts to make small talk with the Heartless Woman in the jacuzzi. The woman fakes choking on an olive. David is careful not to react. He passes her test, and the two move in together. David also goes the extra mile to greet John's assigned daughter with a kick to her shin, stating that she can now limp like her dad.
The act doesn't last, the Heartless Woman kills David's dog, his brother, and explains how she kept kicking him and left him to die slowly. David is caught red-handed as he breaks down crying.
The Maid in The Lobster: Who is she?
The Maid is actually part of The Resistance, a loner. We don't know it at this point as it's disclosed later on. Just as David is being taken to the authorities, the Maid helps David distract the Heartless Woman, and he takes her out with a tranquilizer dart. The Maid asks David to fire one at her as well to ensure her cover is not blown.
The Lobster: What does David turn the Heartless Woman into?
The popular thought is that he turns the woman into a Rabbit. Now, remember, the woman has no emotions and has been an ace hunter of the Loners. Turning her into a harmless little rabbit would make the hunter become the hunted, her worst fear. The other angle to this is that David kills the Heartless Woman and disposes of her. He perhaps kicked her till she died slowly and painfully.
David joins the Loners but falls in love
David begins his new life in the other extremity as a Loner. He meets a Shortsighted Woman who he instantly takes a liking to. A common eye-sight trait immediately (sadly) confirms the love in his heart for her. They begin to date secretively. He hunts and cooks rabbits for her. She saves David from Robert, who is out on a regular hunt hoping to extend his days as a human.
Along with the Leader of the Loners, Shortsighted Woman and David head to the city to practice blending in, this is part of a regular exercise. Using fake IDs, they evade cops who are looking to arrest singles. After a trip to the Loner Leader's home, they return to the forest.
The Resistance takes down the Hotel
The Loners break into the Hotel and grab the hotel manager and his wife. After the manager pledges his profound love for his wife, they place a gun in his hand. They tell him he can keep his life if he takes his wife's. He doesn't bat an eyelid and shoots at his wife, only to realize the gun was empty. The Loners pride themselves on proving that all relationships can only be hollow. David goes to the yacht and tells the Nosebleed Woman that John is faking it. He hopes for them to be truthful with each other.
In further trial trips to the city, David and the Shortsighted Woman give away their affection for one another to the Loaner Leader. The duo plan on running away into the city, but…
They blind the Shortsighted Woman
Leader of the Loaners catches on to David's plan and preemptively removes the commonality by making the Shortsighted Woman blind. The Loaner Leader pretends to die by using the Maid as a human shield. Shortsighted Woman tells David that she's now blind, and they desperately look for another common aspect. David is seen doing the right thing by reacting to love than a construct of similarity and proceeds to escape the camp. The Loaner Leader believes that she's ended the love matter by removing the similarity. She lets her guard down, and David attacks and leaves her for the dogs to eat.
Lobster Ending Explained
Once David and the Shortsighted Woman get to the city, David falls prey to the self-imposed construct of physical similarity and takes a steak knife to the restroom. In front of a mirror, he contemplates if he should blind himself or not. The real victory would happen only if David realizes that physical similarity means nothing. But he's far from that thought. David is much too caught up in creating another superficial connection that he is not really considering the idea of true love… yet. The irony, however, is that he genuinely loves her. But to fit into society (in the city), he either needs to be blind for real or act like he is.
Does David blind himself?
Just like he "told" on John, I'd imagine David realizing that artificially constructing a mere physical similarity means zilch. I'd like to think that he gets his act together and explains to the Shortsighted Woman that his love for her is not superficial. And he will pretend to be blind to ensure they can live together in the city. At least this way, one of them can be a helping hand to the other.
What did you think David did? Comment below.
The post The Lobster Explained (Film Analysis and Ending Explained) appeared first on This is Barry.
The Neon Demon Explained: What is it about?
The Neon Demon is a Psychological Thriller written and directed by Nicolas Winding Refn. The film stars Elle Fanning, Jena Malone, Bella Heathcote, and Abbey Lee in the leading roles.Continue readingThe Neon Demon Explained: What is it about? The post The Neon Demon Explained: What is it about? appeared first on This is...
The Neon Demon is a Psychological Thriller written and directed by Nicolas Winding Refn. The film stars Elle Fanning, Jena Malone, Bella Heathcote, and Abbey Lee in the leading roles. We also see Keanu Reeves in a small but compelling part. The film is centered on a young model trying to make her mark in the fashion industry. I'm sure the climax of The Neon Demon made you go "Wait, what on earth??" and so without wasting more time, here's the plot and ending of the film The Neon Demon explained, spoilers ahead.

In case you're new to the site, here's how it works. If the article doesn't answer all of your questions, drop me a comment or an FB chat message, and I'll get you the answer to your question.
Contents
Here are links to the key aspects of the movie:
The Neon Demon: What is the film about?
As Nicolas Winding Refn, the director, explains in multiple interviews, he's firstly an entertainer, and all of the cultish vibes you get in the film are thrown in to entertain. But if you look a little deeper, you'll find that The Neon Demon is a gigantic metaphor of life in the fashion industry and of predators and prey. Let's walk through the plot and analyze it.
What is the meaning of The Neon Demon?
Well, it is explained by the director that there might be two shades of Narcissism today. One part is highly negative, but there could be a positive side because it fuels the survival instinct. Specifically, in an industry that is all about one's body and their looks. The Demon is Narcissism. And Neon represents the bold and the bright of the modeling industry.
The Neon Demon: Plot Explained
Deer In The Headlights
Jesse is a young model who has just begun her career and is shooting her portfolio with a guy, Dean, she met on the internet. She's shown to be withdrawn, timid and naive. Besides, she's not even 18 years yet and is a minor. She's a runaway orphan, and through her childhood, Jesse assesses her self to have no real talent because she can't sing, dance, or write. However, she knows she's attractive and decides to make money of her good looks.
Ruby, Gigi, and Sarah
We're introduced to Ruby, a makeup artist who is instantly infatuated by Jesse's beauty. Apart from the fashion industry, Ruby also does make up for the dead to make them look presentable for open-casket funerals. She predicts that Jesse is new in town, and everyone likes that dazed and confused look that newbies sport. Jesse agrees to head to a party with Ruby. At the venue, Ruby introduces Jesse to Gigi and Sarah. Gigi believes that she was born with multiple flaws and is today a beautiful person because she's fixed them surgically. Sarah is naturally good looking but is now pushing 30 and faces a lot of rejection.
Both Sarah and Gigi have their prejudices about Jesse. Sarah perhaps sees her younger self in Jesse – how she rose in the ranks overtaking all the older models in her time. She already senses that Jesse will cut through the competition like a hot knife through butter. Gigi, on the other hand, attributes Jesse's presence in the industry to "sleeping with the right person".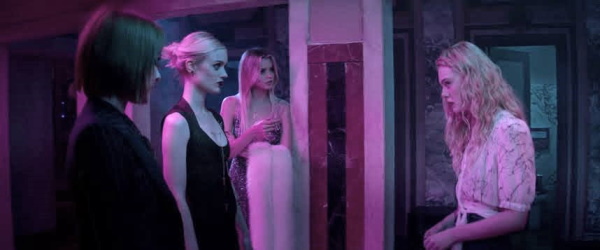 Food Or Sex?
This is a pretty vital conversation that happens between the girls. Ruby mentions that lipsticks are usually named after food or sex. She turns to Jesse and asks her is she is food or sex. Jesse lies about being with many guys, and Gigi mentions that Jesse is dessert because she's so sweet. In a later scene, Sarah says, "Who wants sour milk when you can get fresh meat?". The references to food are symbolic of how the industry could consume you if you aren't careful. Also, given that it's all about physical beauty, sexual favours are something that few use to progress in their careers.
The Party
The party presented is visually stunning but also very trippy, which resonates with the nature of clubbing and substance usage. Jesse begins to enjoy herself, and this here is representative of her induction into the social side of the industry.
Roberta Hoffmann
An agency headed by Roberta loves the fresh look that Jesse brings and puts her on to a hotshot photographer by the name Jack MacArthur. We see the abuse of the law here when Roberta asks Jesse to say she's 19 years. She even suggests faking a signature in the parental concent section.
Relationship with Dean
Jesse is happy to let Dean know that she's going to be shooting professionally. Dean is curious to hear feedback for his pictures, but Jesse says it didn't come up. But the fact of the matter is that Roberta thought they were amateurish. Jesse is trying to ensure Dean doesn't feel bad. He also gets to know that Jesse is underage, and while initially, he jokes about leaving, he stays on as he's interested in Jesse.
Hank, something's in my room!
Jesse heads back to her motel run by Hank, who comes across as a scavenger who preys on young girls. In fact, he prides on his motel to be the destination for young runaways. Jesse finds a mountain lion in her room that has entered from the open window. One of the theories is that this is Ruby who's taken the form of the animal. However, LA is one of the cities that has big cats within city limits. Regardless, this is a foreshadowing that Jesse is going to be preyed upon.
Take it all off!
Jesse goes for her shoot with Jack and meets Ruby there. Jack sends everyone out. Ruby offers to stay, but Jack forbids it. He asks Jesse to undress, and he paints her body in gold and proceeds to photograph her. The audience if left panicking for Jesse because Jack comes across as an evil dude looking to take advantage of her. But nothing of the sort happens. Ruby makes the assumption that Jesse had sex with Jack and advises her to avoid such favours. Later, Ruby meets Sarah and Gigi and tells them about the shoot, and they are visibly displeased bt Ruby is still infatuated with Jesse.
The Audition
Sarah and Jesse happen to audition for the same show. When it's Sarah's turn, they quickly exchange some details about her in whispers, after which Robert, the fashion designer, simply ignores her altogether. It looks like there has been a prior incident that has caused some dislike for her. In any case, Robert is awestruck by Jesse soon as he lays his eyes on her. Sarah has a meltdown as she feels she has become invisible and envies Jesse. A broken mirror slices Jesse's hands as she tries to talk to Sarah, who grabs the bloodied hand and begins to drink the blood. Obviously, Jesse freaks out and leaves. 
Neon Demon: Why does Sarah try to drink Jesse's blood in the restroom?
While a literal explanation to this is that Sarah is a witch and is trying to consume Jesse's blood to gain her youth, which is also a foreshadowing of Sarah eating Jesse. The alternate way to look at this is Sarah is losing her mind and is becoming destructive. She wants to hurt Jesse and is having a moment of insanity.
Real Lolita Shit
Dean meets Hank to pay him for the damages done by the mountain lion. Hank gives out pedophile vibes by talking about a 13-year-old girl in one of the rooms and asks Dean to check her out. But perhaps Hank is not a pedophile, and he's only pointing out that it is Dean, who is trying to hit it off with under-aged Jesse.
The Fashion Show
Gigi, who has also been shortlisted for the show, passes by Jesse and is surprised to see her there. Gigi's jealousy stands out here as she calls Jesse masculine and concludes that the only reason Jesse got the gig because she's slept with Robert. To her misery, Jesse is promoted to close the show.
The fashion show scene with triangular mirrors
In a nutshell, Jesse has just gotten her first big break, and we see her narcissistic beginnings. And this scene shows her transformation from the bashful young girl to a confident woman. The scene begins with blue lights, which represents Jesse's gentle side. She sees an alternate, fearless version of herself who kisses her reflection, symbolizing that she's falling in love with her bolder self. The scene then changes to red lights, which stands for being strong-willed.
The triangles could mean a bunch of things, but in this context, the three-way connect of body-mind-soul stands out. Triangles also symbolize progress and achievement of dreams, but here they are upside down and hence add the layer of decadence. Do drop in your thoughts in the comments below on what you thought.
Beauty isn't everything, it's the only thing!
Jesse and Dean head to a bar where Robert is with Gigi and another girl showing off his non-existent acting skills. He's filled with so much adoration for himself, I doubt he'd have room for anyone else. Robert proceeds to insult Gigi by pointing out that no matter how hard she tries, she'll never be beautiful. However, he commends Jesse for her true beauty. He also sneers at Dean, stating that he wouldn't have stopped to look if Jesse weren't pretty. Dean wants to leave, but by now, all the attention she's been getting has made Jesse too full of herself and asks Dean to bugger off.
Open wide, wider, wider.
At night, Jesse has a dream where Hank breaks into her room and sticks a knife deep into her throat and pushes it in further. Terrified, Jesse wakes to find that someone is trying to enter her room, and after that, he proceeds to the 13-year-old's room to assault her. While we could conclude that this is Hank, it could have been anybody really, perhaps even another dream. In any case, Jesse's fear makes her call Ruby and flee to her place.
Jesse and Ruby
Ruby tries to get cozy with Jesse, who pushes back Ruby's advances and says that she's never been with anyone. This further excites Ruby, and she forces herself on Jesse and gets kicked to the floor.
Making out with the dead
Ruby displays necrophilic tendencies by having intercourse with a corpse as she imagines Jesse touching herself. While this too could be associated to a cultish behaviour, this is Ruby hitting rock bottom. Sarah and Gigi have enough hate for Jesse because they envy her. Jesse might have been protected by Ruby if she had offered sexual favours. Instead, to add insult to injury, Jesse grooms herself and stands on the diving board of an empty swimming pool, looking like a floating goddess, quoting her most narcissistic line:
Women would kill to look like this. They carve and stuff and inject themselves. They starve to death, hoping, praying that one day they'll look like a second-rate version of me.
This is pretty much the last straw, the trio decides to get rid of Jesse.
Neon Demon: Blood Bath Scene & the Moonlight Scene
The trio chases and corners Jesse with knives. Ruby pushes her down the empty swimming pool, and Jesse is fatally wounded. After this, they proceed to ritualistically eat Jesse and bathe in her blood. Later, we see Ruby lying under the moonlight and ejaculating what appears to be blood. We'll get to the meaning of this scene in just a bit.
The next day, Sarah accompanies Gigi to her shoot. After seeing Sarah, the photographer replaces one of the other models with her. Unable to deal with having eaten Jesse, Gigi throws up an eye. After that, in desperation to get out the remaining Jesse, she stabs her stomach open and dies. Sarah stares with an absolute lack of empathy and eats Jesse's eye to head back to the shoot.
Neon Demon: Ending Explained
What is the explanation of the ending of Neon Demon? What did it all mean? Well, there are two levels of interpretations – Literal and Metaphorical.
Neon Demon Ending: Literal Explanation 
The literal one would be that Ruby, Sarah, and Gigi are witches. They place an offer to Jesse, in the beginning, asking her if she was food or sex. Given Jesse was not going to join the coven by having ritualistic intercourse with Ruby, she automatically becomes food. They eat her and bathe in her blood to feed off her youthfulness. Ruby, evicts Jesse's blood from inside her to complete the ritual.
Jesse was a naive girl who saw far too much success far too quickly. She let it get to her head and unleashed a narcissistic personality. Jesse felt that everyone was dying to be her. While this initially helped her get gigs, she eventually rubbed people the wrong way, even the ones who fancied her. As a result, she was "consumed" by the industry, thanks to her arrogance. Blood typically symbolizes open emotional wounds in dreams. If you apply that to the blood-bath scene, we can say it was a metaphor to show her enemies basking in the joy of destroying Jesse emotionally. 
In The Neon Demon, we're shown many men in the light of being predators, but ultimately, it's the women that prey on Jesse.
That moonlight scene with Ruby is a depiction of the start of a new cycle where there now will be another newcomer, and that person may grow or be chewed up and spit out like Jesse. The rise and fall of models is cyclic, just like the moon's cycle. If you recollect, Jesse mentions that when she was young, she thought the moon looked like an eye, and she would wonder if the moon saw her. The all-seeing eye did see her rise and fall. And menstruation, which is the eviction of the old eggs to make way for new, is also cyclic.
What did you think about the ending? What is your viewpoint? Do comment below.
The post The Neon Demon Explained: What is it about? appeared first on This is Barry.
The Skin I Live In: Ending Explained (2011 Spanish Film)
The Skin I Live In (La piel que habito) is a Spanish Psychological Thriller Drama film directed by Pedro Almodóvar. The cast includes Antonio Banderas, Elena Anaya, and Jan Cornet,Continue readingThe Skin I Live In: Ending Explained (2011 Spanish Film) The post The Skin I Live In: Ending Explained (2011 Spanish Film) appeared first on This is...
The Skin I Live In (La piel que habito) is a Spanish Psychological Thriller Drama film directed by Pedro Almodóvar. The cast includes Antonio Banderas, Elena Anaya, and Jan Cornet, to name a few. You'd have seen Elena in films like Room In Rome and Wonder Woman. The plot revolves around a mysterious woman who has been kept captive by a brilliant, yet deranged plastic surgeon. Let's just leave it at that. Here's the plot and ending of the film The Skin I Live In explained, spoilers ahead.
In case you're new to the site, here's how it works. If the article doesn't answer all of your questions, drop me a comment or an FB chat message, and I'll get you the answer to your question.
Before we begin talking about the story of The Skin I Live In or its ending, the only way the plot can work is if Robert is an absolute psychotic mad-scientist with a bizarre fetish for his wife's body. I can't see any other way. So let's go through the sequence of events in chronological order, here's an illustration for the same.
The Skin I Live In: Sequence Diagram of the Plot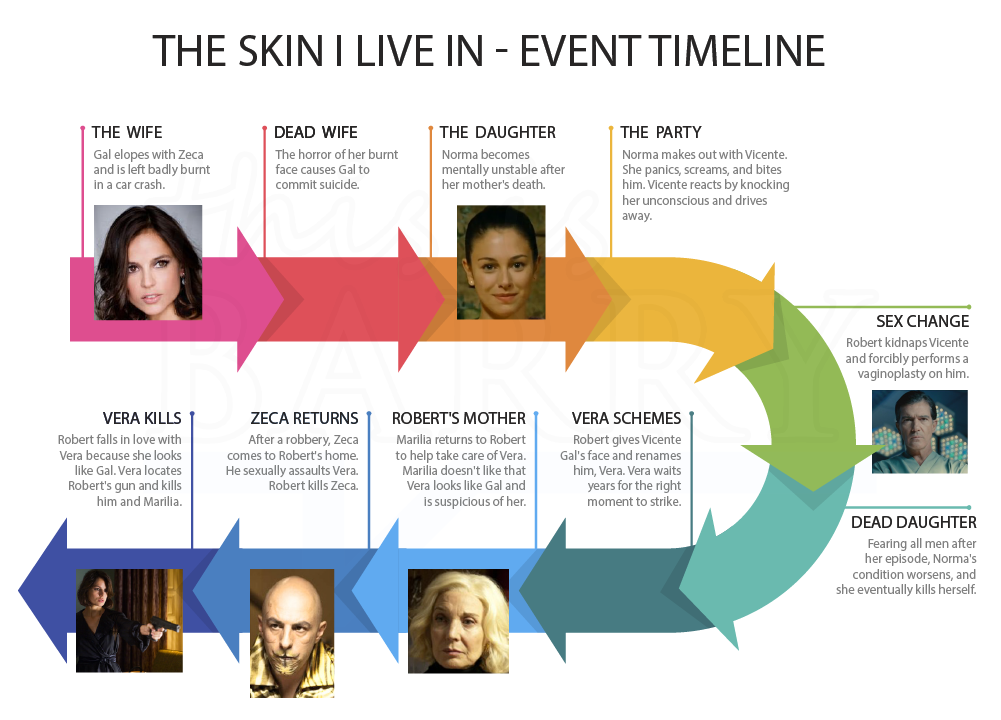 The Skin I Live In: Plot Explained
Marilia, Robert, and Zeca
Marilia is the mother of two kids, Robert and Zeca – by two different men. Neither of them knows that they are half brothers. Zeca grows up to be a drug smuggler and a criminal in general. Robert, on the other hand, grows up to become a brilliant plastic surgeon and is an absolute psychotic mad-scientist who is madly in love with his wife, Gal.
Gal
Gal fancies Zeca and runs away with him. Too bad for her, Zeca leaves her burning after a nasty car accident. Robert tries his best to restore Gal back to her original form and takes precautions to remove all the mirrors from their home in the meanwhile. Unfortunately, Gal sees her reflection off a window and flips out. She jumps to her death as her daughter, Norma, watches on.
The Skin I Live In: Norma and Vicente, the incident
Norma becomes mentally unstable and is on multiple drugs that keep her psychosis at bay. Years later, thinking that she's doing much better, Robert takes Norma along to a friend's wedding party. 
Vicente, a young chap who works with his mother designing clothes, consumes drugs, and lives a carefree life. He also has the hots for his co-worker, Cristina, who is gay. Popping a pill, Vicente heads off to the same party Norma happens to be.
Initially, Norma and Vicente hit it off, and the two make out in the bushes. But then Norma reacts in fear and begins pushing away Vicente. She starts screaming. Fearing that he would be accused of sexual assault, Vicente tries to shut Norma's mouth with his hands. Further, in fear, she bites his hands and Vicente strikes Norma and knocks her unconscious. High on drugs, and confused by what just transpired, Vicente puts Norma's clothes back on her and drives away.
Robert's Anguish
Robert goes to the garden looking for his daughter and notices someone on a bike driving away in a hurry. He sees Norma's shoes and sweater that she threw willingly and assumes she's been assaulted. To confirm his fears, he finds her lying in the bushes unconscious. Norma wakes up, confusing her father to be her assailant. She is admitted to a mental health facility where she grows worse by the day, unable to be around men.
Robert's Revenge
In the quest for vengeance, Robert locates and kidnaps Vicente. With the help of falsified concent papers, he gets his colleague, Fulgencio, to perform a vaginoplasty on Vicente. Robert keeps Vicente a prisoner and further transforms him into a woman. Meanwhile, Norma's condition worsens to the point where she commits suicide, just like her mother.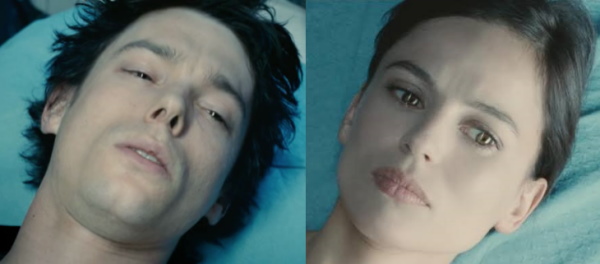 The Skin I Live In: Plot Twist: Vera is born
Years pass, and Robert gives Vicente the face of Gal and decides upon a new name, Vera. While we see Vera resigned to her fate, Vicente is still rooted within and is struggling to hold on to his identity and sanity. Robert is asked by the medical bureau to discontinue his work as it involves transgenetic therapy on humans. Intending to pursue on, Robert terminates all of his house-help, and his mother, Marilia, returns to help with Vera. Marilia knows nothing about Vicente, all she sees is a woman who is captive and looks like Gal. She simply can't trust Vera, but she helps nevertheless.
Zeca never learns
Zeca is now a wanted fugitive and seeks shelter in Robert's home now that his mother works there. Marilia reluctantly agrees to hide him in for a couple of days. Stupid move. Zeca lays his eyes on the live footage of Vera and sees Gal and wants to talk to her. Marilia protests, and Zeca responds by tieing and gagging her and placing her in front of the live footage.
He then proceeds to locate Vera. When he does, she tries to escape but is overpowered and assaulted by Zeca. Understanding the situation, Vera tries to play along and convince Zeca to head outdoors, but it doesn't work. Eventually, Robert shows up and kills Zeca. Marilia watches on wishing that Robert would kill both Zeca and Vera and bring this deranged medical experiment to an end.
Vera plans her exit strategy
That night Vera sleeps with Robert and wins his trust. He allows her to go shopping with Marilia the next day. Fulgencio later shows up identifying one of the missing people in the papers to be Vicente, who they once operated upon. He accuses Robert of illegally performing medical experiments on Vicente. Vera shows up just about now and to further gain the confidence of Robert lies that she has always been a woman and is in the house by her own choice. Vera notices Robert's gun and Vicente's picture in the paper. It appears like her wait is over.
The Skin I Live In: Ending Explained
At night, in the pretext of heading down to get some lubricant, Vera takes Robert's gun and heads up and kills him. She then hides under the bed. As expected, Marilia shows up, and Vera shoots from under the bed. As she falls to the floor, Marilia sees Vera and says, "I knew it" as this corroborates her suspicions about Vera. Vera goes back home and talks to Cristina and proves to her that (s)he is Vicente by quoting a conversation they had in private. Vera then discloses the same to the mother, and the film ends.
The Skin I Live In: Afterthoughts on the Ending
Vicente was careless and high on drugs when he met Norma. Though he's a flirtatious man, he didn't intend to assault Norma. The punishment he received for this was pretty extreme. Robert planned to convert the guy who attacked his daughter into a woman and then sexually assault him eventually? And in the process of the transformation, he used Gal's face (the face of the woman who left him for another) and fell in love with the man he was trying to punish? Hmm… well, now that Robert is dead, he probably has some time before his afterlife to ponder over his scheme and where things might have gone wrong.
I don't know if this can be called irony, but now he's back home with Cristina, who is gay and never wanted to be with Vicente, but he's now the beautiful Vera, and this could be a very very messed up situation. Oh, and Fulgencio will know to tell the authorities to look for a woman with Gal's face, so Vera hasn't really gotten away.
What were your opinions about this incredibly eccentric film? Please do share below.
The post The Skin I Live In: Ending Explained (2011 Spanish Film) appeared first on This is Barry.