Subscribe

to SurveySensum Chapter 2: Are you prepared to launch your VOC Program?

In the second episode of the Experience talk: Voice of Customer and Employee,  Tanuj Diwan, Head of Product and Nandkishor Tripathi aka NK, Global Head of

In the second episode of the Experience talk: Voice of Customer and Employee,  Tanuj Diwan, Head of Product and Nandkishor Tripathi aka NK, Global Head of Customer Experience and Success at SurveySensum are talking about how to launch your VOC program, setting the short term and long term objectives, taking ownership of the VOC program, getting buy-in from stakeholders, metrics of your VOC program, and finally understanding the current state of the problem.

So, let's jump right into it!

Click here to listen to this insightful conversation on Spotify!
How should you kick off a VOC program?
Without knowing the why, how we can kick off anything? 
To this question, Tanuj comments, "I'll relate to this podcast today. Why did we want to do this? Well, we have worked with a lot of growth-stage companies. They are skilled in acquiring customers but they struggle a lot in retaining those customers. The major reasons for it are 
they don't have the support systems

they don't have the resources, and 

they aren't listening to the customer feedback!
For a growth-stage company, these were the 'whys' to start a VOC program. For us, it was all about helping these companies."
So, once you know why, you have an objective and you have a problem statement that you want to solve. You know where you want to go!
How VOC can help you find your niche?
Did you know that an efficient VOC program can help you find your niche and even gives you an edge over your competitors!!
Well, there are three ways to find your niche.
Internal research 

Paid research 

Through your customers 
Customers are the key here! 
They are the real people who are actually utilizing your products or services and they know what is good and what is not in your products or services as compared to your competitors! And if you are able to solve their pain points in a distinct manner then you've found your niche. 
Sharing his instance of finding the niche, Tanuj says, "When we started, it was all about CX platform that can take any kind of customer feedback from surveys at any kind of channel. But once we went to our clients with it, they asked me a simple question. 
They said, 'This is all good but this is one part for us, Tanuj.' So I said what do you mean by one part? To this, they said, 'Customer feedback by taking surveys is just one part. We have so much feedback from the support calls, chatbot centers, social media channels, App Store reviews, which we are not asking directly but they are still giving it.' 
They wanted to understand the feedback that they are getting indirectly from the customers as well. And I thought why not! We were already doing text and sentiment analysis for open-ended feedback. So once I showed them that, they said why can't you do this for App Reviews or chat conversations and I was like, they are right! 
So that's where we got the idea that why not do a complete voice of the customer tool, rather than making a tool just for surveys.
That helped me find my niche! 
If we hadn't spoken to them, we would have never known and we would have just continued going with just the customer feedback platform."
How to set an objective for your VOC program?
Suppose you want to reduce your churn rate. You cannot reduce the churn by the next hour or the next day or the next month. To do that, there are two types of objectives that you should set!
Short term objective 

Long term objective
And they are subjective to what you want to achieve and whether you want to achieve it in the next six months, next year, five years and it goes long term. So in terms of VOC like if we have a bigger goal of five years, we also have to have a short-term goal for three months and six months that also makes us feel happy about it. 
Setting short term objectives helps you track your progress and identify your mistakes.
It helps you show everyone in the organization how important VOC is.

With early-wins, it tells you what you are doing is correct and motivates you to take the next step

It allows you to review what you have achieved and help you learn from your mistakes
Long-term objectives can be achieved by winning the short term objectives. They
Gives direction to your VOC program

Help you create #milestones

Help you plan an efficient VOC program.
The long term requires long term commitment and people will ask you,
Hey, how many resources are required? 

How can we do this? 

How much cost is required?' 
And all of this comes to the ROI of the program when you start planning it a big. So, if you plan it big for the first stage, it is quite complicated and not agile. So it's better to start slow and then grow it up step by step.
How to select the right business metric to measure your short term objectives?
Quantitative measurement is important to understand the efficacy of your tasks and assess the performance.
And while the right business metric can help you gain invaluable insights, track your progress, and meet your goals quickly, the wrong metric can skew your progress into a guessing game!
That's why picking up the right metric is not as easy as it seems!
So make sure that you choose a top business metric and just focus on that. And then you can add up on your other priorities that you have. So, the first thing you should do is set up a North Star metric. It leads to revenue, reflects customer value, and aims for the company's long-term success.
Who approves the metrics of your VOC program in your organization?
If you are defining a short term and long term goal, it has to come from the top leaders. Each of your organization leaders has to take this call and need to be involved in this discussion. The product, support marketing, and operations shouldn't have a different thought. It needs to be overviewed and brainstormed together to make sure that all of them agree that this is the right North Star metric that you want to achieve. 
That's how everyone will focus on one single goal.
How to get cross-functional buy-in from all departments?
The VOC Program is not run by just one department. It is cross-functional!
And if you are a small firm it's easy to get the buy-in from all departments! All you need to do is gather all the Head of Departments over one or two coffee meetings, share your points, and you are done. 
However, the situation is difficult for multinational companies that are sitting in different locations.
They should start early with a few people at the same location. And when things evolve and you start seeing results, that's the time to scale it up and align more people with it.
That's where the short term and long term objectives help you in. The early wins help you pull in and align more people with your VOC program to achieve the longer objective.
Who drives the VOC program in a company?
There is a reason why there is only one steering wheel in a car!
Because you'll never reach your destination if everyone steers it.
And that's why your VOC program requires a driver – A Champion!
Be it the Customer Experience Manager in a big company, or a Product Head or Sales Head or Marketing Head in a small company. 
There is one person who owns the VOC program and gets cross-functional buy-in from each department to run it successfully across the organization. And then make the onus on it and create the champions within the organization. 
How can B2C growth stage companies identify the reason behind customer churn?
The best approach is to go to the direct source – Customers!
Interview the customers you've already lost! It may sound weird, but all you need to tell them is 'I know that you've left and I am not calling you back. All I want is to understand what could I have done better? We are just trying to make sure that we are not making the same mistakes again' 
A B2C growth stage company has a lot of data from the app reviews, social media channels, NPS surveys, CSAT surveys, and more. The second approach is to run a Text and Sentiment Analysis, gather all of this data in one place and understand their feedback. It will help you
Identify the top 5 challenges that your customers are facing 

Identify the reasons for disengagements

Identify the negative sentiments in the comments

Give you intelligent predictions.
That's all for the second episode!
In the next episode 'Chapter 3: Define your Customer Journey', we are talking about what a customer journey map is and why it is important.
Stay Tuned!

#Onapositivenote – Exceptional Customer Experience Stories of 2020
2020 is not a year you would like to remember, it's also not a year which any of us can easily forget. It was exceptional in
2020 is not a year you would like to remember, it's also not a year which any of us can easily forget. It was exceptional in many aspects!
A year in which we could experience the worst of humanity and also the best of it.
As a company that is focused on improving the ways you help your customer, we reached out to our customers and community to collect some exceptional stories of customer experience. These are the stories of grit, determination, courage, empathy, and going above and beyond the call of duty to help a customer when they needed you the most!
So, let's jump right in and reflect on the best Customer Experience Stories that happened in 2020!
How Breville went above and beyond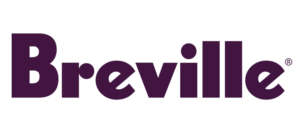 Jamie Hickey, Founder of
CoffeeSemantics
shared a story about how a coffee machine maker brand went beyond the call of duty.
"I had purchased an expensive espresso machine from
Breville
about 3 months ago and it wasn't working as it should have so I reached out to the company's customer service and within 72 hours they had a repairman come out and fix it, and give me a complete tutorial. He also brought along a Moka pot as a free gift which was awesome because I was actually thinking about buying one and gave me a code to get 3 months' worth of trade coffee for free through a subscription."
This was completely above and beyond what was needed; the machine wasn't even broken it just needed to be calibrated differently. They have definitely gained a customer for life with these actions.
How did Chipotle stand by their customers during the lockdown?

Tom Smith, CX Analyst & Strategist with Insights From Analytics shared a story on how a local
Chipotle
store stood by him during the extended lockdown.
"I've been having a positive experience with Chipotle for the past 14 years and the team at the Falls Village location did not let me down once during the pandemic. I'm allergic to wheat, milk, and refined sugar. Eating at Chipotle has enabled me to avoid my food allergens while eating as healthy as possible. I started eating at Chipotle six days a week, 14 years ago, when they opened in Raleigh, NC. The Chipotle near my home has been open every day since the lockdowns and the employees have done a great job of continuing to serve #FoodWithIntegrity throughout."
Can a TV series do something special during a pandemic? Ask ESPN!

The Last Dance was an amazing documentary and perfect for us sports-starved fans in the middle of the pandemic. Can a TV series really be something special for consumers? Well, in this case, it was. ESPN wasn't slated to release the series until later in the year when the NBA season would normally start. But ESPN moved it up to provide special programming when all of us at home could use some amazing entertainment. Of course, it was a brilliant marketing decision by ESPN but it was rooted in providing content to people at a crucial time.
How Nextdoor App became a virtual park!

My family and town love Nextdoor. It went from being a small hangout app and then blossomed into a powerful tool to connect with our local community. As Nextdoor grew in popularity all summer, it kept offering free features like local business listings to boost interest in Main Street shops. We couldn't go out and gather in person, so Nextdoor became our local park and community center in a way. They were very smart to keep upgrading features and made them all free.
Born Primitive won a customer for Life?

Christine Parizo League City shares "I ordered a bathing suit from Born Primitive for a vacation this summer. Unfortunately, it was extremely delayed by UPS and wasn't going to arrive before I left. I ordered a second one via expedited shipping, but UPS was not going to deliver it on time, either. Born Primitive not only refunded me the expedited shipping fee but also paid to redirect my package to where I was staying on vacation. They now have a customer for LIFE. (And they do have great bathing suits, leggings, and workout wear!)"
How Apprentice stood up for the occasion!

Kristen A. Kucks from
Apprentice
says,
"During the very early days of COVID, our company began receiving calls from our international pharmaceutical customers who were starting to experience restrictions on travel and site access that dramatically slowed down critical drug production. Since they were unable to have eyes, ears, and hands at these facilities to keep up with demand, we designed something called Rapid Deployment Kits that contained AR headsets and devices pre-loaded with our pharma-specific software platform, in addition to cleanroom compliant accessories to help them maintain operations with such a limited staff. The kits allowed them to collaborate and troubleshoot in real-time with subject matter experts and vendors from all over the world to maintain processes, fix issues with remote assistance, remotely view and sign off on completed procedures, perform remote FDA tours, and much more so that their supply chain wouldn't collapse.
Almost overnight we had our employees assembling RDK boxes with devices, necessary accessories, and instructions that we then overnighted to impacted sites across the globe. Each member of our team helped with the preparation and shipping of these customer kits, which at the time, was becoming increasingly difficult as countries shut down.
We shipped dozens of kits each week to existing customers, affiliated sites, and even new customers with who we had never done business before, just to help them maintain operations. We ensured that our support network was available around the clock, in every timezone and we assured our customers that no matter, we would get them what they needed. As COVID spread throughout the U.S. we ramped up RDK production and turned an entire office suite into an RDK production room. Our customers were exceptionally thankful for the steps we took to supply them with a one-box version of our platform so that they could continue critical pharma manufacturing processes despite the global pandemic."
SERVPRO went above and beyond during the pandemic

Michael Stahl from SERVPRO shared his anecdote. "I joined SERVPRO as the chief marketing officer in mid-March just as everything was shutting down, and I was immediately thrown into the important work our more than 1,800 franchises throughout the country were doing to help disinfect and mitigate the virus in facilities everywhere. Aside from our own franchise employees putting their lives on the line in hazmat suits and more, we knew as a company there was more we could – and should – do to combat the pandemic. We developed and launched a new program to combat COVID-19 within my first month on the job – the Certified: SERVPRO Cleaned viral pathogen-cleaning program to prevent the spread of COVID-19. Going beyond standard janitorial cleaning, the program has helped tens of thousands of businesses throughout the country keep their doors open safely throughout the pandemic."
Lead Cookie went an extra mile to help a customer

Jake Jorgovan from Lead Cookie helps companies get new clients and grow through LinkedIn lead generation. He says one of his clients is a consulting firm that helps CPAs to help them make their business more profitable. A lot of CPAs were out of business during the pandemic and, as a result, my client's consultancy was going out of business too. We generated 100+ leads absolutely free for them, they converted to 7 new customers. As a result, the consultancy hired 10 new staff to handle the volume of business.
When MaxTour exceeded their customers' expectations.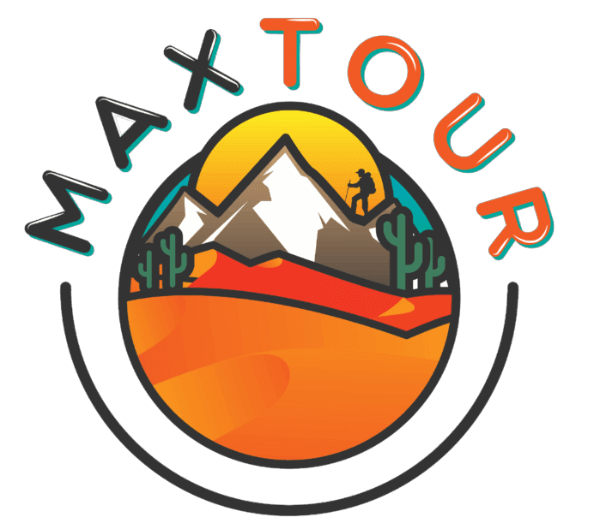 Matthew Meier, Founder of
MaxTour
in Las Vegas says,
"March 2020 was the hardest month in the history of the travel industry. The entire Las Vegas Strip was shut down, and international travel completely stopped. Travel brands around the world were hit with unprecedented cancelation requests. These brands had to make a choice on how to honor these requests. Most brands opted to issue vouchers for future travel. We felt this wasn't fair, and we gave all our guests full refunds. They were very happy about it, we will never forget one lady from Germany who told us that of all the cancelations she was making, we were the only company that was offering her a money-back refund. We assume that she had flights and hotels booked with some of the biggest travel brands in the world, and it felt great that of all those massive brands, we were the ones offering the best customer experience."
When Bittylab helped a mother at the oddest hour!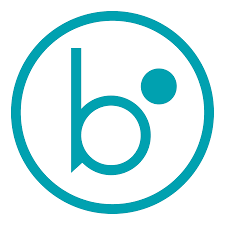 Last Thursday at around 3 pm, we got a call from a mom in distress because she had to go back to work on Monday and her baby had rejected all bottles she tried. If she didn't get her baby to feed without her, she'd had to stop working. We typically do not offer overnight shipping on our e-commerce and we use a third-party fulfillment warehouse on the West Coast. For this reason, the orders get processed in the morning so the warehouse has time for fulfillment. She asked if we could expedite her order as
Bare® Air-free
as needed right away. Our response was, "Absolutely, although all orders have been already processed, I will personally process and fulfill your order from our NY office and bring it to the post office to ship today. Additionally, we will upgrade you to Priority mail at no cost"
StartingPoint served its customers' right in the pandemic?

StartingPoint was launched during the pandemic and our solution helps companies manage their remote teams. We have a customer that needed to implement a solution as the pandemic continued to lengthen. The customer had 30 different sites of team members who were not distributed and looking for work consistency and efficiency. We were able to launch and customize the customer platform within one hour and they were able to implement the solution across their 30 locations. This allowed their team to manage operational workflow, tickets, requests, and manage their internal team. In times of a changing world work environment, StartingPoint was able to Assist.
When WikiLawn helped many get back on their feet.

Dan Bailey, President, WikiLawn Los Angeles Lawn Care shears his experience as well. He says, "Our primary clients are a lawn care and landscaping professionals. Of course many were struggling during the pandemic. Business all but stopped during the lockdown. Many companies weren't booking at all, others saw their business reduce drastically overnight. There were only so many ways we could mitigate this, but we tried to help smaller businesses hardest hit by this. Family businesses that were in danger of never re-opening, especially.
Working in our community, we put in the extra time and effort to generate leads for those companies which were in danger of going under. They got first priority and were listed first on local searches, and were given a discount to help get them back on their feet. We consider it our duty as members of this community, and an investment in businesses that will hopefully keep partnering with us for years to come."
Here are a handful of the best Customer Experience Stories of 2020. If you have experienced something remarkable or your customer did, do share it with us!
Chapter 1: Getting Started with Voice of Customer program
Are you starting your customer experience journey? Are you planning to implement a VOC program?  Then you have come to the right place. In the last
Are you starting your customer experience journey?
Are you planning to implement a VOC program? 
Then you have come to the right place.
In the last few years, while working with the growth stage companies we observed a few things: 
They have created an awesome product. 

They are acquiring customers at the lightning speed. 
But, they were struggling a lot in retaining those customers!
The most common reason behind their failure was – they were not making any use of the Voice of the Customer data. 
So, aiming to help growth-stage companies start their Voice of the Customer program, we launched our first podcast, Experience talk: Voice of Customer and Employee.
In our first few episodes, we will discuss how you can create a VOC program from ground zero and then, how can you take that up to CX maturity? After that, in the later episode, we will also listen to CX professionals from these growth-stage companies and understand how they started their CX journey. 
In conversation are Tanuj Diwan, Head of Product at SurveySensum, and Nandkishor Tripathi aka NK, Global Head of Customer Experience and Success at SurveySensum.
So, let's jump right into it!
What is the Voice of the Customer?
The Voice of the Customer summarizes two elements,
listening to their feedback

understanding what their expectations are from you or your brand.
When you connect VOC with the business metrics such as revenue or churn, then it has a broader understanding. But to start, it is very simple – feedback of the customer and the expectation of the customer from your services and the product.
What is the difference between the VOC program and the CX program?
The CX program is a broader umbrella and VOC is the heart of it. 
The CX program consists of business-led metrics like revenue, churn rate, new customer acquisitions, customer acquisition cost. VOC, on the other hand, is connected with the customer metrics, like 'Hey, are my customers happy?' 'What is my overall NPS score?' 'Are people able to recommend?' 'Are we able to make an equity on that?' 'Are my customers loyal enough?' 'How many happy customers are rating me on social media?'.
The Voice of the Customer will talk mostly about customer-centric metrics and the CX program combines that customer-centric metrics with the business metrics.
How to capture VOC data?
There is a slight difference between B2B and B2C in terms of how you are capturing data. A B2B customer journey includes fewer feedback channels. B2C, on the other hand, offers a wide sea of channels to the customers to reach out. Be it app reviews, a contact center, or a touchpoint service. 
Brands are expanding their horizon to make sure they reach out to more customers. So, what you really need to understand is, what are the key touchpoints where your customers are interacting with you and collect feedback across all these touchpoints. For example, when you use Uber, you can share your feedback in the app itself, the Play Store, or the social channels. These are the key touchpoints for Uber.
As a brand, you have to make sure that you are listening to all the sources from where customers are reaching out to you. These all are the source of data and they need to go into your Voice of the Customer program so that you can listen and act upon it.
How does Uber respond to its customers' voices coming from multiple channels?
A company that has around millions of conversations going on, requires tools to act on it because you will not actually be able to reply to every single person manually. In a B2B segment it may be possible but not in B2C. That's too difficult.
That's exactly where the AI tools and technologies that consolidate all the responses come into the picture. What type of analysis you are doing and what kind of insights are you getting out of it is important!
There are tools like SurveySensum's Conversation Analytics where you can connect with any sources, be it your CRM like Salesforce, email conversations, WhatsApp conversations, or contact center, all this goes and sits into one single dashboard in the conversation analytics and helps you analyze the sentiment of the customer. Also, not only just one team can analyze this data and make use of it, it helps the client success team, the contact center team, or the product team. Basically, it helps the agent who's lifting up the call to see the past conversations with the customer, take actions appropriately, and be able to connect with them easily.
How did companies manage the shift from support calls to chatbots and social media conversations due to COVID?
This shift had created a major challenge for the brands. Agents are still working remotely and aren't able to take the calls. The volume has also gone up as people are not getting their deliveries on time. So they are pushing their feedback on social media.
But it turned out to be an opportunity for the companies to upscale and get their agents trained on the technologies that can help them carry out conversations with their customers on the social channels. That is why the brands have digitized by 40% in the last six months as compared to the next five years. 
Also, there is a cherry on the top – Chatbots! They are going to be a lifeline in the coming days. They are another source for the Voice of the Customer because there are loads of meaningful conversations happening there and that can help in shaping your product roadmap, improve customer service, and do a lot more!
What are the top three reasons why you should listen to the Voice of the Customer?
Here are the top three reasons why any growth stage company should listen to the Voice of the Customer:
It helps you understand what is working and what is not working because for any initiative you really need to know what is happening at ground zero.

'Are you delivering your promises?' As a brand, you must have envisioned that these are the values that your brand should be promising. So are you really delivering on those brand promises?

It helps you retain your customer. This is the one thing that you would need for your existence. It gives you insight into what exactly they need for your future advancement. 
Also, post any new product or feature launch, it helps you gather the initial feedback really quickly. So you can iterate and improve your product. 
When is the right time to start a VOC program?
As soon as you get your first customer!
A VOC program is not something that requires a huge technology, or resources. So, whenever you have your first customer, you should start thinking about how you can understand what the customer is feeling. Start by asking the questions, 'Hey, were we able to help you with this?' 'Is it helping you?'
Just ask one or two questions and it will help you get into their shoes. 
That's all for the first episode!
In the next episode 'Chapter 2: Are you prepared to launch your VOC Program?', we are talking about how a brand can prepare to initiate a VOC program and what are the best practices of implementing a VOC program.
The journey to becoming a Customer Success Professional – By Irit Eizips
Irit Eizips is the Chief Customer Officer & CEO at CSM Practice. Being pivotal in shaping Customer Success' best practices, she has been nominated as a
Irit Eizips is the Chief Customer Officer & CEO at CSM Practice. Being pivotal in shaping Customer Success' best practices, she has been nominated as a top Customer Success strategist and influencer, year after year, since 2013. She was recently named one of the Top 150 Global Customer Experience Thought Leaders and Influencers of 2020 and is often featured as a speaker at conferences and Customer Success publications. 
This week, in the SurveySensum CX Thought Leader Series, we had an insightful discussion with her about her Customer Success Journey. She talked about her struggles, challenges, and the learnings that accumulated to her journey of being the CEO of the first customer success strategy consulting firm in the world – CSM Practice. Later the conversation shifted much deeper into Customer Success and how can someone become one!
Here's how it goes.
1. Why did you choose Customer Success and what was your background?
A decade ago, when I just started in Customer Success, it was merely perceived as a glorified title for customer support or account management. That all started to change around 2013 when Gainsight began the movement of Customer Success and invested heavily in defining best practices and educating the business world about the true potential and meaning of customer success. At that time, I was the head of solutions consulting at Gainsight. During my time there, I worked closely with Dan Steinman and Nick Mehta on this initiative. We must have interviewed close to 200 executives from various companies to better understand what processes and tools were effective in reducing churn, increasing solution adoption, and growing upsell and cross-sells revenues. 
In 2014, I started the first customer success consulting firm, CSM Practice. The company accelerates the profitable growth of both SaaS and on-premise software companies through the design and adoption of best in class customer success strategies, policies, and processes. We place a great emphasis on organization-wide execution of customer-centric strategy to ensure maximum impact in implementing our recommendations. Insofar, we've helped over 100 companies transform the way they do business with their existing customer base, among which are companies such as New Relic, Accent Technologies, and Veriforce.
2. How was your journey to Customer Success Head and opening your own company?
Back in 2014, the Customer Success landscape was much different than what it was today. Back in those early days, anyone actively taking part in the Customer Success movement was primarily focused on educating the business community. Customer Success organizations would "retire" constantly due to insufficient budgets or a seat at the board of director meetings. Additionally, most early Customer Success teams were not clear on how to prove the value of their own teams to their customers as well as their management team. 
This resulted in low to no budget for consulting work. Remember, I launched CSM Practice fairly early, so initially, my projects were mainly focused on merely establishing the function. Nowadays, we have already established and proved the direct ties between Customer Success and profitability, and my projects with customers have changed drastically from light training sessions for customer success teams to comprehensive strategy work that encompasses the complete transformation of the entire organization. 
3. When you started CSM Practice, what challenges did you face, and over time how did they change?
Today, the Customer Success landscape has changed. Customer Success is well established in many companies and, for those who need to mature their practices, investing in bringing outside expertise to accelerate change means millions of dollars in additional revenue and a faster trajectory to profitable growth. As such, it is much more common to see the board of directors or venture capital firms applying pressure to scale and optimize the Customer Success operations in order to achieve a higher growth and profitability rate for their portfolio of companies.
This pressure is applied because boards and investors know that the success of existing customers is the key to sustainable profitability. This is a focus for me and my team, and it requires a desire to consistently examine what works and what doesn't, both for my clients as well as my own firm. 
Profitability has become a key factor in many Customer Success strategy decisions. I constantly hold myself and my firm up to the same standards as I hold my customers. I constantly stretch our ability to prove the value of recommended playbooks and strategies by trying them out with our own clients. 
4. What are the most important metrics for Customer Success? How do you build a relationship and calculate health scores?
When a Customer Success organization is committed to delivering profit to the bottom line, a proactive, value-driven approach is essential. I recently worked with a mid-market client to develop two types of proactive customer health indexes – one for their management team and the other one for the customer success managers. These scores are built to reflect the achievement of key performance indicators within the organization.
Churn Risk Indicator: This type of health score is designed to help predict renewals at a high level of accuracy (1-2%).
Customer Maturity Score: This health score was designed to help the customer success managers become proactive and design their annual success plan for each client to help them become best in class. 
By developing these two metrics separately, companies avoid a common mistake I see Customer Success teams make is designing a single customer health score that's supposed to accomplish both goals. It would often include reactive metrics, like an escalation in support tickets, NPS scores, etc. A single customer health score may suggest that a specific customer needs attention, but it often produces two negative results: a reactive team constantly focused on red accounts. It also produces far too many false negatives/false-positive results, rendering the score unreliable.
5. How did you start creating the playbooks?
Like customer health scores, playbooks have also evolved since I first started in Customer Success (2013). The first playbook I created, was based on interviews with early adopters of Customer Success on how to deflect churn risks. The playbook was a simple step-by-step document, clarifying the task owner, due dates, as well as priorities of each of those steps. Back in 2013, most of the customer success leaders focused on churn, upsell, and lifecycle management. Nowadays we have a whole category of playbooks focused on promoting value for clients, which includes not only client business reviews, but the incorporations of value discussions, and measures and steps we need to take to prove value to clients.
6. What according to you are the most important professional traits of a successful CS professional?
Constant curiosity, a learner's mentality, and a desire to grow are the key professional traits of a successful Customer Success professional. A stellar CSM will develop a trusted advisor relationship with their client, resulting in a proactive, consultative approach. This approach can be trained or developed along a CSM career path.
I had the pleasure of talking about this topic with Maranda Dziekonski, Vice President of Customer Success and People Operations at Swiftly. She shared her list of skills and attitudes needed to be successful in a proactive CSM role. I think it's a must-watch video for anyone looking to hire or develop their career as a customer success professional.  
The bottom line, if you're going to make it in customer success you need to have strong customer empathy, rapport building, and listening skills. I believe that the possession and utilization of these skills allow a customer success manager to shift from the mindset of delivering reactive customer service to excelling at relationship building, being proactive, and delivering value to customers. There is a place for reactive measures in the handling of support tickets and other customer outreach. However, the entirety of the Customer Experience is enhanced when the organization centers around its customers' ability to be successful. 
7. Who should own retention and upselling – Customer Success or Customer Experience?
Sales and Customer Success are often 'dance' partners when it comes to financial transactions with existing customers. Although sales might land from the standpoint of new business, it is the job of the Customer Success team to guide the ongoing customer relationship to assure the landing sticks. As companies grow, the retention and upselling processes would often have their own dedicated teams to allow for quick hiring and scalability of operations. The bottom line, who should own the renewals highly depends on the business model the company has. 
8. Which communities, books, slack channels, or podcasts you would recommend CS professionals to join?
I have my Top 10 Must-read Customer Success Books for CSMs compiled and constantly updated because it is so important that Customer Success professionals should read to become best in class and thrive in this ever-evolving profession. I'd like to recommend a couple of books that most people reading this blog might not hear of yet or have not had the chance to read:
"The Customer Success Pioneer: The First 12 Months of Your Journey Into Growth" by Kellie Lucas is specifically targeted for those who had been recently hired as Customer Success Executives and trying to figure out what they should be focused on to build or optimize their team.
Another book that we highly recommend for CSMs to read is "Subscription Marketing: Strategies for Nurturing Customers in a World of Churn" by Anne H. Janzer. The book guides us through creative marketing strategies in nurturing customers and building good customer relationships for those who are focused on investing in a low touch highly scalable customer engagement model.
About CSM Practice
CSM Practice is the first customer success strategy consulting firm in the world. The firm helps companies accelerate profitable growth through the design and implementation of customer retention and expansion selling methodologies. CSM Practice offers a unique customer-centric methodology encompassing the entire customer life-cycle including on-boarding, adoption, upsells, cross-sells, and renewals. Irit had been leading the success of her firm through the development of methodologies for customer success programs and is continuously producing thought leadership content for the Customer Success community. 
If you have an inspiring CX story to share, you may propose your session here: https://c.surveysensum.com/2c7F6F8E
The B2B SaaS Customer Journey: Surveys for every stage
Do you want to proactively prevent customer churn? Do you want to understand what your customer is looking for? And just magically deliver it! There's only
Do you want to proactively prevent customer churn?
Do you want to understand what your customer is looking for?
And just magically deliver it!
There's only one way to do it. 
You need to get into their heads! 
But how?
Follow an "outside-in" perspective. Ask them effective revealing questions. 
And their answers will give you everything you are looking for!
After all, what's more efficient than asking them what they want?
One of the best ways to do so is by launching a survey. However simple it seems, it sometimes delivers insignificant results. Why?
Because asking the right question is not enough. You need to ask those questions at the right time throughout the customer life cycle.
For any B2B SaaS company that is starting its Voice of Customer program, the customer journey is the first step to understand your customers. It will tell you at what different stages you should launch customer surveys to collect feedback.  
Today, I am going to share with you,
What is a typical B2B SaaS customer journey?

At what touchpoints and milestones should you launch feedback surveys?

What is the type of feedback questions you should ask at each milestone?
Also, going forward, I'll share some greater insights I gathered in a conversation with
Yanira Sesniak, VP of Customer Success at IngeniousIO.
Let's start by understanding a typical B2B SaaS customer journey with an example.

A customer journey is a path of several stages that your customer goes through before arriving at that final activity of purchase. 
In the above typical B2B SaaS customer journey, a customer visits your website and finds out about your product. Intrigued, they take the product demo, and after being delighted with the product, they purchase it. You implement the product and onboard them. Then the customer starts using the product and takes the help of your support or customer success if and when required. And if at this point, they are satisfied and happy with the product they become advocates of your brand.
Click here to know more about the customer journey 
Throughout this customer journey, you'll gather customer feedback from every stage using CSAT, CES, and NPS surveys depending on each touchpoint.  
Now, what are CSAT, CES, and NPS Survey?
a.) CSAT Survey
CSAT or Customer Satisfaction surveys are used to gauge customer satisfaction along every touchpoint of their journey. Be it after a certain interaction, or on the overall experience of the customer, customer satisfaction is the strong predictor of how happy and satisfied your customers are with your brand.
Click here to know more about customer satisfaction
b.) CES Survey
CES or Customer Effort Score surveys help you gauge user experience of a product or service. Mostly measured after product usage, or new feature adoption, CES surveys help you evaluate how easy your product or service is for the customer to use and identify the areas of improvement if any.
Click here to know more about customer effort score
c.) NPS Survey
NPS or Net Promoter Score surveys are the perfect metrics to gauge customer loyalty towards your brand. On a scale from 0 to 10, it asks customers how likely they are to recommend your brand to others. Based on their answers, they are divided into detractors, passives, and promoters. 
Click here to know more about Net Promoter Score
All of this valuable customer feedback goes into your VOC dashboard and helps you improve your onboarding process, customer support, product, and the entire VOC program.
Now, which of these surveys should you launch at each milestone?
Let's start with the first milestone!
1. Take a website feedback survey 

Take in-the-moment feedback on your digital experiences with website surveys. It is the easiest way to ask for feedback on your website. Embed a pop-up survey on your website or place a feedback button on the right panel to get consistent feedback. This will grab the attention of your visitors and increase the response rate. 
Gather maximum quantitative and qualitative feedback on your site by keeping your surveys short with only 1-3 questions and include only one open-ended question to get in-depth responses. 
These surveys allow you to gauge the effectiveness of your website by asking them about how they found out about you, their experience on the website, if the website meets their needs, and their likelihood to return. 
Here's an efficient example of a CSAT and CES website survey.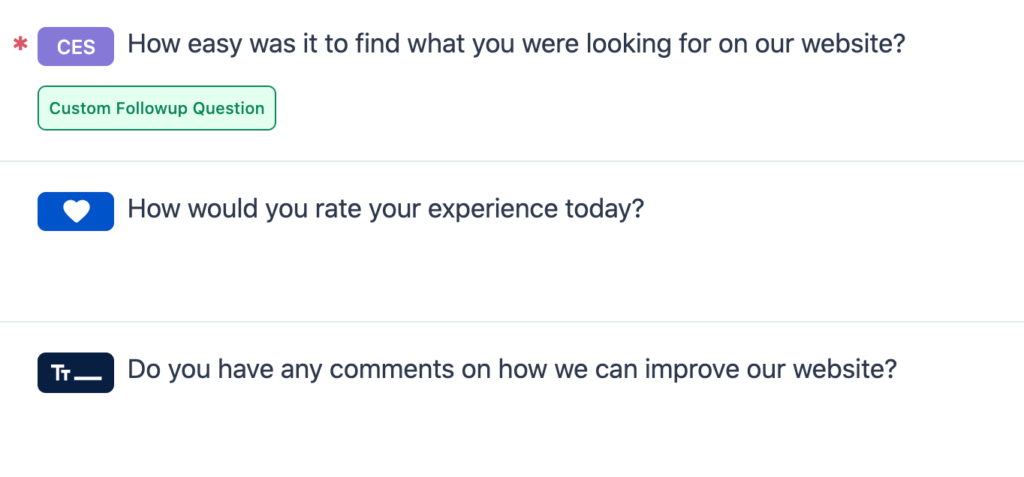 The above survey helps you analyze how efficient, easy, and user friendly your website is. 
Great user experience makes it highly likely that your visitors buy from you and turns into customers. This takes us to the post-purchase survey. 
2. Post-purchase customer satisfaction survey 
It tells you how your sales process was. Taking a post-purchase feedback survey right after a customer buys your product is a non-intrusive way to understand how your customers feel about your company. It is a critical step in measuring your customer satisfaction and helps a lot in building a strong brand relationship. 
The goal of this survey is to gather valuable insights on how you can improve your buying experience. You can use this feedback to enhance the experience and retain customers by improving your marketing and sales strategy friction. 
Propose a survey of 4 to 6 questions including a few open-ended questions to discover new aspects of your business. 
Below is an example of a lucrative post-purchase CES survey that delivers great insights.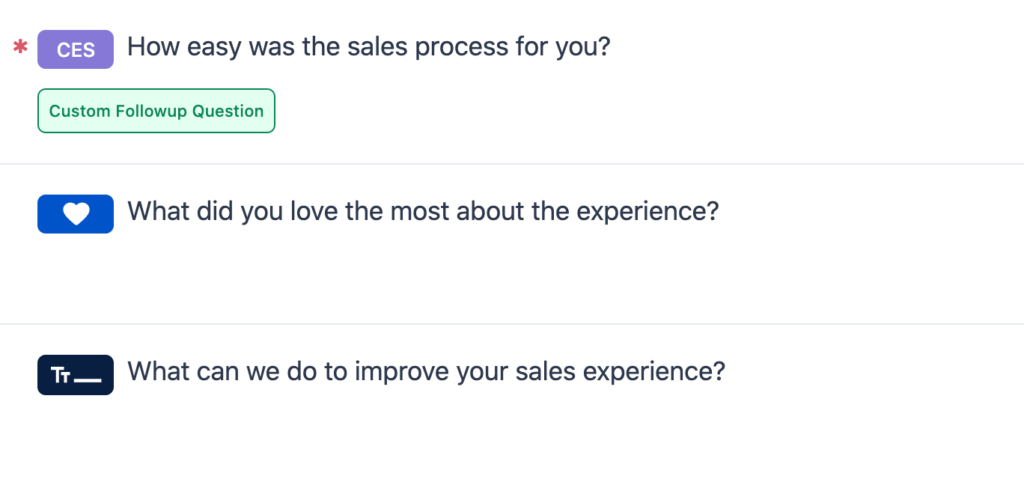 The above post-purchase survey will help you gather insights on how impressive and smooth your sales process is in the customers' eyes.
Now heading on to the next milestone of the B2B SaaS customer journey is the post onboarding survey.
3. Post Onboarding surveys to evaluate your onboarding process
How efficient your onboarding process is?
Are your customers happy with it?
The onboarding process of your product can vary from a few weeks to months depending on the type or the level of complexity of your product or service. 
They can be of two types, quick onboarding, and long onboarding. 
a.) Quick Onboarding
Yanira Sesniak
 says, "The onboarding can vary depending on the complexity of the platform and the buyer. For example in some cases, SMBs will have onboarding of no more than 90 days while the enterprises' onboarding can take upto 6 months. We send an NPS survey after onboarding and every 6 months after that to ensure we have a pulse on how our customers feel."
The quick onboarding process can complete within 7 to 15 days. It ends when the hand-holding through the product is no longer necessary and the customer can navigate through. For instance, the onboarding of Zoom, Slack, or Intercom takes only a few days. Once integrated and after some training, you are good to go. These solutions are generally made for SMBs.
You should send a CES survey post onboarding to evaluate how satisfied your customer is with your onboarding process.
Here's an example of a post onboarding CES survey,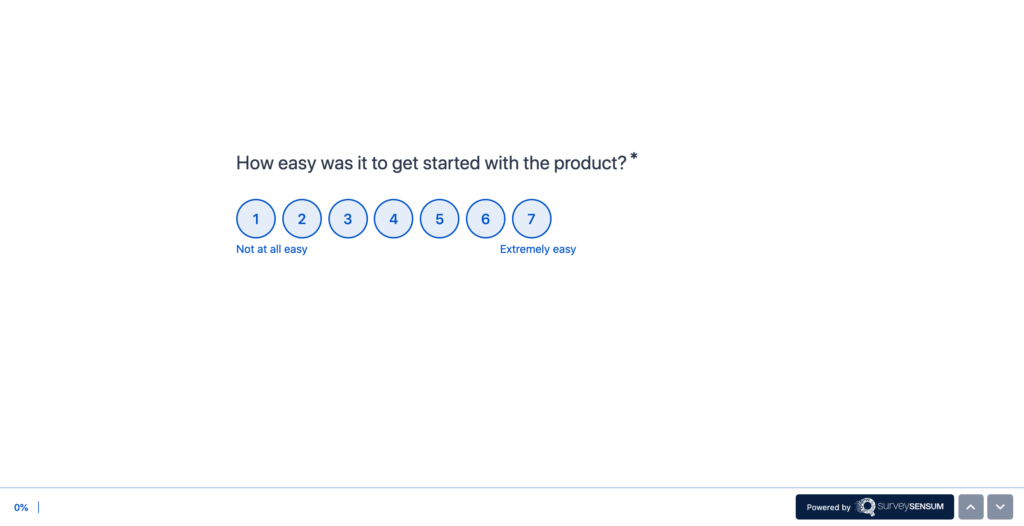 b.) Long Onboarding:
On the other hand, some products require custom solutions and proper implementation as per the customer's requirements. These take 30 to a year to get onboarded. 
Now that your customer has been with you for months, along with the CSAT survey, you should send an NPS survey as well!
Here's one example for you.



Do you have any suggestions for product improvements?
So now that the onboarding is done, let's talk about the product adoption.
4. Understand product adoption with CSAT and CES surveys
Find out how satisfied your customers are with your products and service with the CSAT and CES product surveys after they have used every feature of the product. The valuable feedback collected will help you prioritize your product roadmap, improve product quality, and increase customer satisfaction and retention.
Yanira Sesniak adds, "A CSM considers an account adopted when they have achieved the customer's desired business outcome and completed a set of tasks in the product that will set them up for long-term success with the product. The outcomes could be saving time or money, or earning money (depending on every B2B company) after using the product."
Here are some questions you can ask in a product feedback survey. Sent while relationship surveys.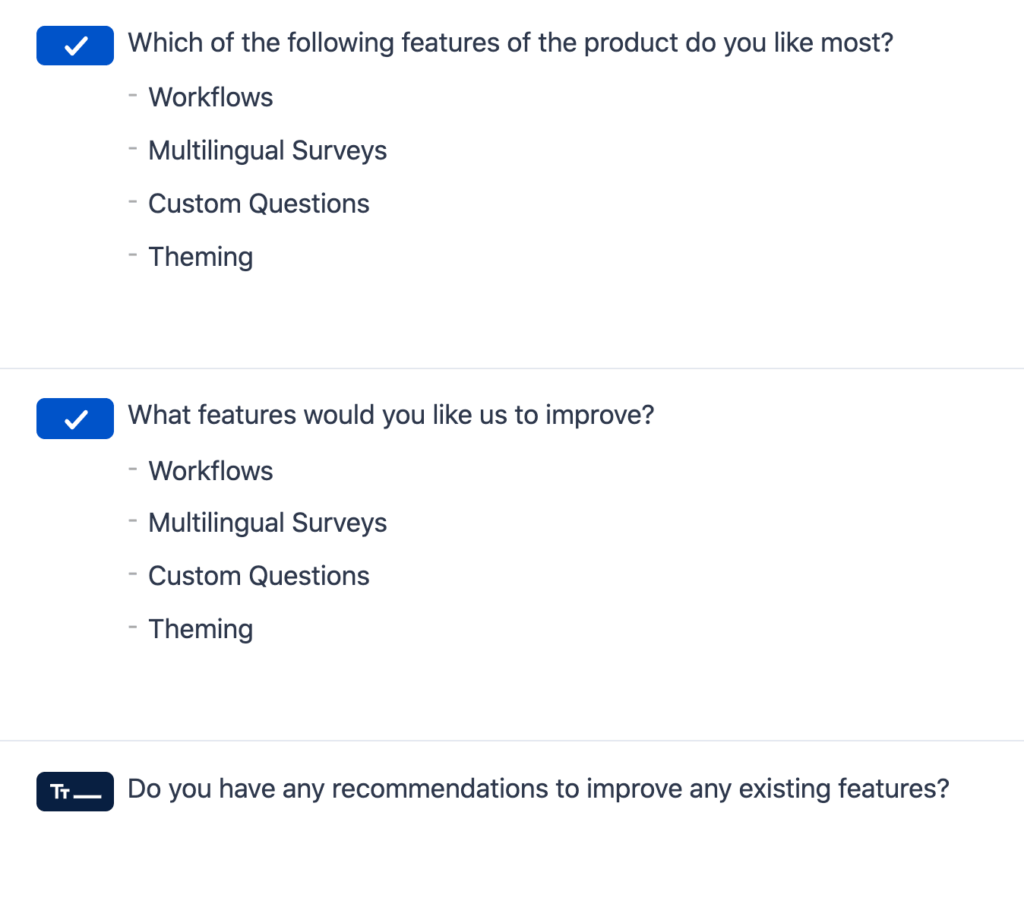 After a new feature launch, you need to evaluate how happy your customers are with the new features. So, send a CSAT survey just after the launch to see how efficient your new product features are. 
For instance,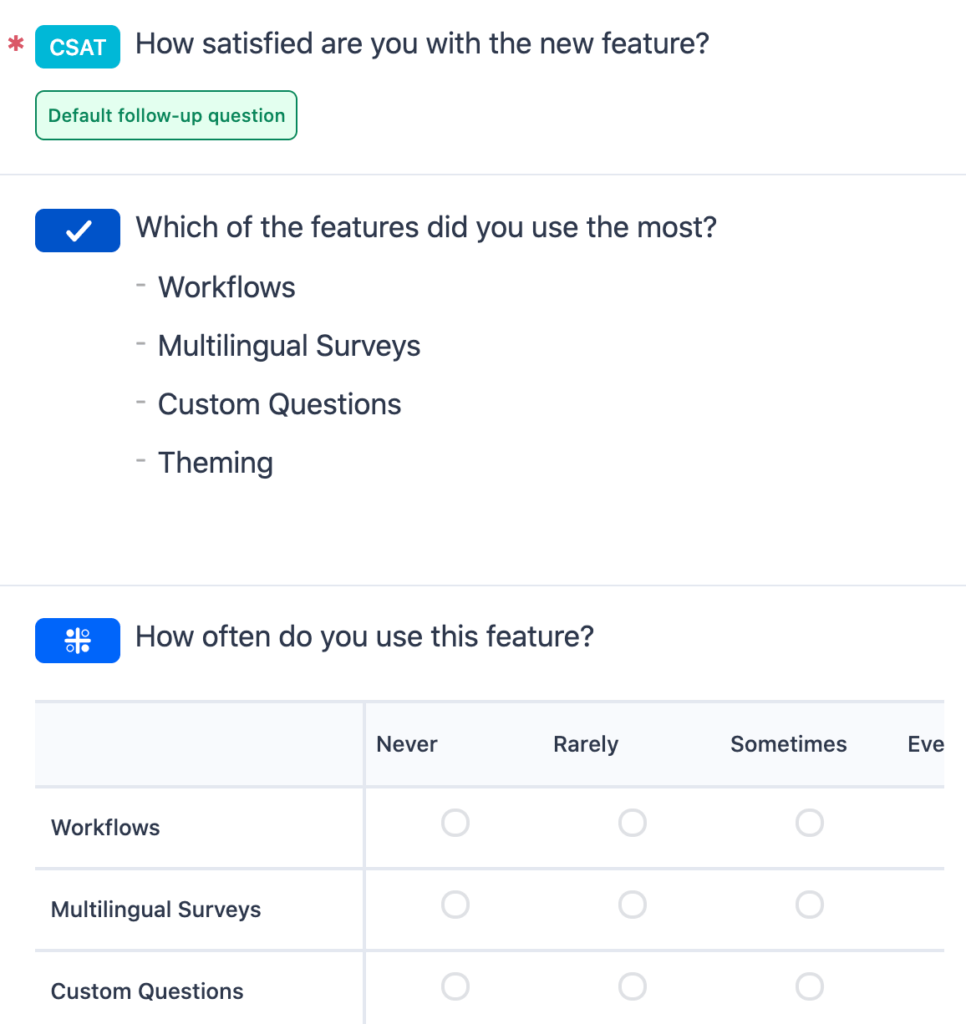 It is critical to gather customer feedback about your product and service to deliver effective solutions and drive customer success and satisfaction. 
After successful product adoption, it is imperative to monitor customer health and keep them happy with the product. For that, you should take relationship surveys after a certain interval.
5. Monitor health with Relationship NPS Surveys 
Relationship NPS helps in investigating what areas of customer experience needs improvement. It helps you measure the overall health of the relationship with the customer. The best way to use relationship NPS is to understand who to send the surveys and when.
In B2B, there are many people involved in one account playing different roles. It is critical to understand who should you take feedback from and about what. 
Ideally, there are three types of roles that you should take the feedback from.
a.) User: 
They are the product users that use your product to accomplish their core job. They are the ones that tell you how awesome your product is and if any improvements are required.
b.) Buyer: 
They are the decision-makers who don't require any approval in making buying decisions. They sometimes use the product to analyze business outcomes or view executive-level reports.
c.) Champion: 
They are the advocates of the product. They are the ones that directly influence the buyer's purchasing decisions. 
Yanira Sesniak comments, "We share with our teams what type of user is giving feedback every week in our Customer Success/Product Sync. It's important to know things like customer type as well as ARR for customers so we know which customer feedback to prioritize." 
She adds, "We take feedback after a sales demo, after Onboarding is completed, and every 6 months after that in the form on an NPS survey."
Now, let's understand when to send these relationship surveys.
The timings of every survey differ with each client, type of product, product usage, and the number of touchpoints. The ideal time to send a relationship survey is every three months, that is, after 30 days of onboarding, and then every quarter or twice a year.
Here's an example of a relationship NPS survey.

But to maintain a healthy relationship with your customer, you need to provide them with top-notch customer service. This takes us to the customer service feedback survey.
6. Customer service feedback survey
Did you know that US businesses lose around $83 billion each year due to poor customer service?
And 71% of the customers leave a brand after poor customer service.
That is why it is essential to provide excellent customer service and meet customer expectations at all touchpoints.
But how do you know how efficient your customer service team is?
With customer service feedback surveys!
Send CES and CSAT surveys immediately after the customer interacts with your customer service team and gather in the moment feedback.
Here's a perfect example of a customer service feedback survey.


7. Take CSAT and NPS survey before renewal
Renewal or retention surveys help you analyze if your customer is happy with your brand or service or is likely to switch.
Every customer has some expectations from your product or service and it is critical that you meet those expectations. If you aren't meeting their expectations, be assured that they are looking for some alternatives. You can either make a hard shift to exceed those expectations or at least meet them.
The best approach is the CSAT surveys. They are a strong predictor of customer loyalty, customer retention, and product renewal.
And the ideal time to send these surveys is one month before the renewal contract needs to be signed. This one month gap helps you analyze if and what problems they are facing with your solution and gives you the time to resolve them. 
You solve their problem, gain their confidence, and retain them!
While talking about the customer lifecycle and the VOC program,
Will Pagden
, Head of Customer Success at Webeo says, "We send CSAT survey post onboarding, NPS survey two times a year and a renewal survey 6 months before renewal."
Here are some of the questions that you should ask in your retention surveys.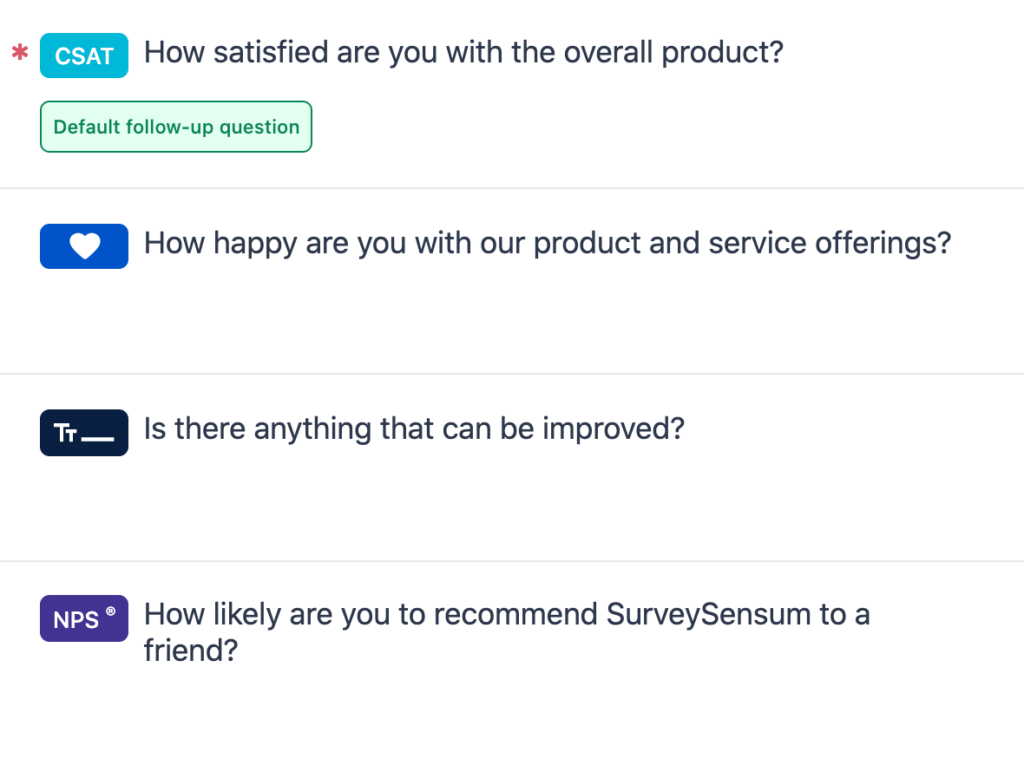 To increase customer satisfaction and retention, the foremost thing you need to do is build relationships with your customers. 
Now that you know how you should retain your customers, let's move on to the milestone, product-market fit.
8. Product Market Fit, a cornerstone of marketing
The one question that many business owners or product managers ask themselves is, "Is this a great product?" 
In the times of crowded marketplace and fluctuating customer demands and expectations, it is crucial to find your product-market fit. If your product is not solving your customers' pain points, then it won't be successful! 
Understanding your product-market fit can not only powerfully enhance your product but also gives a direction to the company. 
Since you are looking to resolve your customers' pain points, you need to talk to them. Their feedback will not only tell you their problems but also tells you if the proposed solution is effective or not. 
Finding out how satisfied your customers are with your product provides you with valuable information that can help you improve your retention rate.
Some questions that you should ask in your product fit CSAT survey are,

Map your B2B SaaS customer journey before you design your surveys!
Before sending any surveys, make sure that you understand the stages of your customer journey and know the critical touchpoints. This will help you in creating goals, planning strategies, and defining KPIs. 
You will not only be able to understand which surveys should you send and why but what approaches should you take to achieve your goals. 
Also, while designing surveys, keep in mind the objective of each survey. Always add CTA along with the response received for each survey.
The golden rule is to reduce the number of questions and surveys and gather maximum relevant responses without overwhelming the customer.
How To Celebrate CX Day? Five CX Day Tips To Avoid Mistakes You're Doing With Customer Experience!
Happy Customer Experience Day! 6th October is a CX Day, founded by the Customer Experience Professionals Organization (CXPA). It's the best time to check how your
Happy Customer Experience Day!
6th October is a CX Day, founded by the Customer Experience Professionals Organization (CXPA). It's the best time to check how your organization is taking initiatives to celebrate the spirit of the customer experience program.
CX is a new brand. Why? How? Many researches in the field of CX have revealed that consumers are willing to spend more for a good experience irrespective of brand.
It's the experience that matters to win, retain, and maximize the customer lifetime value (CLV). Just like in our daily life, we hardly visit the same restaurant the second time after having one bad experience customer experience. And we don't usually visit the same e-Commerce site after witnessing the delayed delivery and failed transactions.
The world is more competitive than ever. In such a scenario, CX is the differentiator that can make your brand stand out. Once you start focusing on CX in your entire organization, you will know the reason why customers churn and don't remain loyal to your brand. A new study by PwC, titled "Experience Is Everything," says a lot that there is also a quantifiable value in good customer experiences. Yes, we are talking about ROI here!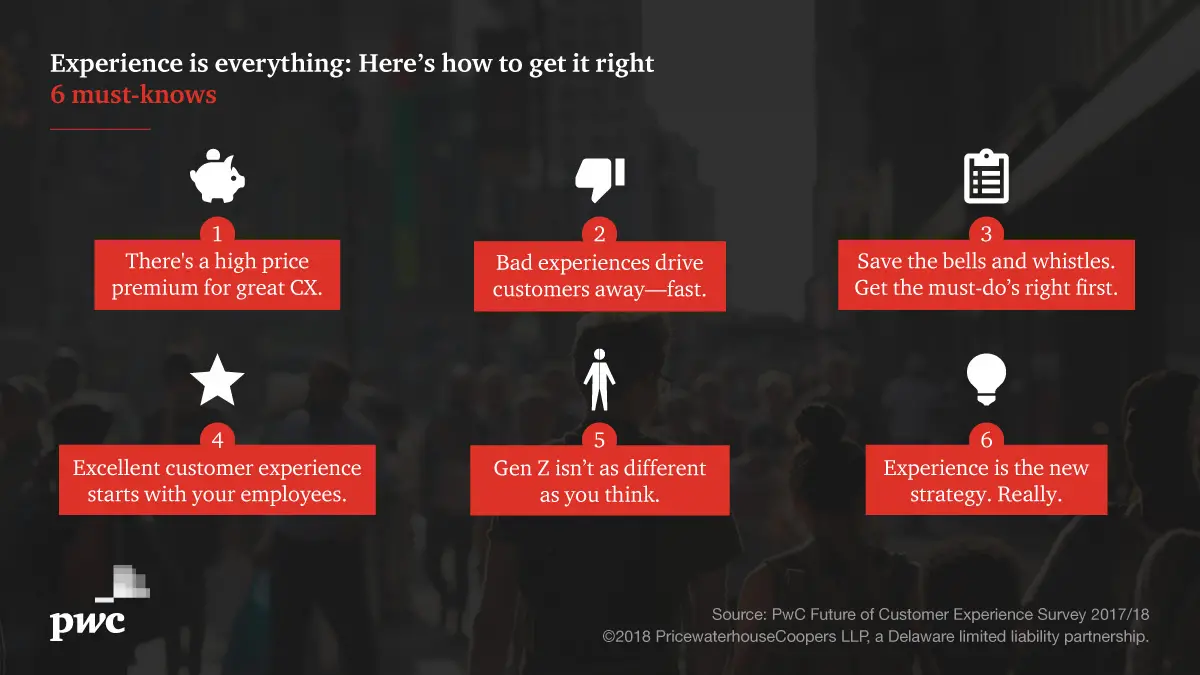 5 Quick Ways about How your Organization can celebrate CX Day
1. CX is simply Teamwork :
Run a customer experience program by providing CX training across departments in your entire organization: how to listen Voice of Customers (VOC), closing the feedback loop, customer listening, "Walking in the Customer Shoes", how to make the customer feel delighted, Customer Lifetime Value (CLV), design-thinking, journey mapping.
2. Find ways to learn more about your customers:
Host an in-house CX event for your customers and invite them to talk to interact with you. Customer interactions are important to understand what customers expect from you.
3. Leverage the power of AI technology in CX:
Invest in CX technology to get insightful customer data, find AI-enabled experience management to humanize CX for your customers to reduce churn and drive loyalty.
4. Customer relationship team and CX go hand in hand:
Create a customer experience strategy to ask for Customer feedback and make Net Promoter Score a key performance index for front-line managers who are directly interacting with customers.
5. Celebrate CX day
Lastly, show your customers that you care about their experience. Celebrate #CXday through Tweets, Facebook and LinkedIn Posts, Hashtags, and Press Releases (#CXDayToast2020 #CXDay #CX #CXDay2020 #customerexperience)
How you're celebrating CX day?
Do share your CX stories. Connect with us on LinkedIn and Twitter to make CX a tradition to follow for your company growth.