Subscribe

to SurveySensum How To Celebrate CX Day? Five CX Day Tips To Avoid Mistakes You're Doing With Customer Experience!

Happy Customer Experience Day! 1st October is a CX Day, founded by Customer Experience Professionals Organization (CXPA). It's the best time to check how your organization
Happy Customer Experience Day!
1st October is a CX Day, founded by Customer Experience Professionals Organization (CXPA). It's the best time to check how your organization is taking initiatives to celebrate the spirit of the customer experience program.
CX is a new brand. Why? How? Many researches in the field of CX have revealed that consumers are willing to spend more for a good experience irrespective of brand.
It's the experience that matters to win, retain and maximize the customer lifetime value (CLV). Just like in our daily life, we hardly visit the same restaurant the second time after having one bad experience customer experience. And we don't usually visit the same e-Commerce site after witnessing the delayed delivery and failed transactions.
The world is more competitive than ever. In such a scenario, CX is the differentiator that can make your brand stand out. Once you start focusing on CX in your entire organization, you will know the reason why customers churn and don't remain loyal to your brand. A new study by PwC, titled "Experience Is Everything," says a lot that there is also a quantifiable value in good customer experiences. Yes, we are talking about ROI here!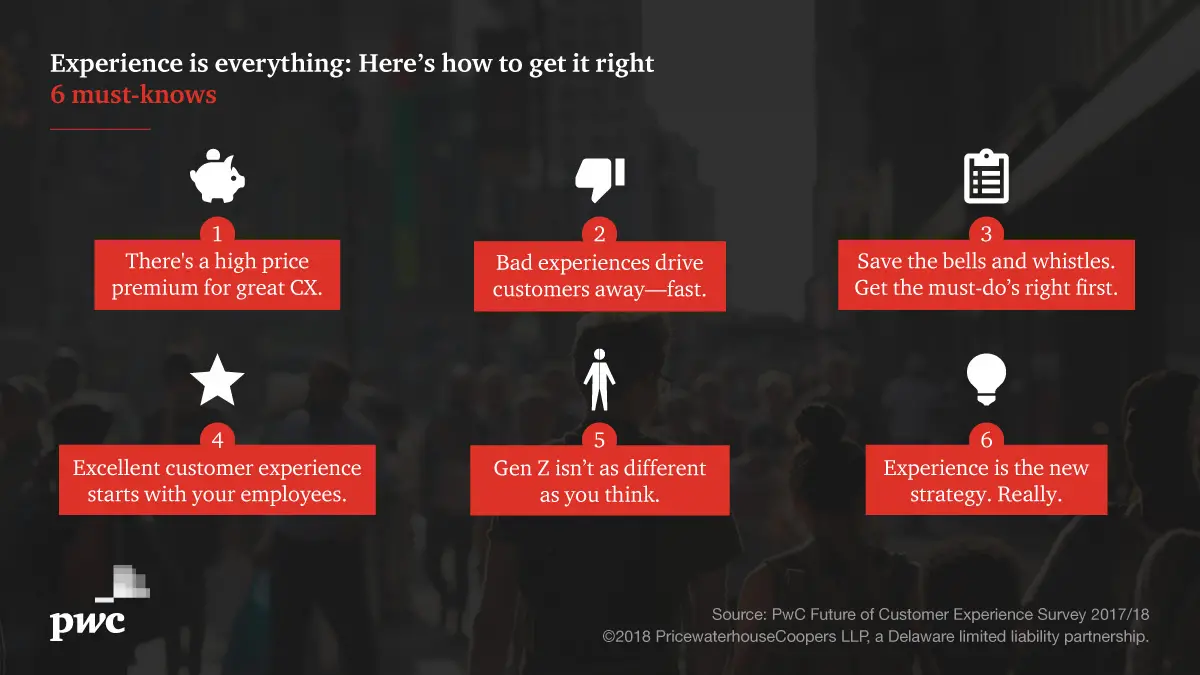 5 Quick Ways about How your Organization can celebrate CX Day
1. CX is simply Teamwork :
Run a customer experience program by providing CX training across departments in your entire organization: how to listen Voice of Customers (VOC), closing the feedback loop, customer listening, "Walking in the Customer Shoes", how to make customer feel delighted, Customer Lifetime Value (CLV), design-thinking, journey mapping.
2. Find ways to learn more about your customers:
Host an in-house CX event for your customers and invite them to talk to interact with you. Customer interactions are important to understand what customers expect from you.
3. Leverage the power of AI technology in CX:
Invest in CX technology to get insightful customer data, find AI-enabled experience management to humanize CX for your customers to reduce churn and drive loyalty.
4. Customer relationship team and CX go hand in hand:
Create a customer experience strategy to ask for feedback and make Net Promoter Score a key performance index for front-line managers who are directly interacting with customers.
5. Celebrate CX day
Lastly, show your customers that you care about their experience. Celebrate #CXday through Tweets, Facebook and LinkedIn Posts, Hashtags, and Press Releases (#CXDayToast2019 #CXDay #CX #CXDay2019 #customerexperience)
How you're celebrating CX day?
Do share your CX stories. Connect with us on LinkedIn and Twitter to make CX a tradition to follow for your company growth.
Net Promoter Score (NPS) Survey Question with Examples
Learn about the Net Promoter Score and its importance to drive customer loyalty. Net Promoter Score survey is not just a metric but an indicator of
Learn about the Net Promoter Score and its importance to drive customer loyalty.
Net Promoter Score survey is not just a metric but an indicator of brand success and has a direct relation with Customer Experience (CX). Improving the NPS score using Net Promoter Score Analysis Software can simply help businesses to analyze customer insights and drive the growth of an organization by driving customer loyalty.
In a recent report by Forrester on the Customer Experience Index Ranking. It has been indicated that how an experience makes customers feel has a bigger influence on their loyalty towards a brand than effectiveness or ease in nearly every industry.
Conducting an NPS survey at multiple channels or touchpoints throughout the customer journey can effectively improve the experience.
What is a Net Promoter Score (NPS) Survey?
A net promoter score (NPS) survey is defined as a single question that asks respondents on their likelihood of recommending the company or brand to friends or family, on a rating scale.
The goal of the NPS survey is to gauge and analyze customer loyalty and associated brand recommendation from these customers.
So, what is the net promoter score survey question?
The NPS survey questions are as follows (with minor variation):
Question No 1: Given your complete experience with our company, how likely are you to recommend us to a family or friend?
Answer options: 0-10 scale, 0 beings 'least likely' and 10 being 'most likely' option.
Question N0 2: What we did to get this rating?
OR
Question No 3: Tell us the ONE THING we could do to get your higher rating?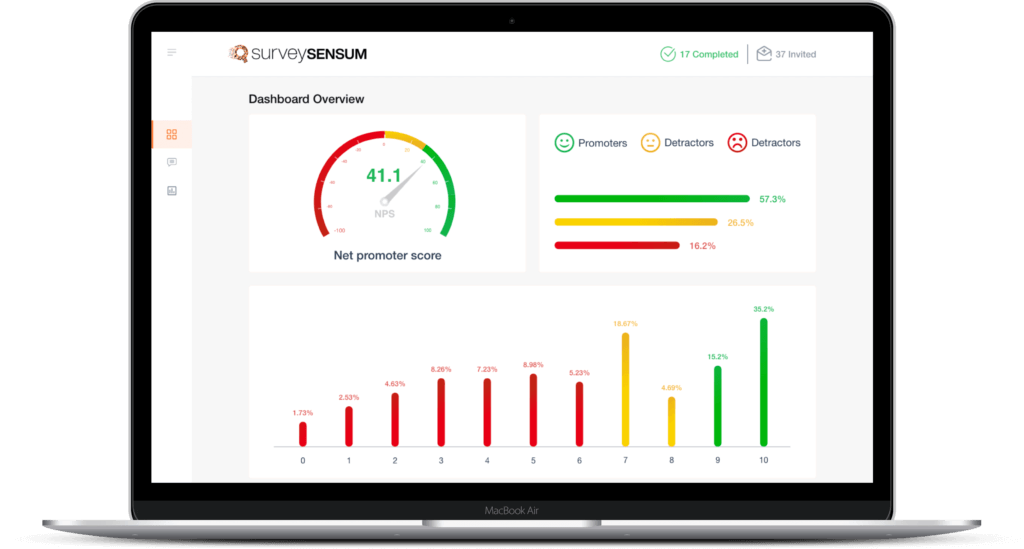 How is the Net Promoter Score (NPS) survey carried out?
NPS survey is carried out using NPS software with AI capability that can not just ask the questions, but also help you collect responses and analyze these results. The surveys are typically distributed using customer emails (built into the software as a distribution tool) and if you have a physical location, a kiosk-based NPS survey software can do wonders for your response rates.
While social media is also occasionally used for NPS survey response collection, it is usually within a community or group of users, to avoid inclusion of unqualified responses.
In case of older demographics (65+), it is a good practice to have the kiosk and SMS response options, since your audience may not be tech-savvy. Based on demographics, the goal should be to make it as easy as possible to respondents to:
Take note of the fact that there is a feedback survey question.
To answer it.
Since NPS is a single question survey, B is less of a challenge compared to A.
Applications of NPS survey question in business intelligence with examples
While the net promoter score question itself is as old as 2003, the rise in data analysis and machine learning are quickly scaling up the applications of NPS as a key business indicator of customer success.
Here are some of the key areas of application for NPS survey question and resultant business analysis:
1. Measuring customer success by geographical locations
If a business owns stores/outlets across various geographies, it is key to understand customer satisfaction across these teams to monitor business success as well as the customer-facing team's success. The survey data can be captured using physical kiosks (in case of outlets where customers can walk-in), and customer email addresses.
2. Measuring customer success by internal teams
Your customer-facing teams have one common goal – to ensure customer satisfaction, which in turn leads to customer recommendations, retention, upsell to a higher license/product and increased inflow of organic leads.
3. Measuring e-commerce success by market
Ecommerce markets are far more geographically flexible that brick-and-mortar stores. Furthermore, they invest heavily in customer success, given that they are still emerging companies and are building on customer trust, all the while spending less on above-the-line marketing like broadcast radio and TV.
For them, NPS is not just a metric is the most important success factor. Measuring NPS scores across delivery locations using an integrated and regressive Net Promoter Score Software helps gauge the success of the delivery agents as well as the overall business as it pertains to various market segments (as per priorities of the tech business).
Why Customer Experience Is The Real Driver Of Brand Success?
There's a reason why Jeff Bezos (CEO of Amazon) considered brands as hosts and customers as invited guests. And, the reason is the customer-first mindset. Customer-first
There's a reason why Jeff Bezos (CEO of Amazon) considered brands as hosts and customers as invited guests. And, the reason is the customer-first mindset. Customer-first strategy is crucial to drive brand success in today's competitive era. It's 2019, customers are getting a lot of choices and brands have to make certain that why should they choose you over your competitors.
Customer experience is the real differentiator based on several pieces of research on winning customers. And, the ROI is transparent for the efforts invested in creating pleasant customer experiences. But wait. How do you know that you're delivering better digital customer experience until your brand measures the happiness of current users of product or service?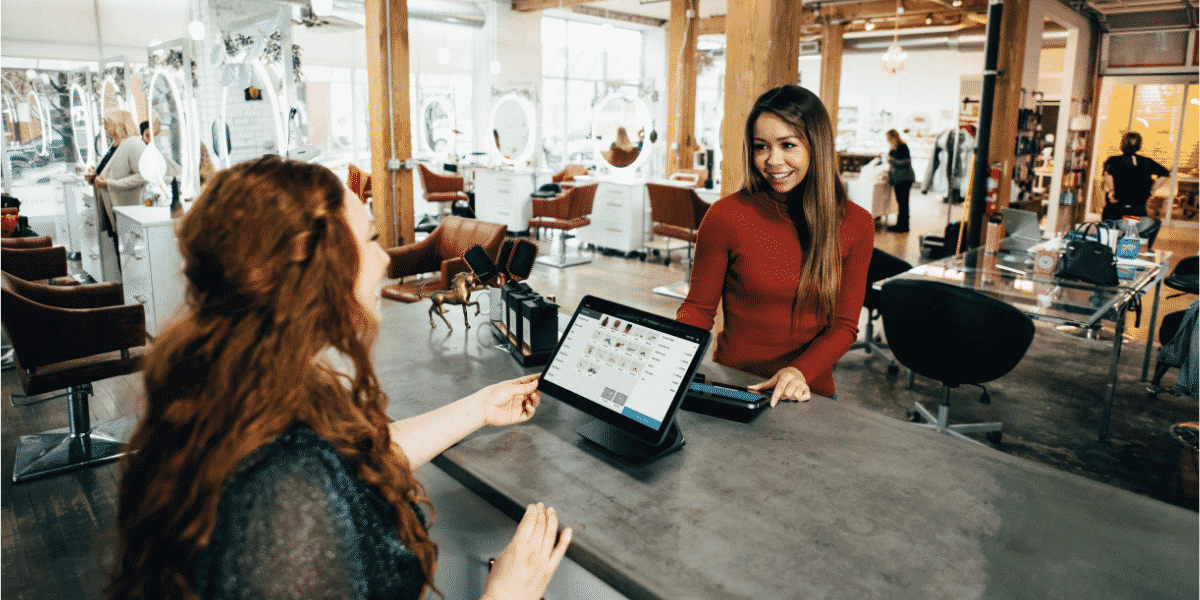 Personalize and deliver digital experiences like a leader
Digital touchpoints are one of the most important things that your customer-first strategy could not miss on. Engage customers by delivering a delightful web and application experience by leveraging AI. Integrate with everything possible with CRM, CMS, Analytics to personalize CX and collect the customer feedback on what they have to say. Knowing the customers can help driving repeated sales with an engaging experience. This is a game-changer for different businesses across multiple industries.
Two-thirds of global CEOs will start focusing on digital strategies to improve customer experience by the end of 2019. (Source: Seagate)
Get to know key concerns behind customer churn
Learn how to improve customer experience in all possible ways that will make your brand popularity accelerated. A customer experience software can help your business triggers the top concerns that need your attention. Once you have a list of problems behind why customers are feeling detached with your brand then you can build a customer retention strategy around it.
Measuring Net Promoter Score (NPS) is important to get more customers and retain existing
Is your business measuring NPS? Quick Read About: Net Promoter Score
Your NPS can help your business find promoters and detractors. Focus your marketing goals to create more promoters by knowing the reasons behind bad rating and closing the feedback loop instantly. This makes them recommend you more and create positive customer reviews online. It also allows you to engage with customers to make them spend more on your brand.
NPS is much more than a single metric – as it can help to improve the customer experience for different users and brands to stay customer-centric. According to Forrester, improving CX can increase profitability at a rate of 5.1 times compared to those who do not.
To improve customer sentiment towards your brand, focus on creating superior Customer Experience Management (CXM) which can optimize your product or service for different customers in a digital ecosystem.
Key takeaway
Considering the way customers interact and engage with a brand in a digital ecosystem – brands that focus on digital customer experience are making more progress. Improved customer experience can help you win, serve and retain customers. Overall, it's a result-oriented and most efficient approach to ensure brand success.
Customer Experience Management: Five Proven Customer Experience Tips If You Want to Stay on Customer Pulse
If your business would like to celebrate One thing – then it would be the love of your customers. Believe it or not, the only predictor
If your business would like to celebrate One thing – then it would be the love of your customers.
Believe it or not, the only predictor of customer loyalty is the overall study of customer behavior at various touchpoints and how customers are engaging with the brand. If you can measure the current customer love, then your business can improve and drive impact.
What Steve Jobs is teaching us is that the secret of truly customer-centric companies lies in the ability to predict their clients' needs and wants, and to build around it an omnichannel customer journey.
Bearing this in mind, the real struggle, CX professionals face is to stay on customer pulse with an appropriate customer retention strategy. However, improving CX can help businesses in making important decisions that might be crucial for the growth of your company in the coming future.
Questions that Customer Experience Specialists are failing to find answers for:
What KPIs and metrics can best determine customer happiness?
How to automatically predict and identify customers who are likely to churn?
How to establish a process for CX?
How to maximize the lifetime value of customers?
What can be done to reduce time in resolving customer complaints?
And, how to engage customers to focus on the bottom-line growth – to achieve repeated sales from existing customers?
These are the questions we increasingly hear from CX professionals of different organizations across the globe. And with good reason. A well-integrated customer experience management can deliver results to improve customer retention. Also, sophisticated CX software – SurveySensum is suitable to help track and monitor customer interactions across multiple touchpoints. That's how it helps your business to quickly respond to customer complaints and close the feedback loop deliberately.
Why it's essential to improve customer experience to achieve bottom-line growth?
When your business instills the best and right CX tips to engage customers with the brand, then the brand earns the love of its customers. And making your brand popular for all good reasons in the eyes of your customer will bring a lot of benefits, including:
Positive customer online reviews
Get recommended by existing customers
User-generated social content
More spend transactions from existing users
In short, if your customers get what they expect from you. And, if your brand delivers customer expectations – then it becomes easier to be in the good books of your customers. But, only a proven CXM software to work for your business can help you understand and predict the expectations of customers. Schedule a call now with an expert CX consultant!
According to Forrester, 84 percent of organizations aspire to be a CX leader, but only one out of five delivers meaningful CX. Besides, the amount being invested in CX will have more than tripled over the last several years.
Because of this, organizations must deliver a return on this investment. Yet a few Customer Experience Specialists can make the connection between improved customer experience and revenue growth, to prove the value of their programs. The good news is there are many ways to show the return on investment of customer experience initiatives. With the right measurement, strategies, and tools in place, a solid business case can be developed and monitored for success.
Here are five customer experience tips to get your customers' love
1. Start by listening to the current customer woes
It's vital to collect the customer feedback using SurveySensum that will help your business understanding and measuring how customers are feeling about your brands
2. Investigate the reasons behind bad customer reviews
It's recommended to analyze and understand the "Why" behind every bad customer feedback before you start correcting the mistakes. SurveySensum will help you analyze customer sentiment based on the feedback provided
3. Understand the customer journey from the customers' viewpoint
Customer problems are better solved if you try to fit-in their shoes before reaching out to offer a solution. Undoubtedly, there's a solution for every customer problem, but you will have come up with the right answer in the proper manner at the right time. Discuss and align such goals with the customer service team to turn customer feedback into customer happiness
4. Identify the critical touchpoints
When it comes to customer reviews, a lot of customers rely on online reviews. It's advisable to find out the most critical touchpoint to take CX initiatives accordingly and turn bad online reviews into positive testimonials
5. Taking actions is a key driver
To drive impact, you must find out how and when to act to make customers stay loyal with your brand. SurveySensum is helping companies to establish and align a customer experience management process to quickly and effectively resolve customer complaints.
Request a call back to help turn negative reviews into positive success stories.
Customer Satisfaction (CSAT) Survey Questions with Examples
What is a Customer Satisfaction (CSAT) Survey? A customer satisfaction (CSAT) survey is defined as a set of questions asked to a customer, to gauge their
What is a Customer Satisfaction (CSAT) Survey?
A customer satisfaction (CSAT) survey is defined as a set of questions asked to a customer, to gauge their level of satisfaction with a product or service or organization.
For example, if a smartphone company wants to understand and measure the satisfaction of customers with the various key features of the phone then the best way to find out this is to ask customers directly. This can be done using a CSAT survey with questions like,
"Q: Please rate your level of satisfaction with each of the following features of the phone [mobile brand name]:" (with a 1-5 rating or star-based graphical rating questions)
"Answer options:
– Phone screen (rating scale)
– RAM (rating scale)
– Processor (rating scale)
– Camera (rating scale)"
Customer satisfaction survey questions typically include the word "satisfaction" to demarcate it from an exclusive Net Promoter Score survey or Customer Effort Score survey, however, Net Promoter Score, NPS Analysis  and Customer Effort Score survey questions may be included in the final questionnaire being deployed to the customer, if the intention is to get a comprehensive customer feedback, which includes brand recommendation and loyalty (NPS) and customer service satisfaction (which is the key area where CES is delivered as a measurement tool).
Why is it important to conduct period customer satisfaction survey questions?
A customer satisfaction questionnaire plays an important role in keeping the company on track and directing it towards success. But not only that, here are other reasons why a customer satisfaction questionnaire is something that every company should practice.
It improves your company's marketing and financial strategic plan
You can determine what areas in your company needed to be improved and what needs to retain
It increases Customer Lifetime Value and measures your business results
You can get new insights and ideas from your customer
It identifies if you are providing significant and relevant service to your customers
5 Common question types asked in a good customer satisfaction (CSAT) survey:
The area of customer satisfaction is increasingly dense among established and emerging tech companies, typically with a product-line offering, such as in B2C and B2B e-commerce. Especially in B2B, where account retention value per user is much higher than B2C, customer satisfaction survey questions are increasingly oriented to gauge product satisfaction.
Here is a list of 5 most commonly asked customer satisfaction survey questions for any customer-centric firm:
Considering your complete experience with our company, how likely would you be to recommend us to a friend or colleague?
How was your experience in the following areas of our customer service? [list of areas as per business process and customer touch-points]
Overall, how satisfied are you with our product/service.
Please rate your satisfaction in the following areas of product/service experience. [list as per business priorities]
Compared to our competitors, would you say our product are [list of options]?
Learn more about how to turn your dissatisfied customers into brand ambassadors.
Contact the experts now!
What is Net Promoter Score (NPS®)? Definition, Formula, Calculation, Applications and Advantages
Table of Contents: What is Net Promoter Score (NPS)? Classification of customers based on NPS survey response How is Net Promoter Score (NPS) calculated? Strategic business
Net Promoter Score (NPS) is defined as a metric for determining the state of a customer's loyalty and satisfaction with a brand or product.
NPS is typically measured using the Net Promoter Score Analysis survey question which asks the respondent the following question (or a slightly altered version of the same question without changing its meaning):
Considering your complete experience with us, how likely are you to recommend us to a family or friend?
[Answer option scale from 0-10]
The data pulled from this response is an indicator of their brand loyalty and satisfaction. A customer is then classified in either of the 4 buckets, depending on response selection:
Detractor (Responses from 0-6): A customer is marked as a detractor if their response is within the range of 0-6. A brand detractor essentially means that the customer is likely to detract from your brand to a competitor to meet their product/service needs.
Once a customer has been identified as a detractor, it is highly advisable to connect with the client immediately for damage control and prevention of loss of the client.
The net promoter score is, therefore, more than just an identifier of brand promoters, but also an identifier of detractors, such that you might still have enough window to prevent revenue loss.
This is one of the core reasons to conduct periodic NPS surveys to understand the state of your clients with a simple, quick, easy to answer a question.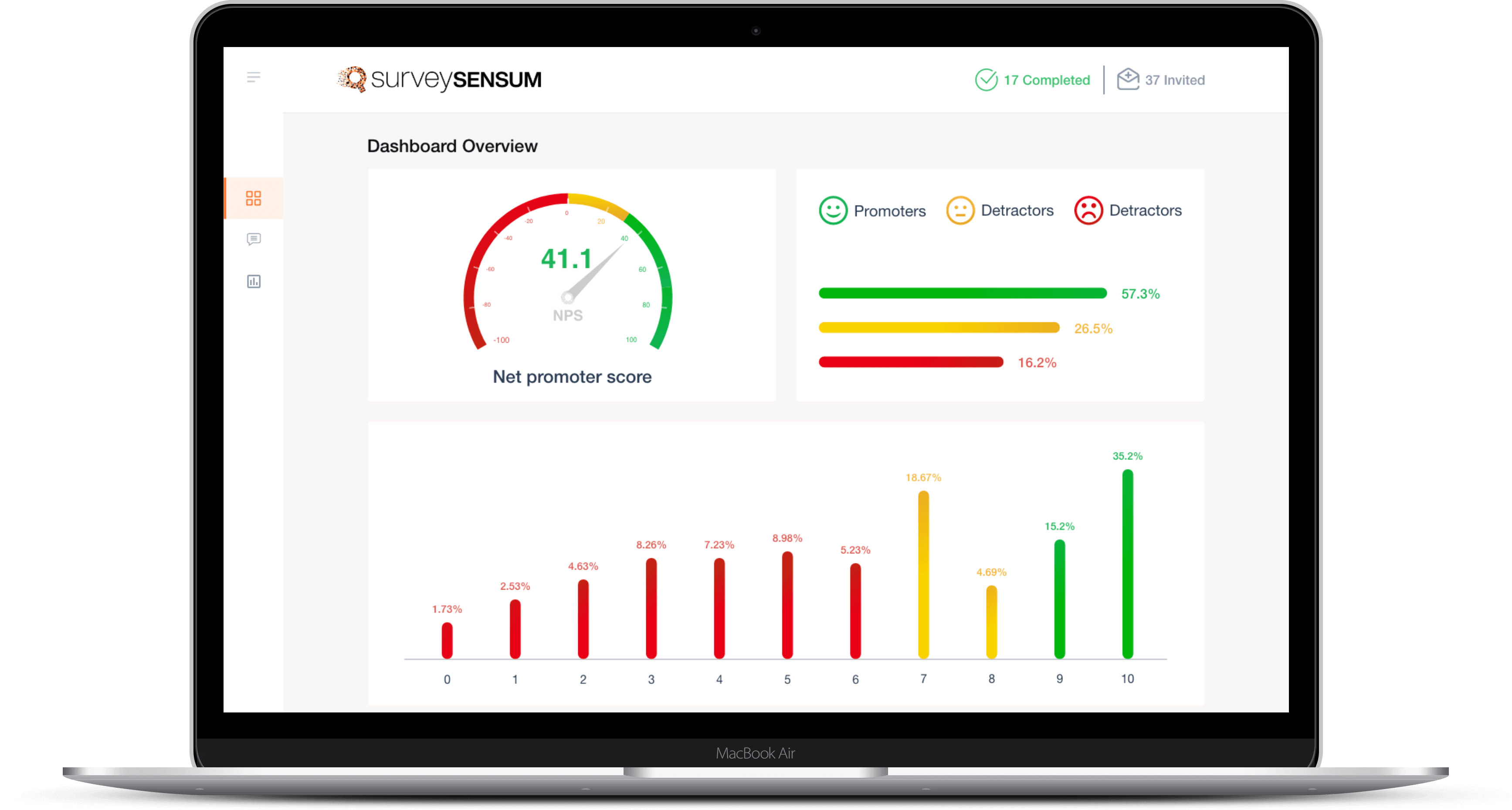 Passive (Responses from 7-8): Passive customers are those who are essentially satisfied with your brand/product enough to continue for the time being, however, they are not satisfied enough to recommend your brand.
So, while passive customers are not your immediate and critical concern in comparison to potential detractors, however, they are low hanging fruits that can be converted to promoters more easily by your customer success teams.
In other words, prevent detractors from leaving by at least converting them to passive on priority. Once that is done, focus on converting passive responders to brand promoters.
Promoter (Responses from 9-10): Promoters are the cream of an organization – the customers who are not just satisfied with your product/service, but are also ready to actively recommend them to their network.
Brand promoters are often the customers who determine whether a company stays in business in the future or not. Especially if you are a new entry in the market, you have to depend on recurring renewals from Customer Lifetime Value and new leads for your sales team from recommendations.
It is therefore critical to have action items for your promoters to nudge them to amplify your brand without being too pushy. For instance, a simple hack is -when you identify a promoter through an online net promoter score survey, immediately after the response is registered between 9-10, you can display a follow-up screen requesting the customer to share their response on social media. Its an example of simple, honest and transparent ways to nudge your customers into becoming brand advocates using the latest tech.
Net promoter score is calculated using this simple formula:
NPS = Percentage of promoters – Percentage of detractors
Before we jump into examples, here are 5 key features to keep in mind while calculating your Net Promoter Score:
NPS is a percentage, hence the percentage sign is not included in the final score.
Your final NPS will be between a range of positive % and negative % falling between -100 to + 100.
A negative NPS indicates net more detractors than promoters.
A positive NPS indicates net more promoters than detractors.
NPS will be zero when there is an equal number of promoters and detractors.
Let's take a quick example for NPS calculation and how the score value changes and what it means :
Say, you own a company which has 100 customers you want to survey for NPS.
Let's say the responses came out with the following distribution:
Promoters – 30%, Passive – 40%, Detractors – 30%.
Here, you have a net 0 promoter score. Because your promoters and detractors canceled each other out.
Let's take another set of score:
Promoters – 50% Passive – 20%, Detractors – 30%
Here, 50%-30% = 20%. So your NPS score is +20.
Let's take a final set of score:
Promoters – 30% Passive – 20% Detractors – 50%
Here, 30% – 50% = – 20%. So your NPS score here will be –20.
Net Promoter Score can be strategically implemented across your organization to measure success or failure at various levels:
Geo-location based NPS: You can conduct an NPS survey to identify the best performers among your customer-facing teams catering to various geo-locations. Let's say you have a customer success team for Europe, one for North America and one for South America. If you want to know which of your teams are delivering best in customer satisfaction – just conducting a geo-location-based customer NPS survey will tell most of the story.
Kiosk-based NPS: If you own a store or outlet that has a physical location for customers to walk-in and out, this is the best place to implement a kiosk-based NPS using a tablet screen. Here, customers walking out of the store can give an NPS based on their latest experience with the brand and can provide immediate feedback. A single NPS question is a much better alternative to get customer satisfaction indicator, than asking customers multiple survey questions to get the same derivative indicator.
Website/App NPS: In the present era, customers spend most to their time online using websites and mobile apps. This is where they engage with brands and form opinions about a product by reading reviews. One of the creative ways to deploy an NPS survey on your website and mobile app and configure them to trigger the survey based on buyer journey or action. For instance, after cart checkout for eCommerce sites, page exit action (a survey pops up when user actions to exit a product page), etc. These are strategic locations to be selected based on business priorities, site structure and user behavior on your website or app.