Subscribe

to Creative Blog DC reveals new Justice League logo

Strong look, but what's the deal with that star?

Justice League is the original superhero team, created in 1960 as the Justice League of America and providing the impetus for Marvel's Stan Lee to develop his own superhero gang, the Fantastic Four. It's getting on for 60 years old now, and with an eye on this anniversary DC has just unveiled a brand new logo design for its Justice League comic.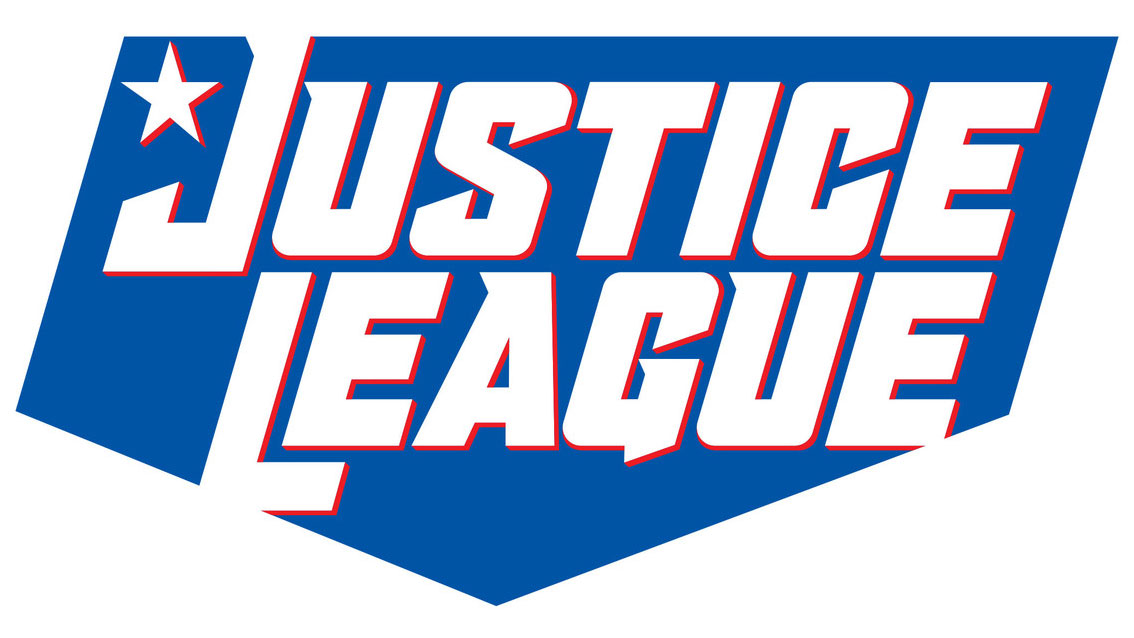 Just as the line-up of the Justice League has changed over time – the current roster is comprised of Superman, Batman, Wonder Woman, Green Lantern, Flash, Martian Manhunter and Hawkgirl – so the logo itself has been redesigned and modified, most recently in 2016. This one, however, harks back to the style of the original 1960 logo.
Over the years the Justice League logo has featured a signature star – in fact the original version had a load of them, perhaps a few too many – and while it's been missing in recent incarnations, for this latest version it's back, along with clean lines and just a hint of depth.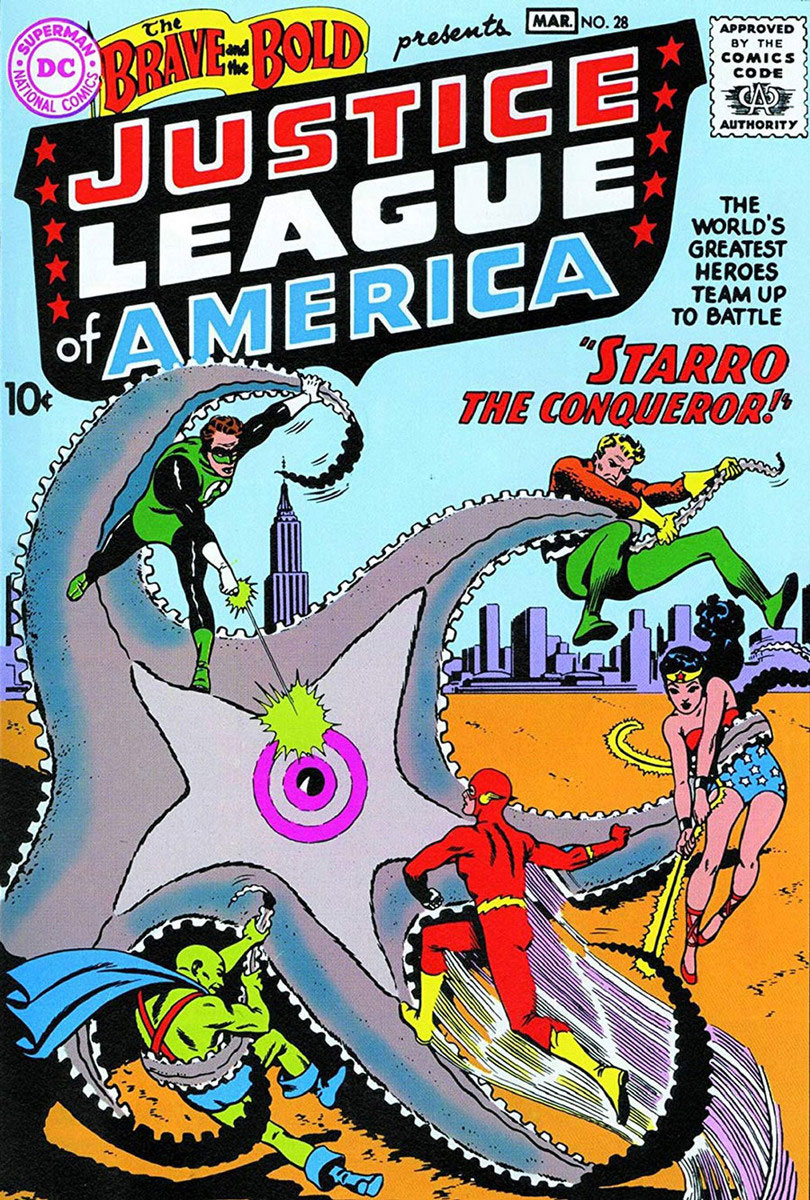 There's a slight weirdness to it that you might not immediately be able to put your finger on, however, and it's this: while the Justice League wordmark is slanted at a jaunty angle, the star itself isn't. Not only that, one of the vertices runs parallel to the angle of the text; it's clearly a deliberate design decision, but it does look a little bit odd. Maybe that's the idea; it certainly catches the eye.
As well as marking the Justice League's 60th birthday a little early, this new logo marks the beginning of DC's Year of the Villain event, and it gets its first outing on the front cover of Justice League #25. In this extra-sized anniversary issue, Lex Luthor makes the world an offer: reject the Justice League and follow his plans to save humanity, because justice isn't getting the job done.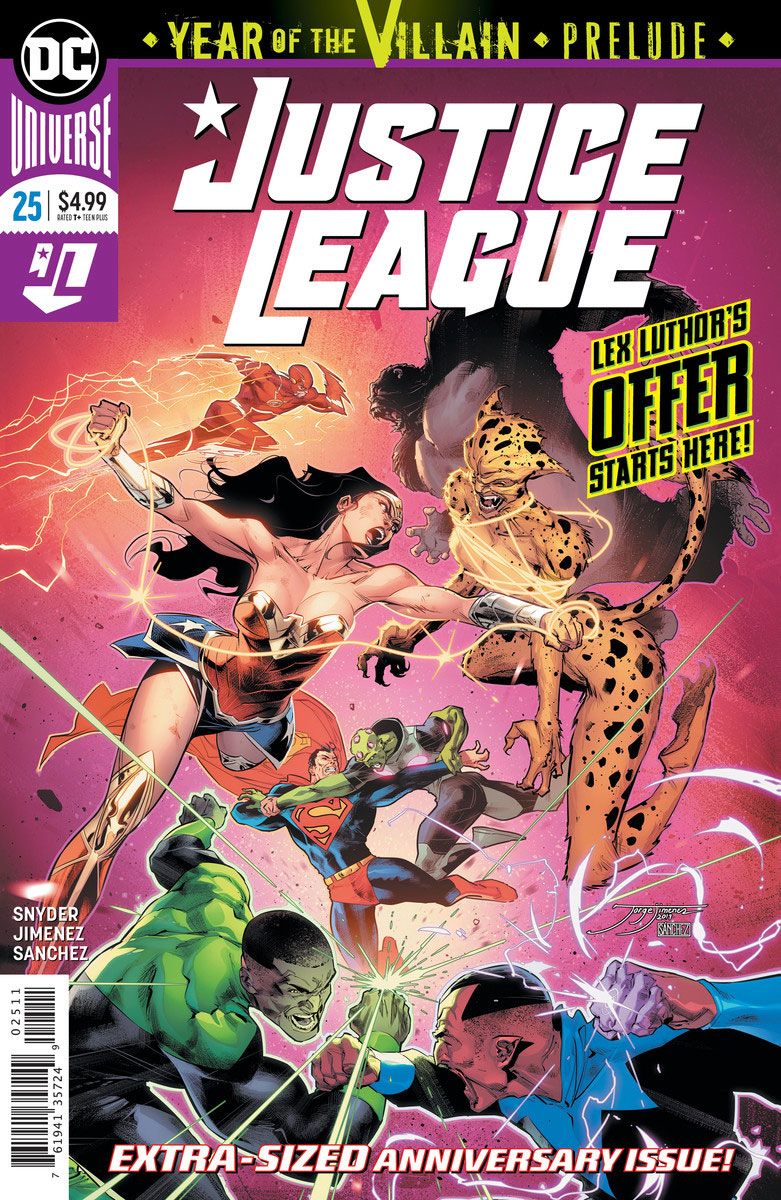 The new issue goes on sale in stores and online on 5 June; you can find out more over at DC Comics.
Related articles:
Pencil drawing techniques: Pro tips to sharpen your skills
Pencil drawing techniques for both graphite and coloured pencils.
 These pencil drawing techniques from top artists will help you take your drawing skills to the next level, whether you're using graphite pencil or coloured pencils. 
For many artists, pencil drawing is the skill that introduced them to the art world, and even if you've moved on to a different medium, understanding how to draw with a pencil can help you improve your skills elsewhere. These pencil drawing techniques cover everything from the basics of mark-making to advanced processes to push you out of your comfort zone. 
We'll also offer advice on the tools and materials you need to know, such as blending stumps, paper options, and different erasers. If you're a total beginner, or want to upgrade your kit, take a look at our guide to the best pencils.
Short on time? The video above, from character designer Bobby Chiu, runs through some pencil drawing techniques in action. For more in-depth advice on composition to how to capture light and shadow, take a look at our art techniques article. Or, for inspiration, take a look at this roundup of unbelievably realistic pencil drawings.
01. Use the right grip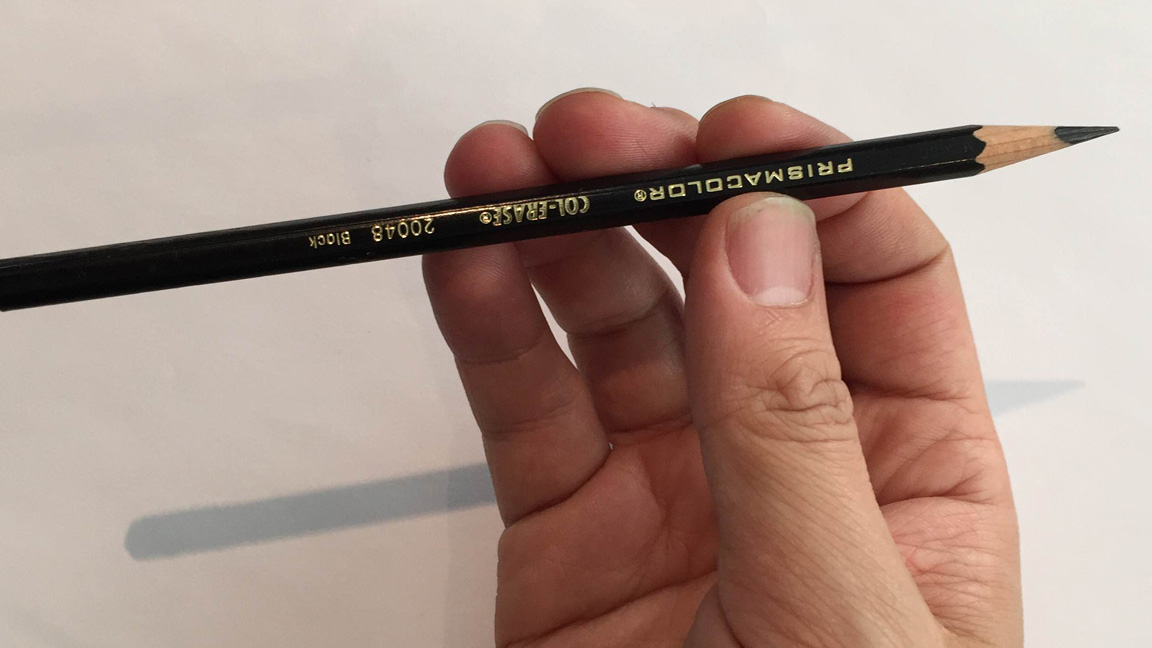 The first step is to master how to hold a pencil correctly. Bobby Chiu recommends holding the pencil like you could a piece of charcoal, and using the side of the lead to draw, rather than the point. This helps keep the pencil sharper for longer.
"When covering large areas, I shade with my pencil perpendicular to the line I'm drawing to get wide, soft lines," he adds. "For details, I hold my pencil parallel to my lines to get sharp, narrow marks. The only time I use the point is when I'm working on intricate details."
02. Use a stump for soft blending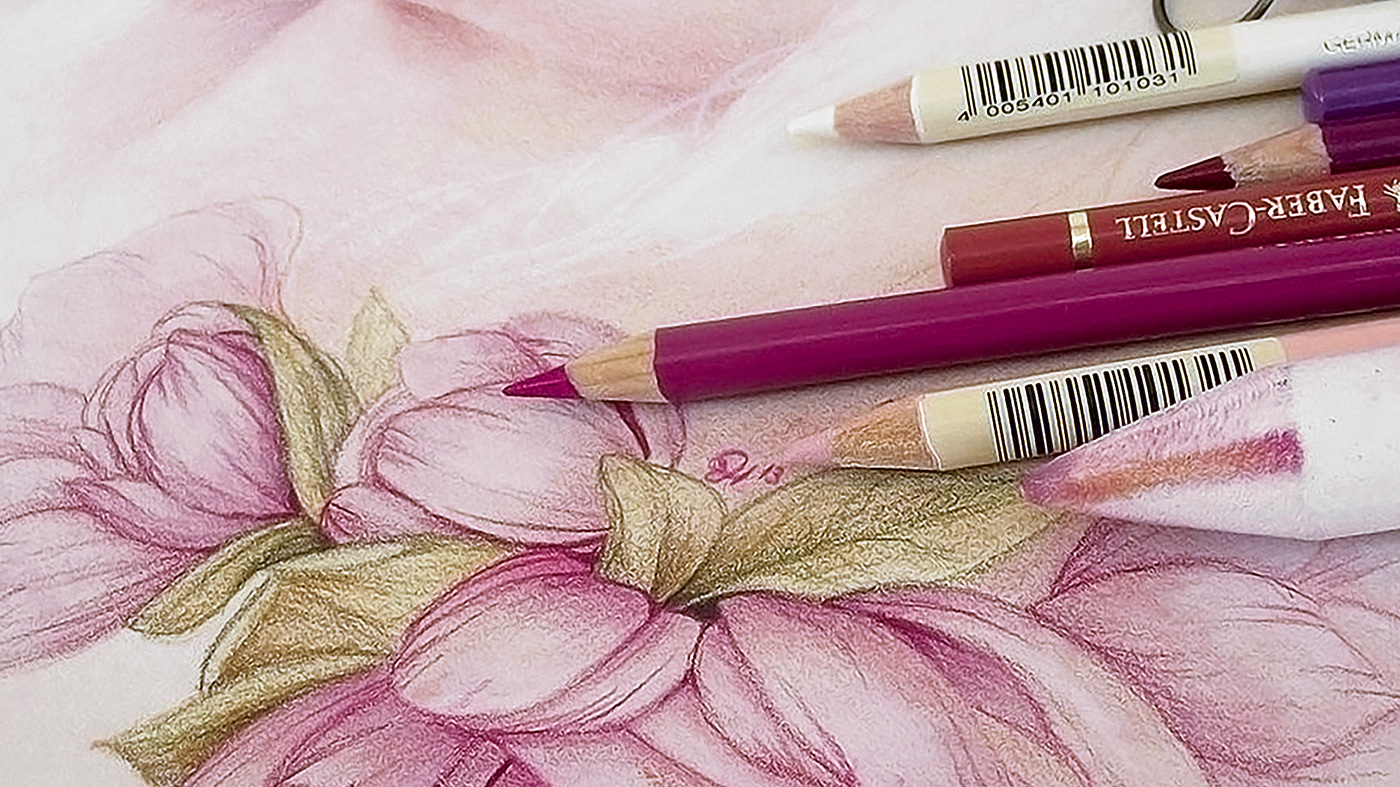 How you blend your work can have a big impact on the final result. For a soft blended effect, try a blending stump. 
"After each light layer, I very gently blend the coloured pencils with the stump," says US-based artist Jennifer Healy. "Don't push too hard or the colour will stick, making it more difficult to softly blend. I repeat this process as often as I need. After many layers it produces a very soft and delicate look."
This technique requires a little trial and error, though. Healy warns that if you blend too softly, the stump can pick up colour that you've already layered on the paper.
03. Mix up shading techniques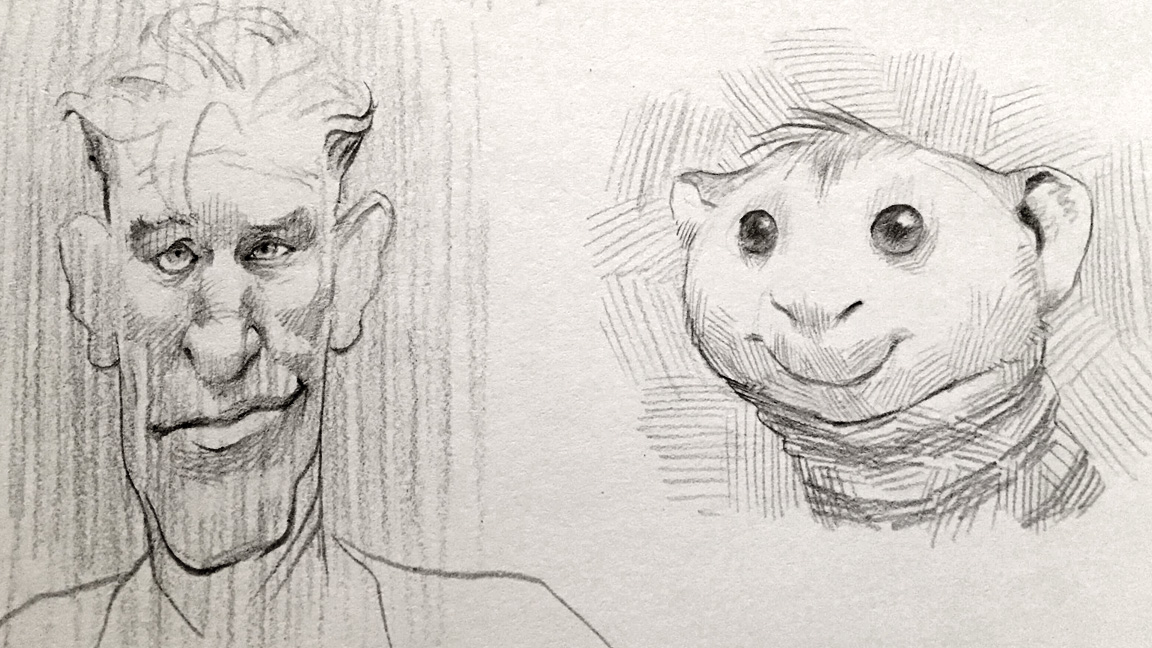 There are lots of different pencil drawing techniques relating to shading. Chiu uses two main approaches. The first is with all the lines going in the same direction. "This makes my shading appear more cohesive, and helps my details pop out from the lines I'm using for shading," he explains.
The second method involves working in patches of shading, to help define shape. "Patches of lines go around the form, which help keep things in perspective," he says. This technique is also great for backgrounds and creating texture.
04. Try different approaches to outlines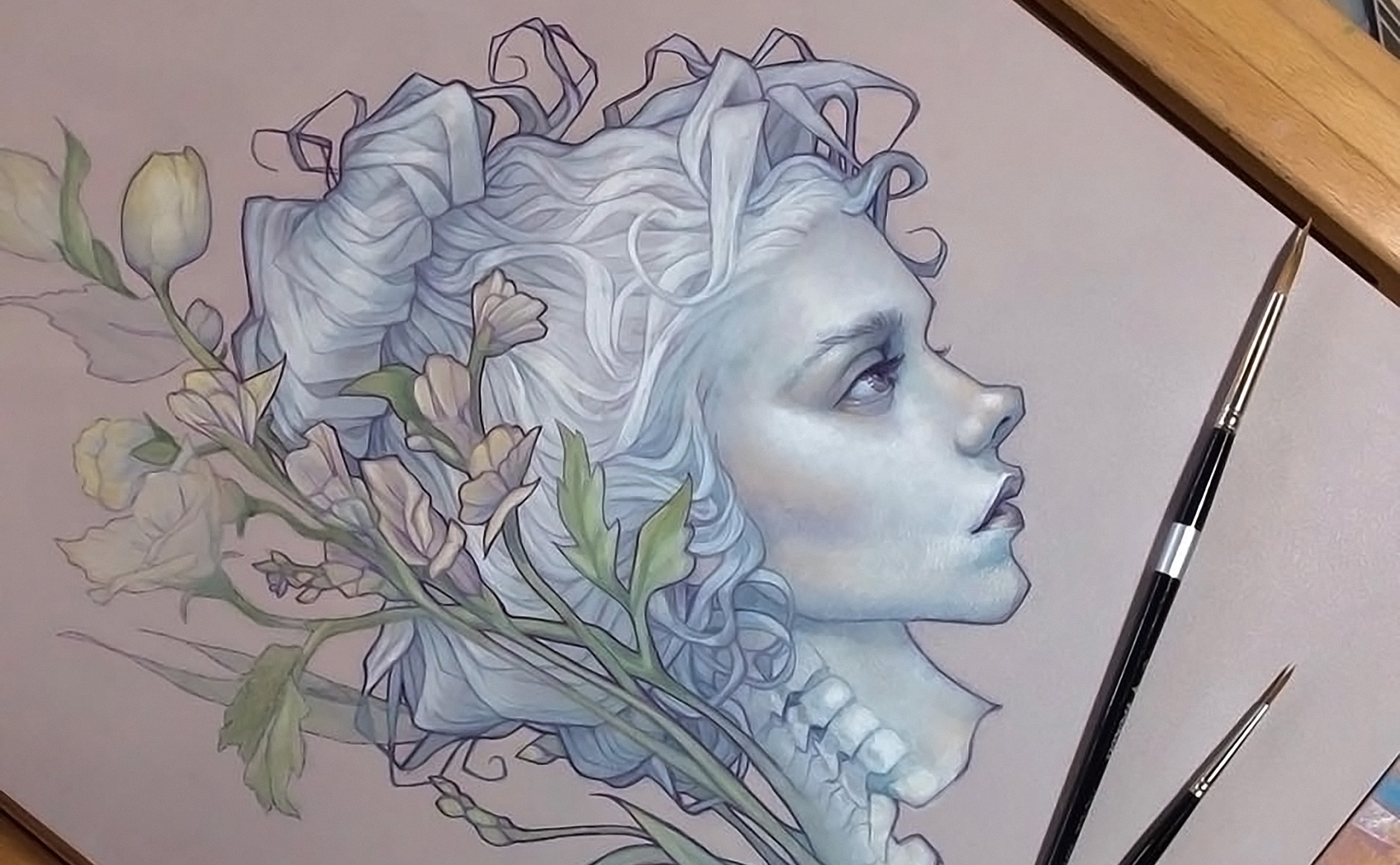 The next drawing technique concerns line weight. As well as demarcating different objects, lines can help emphasise shadows. "Thicker lines can fade and disappear into the shadows, which can help convey the 3D form," explains Chiu.
Beyond that, different artists have different approaches to lines – you need to find the style that's right for you. "I prefer to use a distinct outline in my artwork, whether it's using thin outlines or bold outlines," says Healy. "It can help pinpoint the viewer's eye to a certain area. It also gives a stylised look, if that's what you are hoping to achieve."
Chiu, however, prefers a different approach. "I try to avoid outlining my drawings because this tends to make things look flat and deadens the 3D effect. Breaks and spaces in my lines show form in the lights and shadows."
05. Master blending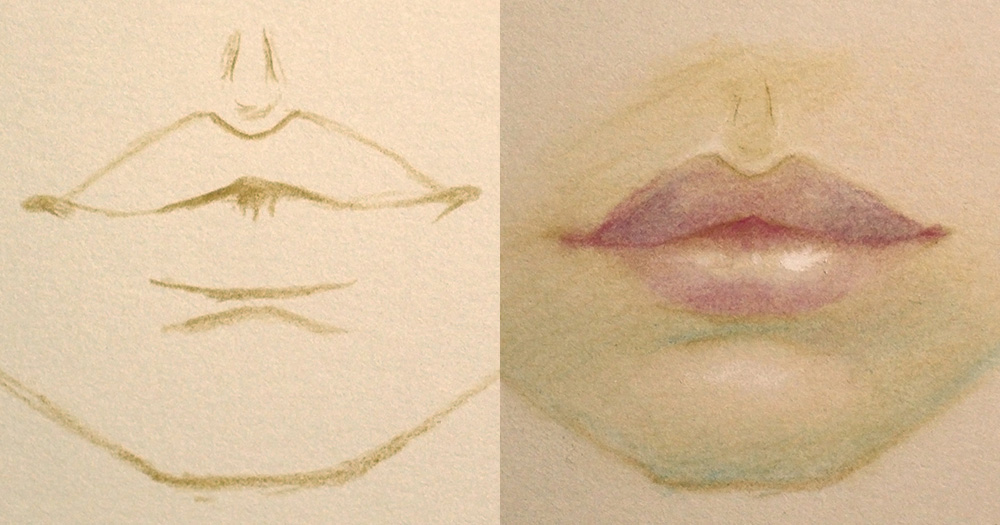 Healy has a specific process for blending her coloured pencil work. She starts with an outline, to check the form is correct before committing to coloured pencil (it's much harder to erase coloured-in areas than an outline). It also helps her plan where the highlights and shadows will fall. 
She then builds up colour using subtle layers. "I like to start out with soft gentle layers to gain a better idea of lighting placement, shadows and the colour palette," she says. After each layer she blends gently using the blending stump.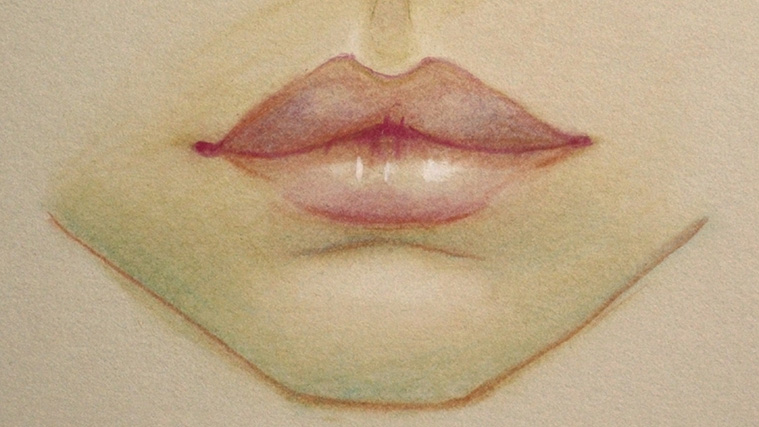 Once she has reached a stage she's happy with, she moves on to the final step: adding an outline. For this final layer, Healy uses coloured pencils alone, and does not blend with a stump.
06. Find the right paper texture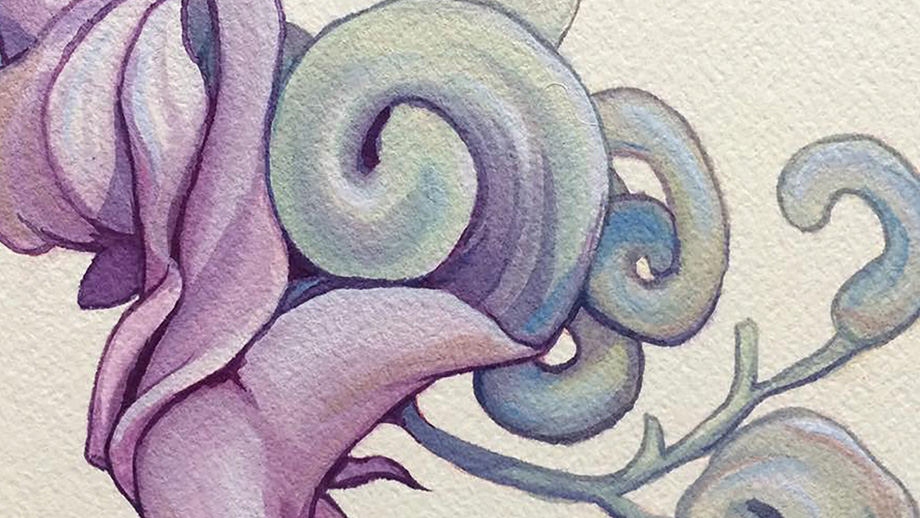 The surface texture you're working on will make a big difference to the effects you can create. This is referred to as the grain or 'tooth' of the paper. A rough tooth is more visible, and the ridges will grip the colour from your pencils.
With a smooth tooth, the ridges are very fine, and there's less grip. Healy finds this kind of paper provides an easier surface for blending coloured pencils, although she warns that it's also easy to run the colour off the surface.
07. Start lightly and build from there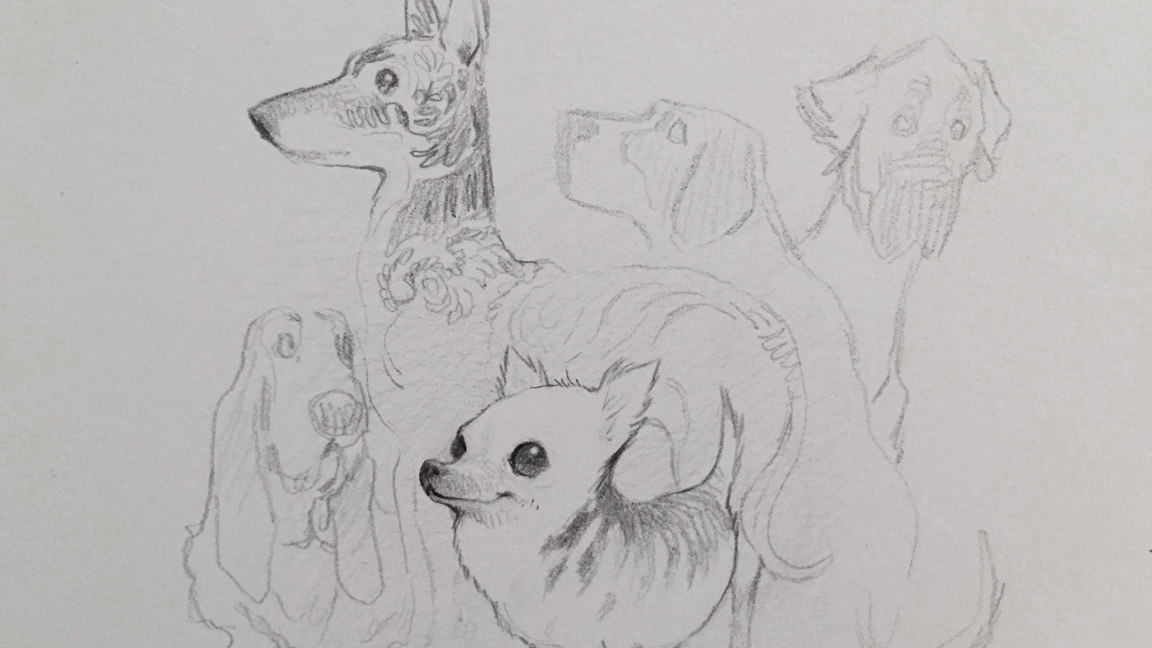 "When I start drawing, I plan and explore using loose lines, and avoid committing too early with hard, dark lines," says Chiu. "As I progress my lines will change, so checking and rechecking my work is vital. I darken my lines and add details at the end. I don't focus on one area for too long to prevent overdrawing."
08. Use the right eraser
There are a few different types of eraser, and each is suited to different things. You'll definitely need a kneaded eraser. This has a putty-like consistency (it's sometimes called a putty eraser), and you knead it before and after use. 
"A kneaded eraser is best for lightly picking up the coloured pencil binding off the paper. This works wonders when correcting mistakes, or if you're deliberately lifting colour from an area such as the eyes," says Healy. 
A gum eraser has a more solid consistency, and is better if you're trying to fully erase a coloured-in area.
09. Unify your colours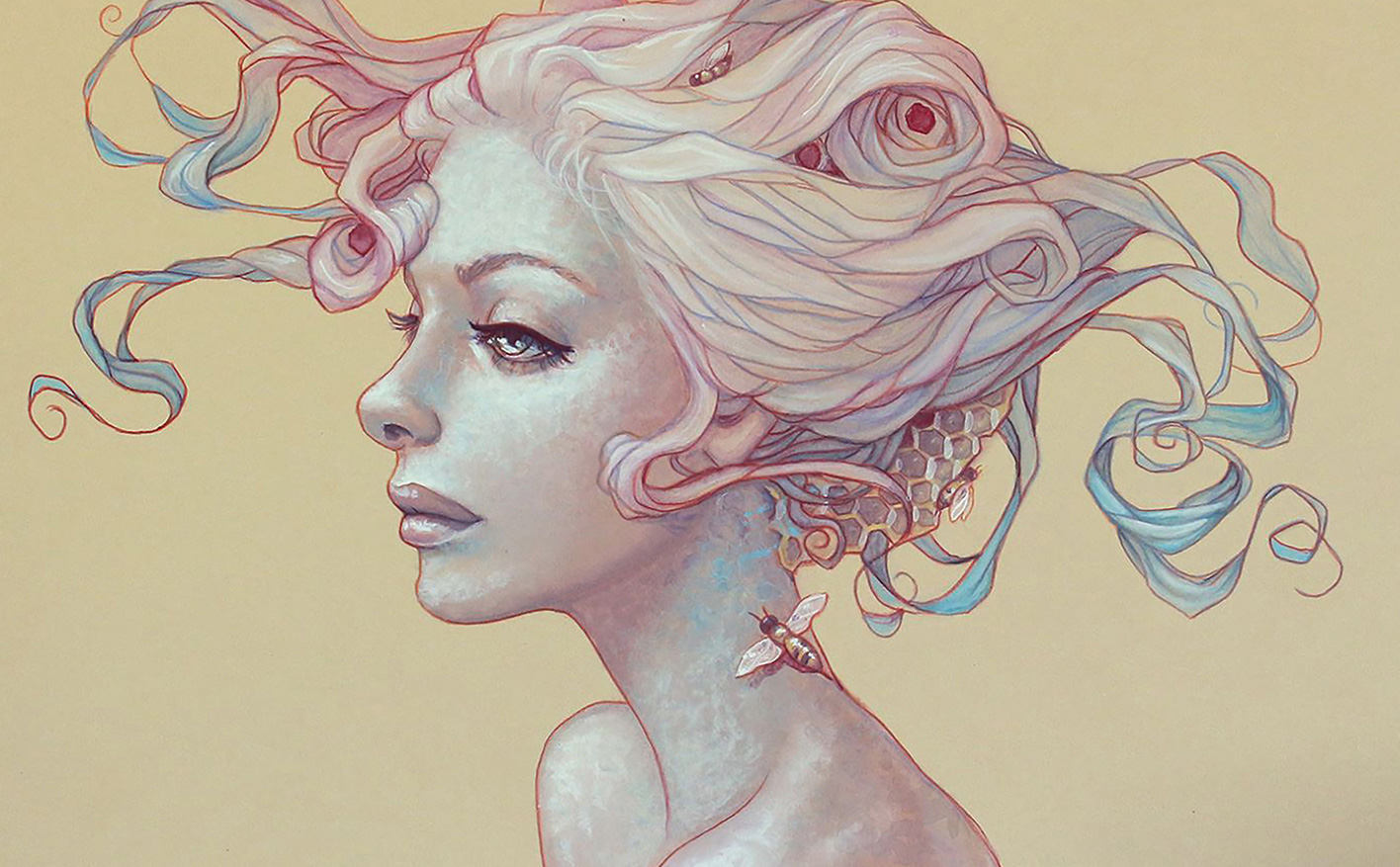 Having a uniform approach to colour will help bring cohesiveness to your work. "It's a good idea to make sure that your artwork has unifying colours," says Healy. "This consists of a particular colour palette, mood and a way of spreading these across the entire art piece."
She also suggests creating a harmonious base by using tinted paper or adding a background wash of colour (in paint). "This will show through whatever you lay down on top of it, thus giving it an appearance of cohesion. When I use coloured pencils, I'm fond of using tinted paper produced by Kraft."
10. Check and recheck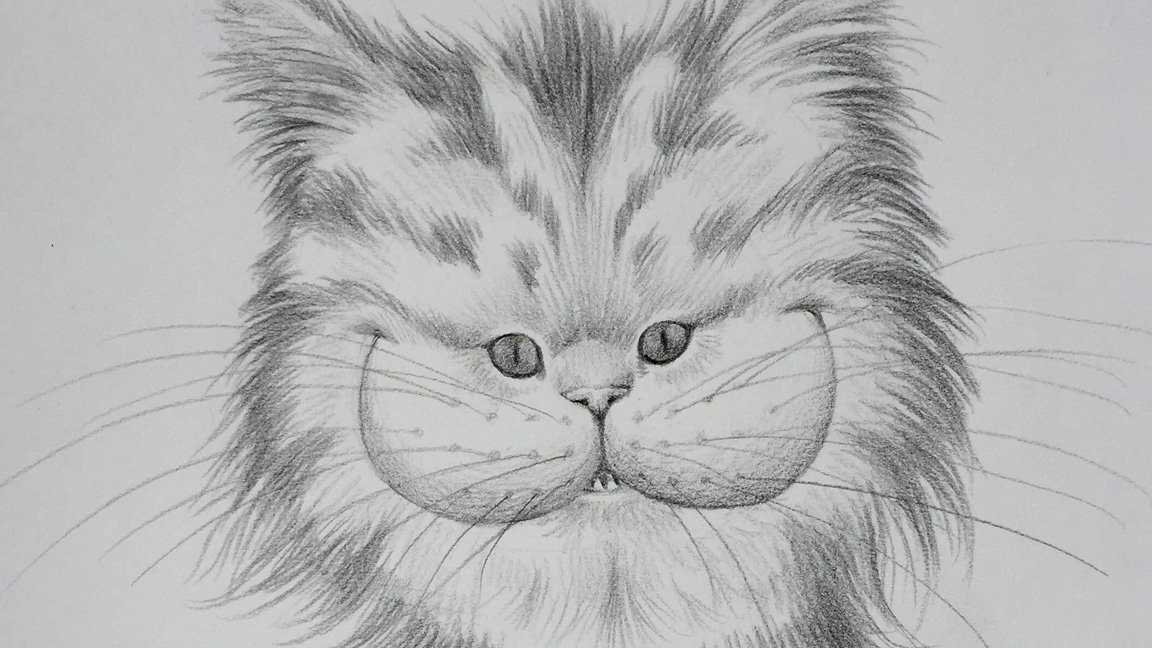 Before you move on to stronger lines and detail work, it's essential to make sure you have the correct form down. Chiu's advice is to check and check again. "I have to nail down my drawing's underpinnings before I can add details. I really avoid guessing at the details; I want to make sure things are symmetrical and look right before putting down stronger and harder lines." 
He also suggests looking at your work in a mirror or through a camera. Considering different vantage points is a great way to highlight if anything is off. "I constantly ask myself, does this feel right? If anything seems off – even if I can't immediately put my finger on what it is – I trust my gut and troubleshoot my drawing before continuing."
11. Draw on your own experiences
"Dip into your experiences to add a special layer of authenticity to your piece," suggests Healy. "This means using something like a memory, feeling or scent when creating your work. For example, the special feeling you experienced when sitting down with a friend at a coffee shop, or a memory of a childhood experience. You can be abstract or use hyperrealism. Whatever you choose makes the piece unique to you. I've found that people resonate with these pieces the most."
12. Protect your paper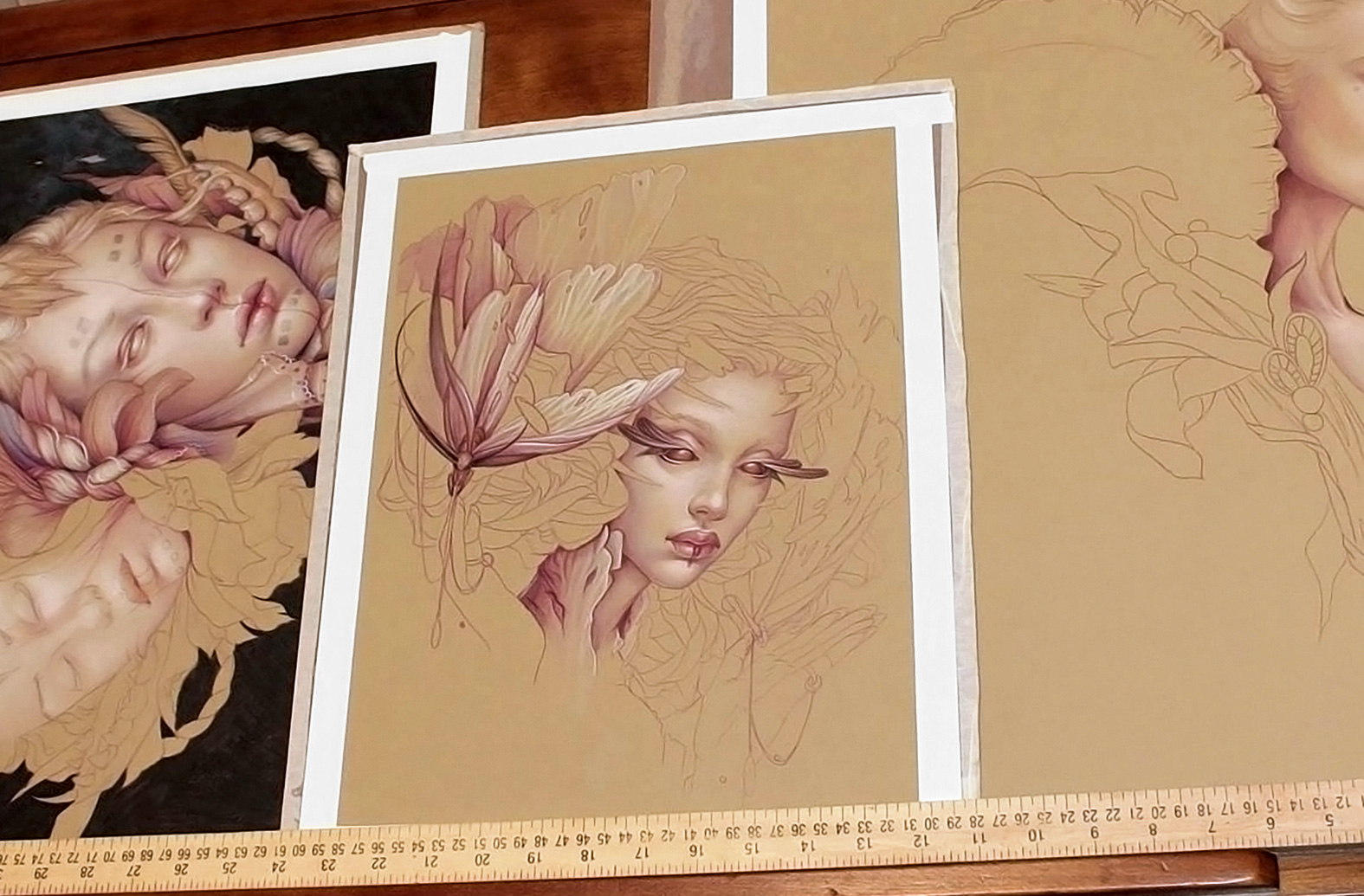 This is a valuable pencil drawing technique for beginners: put a piece of paper under my hand to avoid smudging your drawing while you're working. It seems obvious, but it can be the downfall of a great piece of work!
Healy also prefers to mount her paper on a board, attaching it using a layer of matte medium. This helps keep things neat, and provides a solid surface to work on.
13. Know when to stop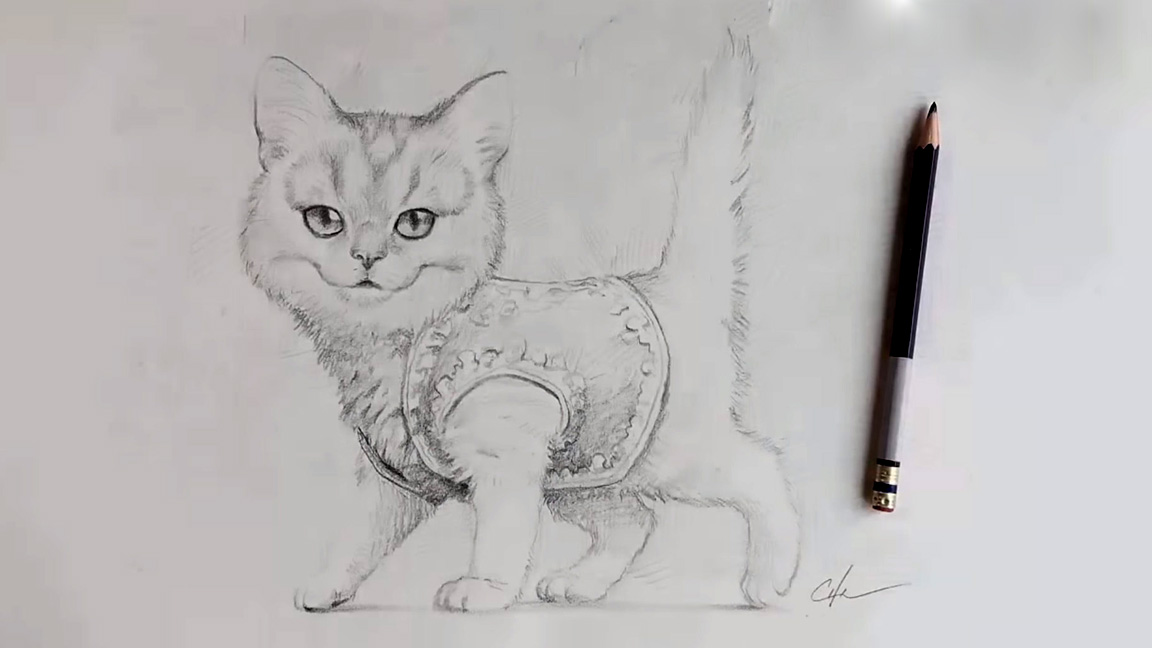 The majority of artists have a tendency to tinker with their work – even after they've signed their name. "I can always find something to change if I look hard enough, so it can be difficult to tell when a piece is truly finished," says Chiu. 
However, be wary of overworking your piece. "Eventually, I make a conscious decision to put my drawing away and start something new," he continues. "That's when I consider my drawing done. Well, maybe..."
14. Use contrasting concepts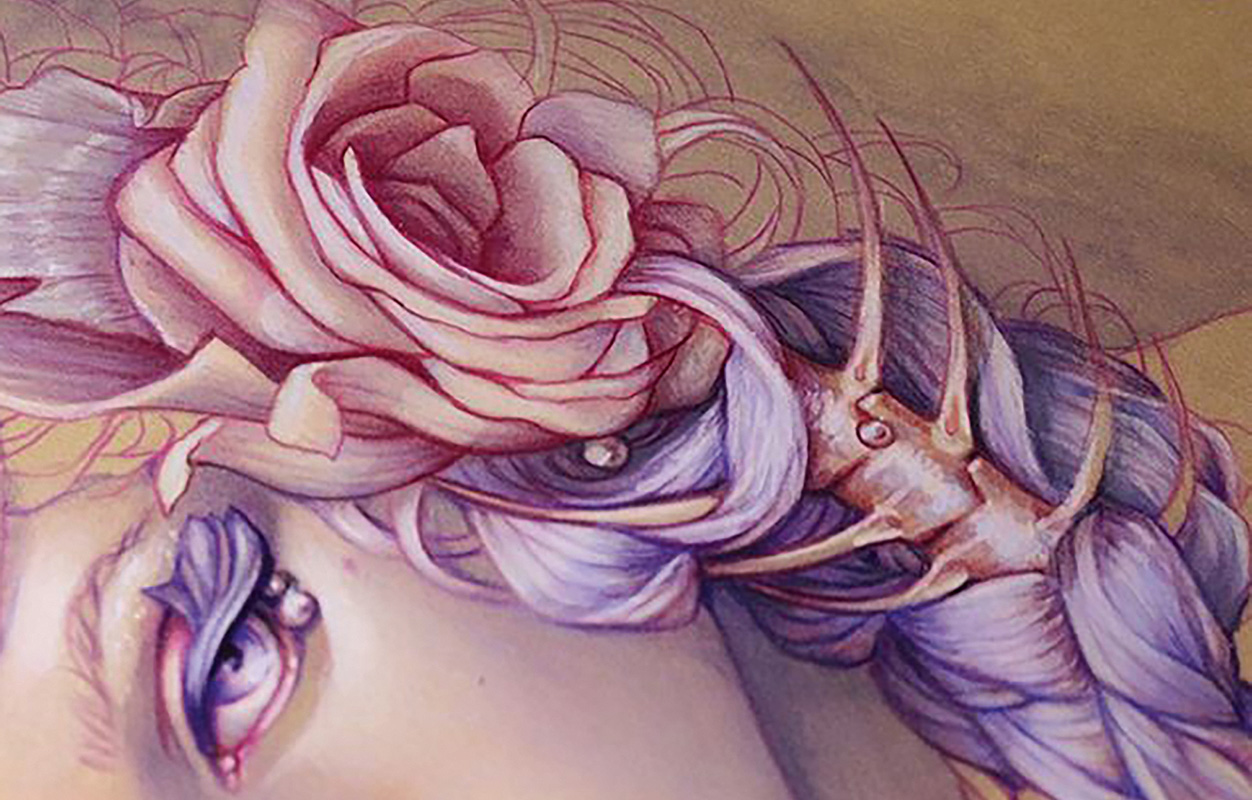 One drawing technique Healy uses in her work is to use contrasting concepts within a piece of work, for example, juxtaposing beauty and ugliness. "I'll use the beauty of colours, flowers, the softness of skin or hair, and the female form. I'll also tend to use something that's the opposite to all of that, such as bones, insects, sharp teeth, or anything that may provide discomfort to the viewer," she elaborates. "Somehow this provides an interesting concept to a piece. Especially when the 'ugly' parts are harder to spot at first. To me this is a very stark representation of what life is like."
15. Try combining pencils with watercolour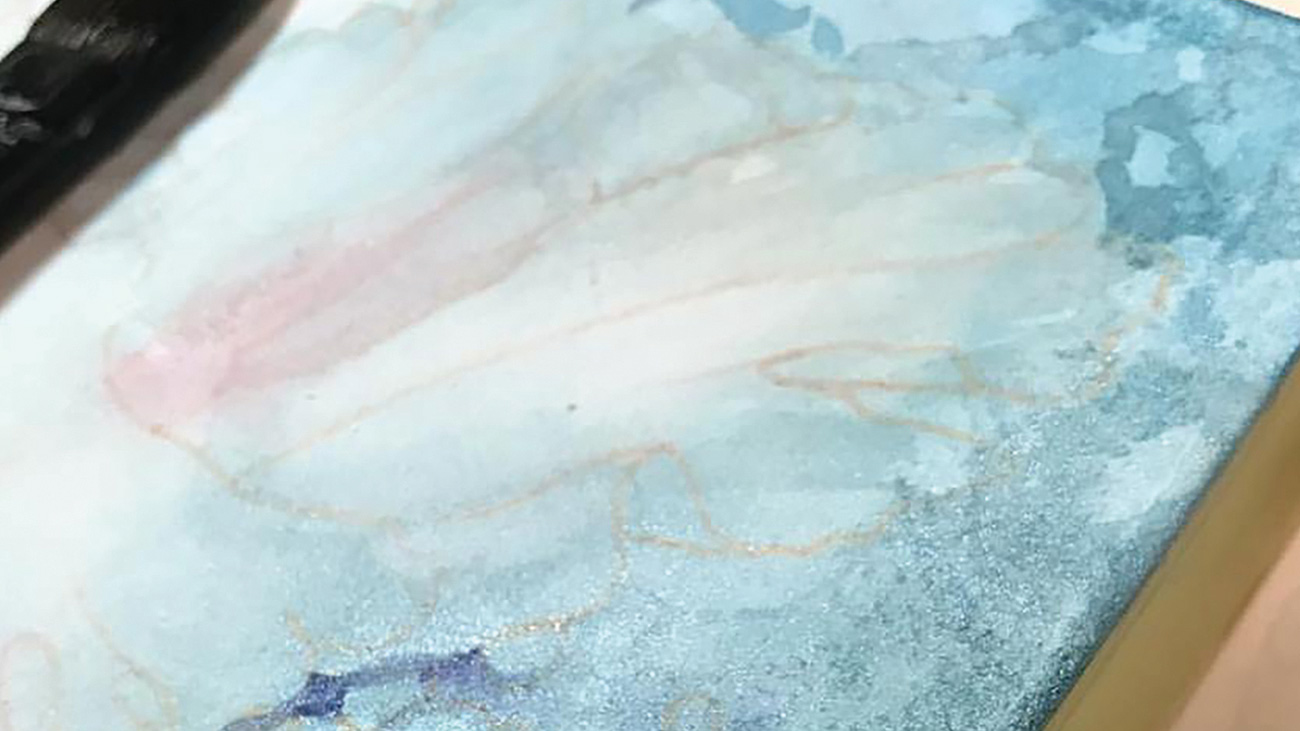 While pencils on their own can be used to create a wealth of different effects, it can be interesting to combine them with other media. For example, in her work, Healy likes to combine watercolour and coloured pencils. It's important to start with watercolour and then layer coloured pencils on top, she explains, because pencils can create a waxy surface that repels liquid, and prevents the watercolour from soaking into the paper. 
"This is a fun technique to test out," she says. "Both mediums have unique qualities and textures. Combining the two elements creates a medium all of its own."
16. Break out of your comfort zone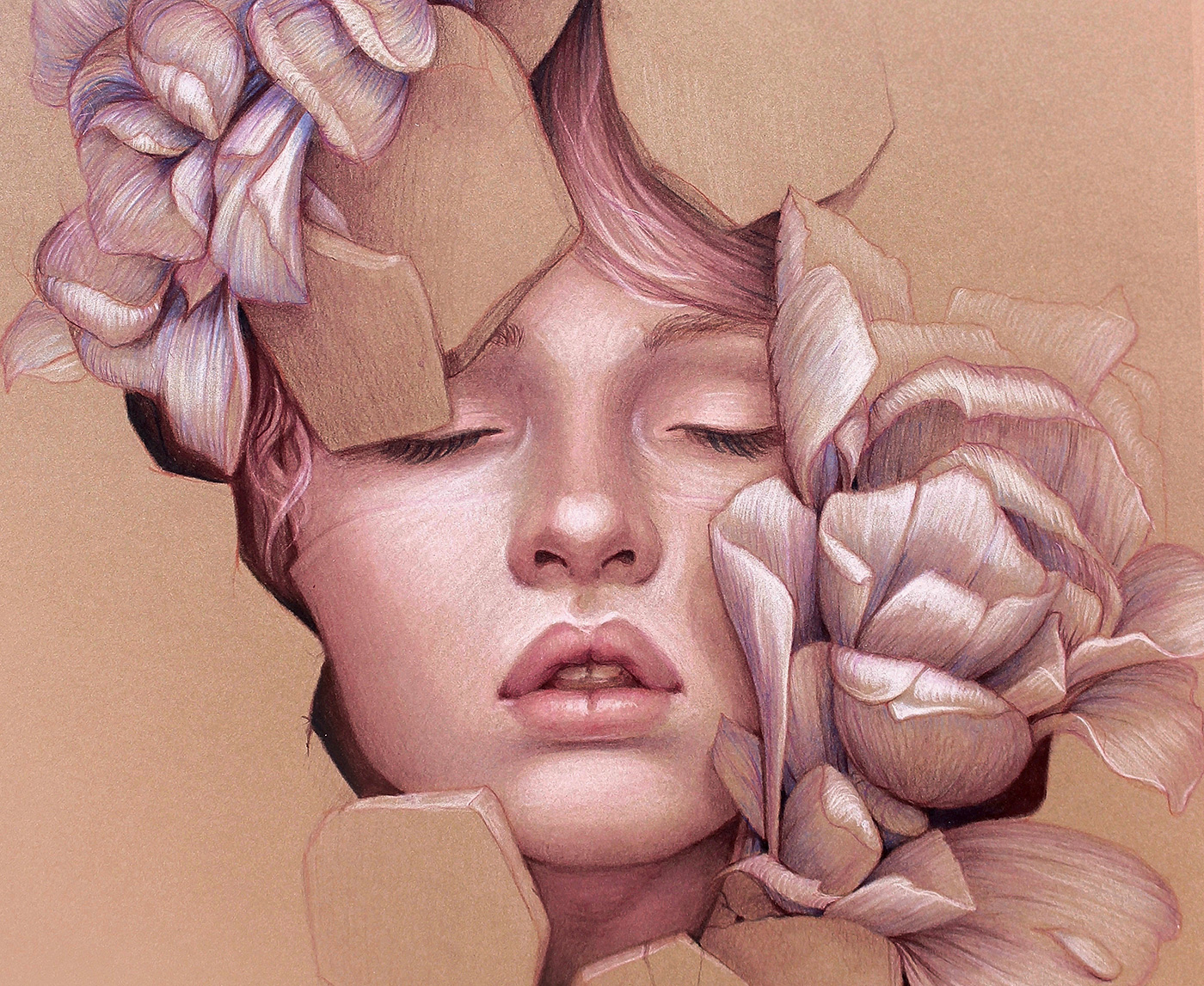 While these pencil drawing techniques should help you understand the essentials of the medium, sometimes you need to throw the rules out of the window and find what works for you. "There's nothing wrong with stepping outside of the box if it means achieving the effect you want," says Healy. "Trial and error will occur when you step outside of that box. But don't be intimidated! The process is entirely fun."
This advice comes from ImagineFX, the world's best-selling magazine for digital artists. Subscribe here.
Related articles:
How to make money on Pinterest as a creative
Get more followers and make money on Pinterest.
Most creatives don't realise you can make money on Pinterest. Many consider it a floaty sort of place where you can look at interiors, recipes and wedding crafts, and while you can do all those things, Pinterest is actually a very powerful tool. 
Pinterest is used by 250 million people per month, and 84 per cent of users use it when they're trying to decide what to buy. That means that as a designer, illustrator or artist, it's the ideal place to promote yourself and anything you're trying to sell  – whether that's your services or your products. (If you're looking to sell more online, then you can also check out our inspiring list of ecommerce websites.)
But how can you best use Pinterest? How can you get more followers? How many boards should you have on the platform? And how can you transform your pins into cold hard cash?
To find out, we spoke to those who are currently making money from Pinterest to discover the secrets to their success.
If you'd like to swot up on making the most of Instagram too, see our guide to how to make money on Instagram, as well as how to change the font in your Instagram bio.
01. Think Pinterest when creating images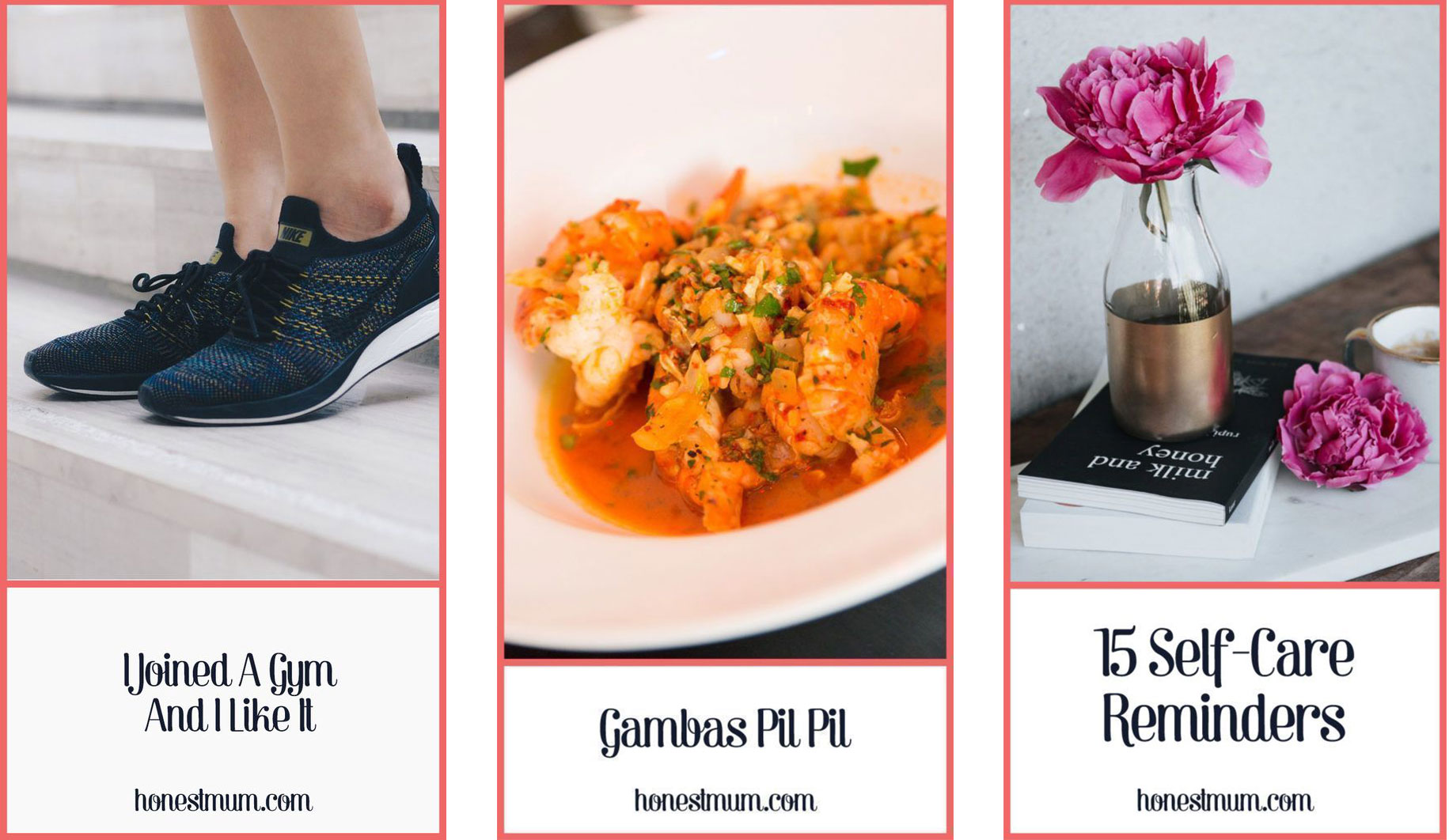 Award-winning blogger and author,  Vicki Psarias has been using Pinterest since 2012. The platform is the second biggest referrer to her blog after search traffic, and an average of one million unique users visit her Pinterest page every month.
Psarias makes sure that she thinks about Pinterest when she's creating images for her blog – something that many overlook. "Now I have bespoke Pinnable images on almost every blog post in addition to editorial images," she says. 
What sort of images do well on Pinterest? Long and thin images tend to stand out, but apart from that, Pinterest works like any other platform. "I think the fact I opt for high res, eye-catching, beautiful images definitely appeals," says Psarias. 
Don't forget that you can also pin videos, Psarias pins directly from YouTube.
02. Curate carefully

It's easy to just keep clicking 'pin', but the most successful Pinterest users curate their boards carefully.
Psarias advises having "100 boards maximum with a minimum of 40 pins per board." She also recommends using a mix of different image styles, for example, "a mix of Pinnable images ie. text over an image, and editorial images without text too, so as to appeal to all pinners."
Fabien Barral, aka Mr Cup, agrees that curation is key. He's been using Pinterest to promote his products since 2010, and has over 55,000 followers, meaning that Pinterest is now making him money. He prefers boards that have a theme. "I like people who are creatives with their boards, ordering by colours, or texture," he says. His own boards include colour, wine, wood blocks and nice to meet you – where he visits studios. He often links to his blog, which links up nicely to his shop.
When it comes to what to post, Psarias recommends going with your gut. "Pin what you like," she adds. "It sounds simple but as with SEO, a like-minded audience will find you so don't worry if you think you're the only person in the world who wants to dedicate a board to glitter make up." 
It's also a good idea to offer your audience some content they can learn from. Psarias suggests blogging tips, how-tos, tutorials and quick recipes, and artists could also include WIP shots and quick process videos.
03. Switch to a business profile
If you're using a personal Pinterest account, then switching to a business one is probably the easiest way to help you understand the platform and your place on it. Find out how to get a business account here.
Once you have a business account, you can see your posts' impressions, and gain insight into your audience – finding out key metrics such as their average age and where they're based. If you have business accounts on other platforms (learn how to switch to a business account on Instagram here) you can then compare this data with them, and tailor your posts accordingly.
04. Pin other people's content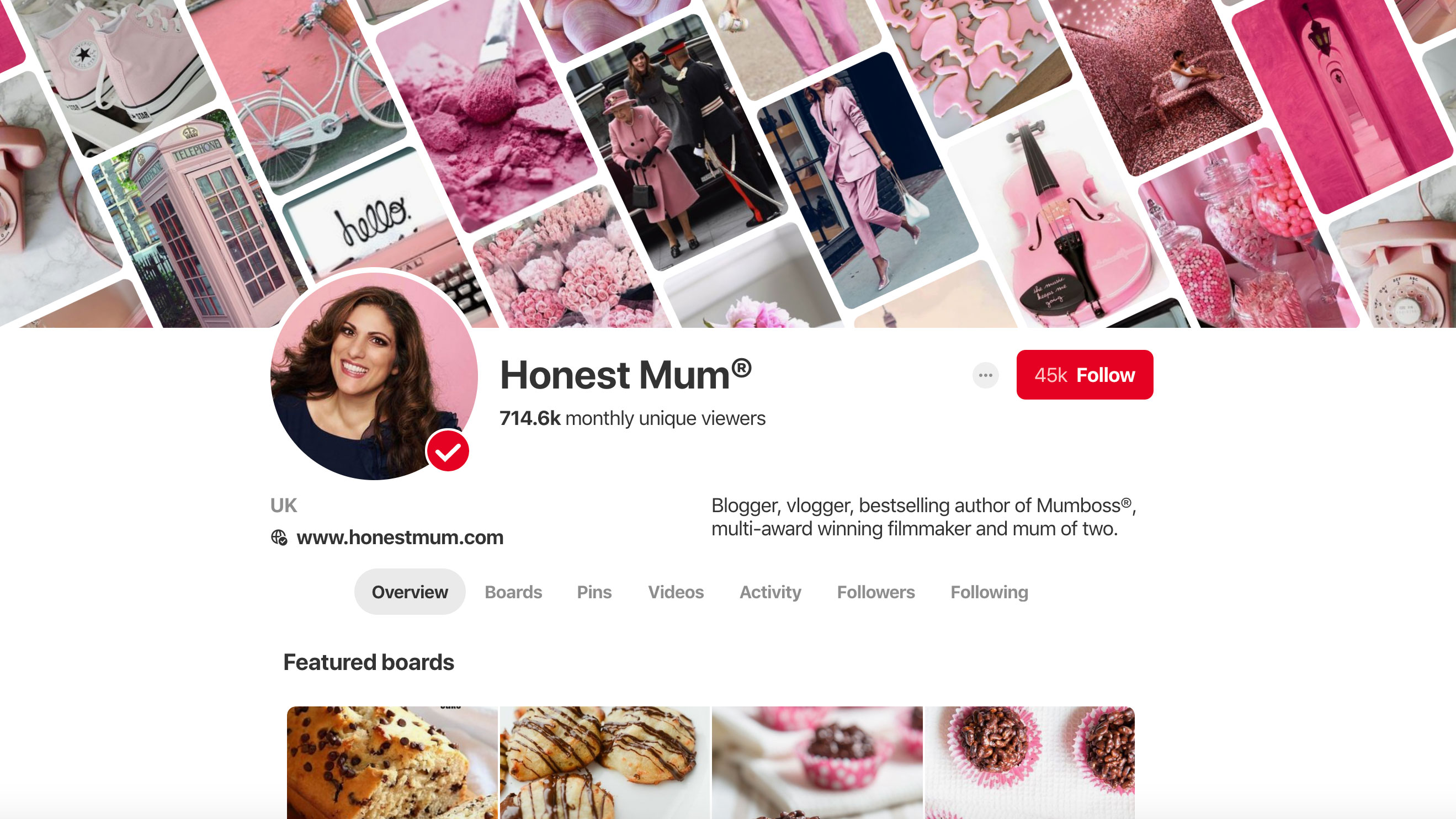 "Pinterest isn't interactive in the same way Instagram, Facebook or Twitter is," says Psarias. "There isn't a conversation happening there and in many ways it offers you a chance to rest from that."
That doesn't mean that you shouldn't pin content from other people, though. "Do some research and follow accounts which catch your eye (with both large and small followings) and dedicate some time to pinning others' content as well as your own," says Psarias, who likes to balance her page with 60 per cent of other people's content, and 40 per cent her own.
"Join group boards too with large audiences too (they'll mention how in their bios) and that way your own pins, which redirect to your blog/site, will get seen by more than just those who follow you."    
05. Post regularly
Like with most platforms, the more you post, the more you'll get out of the platform. Psarias posts daily. Barral posts: "When I have a new project going on, or I see a picture I like and it fits one of my boards and I do not want to lose it." 
Try to set yourself a schedule and stick to it. If you want to schedule pins, Psarias recommends paid-for service Tailwind, which also works with Instagram.
05. Include keywords in your bio and descriptions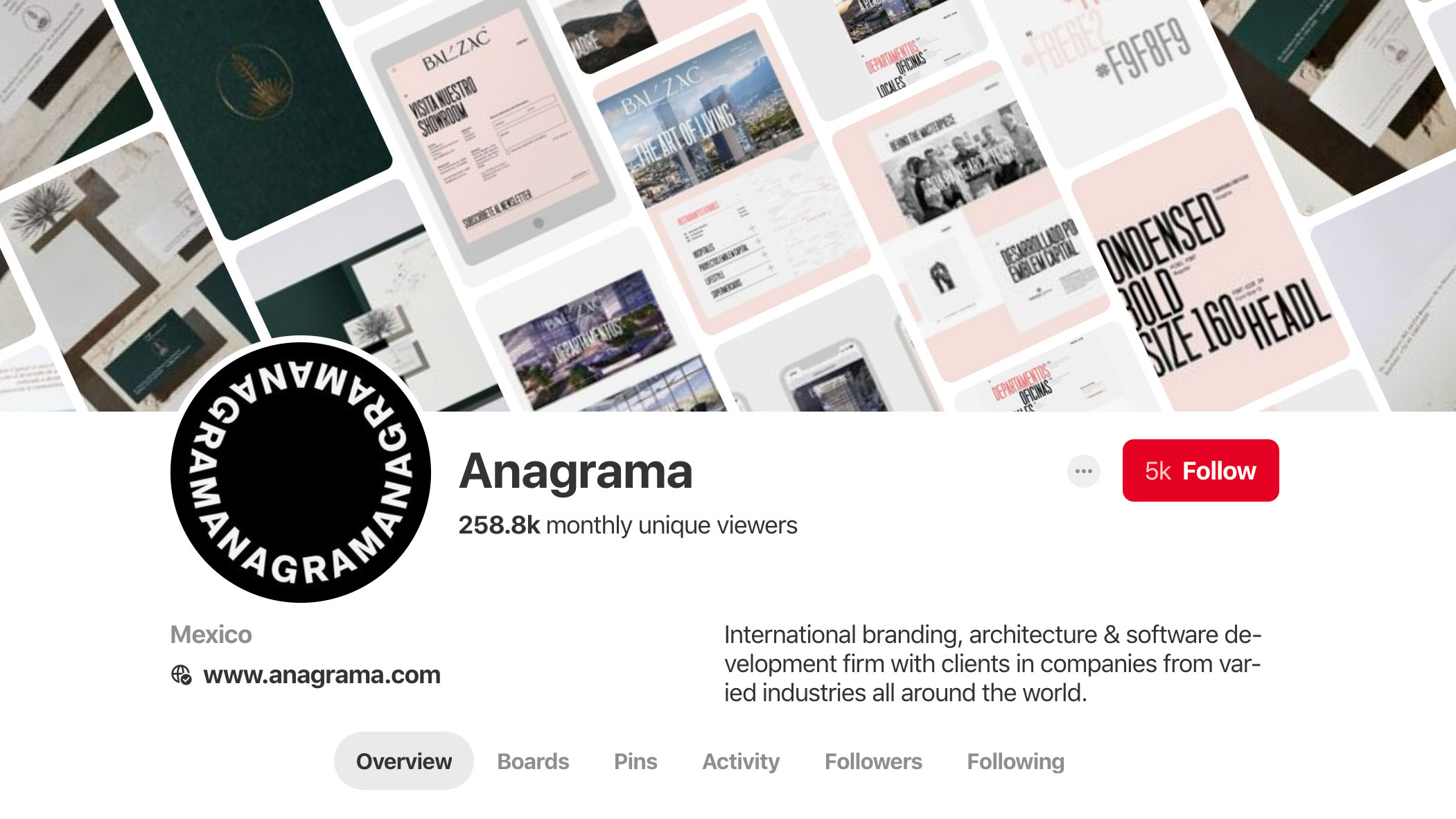 If you think of Pinterest as a sort of Google for images, then it makes sense that including the right keywords will lead to more people finding your boards. To do this you can think about what sort of words people might be using to search for your content, e.g. letterpress business card, and add those words into key areas of your Pinterest profile. If you'd like to do more in-depth keyword research, you can also use tools such as Google Trends to investigate further.
Where should you add these keywords? First of all, you can optimise your bio so that people will find it, and know exactly who you are when they land on your page. Think about who might be looking at your boards, and try and curate appropriately. If you sell one thing in particular e.g. cactus prints, then include that in your bio.
You can also add keywords in the alt text of your image, in the description of your image as well as your boards. Instead of just having a board called 'design', go for something more specific – 'lino print design', for example.
06. Focus on building a following
Like most platforms, making money on Pinterest can take time. Focus first on building a following and a bespoke selection of boards that are visually appealing, and make sure that you include a link to your site where possible – as well as in your bio. 
"Do not try to make money out of it, be yourself and touch people with your personality and money will come," says Barral. "Share your world, and your creations, as everything is linked." 
Read more:
The best collage maker tools in 2019
The top collage makers from around the web.
If you want to present your images in style, having a quality collage maker is valuable tool. A fantastic way to show off a selection of images, it's no surprise to find that collage makers are hugely popular right now.
Many popular mobile and web applications are now including built-in collage maker tools to simplify the process, and there are several dedicated collage makers out there in app and browser format. The quality of these varies wildly, so we've tried some out to see if they're up to scratch. 
Of course, it's perfectly possible to use general design software, such as Adobe's suite (get Adobe Creative Cloud here) as a collage maker tool. However, unless you already know what you're doing, you're going to need to set aside some time and probably hunt out some Photoshop tutorials in order to be successful. What's more, as technological innovations mean many smartphones can now take great quality photos, opting for a collage maker app means you can create eye-catching collages directly from your camera phone.
01. Photo Joiner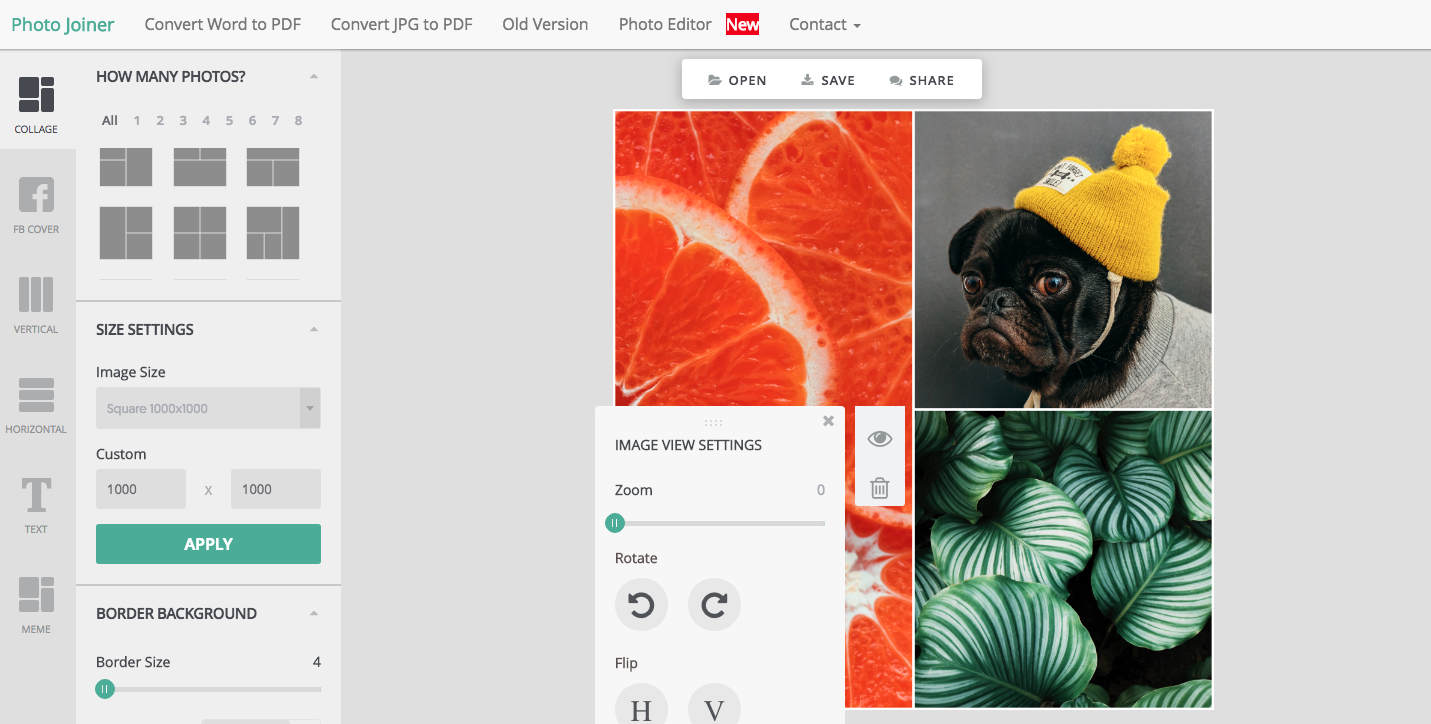 Photo Joiner offers a range of different collage maker options. The one we're most interested in here is Collage; a classic collage maker tool. The process is easy to follow: upload images, choose a template, drag your images into the slots (you can zoom in and out, mirror or rotate to suit the layout), then save and share. You can narrow templates by number of photos included, and set custom image sizes and borders.
If that's not what you're after, take a look at one of the other Photo Joiner tools. Stitch is a simpler tool designed for joining together photos vertically or horizontally, using one of Photo Joiner's preset layouts. Meme lets you add text and decorations to images. FB Cover offers a range of templates to fit Facebook's cover image dimensions, to take the effort out of creating an impressive cover collage. 
02. Ribbet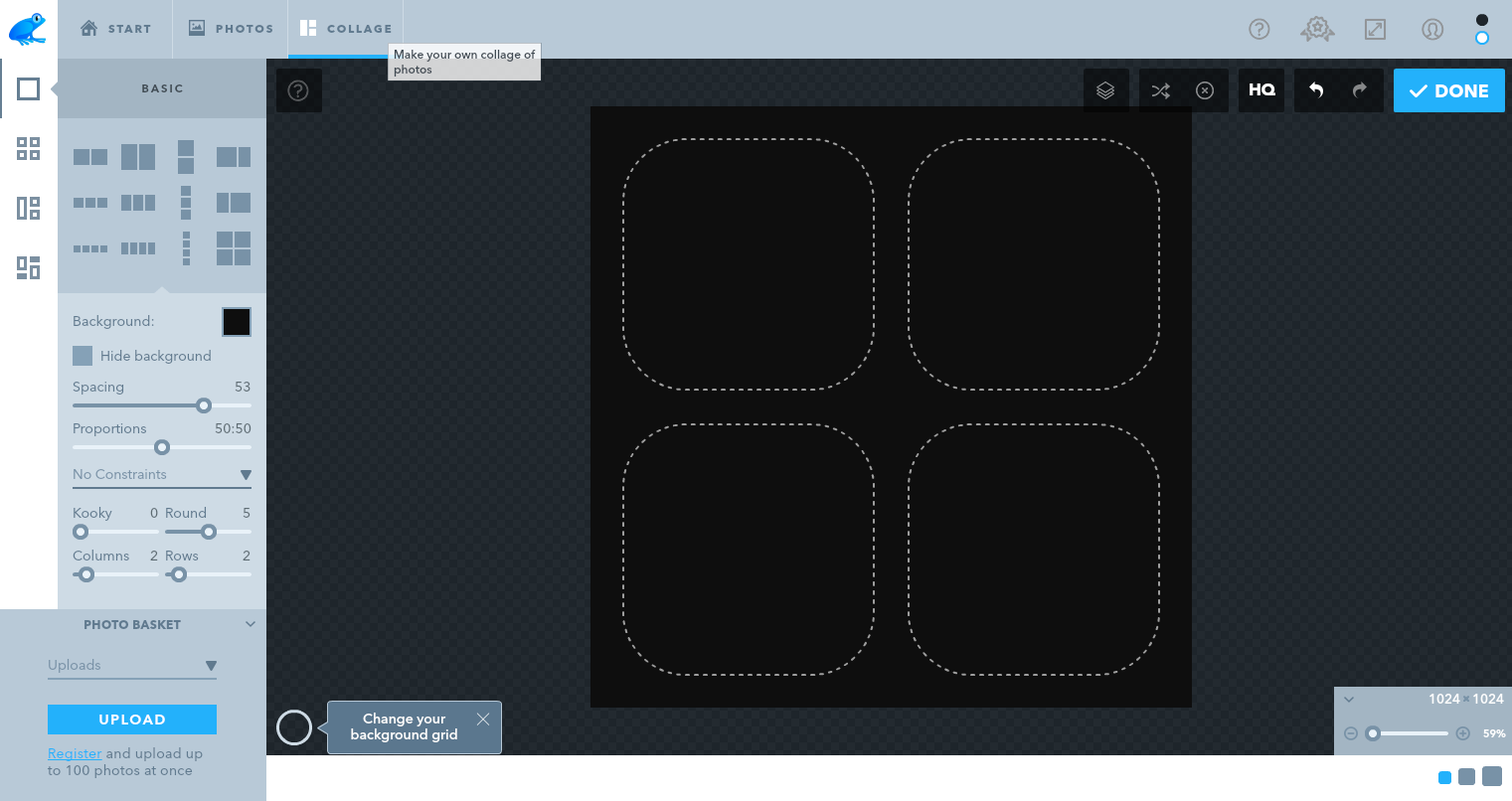 Free online collage maker Ribbet has a smart interface, which is a delight to use. There are plenty of handy features to help you create a custom collage: pick a template, upload images, adjust sizing, round corners, edit lighting, exposure and so on. If you change your mind, you can easily adjust your template by adding extra rows or columns. The basic version is free, but to access the majority of the more complex templates you'll need to upgrade to the Premium version. 
There's also a free iOS app and one for Android too.
03. Adobe Spark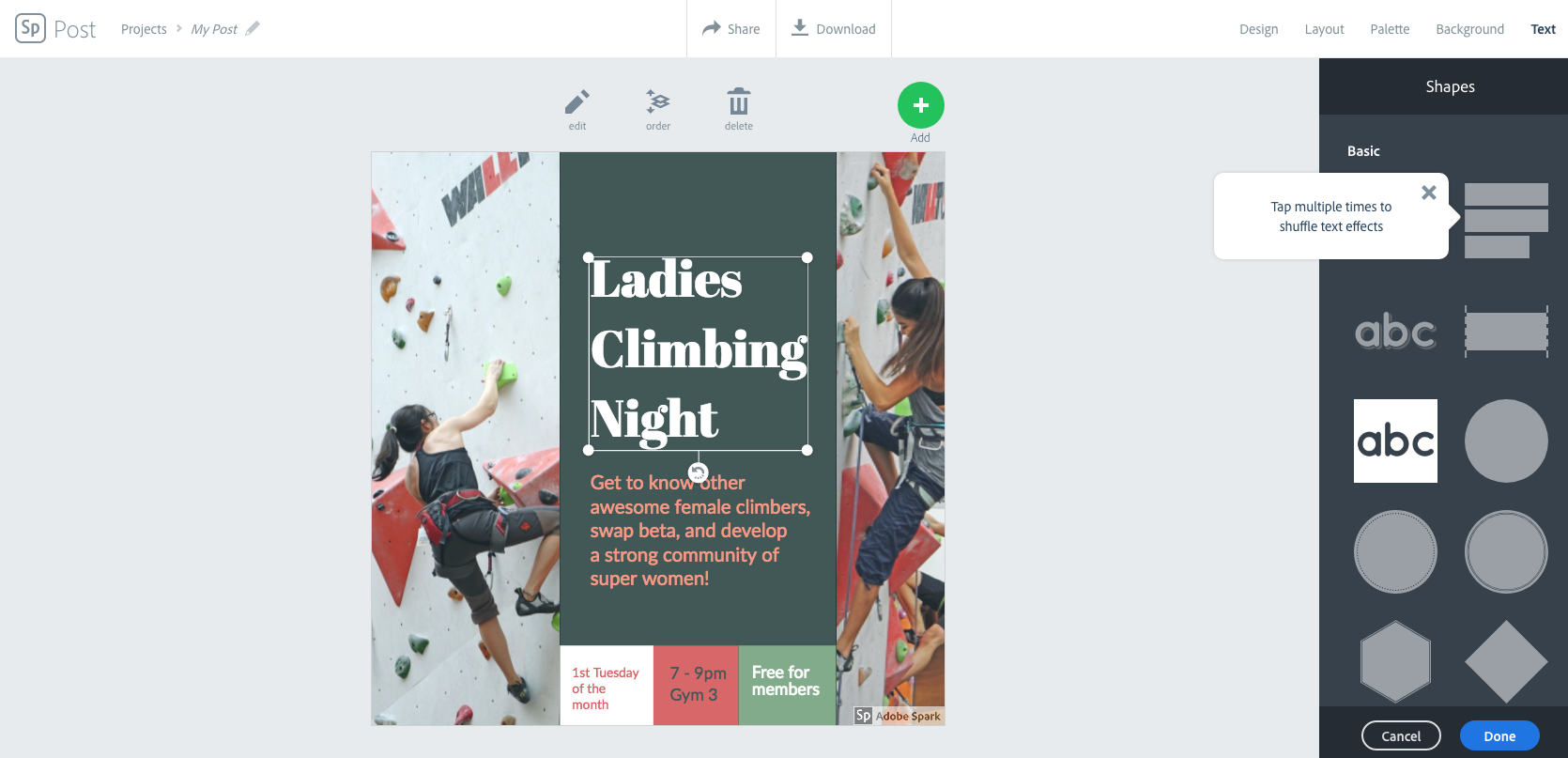 Spark is a free photo collage maker from Adobe. Its simple interface means it doesn't require the same learning curve demanded by most Adobe applications: simply name your project and use the various design options available to arrange your photos into an eye-catching collage. You need a Creative Cloud account for full CC benefits (sign up here), but it is perfectly useable without.
04. Canva Collage Templates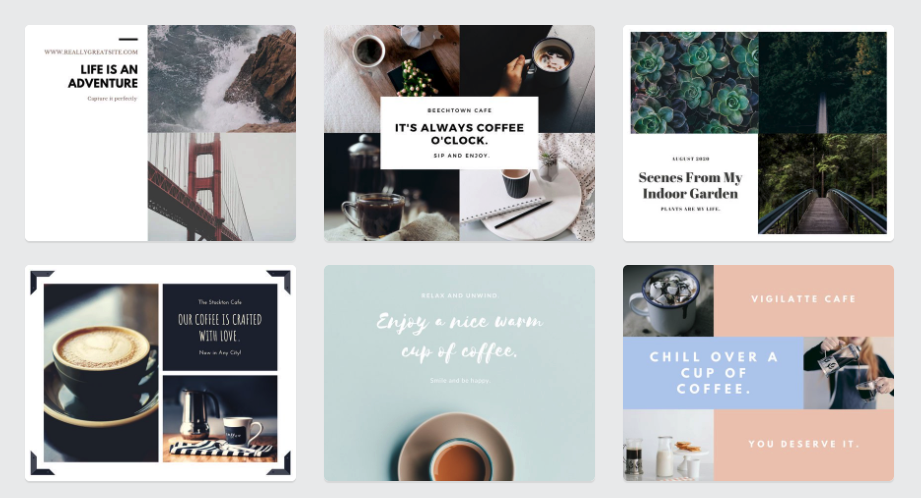 Canva offers one of the best free online collage makers around. This is an all-round design package you can use in the browser or as an app for iOS and Android. The basic package is completely free, but there are paid plans available if you want something more advanced. 
Amongst Canva's tools is a big selection of collage templates, which look great and are easy to use. You can also spice up your collages with Canva's enormous selection of effects, filters, fonts, shapes and more.
05. BeFunky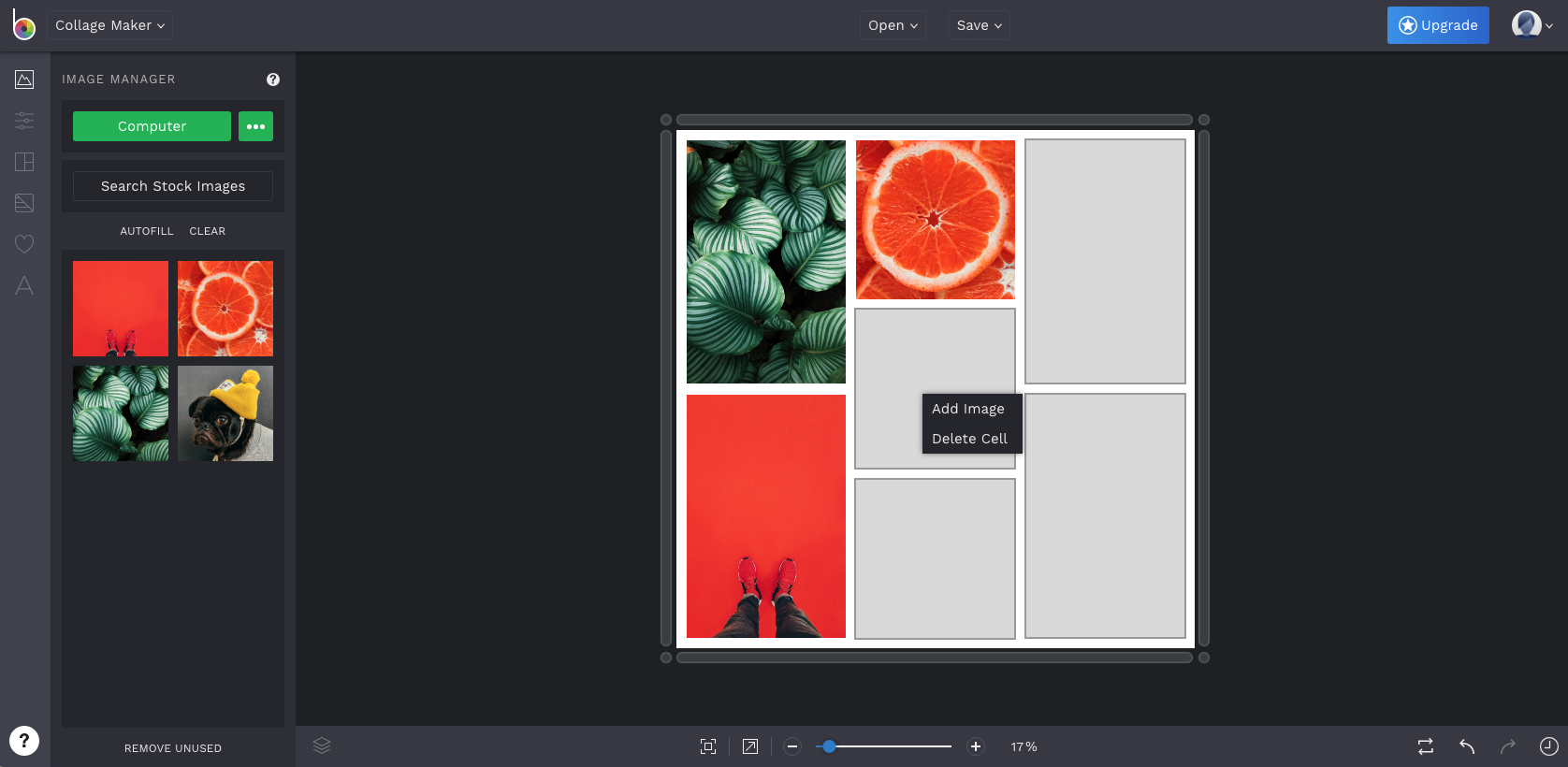 BeFunky is one of the best free online collage makers around. It offers tons of templates, a simple interface and seamless integration with the BeFunky Photo Editor. The free version works well, but if you're after more photo effects, higher-resolution downloads and the ability to use your collages commercially, you'll need the BeFunky Plus account. As well as an online tool, BeFunky is available as an app for iOS or Android.
06. piZap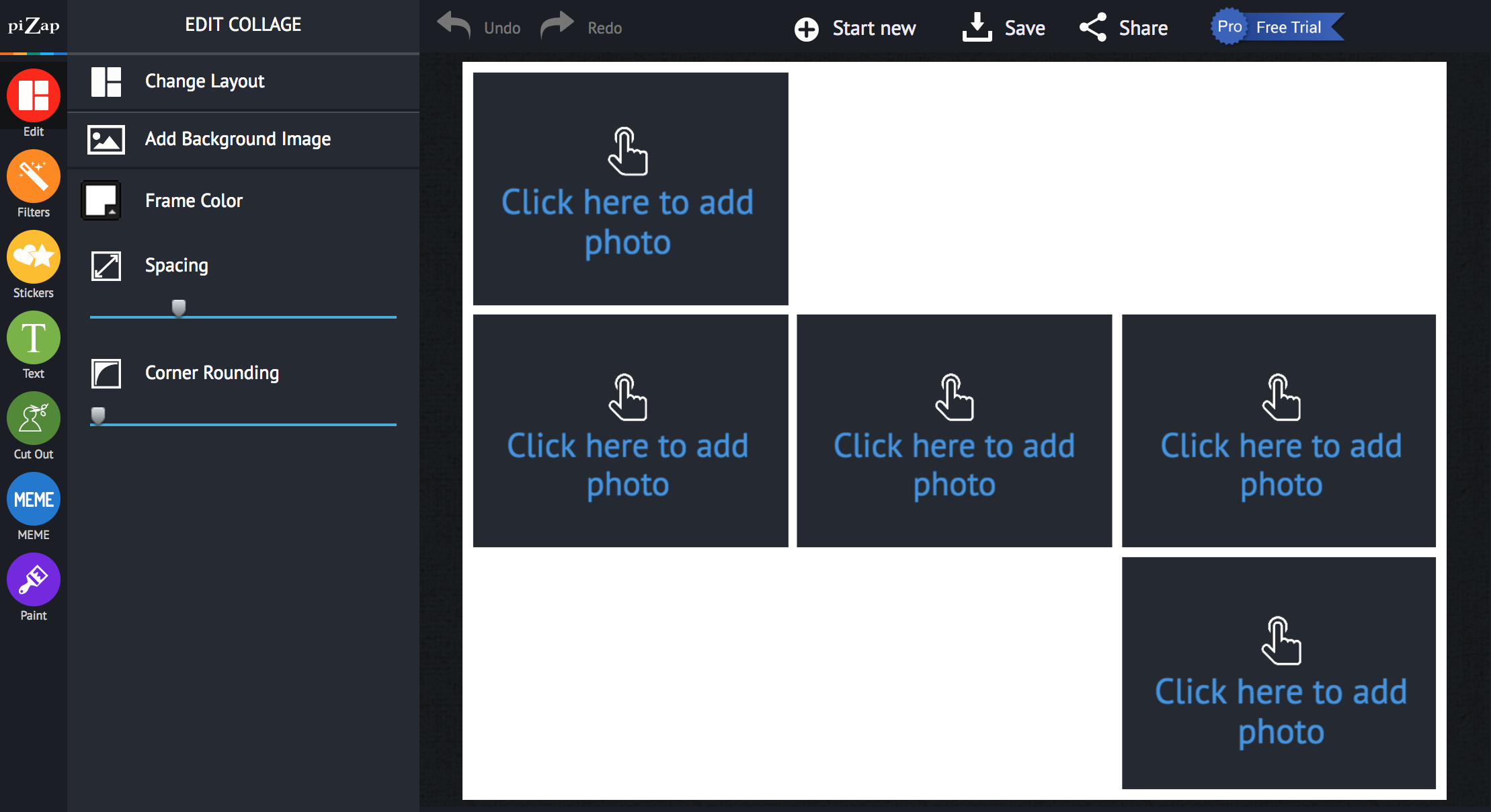 Ad-funded online collage maker piZap has the option of a Flash interface or a new HTML interface. The latter is currently in beta, and to be honest there are more intuitive free collage maker tools on this list. However, there are plenty of templates, stock images and fonts to choose from, and you can add text and stickers to liven things up. A nice feature is the inclusion of Facebook banner templates, to help you upgrade your social media branding with ease. 
The Pro version offers ad-free designing, a much bigger selection of fonts, stock images and templates, the ability to download your collage in super high resolution, and more. You can suss it out via the free trial before you commit. 
07. PhotoCollage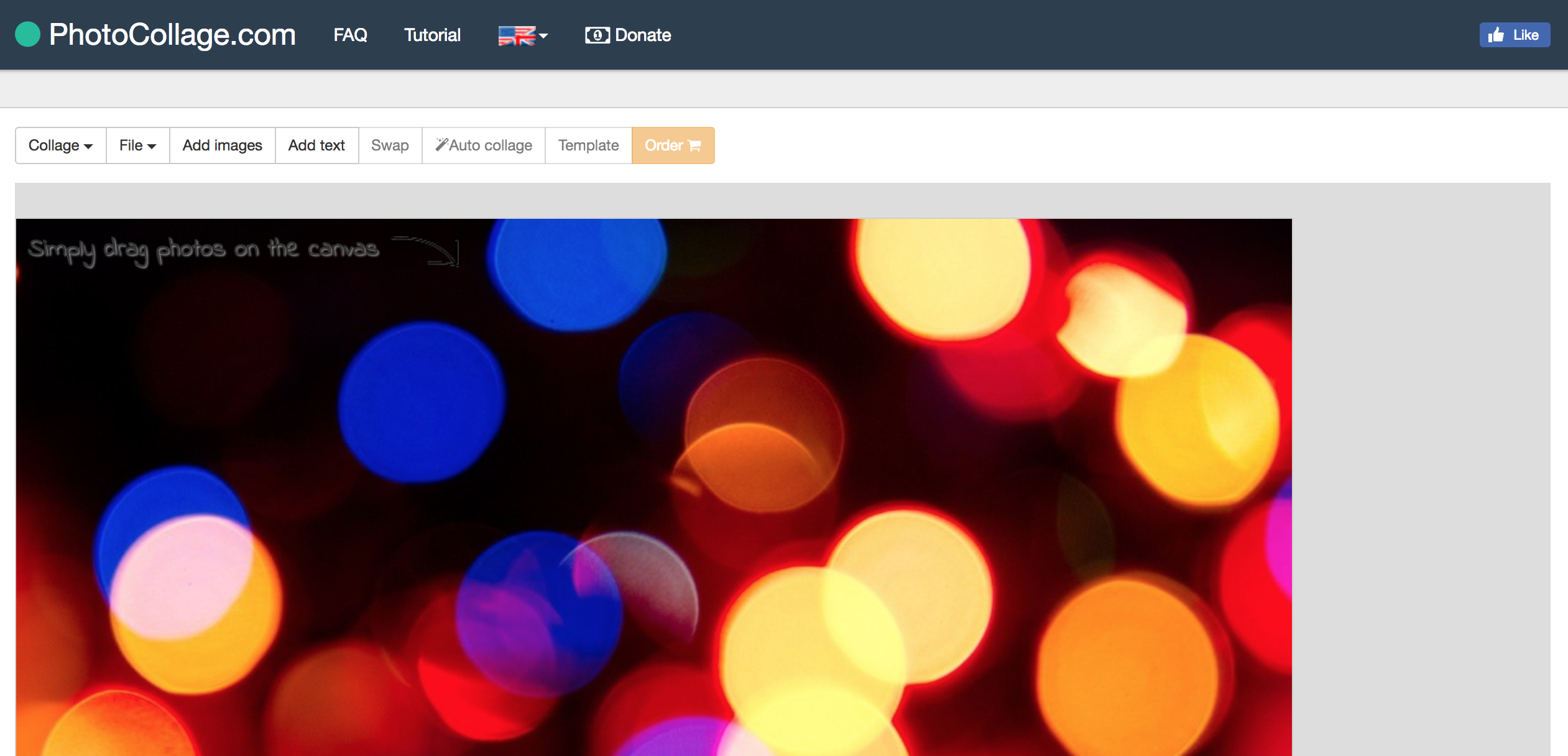 PhotoCollage has a does-what-it-says-on-the-tin name, and the web-based collage maker is no less straightforward. It works on Mac, Windows, Android and iOS platforms including touchscreens, and you can choose from collage templates or use your skills to create freeform collages. 
You work with low-resolution images, then once you're happy with the arrangement you can choose to 'order' a high-resolution version of your design. One frustrating feature is that the editing tools aren't sticky, so you'll probably need to scroll up and down to find the ones you want. The interface also isn't as nicely designed as other tools on this list. 
08. Fotor collage maker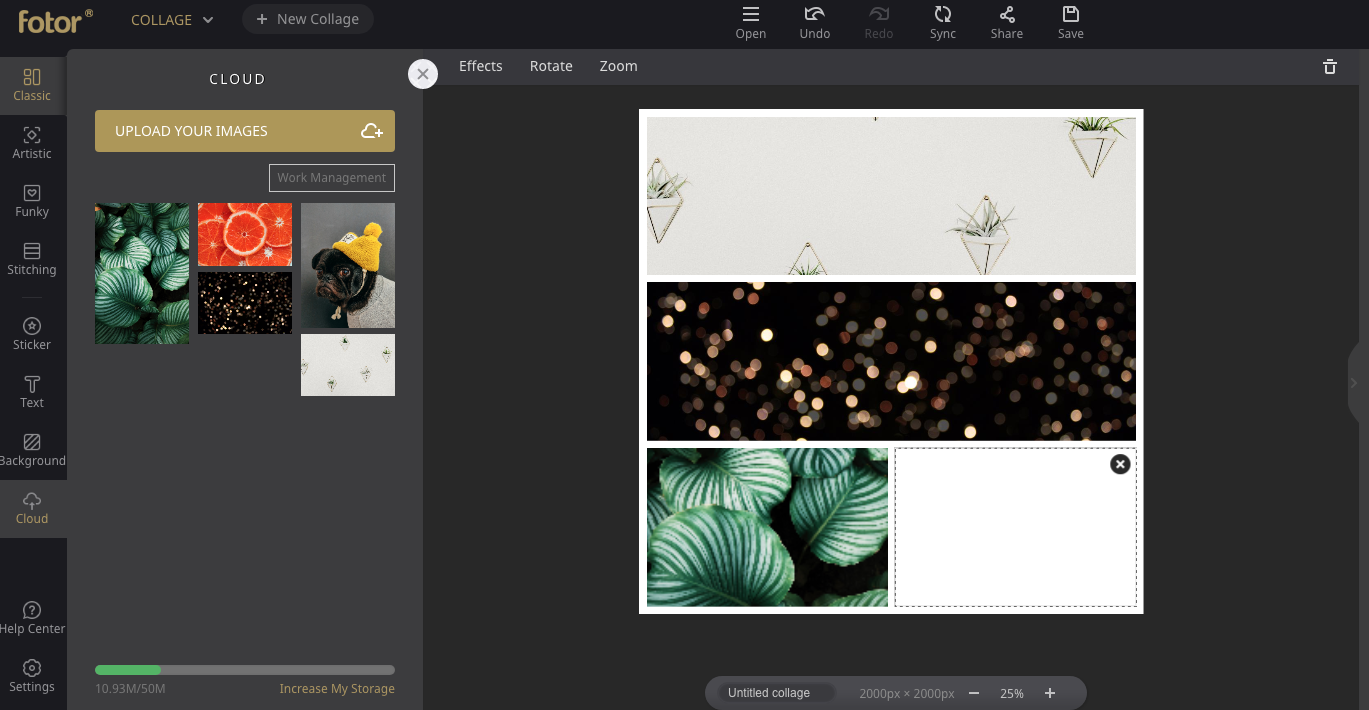 Fotor is a professional-level online collage maker. You can import a load of images, which are displayed on the right-hand bar, then choose when and where to place them in your collage. This simple feature makes it easy to put together attractive collages. The only glitch we ran into is that large images failed to load, with no error message to indicate the problem. 
You can only get part of the way with the free version – you can design collages, but they'll feature the Fotor watermark, which isn't ideal. For advanced features, an ad-free interface, watermark-free collages and cloud-based storage, you'll need to shell out for the Pro version.
09. Photovisi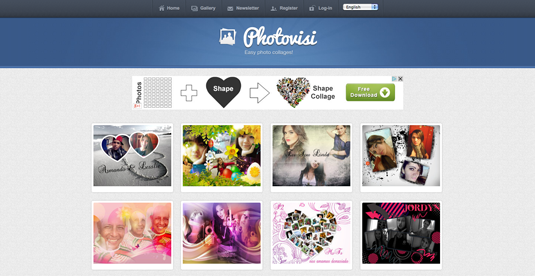 Photovisi is a stand-alone collage maker with no fripperies and no photo editing tools to distract and confuse. You simply select a collage design, add your photos and drag them around till you're satisfied, then download it. What could be easier? If you want to download a watermark-free collage, you'll need to pay up on the Premium plan. Some of the templates are a little on the cheesy side, and overall this collage maker tool is looking a little dated.
10. Google Photos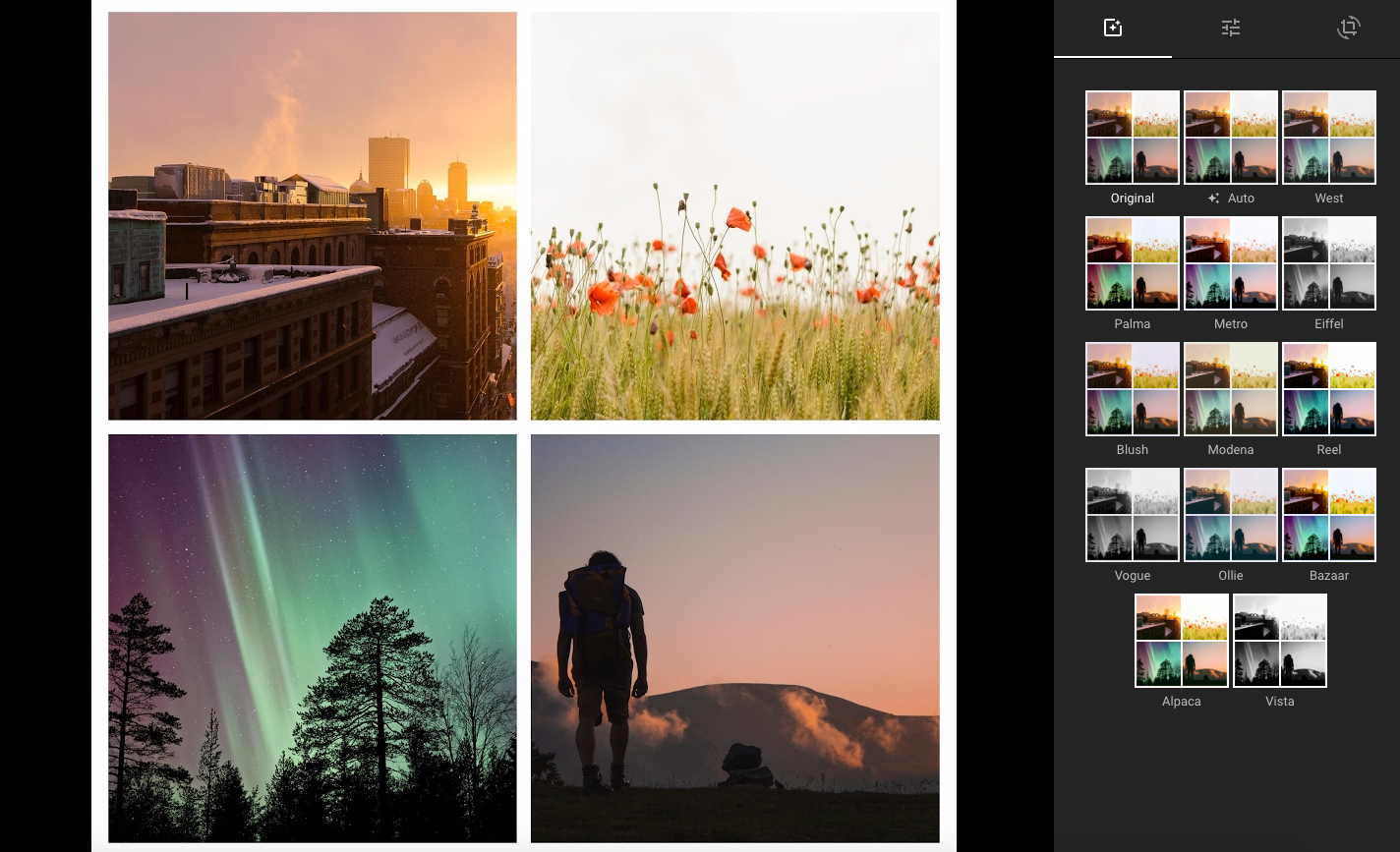 Google Photos, once known as Picasa, is an image organiser and photo editor – but did you know it comes with a built-in collage maker? You can experiment with six different collage types in the hands-on collage creation screen, and they will be saved in your 'Collages' folder. It's pretty basic, but as you'd expect from Google, the interface is nice and clear and what it does do, it does well.
11. Kizoa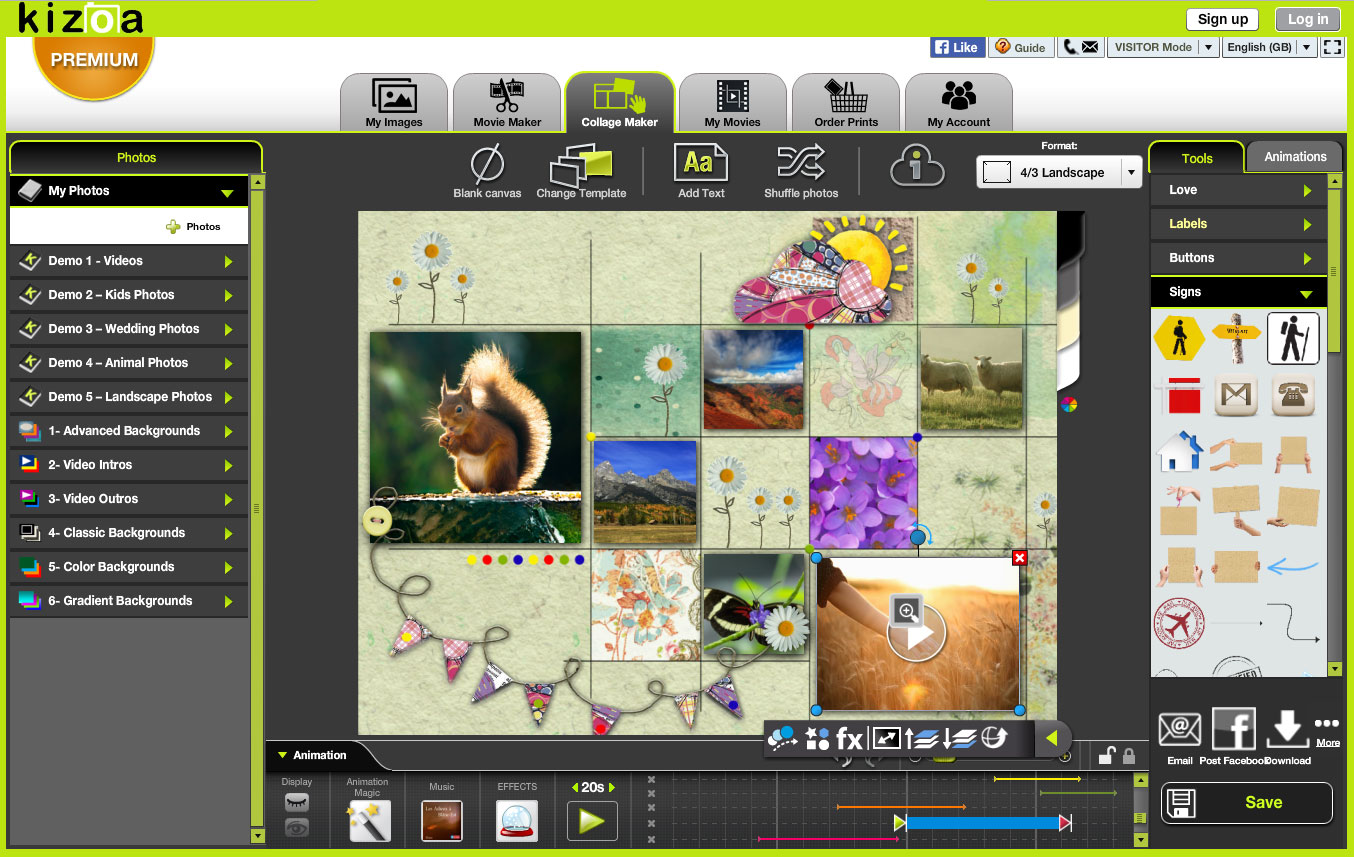 The web-based Kizoa collage maker is one of the most difficult collage maker tools to navigate, but it does offer dozens of ready-made templates (both static and animated) for all kinds of occasions. You can customise the templates or create your own from scratch, then add photos, GIFs, videos and even stickers to your designs, and finish the whole thing off with some text. 
Kinoa membership also includes access to a movie maker and photo editor, so you can accomplish any number of creative tasks from inside the browser.
12. FotoJet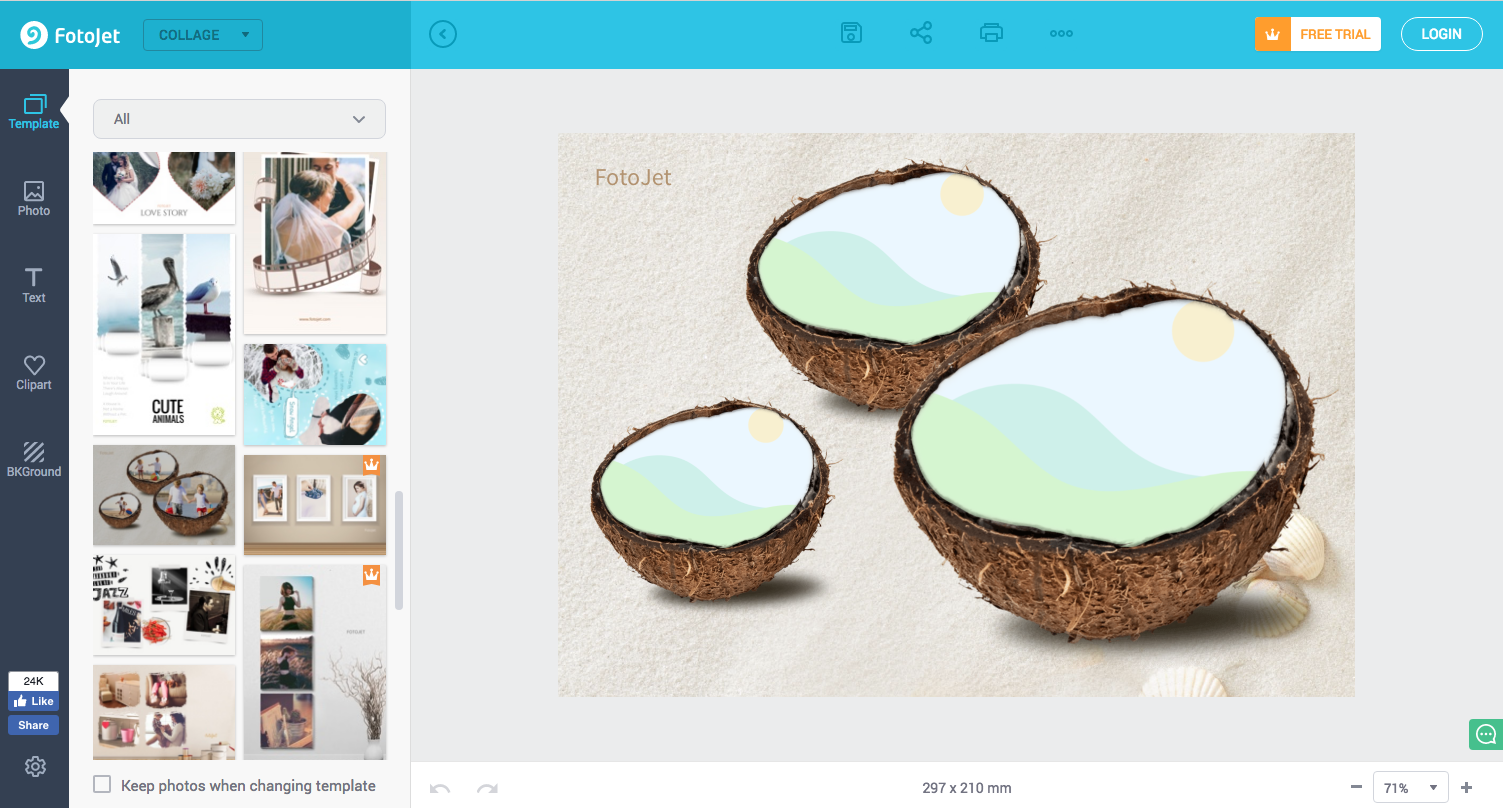 Pearlmountain's FotoJet is a free online collage maker that enables you to create collages, photo cards, posters, Facebook covers, Twitter headers, YouTube banners, fun photos and more. There are hundreds of templates for you to work with, including some of the most creative designs we've seen so far – such as this one, where you can add images into coconuts. The paid Plus option offers a much wider range of resources to work with.
13. PicMonkey Collage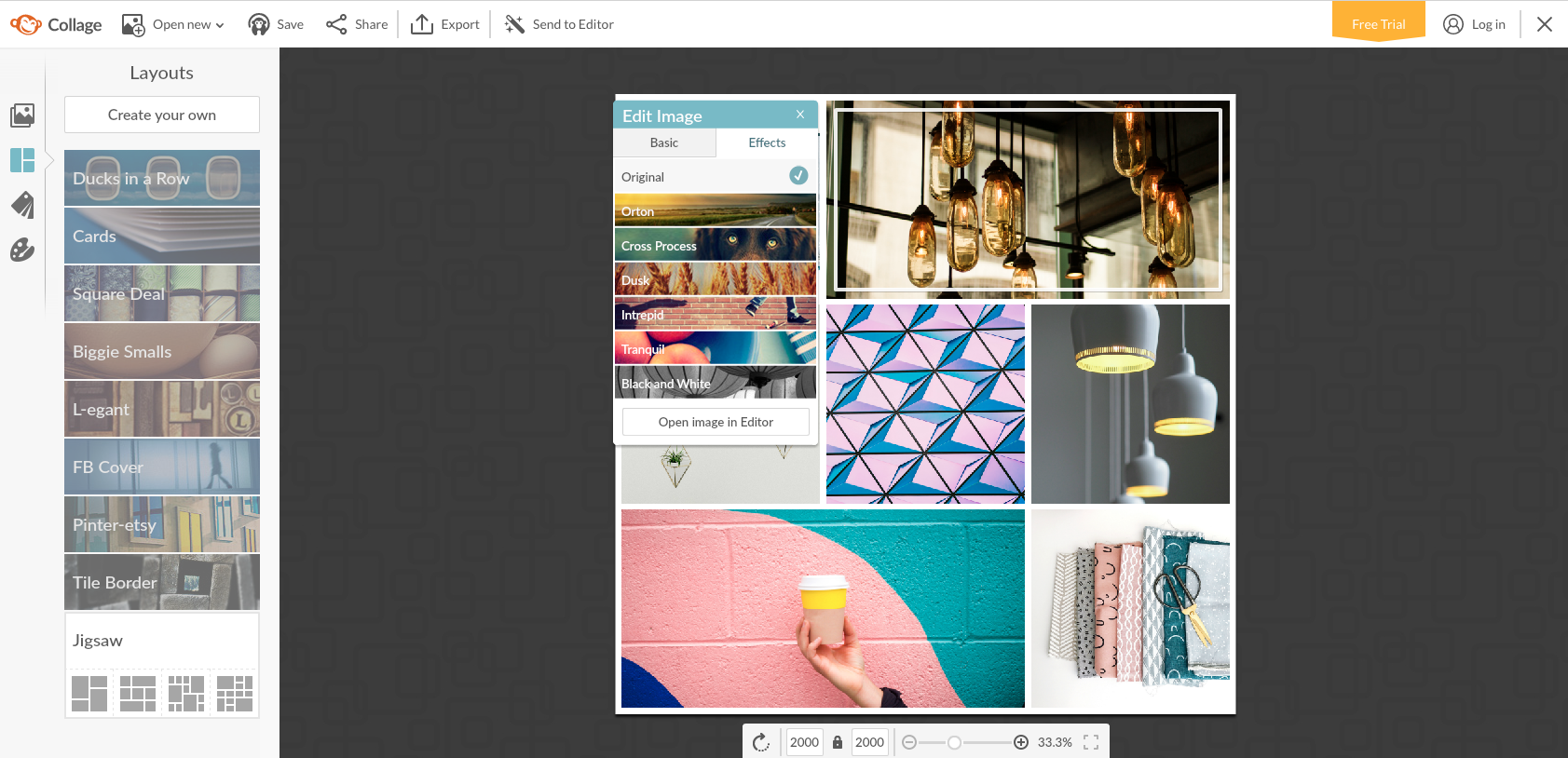 Part of the PicMonkey suite – a web app that also offers image editing, touch-up and design tools – PicMonkey collage maker is a fast and powerful way to organise your images into attractive shapes. Import images from your computer or connect to online services such as Facebook, OneDrive, Dropbox and Flickr. You can fine-tune your collage by adjusting the zoom and placement of your images, and add filters. 'Supremium' users also have access to advanced touch-up tools.
This was once a free online collage maker, but you now need to subscribe to PicMonkey to download your design. There are three different plans available, depending on your needs. However, you can design your collage for free, and there is a week-long free trial available, which is worth exploring before you shell out.
14. PicCollage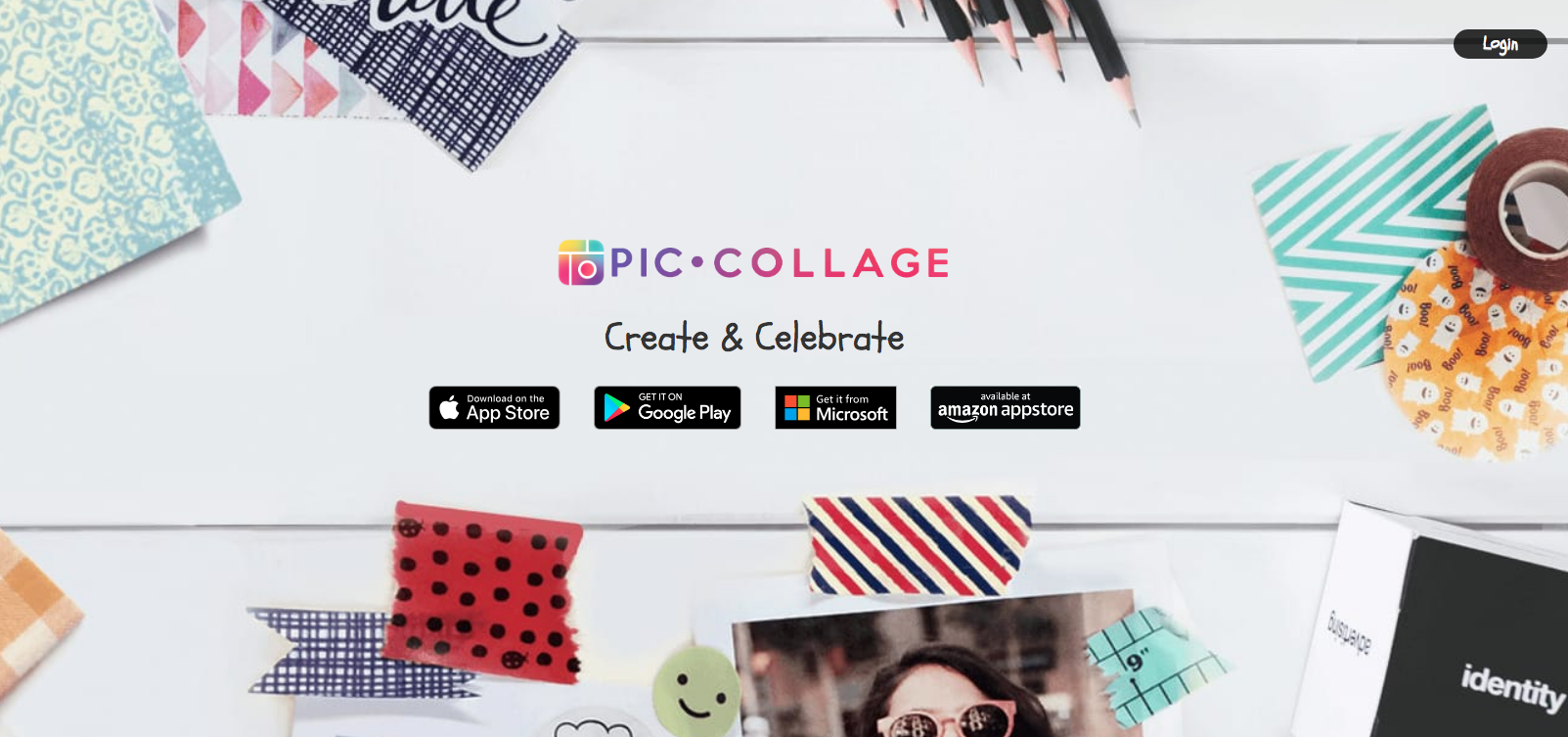 Collage maker app PicCollage is crammed with features to help you create impressive collages from photos, GIFs and videos. Choose from a portrait canvas or a square one (ideal for Instagram fans), pick from over 60 templates, and clip images with your finger. There's a face detection template in case you want to add things like party hats to your friends, and you can share your creations to Instagram, Facebook, Twitter, SMS, email, and more.
15. Layout from Instagram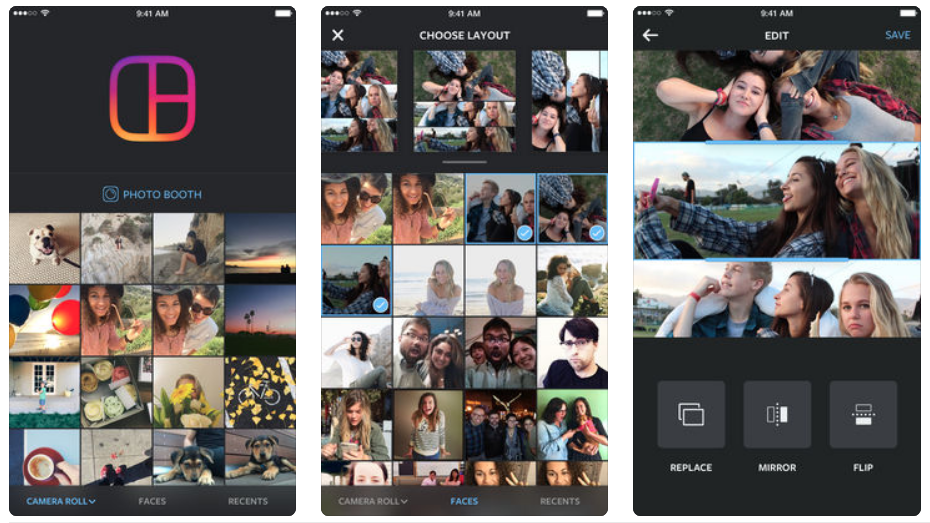 Instagram's Layout app is designed to help people create collages of their images and share their creations on social media. Layout lets you select and rearrange images by dragging and dropping, and you can also control the size of images by pinching, or tap to mirror or flip them. 
This collage maker app includes a built-in Photo Booth that you can use to take spur-of-the-moment shots, and instantly see them laid out in various combinations. When you're done, you can easily save, and share your collage across your social media networks. It's very highly rated on both the App Store and Google Play, so you can be confident you're getting a quality product.
16. PhotoVideoCollage Pro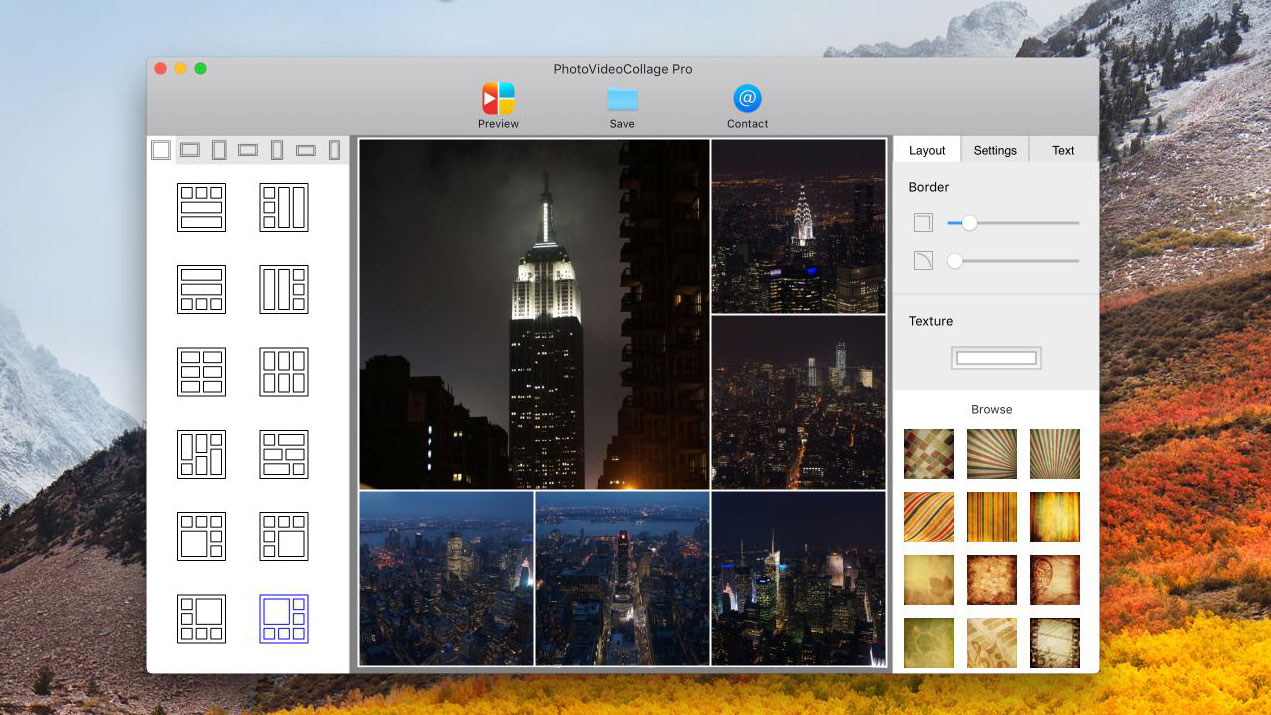 PhotoVideoCollage brings the classic photo collage to the next level. Not only can users add photos but also videos and soundtracks of their favourite music.
The user can select a layout template from a multitude of presets, add photos and videos to the layout and adjust additional settings like border width, curvature, colour and texture. The placement of the photos and videos inside the collage can be easily changed via drag and drop.
Related articles:
The best new web design tools of 2019 so far
Stay up to date with these must-have tools.
The world of the web moves quickly, and keeping up to date with new web design tools can often be a job in itself; no-one wants to be using old tools and techniques when there are new ones available that make your life easier and enable you to implement the latest techniques in your builds.
To help you ensure that your workflow's up to date, here's a selection of some of the best new web design tools we've seen so far this year, covering everything from CSS animation and accessibility through to colour management and dealing with user feedback, and many of them are completely free to use!
01. CSSFX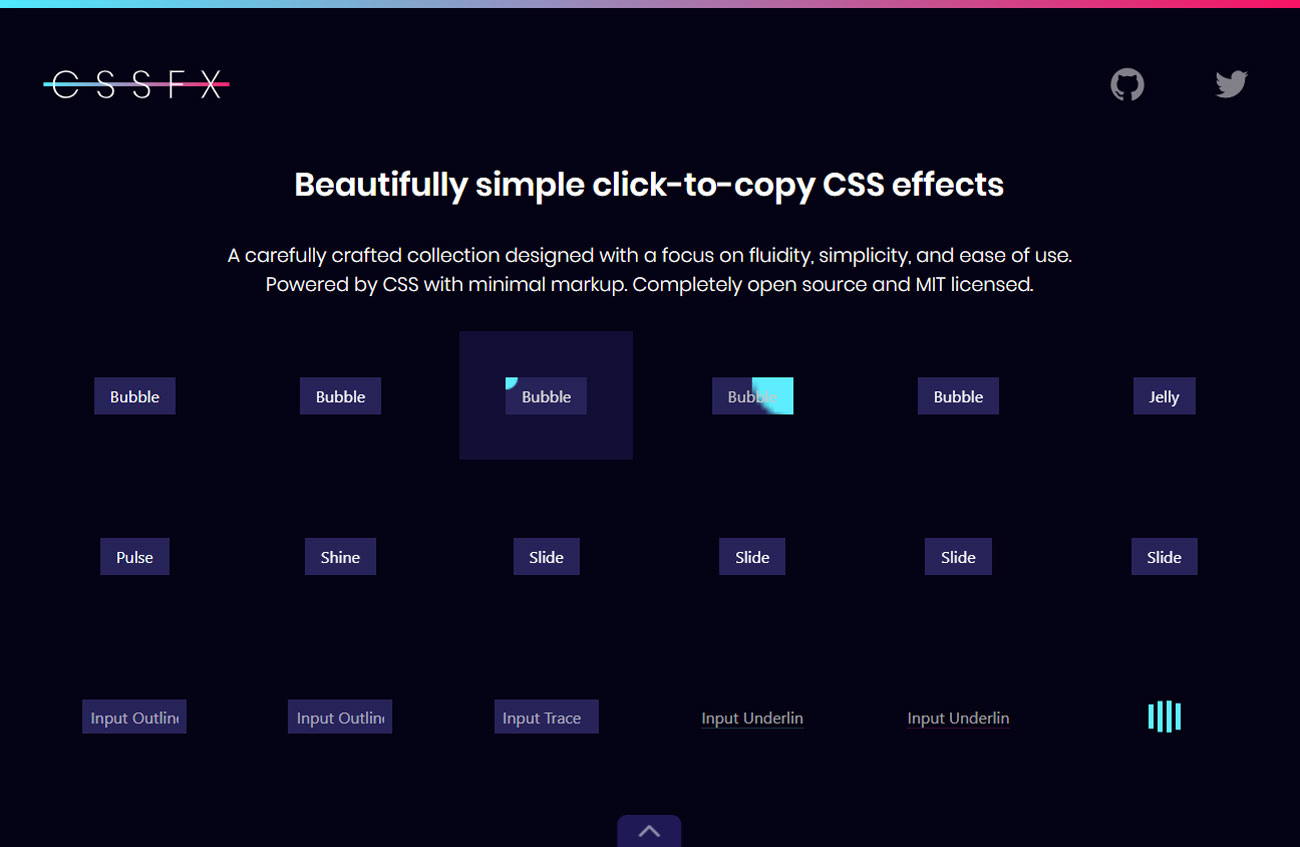 A little bit of movement on your website is a great way to draw the visitor's eye to important interaction and make navigation easier, and here's an easy way to implement it. CSSFX features a collection of open source animations that provide visual feedback when users click or hover over elements; simply select the ones you need and the CSS is automatically copied for you.
02. Humane by Design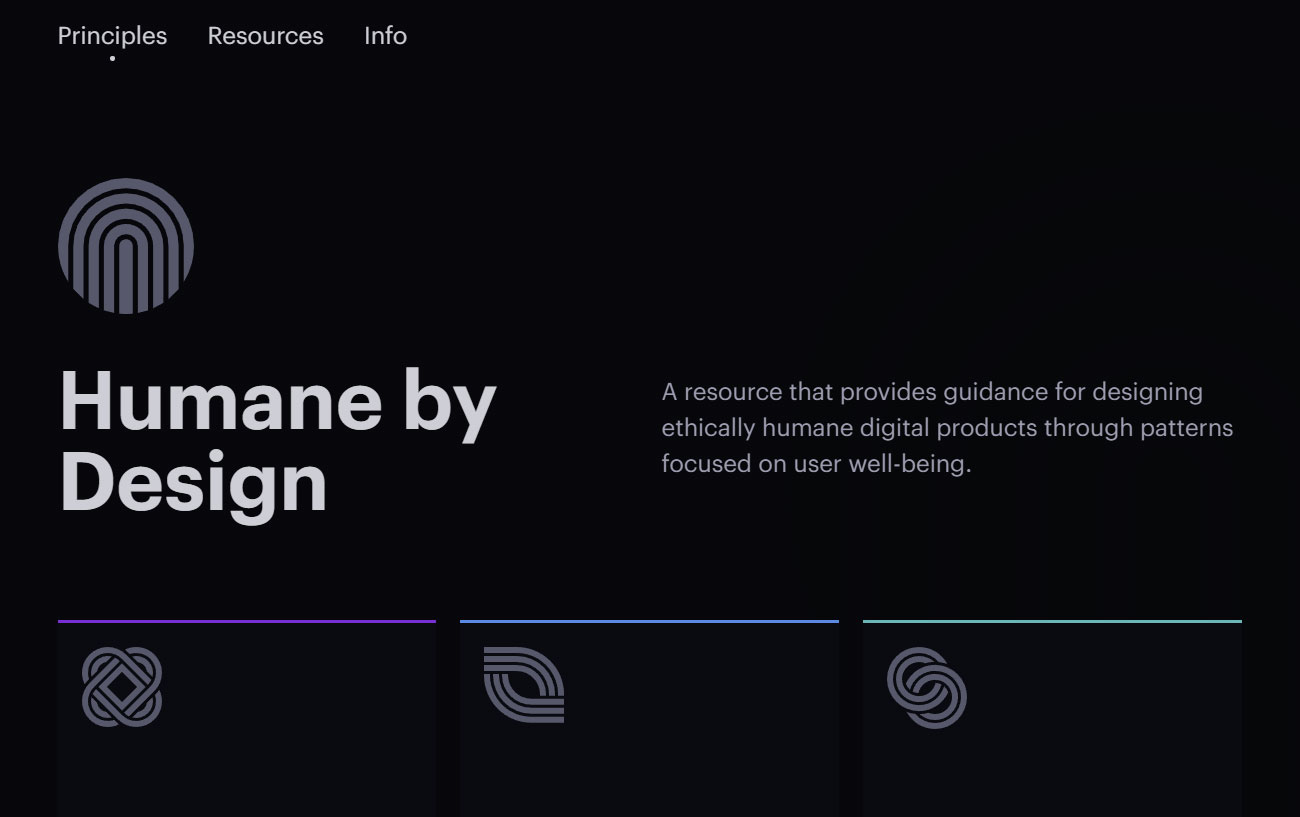 Ever felt that you're being manipulated by mobile apps? Often they're designed specifically to be addictive, to exploit psychological vulnerabilities through dark patterns, and to monetise our personal information, and Humane by Design, created by product designer Jon Yablonski, is a resource that aims to combat this. It provides guidance on creating ethically humane digital products that put people first and encourage healthy user behaviours; why not be one of the good guys?
03. Accessibility Insights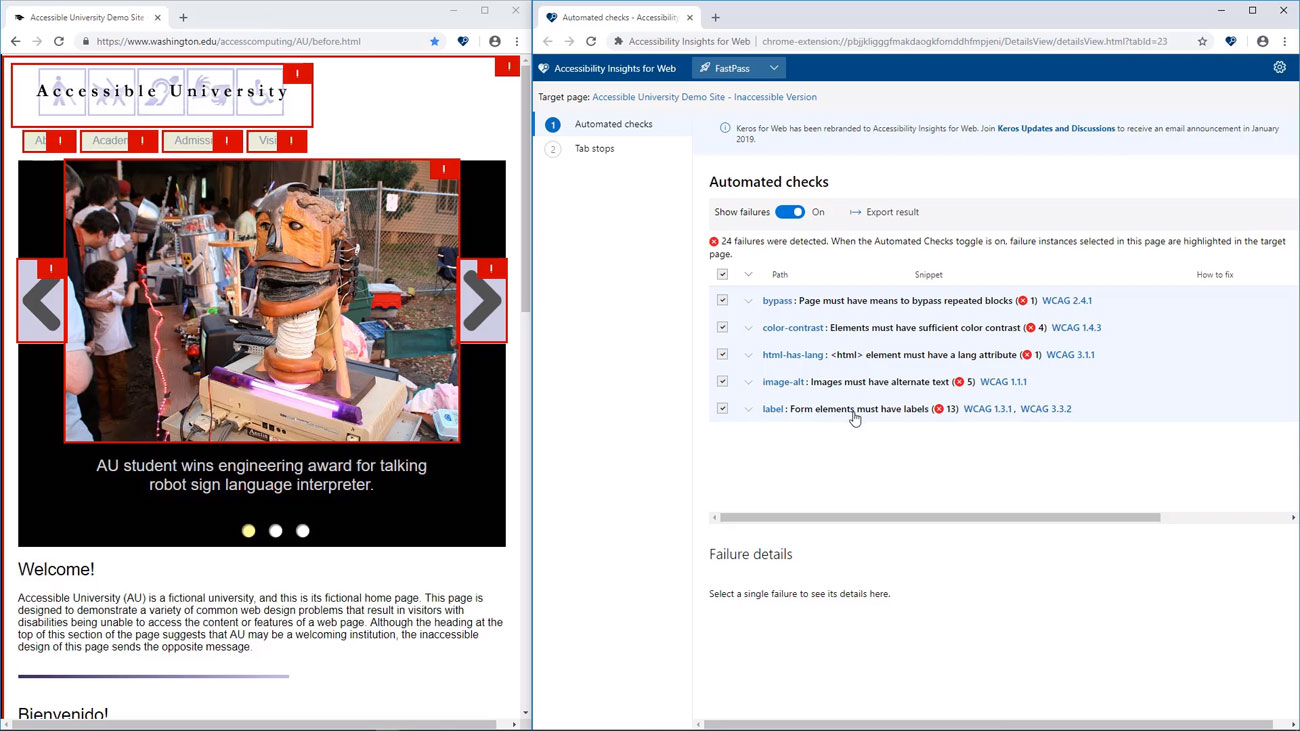 Accessibility is one of those things that everyone agrees is a vital element of good web design, but which many designers leave until the last minute. Accessibility Insights, a Chrome extension and Windows app from Microsoft, makes it easy to identify and fix accessibility fails on your sites, with a quick check that'll point out the most common problems in seconds, and an in-depth audit to help you make your site WCAG 2.0 Level AA compliant. 
04. Absurd Design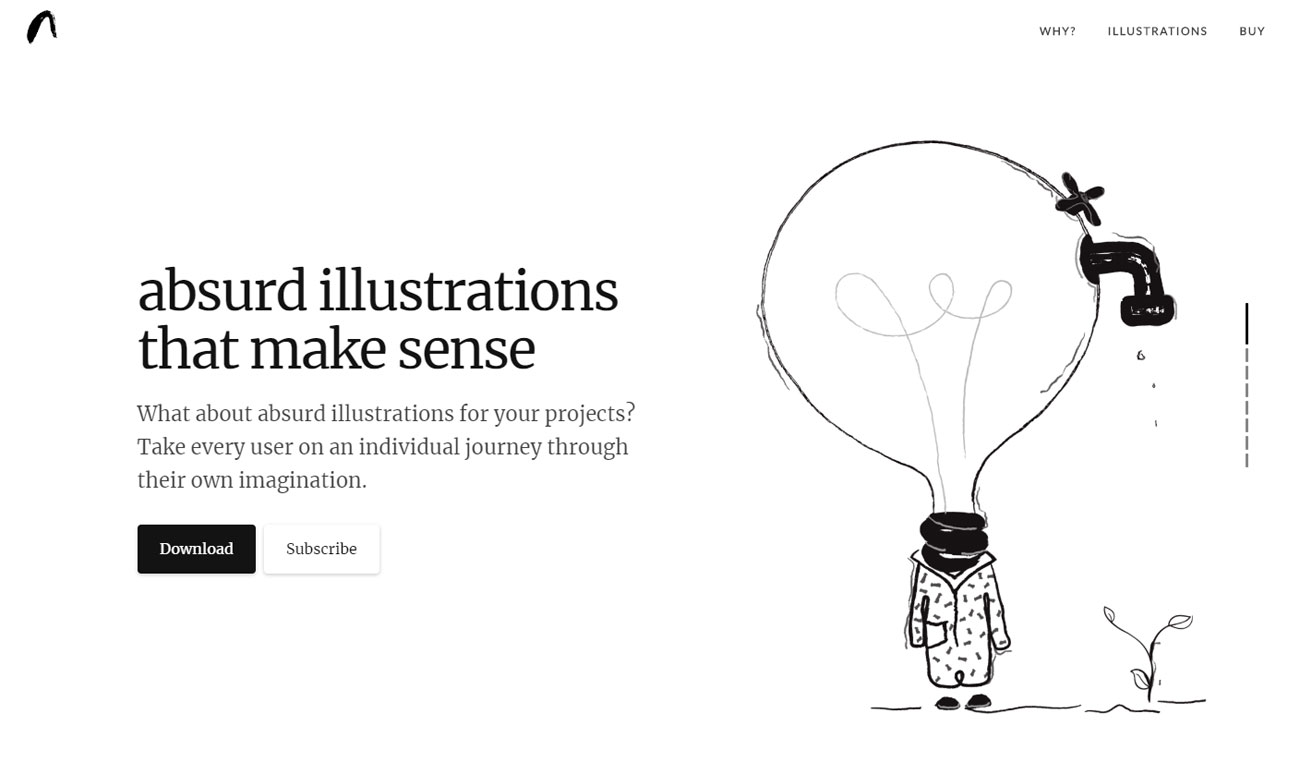 Illustration is a popular way to give a landing page a bit of visual interest, but it often ends up being groups of colourful cartoon figures doing stuff that sort of reflects the company's product or service. If you want something a bit different, Absurd Design is the place to go; it has a whole load of fantastic-looking free-to-use images, and they're all wonderfully whimsical and utterly surreal.
05. Social Sizes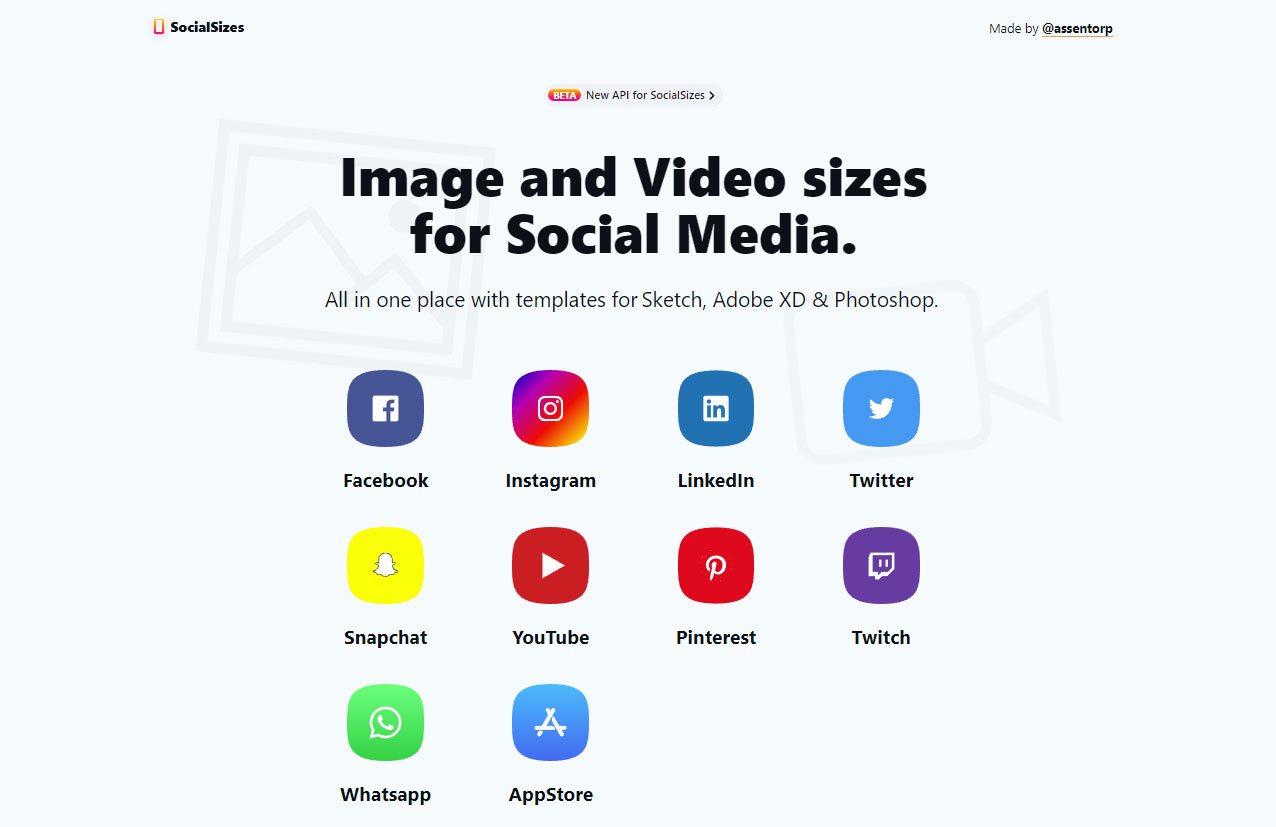 Getting images and video the right size can be hard enough when you just work with one CMS, but once you throw in social media things can get really complicated, so keep Social Sizes bookmarked to make your life easier. It contains image and video templates for Sketch, Photoshop and Adobe XD that'll help you get things right across all of the right major social sites: Facebook, Instagram, LinkedIn, Twitter, Snapchat, YouTube, Pinterest and Twitch.
06. Colour Harmonies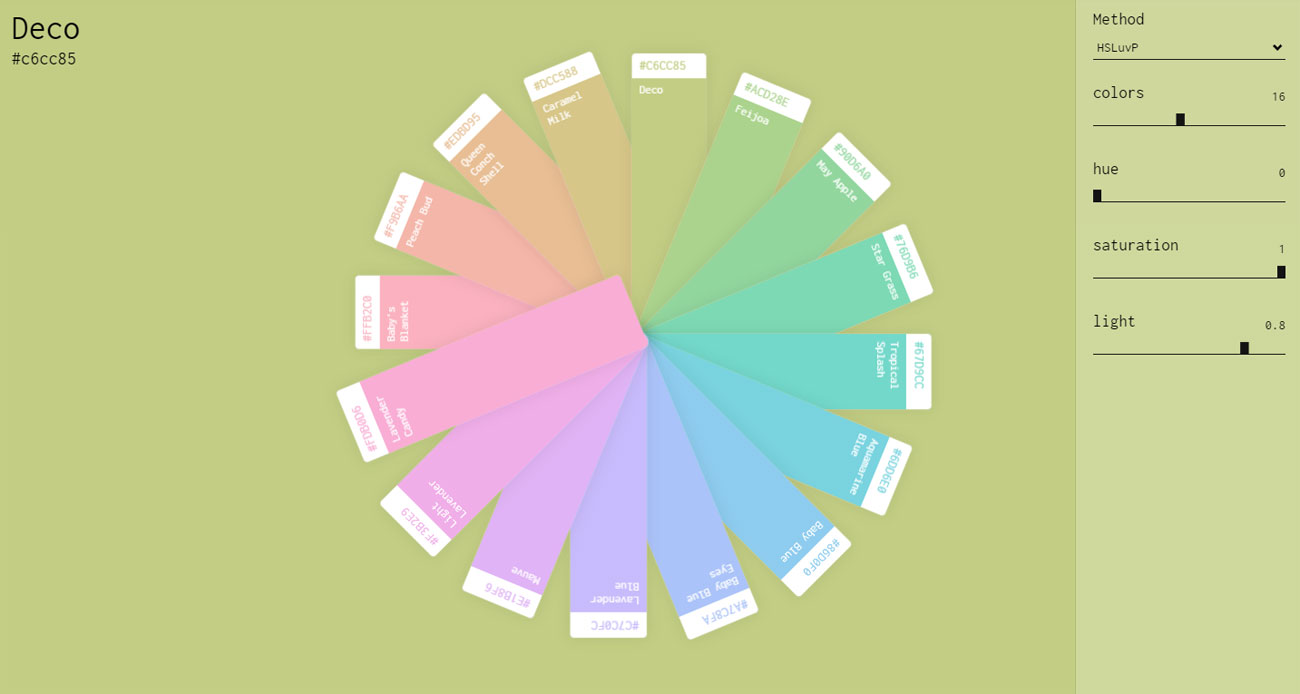 If you're in search of the perfect colour palette for a new site, Colour Harmonies is a fun way to find eye-catching combinations that you might not have considered. It's styled like a set of paint colour swatches, and by playing with the various sliders you can create well-matched palettes of all sizes and see how well they fit with each other. Once you find a combo that you like, you can simply copy the hex values and you're good to go.
07. Velocity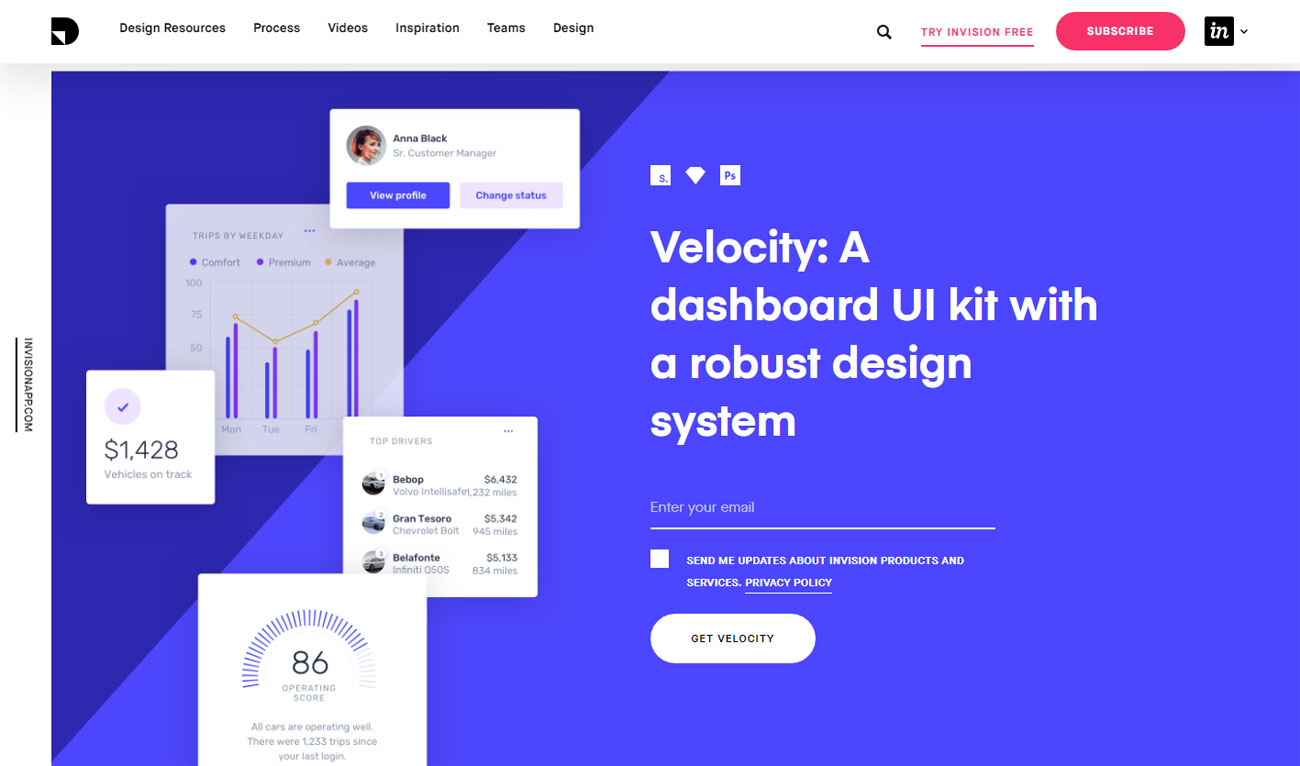 Creating a whole design system from scratch is a daunting prospect even for the most seasoned designer, but with Velocity the whole process can feel a lot more manageable. It's a combined design system and UI kit that works with InVision Studio, Sketch and Photoshop, and features 30 screens covering all manner of common app functions in small, medium and large sizes. With over 300 UI elements and 70 components to play with, it's an excellent way to approach building an app.
08. Nolt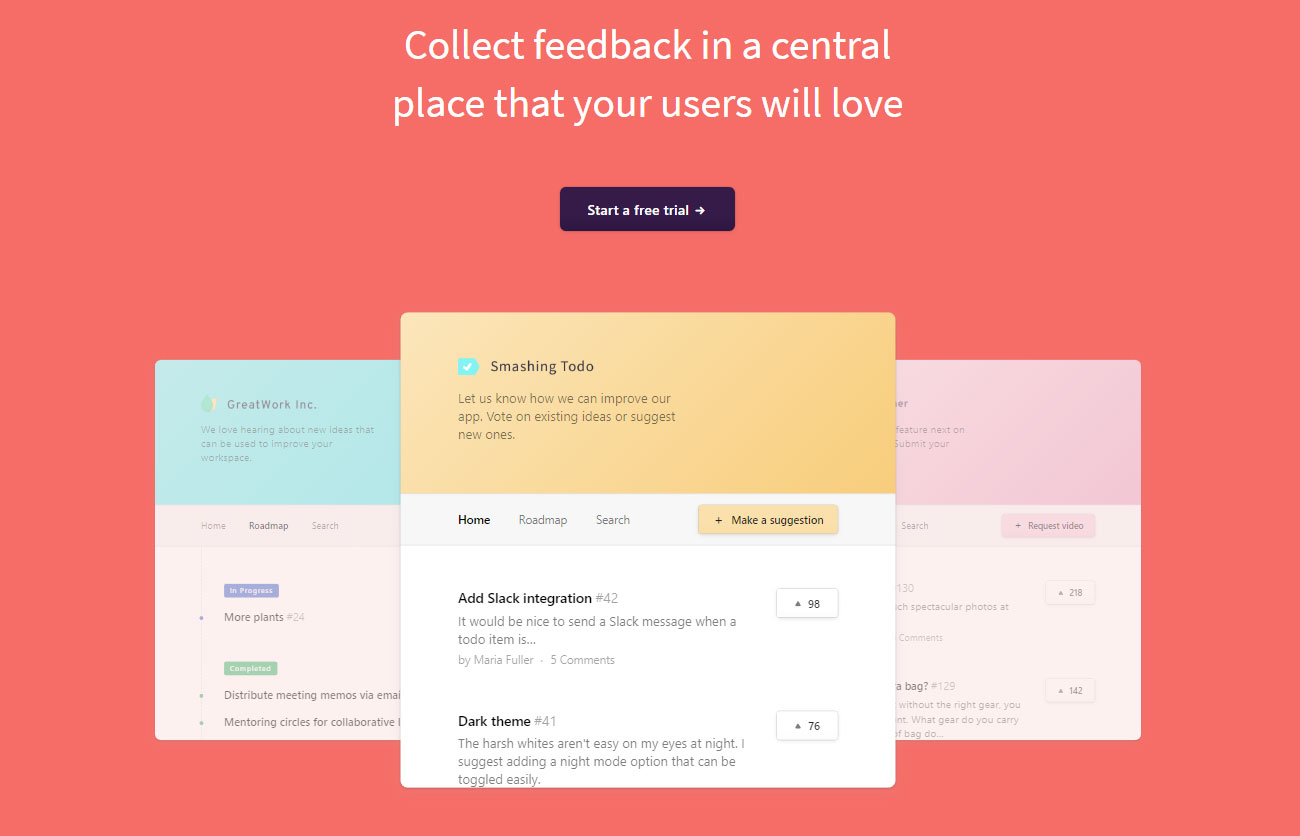 User feedback can be a vital element in ensuring that your build does all the right things, but actually collecting and managing that feedback effectively can be a task in itself. Nolt provides a great way of handling it; it integrates with tools such as Slack, Jira and Trello, and enables users to leave anonymous suggestions that others can vote and comment on, while allowing you keep your users up to date on how updates are progressing.
09. CodeTalks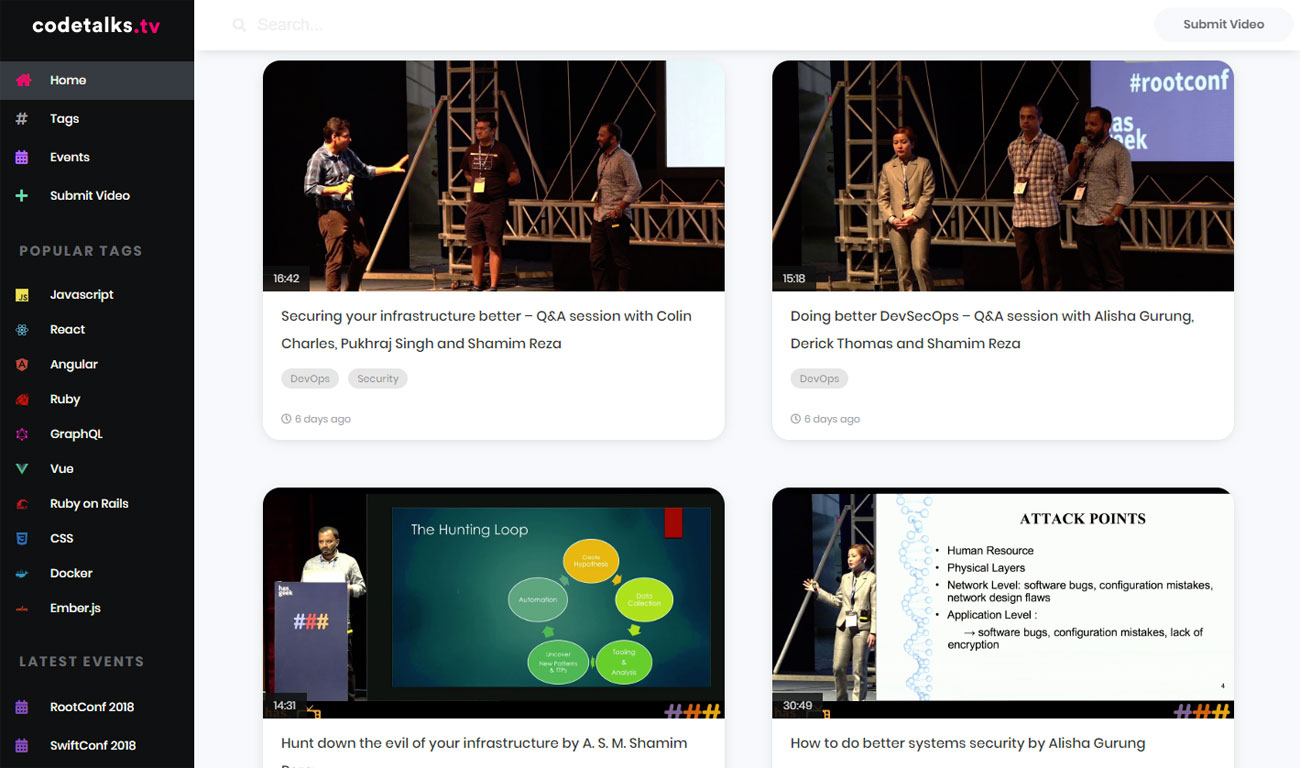 There's nothing like a good conference to bring you up to speed on the latest trends and techniques in web design and development, but it's not always convenient to attend. At CodeTalks, however, you can catch up with all those great conference keynotes that you missed – or get a refresher on the ones you did see but forgot to take notes. All of them are arranged by event and topic, and there's a full list of categories to make it easy to find a talk on the subject you need to know about.
10. Verifier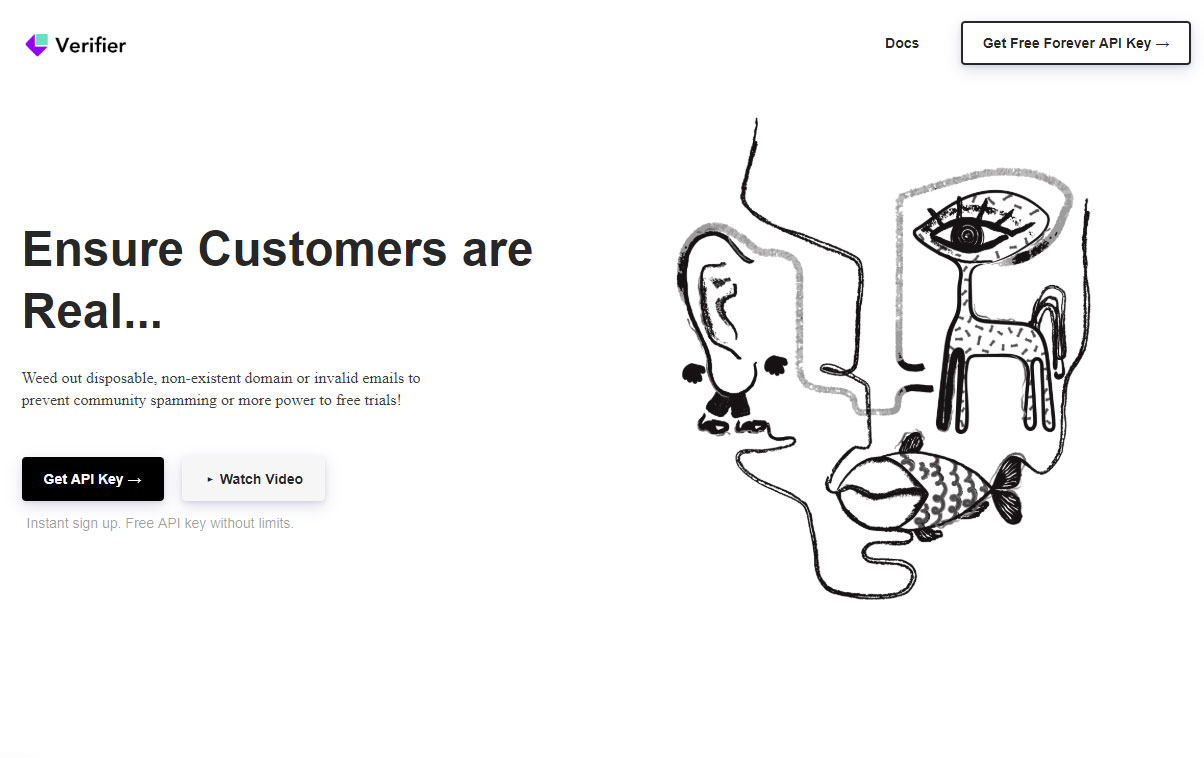 It's great to get loads of people to sign up for your product or service, but it's not so great if you get inundated with sign-ups done with fake or disposable email addresses. With Verifier, though, you can eliminate most of these at the sign-up phase; it checks against a list of 18,000 disposable domains, and will also check that the address's domain is valid and actually exists.
Related articles:
Boost your productivity with these simple lifestyle changes
Bestselling author Tim Ferriss shares his insights.
Have you ever wished you had more hours in a day? Or that you could be more productive so that you would have more time to be creative? In this one-of-a-kind exercise, Tim Ferriss, bestselling author of recent New York Times' number one bestseller Tools of Titans and The 4-Hour Workweek, uncovers the little changes you can make that will help create better habits and routines in your life. 
Tim Ferriss was listed as one of Fast Company's 'Most Innovative Business People' as well as Forbes Magazine's Names You Need to Know. He is also listed as the seventh 'most powerful' personality on Newsweek's Digital 100 Power Index – so you can bet Ferriss knows a thing or two about being productive and efficient. This exercise claims to help you become 10 times more productive – and comes straight from the horse's mouth.
How Billionaires, Icons, and World-Class Performers Master Productivity with Tim Ferriss is yours for $19.99.
Related articles: