Subscribe

to Creative Blog The best budget camera phones in 2020

Boost your creative abilities with the best budget camera phones around right now.

What is the best budget camera phone you can buy? One question, lots to consider. For starters, what constitutes a good budget camera phone? Is the defining factor great value for money? Or, are we talking about the very best cameras around under a certain price tag? What about the rest of the phone – if it's a bit of a dud when it comes to speed and battery, but has a great camera, should it still be on our list?

In our opinion, a budget phone can climb up to the £399/$499 mark. We know, that's not bargain basement pricing, but when you're paying way over £1,000/$1,200 for a new iPhone, it's still comparatively affordable. If you need something cheaper - we also cover smartphones that cost under £200, like the excellent Redmi Note 8T, which could be the very best value phone you can buy right now, so there should be something on this list for everyone. For those with endless budgets, our round-up of the absolute best camera phones will be more for you.




Our priority with this list is to cut through the noise. Smartphone camera tech is confusing, and is developing at lightning fast pace. 2020 is the year huge pixel counts land on budget devices. Many of the phones in our list, like the Nokia 7.2, feature Sony's 48MP sensor. This squashes four pixels into one, producing 12MP images with richer tones and better low light performance – though the additional cameras around the back of each phone will be different.

Right now, we think the best budget camera phone is the simple Google Pixel 3A, with its no-fuss single camera setup. While it doesn't offer the zoom phones like the Oppo Reno 2, for example, it manages to do the basics very well indeed. 

Below you can find our full run down of the best budget camera phones for 2020, so whether you're a film maker on a budget, a photographer on the go or someone who just wants to take stunning snaps without leaving a huge dent in your finances, this is the place to find your next phone.
The best budget camera phones you can buy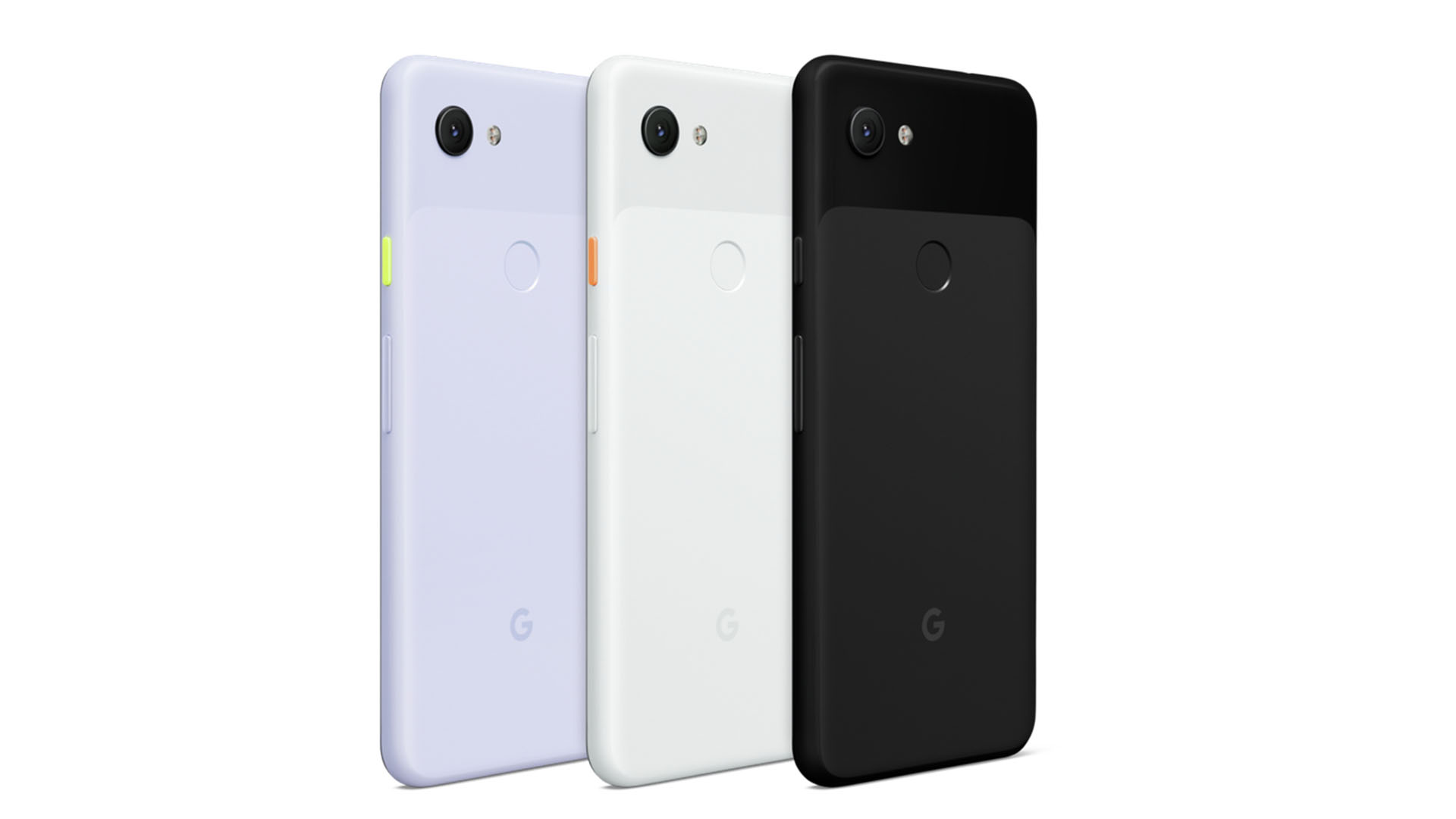 Google's expensive flagship, the Pixel 4 hits the mark with its camera, but falls short in several other critical areas. Meanwhile, the more affordable Pixel 3A is an across-the-board midrange champ, with a virtually identical camera to the pricier Pixel 3 and Pixel 3 XL, a punchy OLED screen and a sleek, simple design.
It also features a great point and shoot camera with a range of practical modes that get the best from any situation. Take the phone's Night Sight feature; this takes a series of shots, composites them and makes the Pixel 3A a fantastic low light performer, helping this sub £300 can see in the dark and stand out from the crowd. The phone's Full HD video capture also looks good, and unlike some of the competition, photos and videos the Pixel 3A grabs have a beautifully balanced finish to them, not overly saturated or too high in contrast.
The rest of the phone is respectable too, with 64GB storage, stock Android 10 - the latest version of Google's mobile OS, and a nippy processor that should zip through everyday tasks relatively quickly. While this isn't a gaming champ or a spec beast, therefore, it's an across the board decent phone and a winner on the camera front.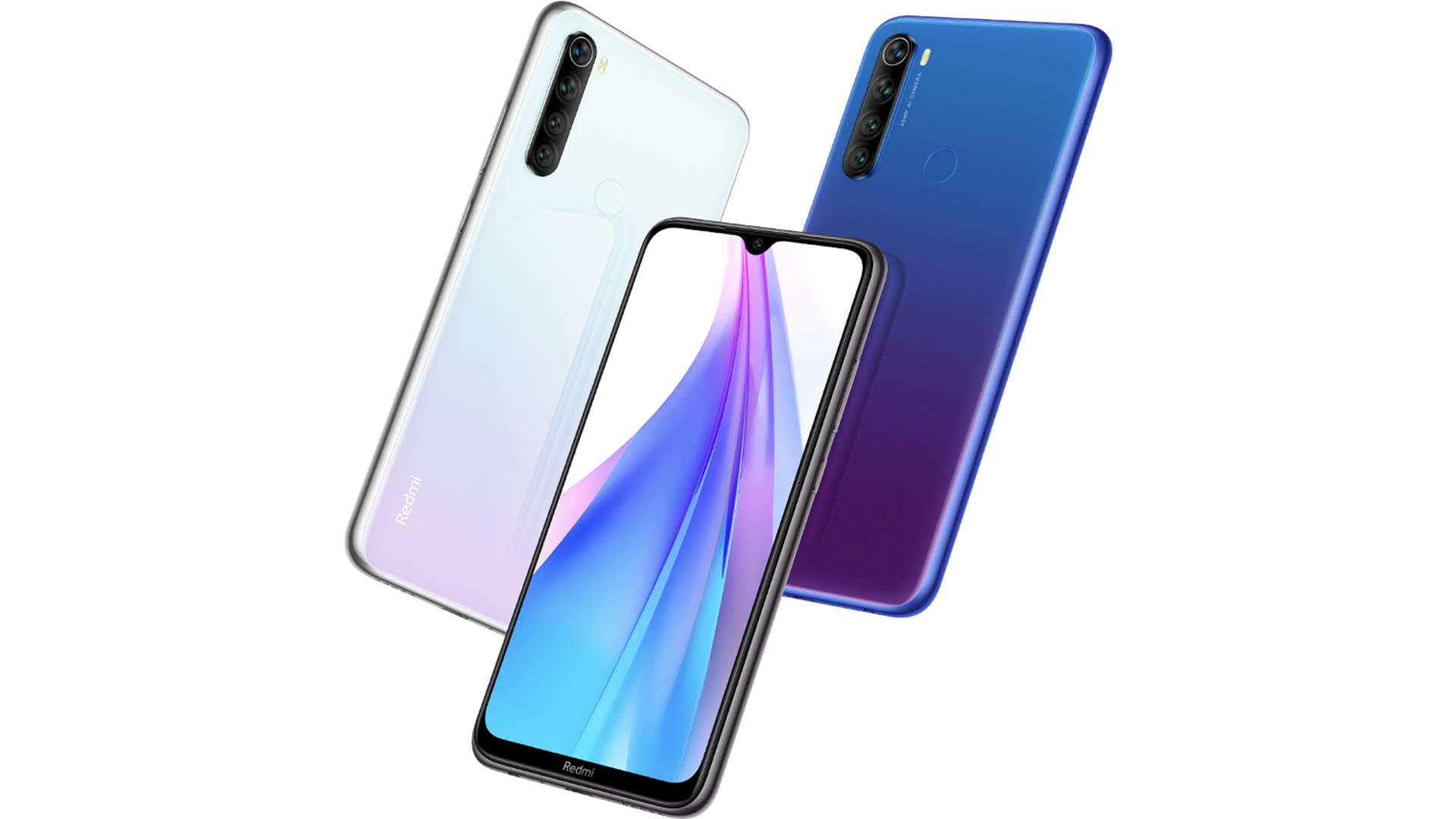 You may not have heard of Redmi, but don't let that put you off the Note 8T. The Redmi brand is owned by Chinese smartphone giant, Xiaomi, so it's anything but a small unknown entity. As for the phone itself, this incredibly affordable device manages to cram a suite of relatively top-tier features into what could be the best value smartphone you can buy.
Starting with that camera, and while most sub-£200 phones have one, maybe two snappers around the back, the Note 8T sports no less than four. These include a primary 48MP sensor for shots loaded with detail. There's also an ultra-wide camera for expansive landscapes, a macro camera for close-up photos, and if you dip into the settings, you'll find a tonne of shooting modes.
As for the rest of the phone, its glass front and back join forces with a big 6.3-inch, sharp screen for an almost iPhone 11 Pro Max sized footprint. With premium Gorilla Glass 5, it's scratch resistant too. There's also a big 4000mAh battery inside that will last a full day, and thanks to the 64GB storage and an SD card slot to bump that capacity, there's very little to complain about when it comes to the Redmi Note 8T.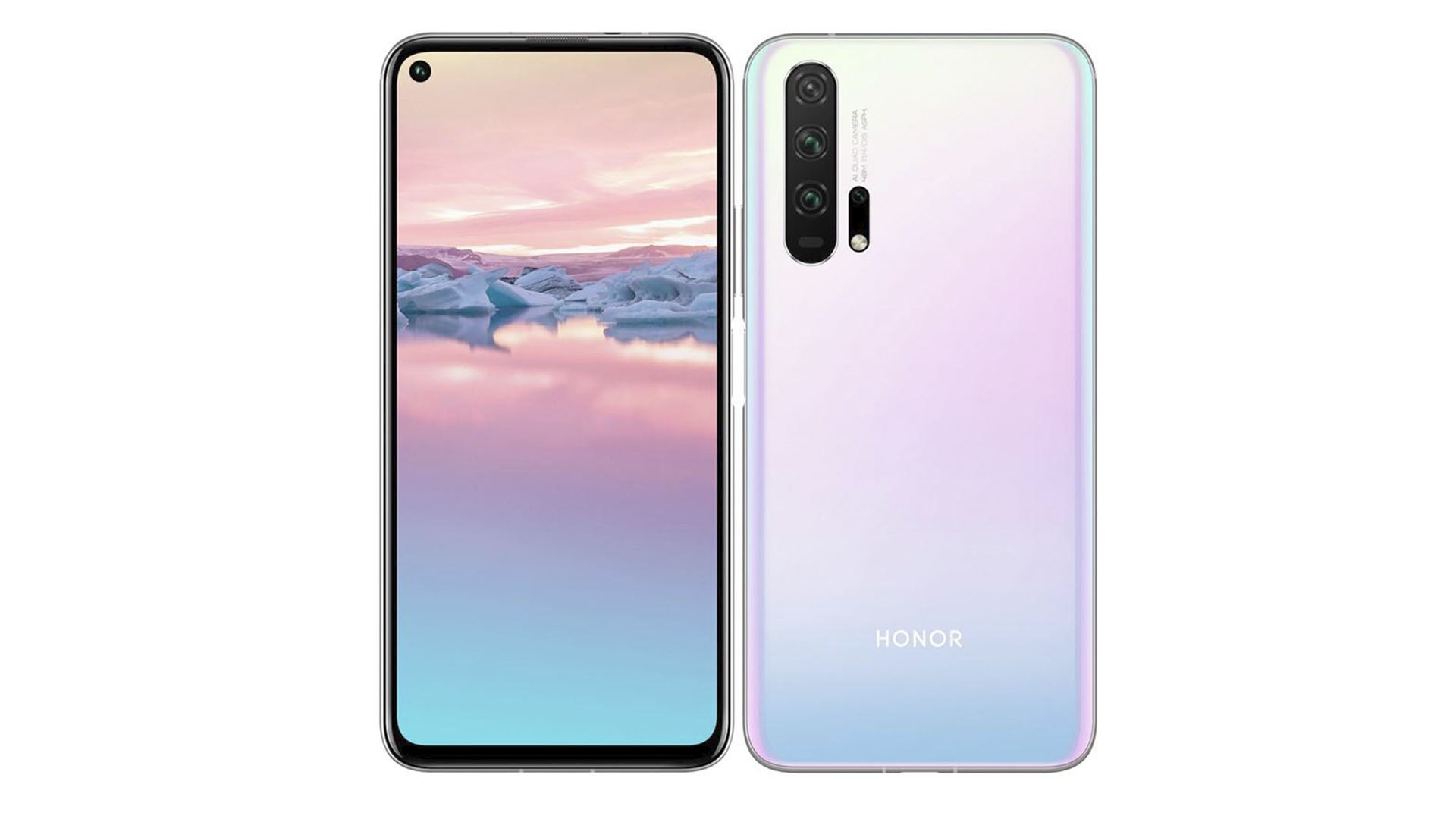 While it isn't available in the US, the excellent Honor 20 costs just £399 in the UK despite its flagship power and quad-camera setup. The phone's primary 48MP sensor is the same as the one found in the pricier OnePlus 7T Pro and Oppo Reno 10x zoom, it packs more zoom than an iPhone 11 Pro and it even features a 2MP dedicated macro camera.
Looks-wise, the Honor 20 Pro is a stunner, particularly in its Icelandic Frost colour, which features a purlesque gradient finish around the back, a very iPhone-esque buffed metal frame and an ergonomic side-mounted fingerprint scanner. 
Combined with Android, and in turn, excellent app support, a high-resolution 32MP punch-hole selfie camera and fantastic all-day battery life, not to mention tonnes of storage, the Honor 20 Pro is both an incredible value camera phone and a beauty to look at.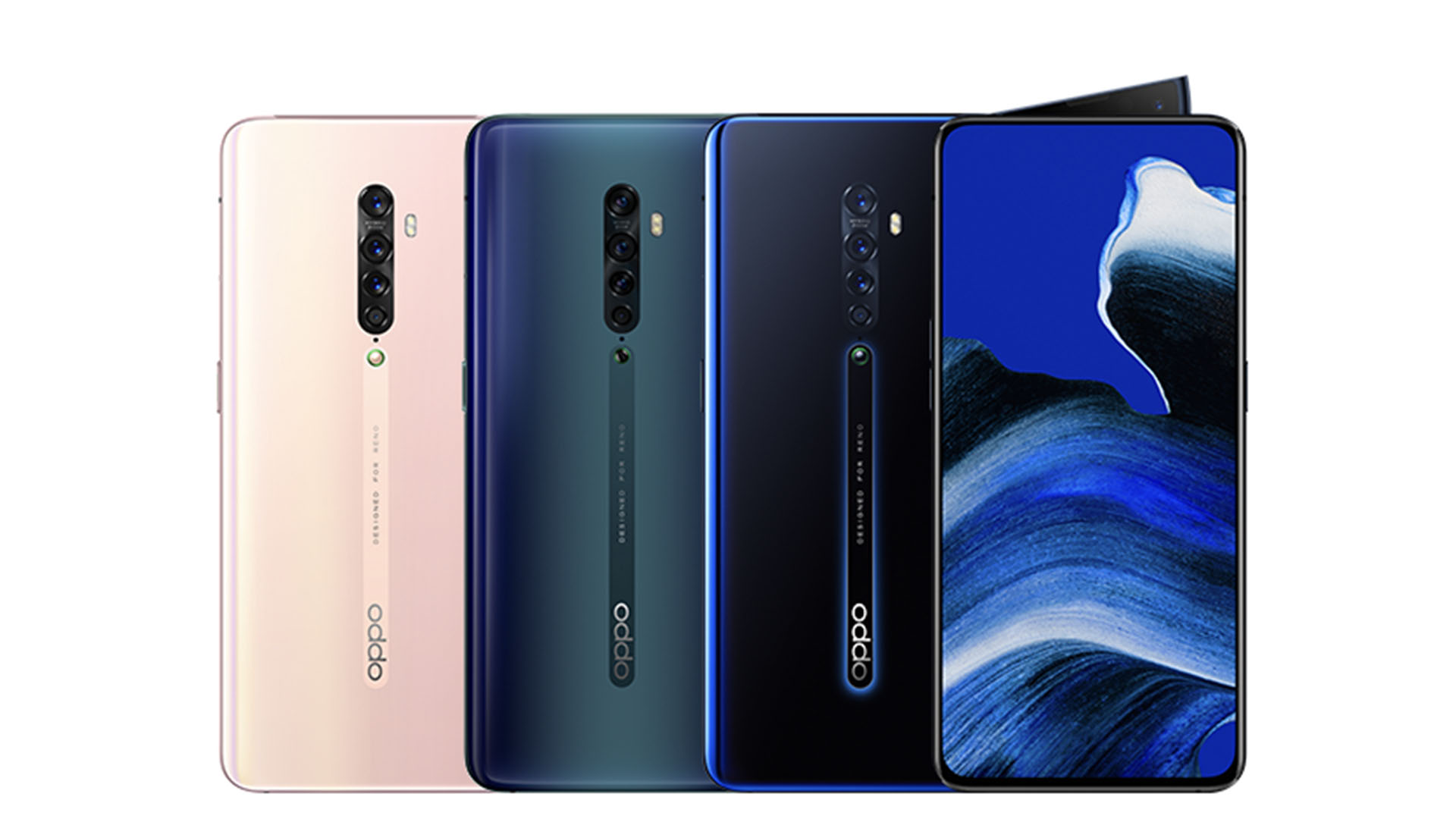 Symmetrical design, curved scratch proof glass around the back and an all-screen front make sure the Oppo Reno 2 feels sleek and refined. The phone's pop-up 'shark fin' camera adds to the unique style, and the Luminous Black, Ocean Blue, or Sunset Pink colour options all look premium.
Loaded up with no less than four cameras, the main sensor is Sony's tried and tested 48MP resolution module. It features a wide open aperture of f/1.7, so lets plenty of light in, and is matched with a 13MP 2x zoom camera, an 8MP ultra-wide camera, as well as a depth sensor, which enables more accurate background defocus than most. 
Not short of standout features, the Reno 2 sports a smart super-steady action camera video mode for those moments when you need a bit of extra stabilisation. There's also plenty of storage – 128GB, not to mention a microSD card slot, and with a 4000mAh battery, it really is one of the best premium midranger around, across the board.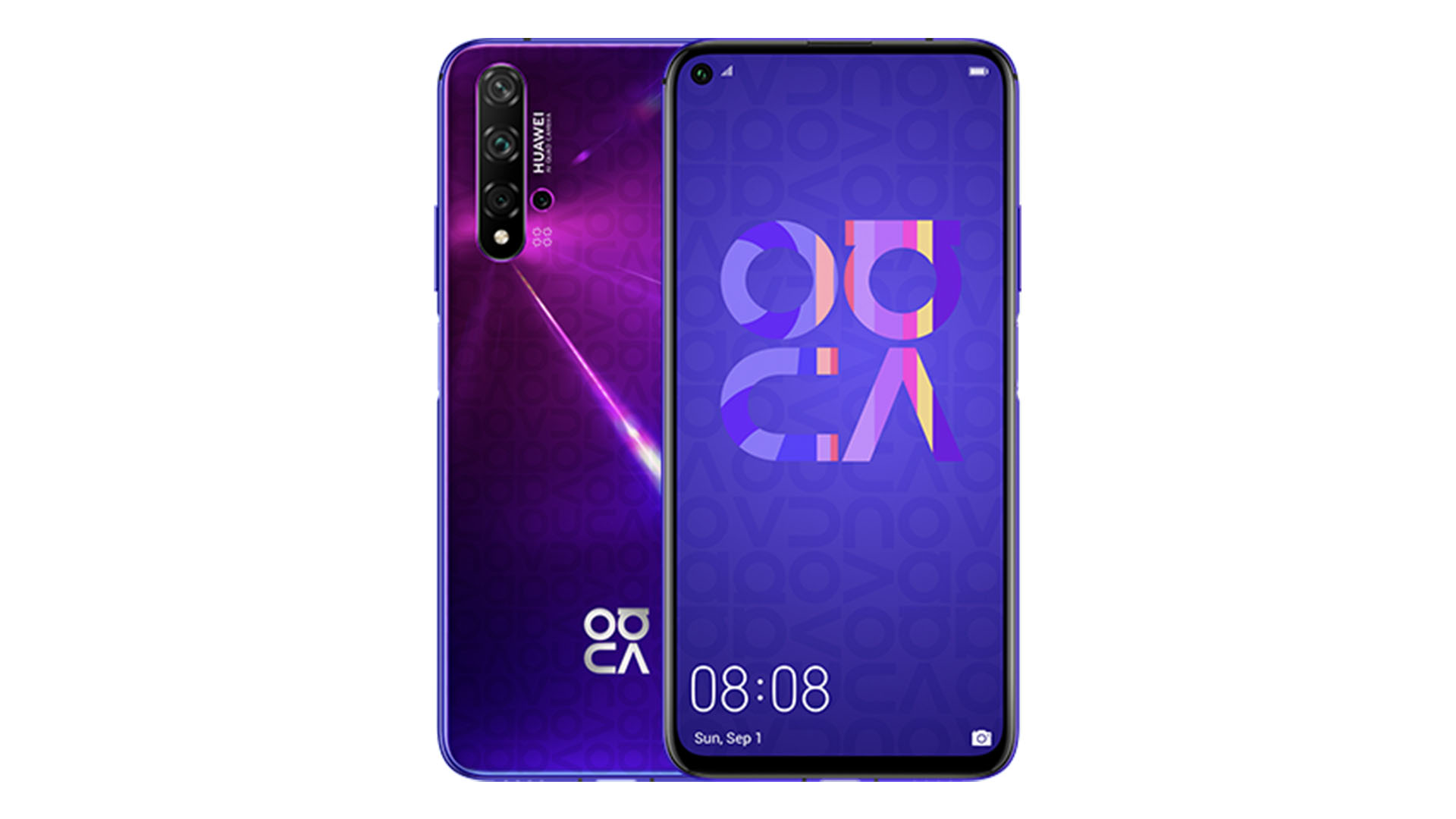 In a world in which a 6.26-inch smartphone is 'compact', the Nova 5T strikes a fantastic balance of pocketable and powerful. It's a sleek looking slice of phone, with sleek rounded sides, a metal frame and a flat back. The punch hole selfie camera makes for a full screen experience with small bezels, while the 5T's bright, punchy display shows off pictures and videos with panache.
Loaded up with no less than four cameras around the front and back, there's a total of 100MP on the Nova 5T's sensors. Huawei's phone also features amongst the best night mode found on any affordable smartphone, with exposure times extending to in excess of ten seconds. Steady the 5T on a surface and it can pull out detail even in the dead of night.
With a Kirin 980 processor, there's ample power inside to zip through 4K videos, play advanced 3D games and swipe and tap through multiple applications without the phone breaking a sweat. The 128GB storage inside is plenty for files, photos, movies and more, and thanks to an ample 3370mAh of power, its fast charging battery comfortably lasts a full day.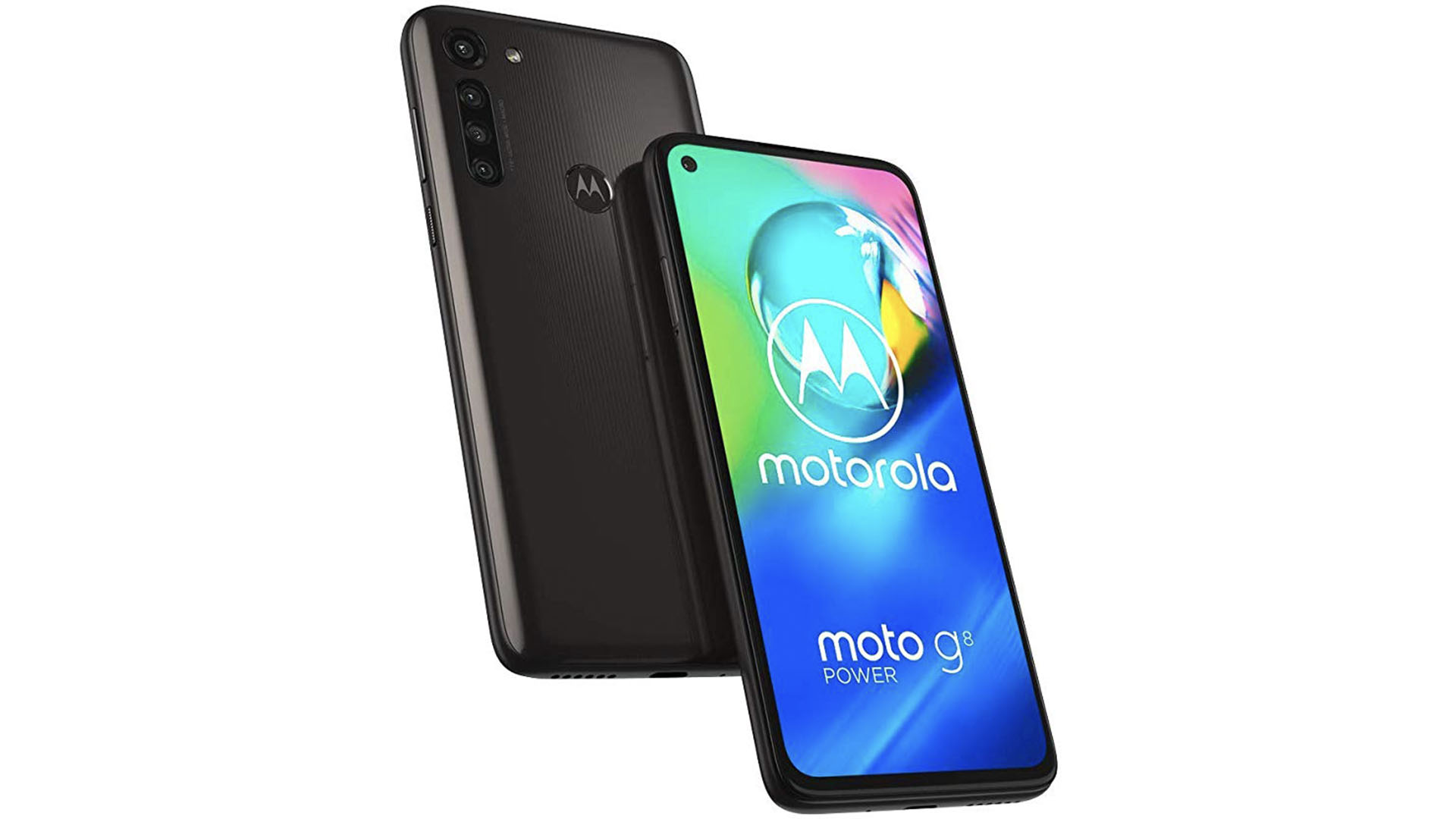 The Motorola G8 Power is a phone that lasts and lasts, despite the fact it costs a fraction of the price of popular flagships like the iPhone 11 or iPhone 11 Pro. It's got a punch hole camera and a Full HD screen for an immersive experience; and thanks to its nano-coated splash-proof design and 6000 series aluminium, it's nice and hardy too. 
As for the cameras, the G8 Power is remarkably comprehensive when it comes to focal lengths. Its main camera is 16MP and has AI scene recognition as well as a wide open f/1.7 aperture. Meanwhile, there are two 8MP cameras, one with 118-degree angle, and the other with a 2x zoom. Additionally, the phone's 2MP macro camera can take shots as close as 2.5cm away from a subject, perfect for textures, insects and other such intricately detailed objects. 
With competent midrange specs, Motorola has charged up the Power with a Qualcomm Snapdragon 665 processor coupled with an ample 64GB storage - all decent for the phone's price. Running Android 10, you get excellent app support as well, and a clean, stock looking interface.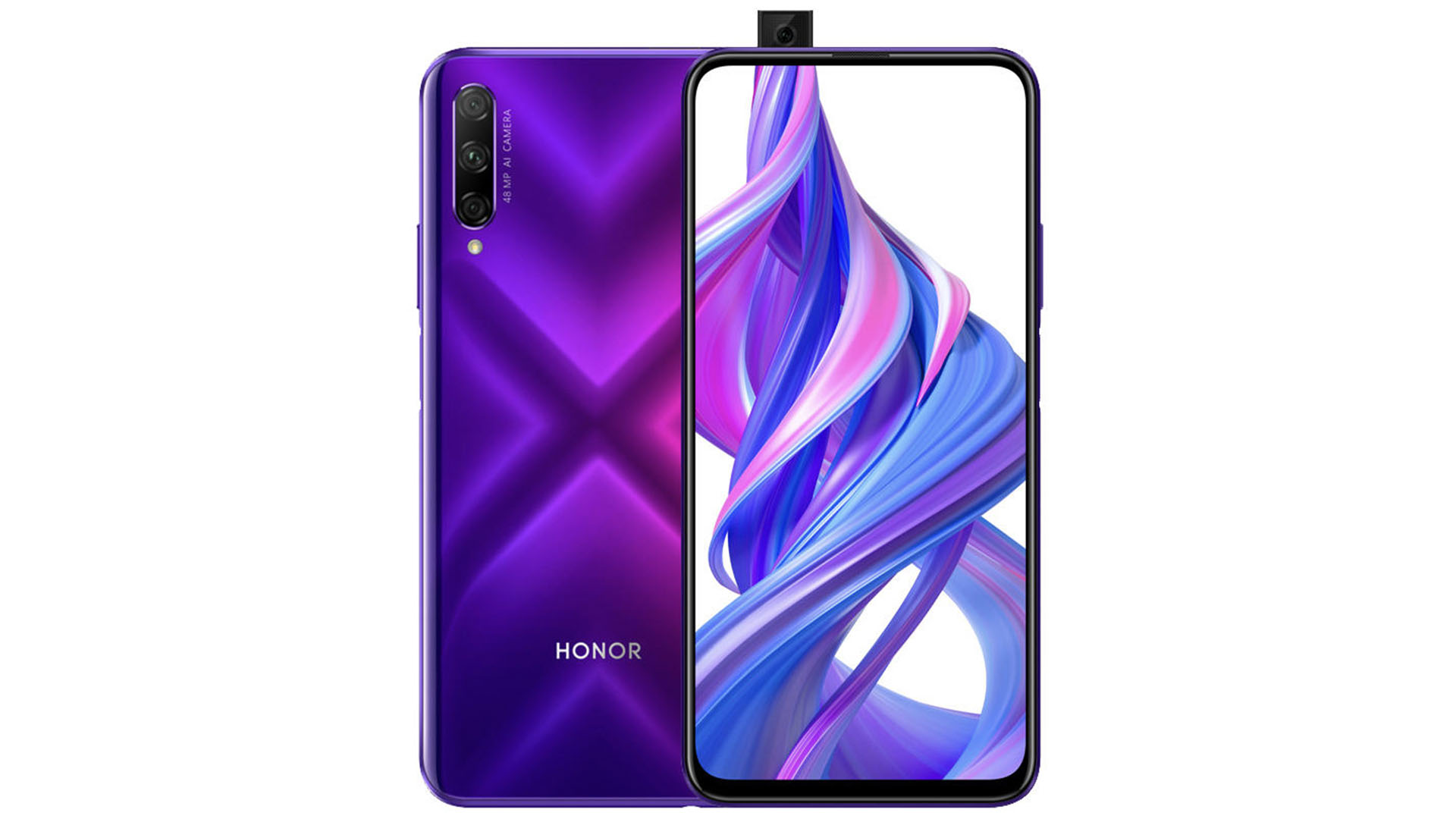 If you're looking for the biggest screen available for the smallest price, you can stop now. The attention grabbing Honor 9X has a huge, 6.59-inch display with almost no bezel - all made possible by that pop-up camera. This leaves the Honor 9X notch and punch hole free, despite it being one of the most affordable options on-test.
The 9X isn't just a big screen though. The triple camera combines a high-resolution primary sensor with a GoPro-style ultra-wide 8MP secondary cam. Add to the mix a 2MP depth sensor, and whether you're taking portrait shots with beautifully spangled bokeh, or firing up aperture mode photos, which let you change the focus point after the beat, it punches way above its weight. 
There are a few missing optional extras that highlight the Honor 9X's midrange nature. It can't capture 4K resolution video, for example. There's also no telephoto camera or NFC (for contactless payments). The 9X's processor also doesn't compete with some pricier phones like the Nova 5T or Oppo Reno 2. Still, what it does deliver - plenty of storage, a big battery and a striking look, ends up making it an incredibly easy phone to recommend for the price.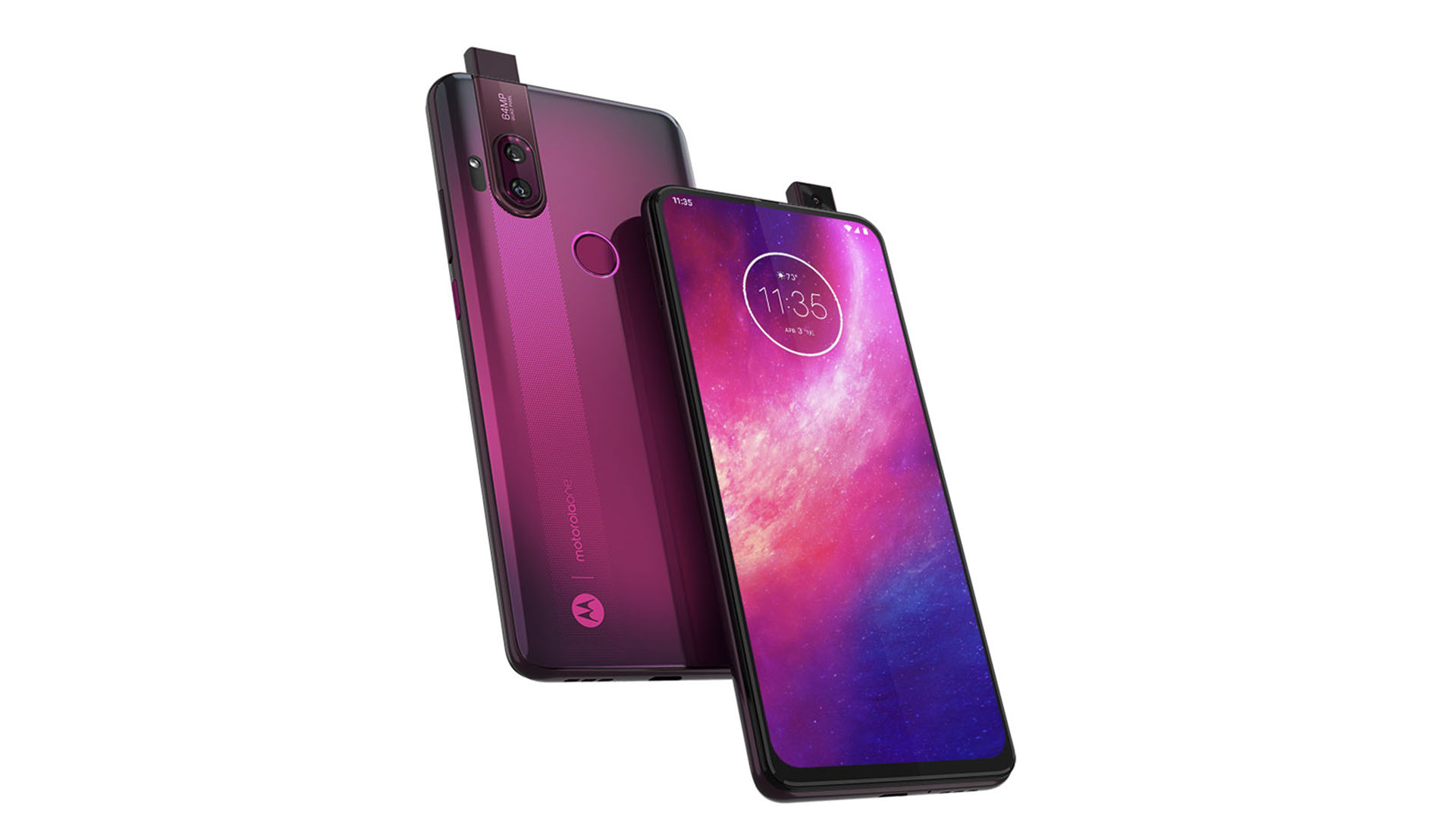 The Motorola One Hyper is the only budget smartphone around with a sky high 64MP sensor resolution. That means the photos it takes are sharp. That high resolution around the back extends to the front, with the phone's pop-up selfie camera sporting 32MP of detail – but don't worry, there's a beauty mode here too. Complete with background blur features, colour popping and video recording at up to 4K resolution, despite the fact there's no zoom camera on the Hyper, it's still a smashing camera phone for the price.
Before you even get to the camera though, it makes an impact, with its big, all-screen display. The phone's zingy, holographic finish is also novel, with an air of shell suits and Xanadu about it. Unlike pricier phones, the One Hyper ships with a case and a fast charger, and if you peek under the hood, you'll find a big, beefy battery that delivers day long power. 
The Motorola One Hyper also runs a clean version of Google's Android operating system, but with a twist, literally. Packing gesture support, twist your wrist quickly with the phone in your hand and the camera fires up. Give it a quick karate chop, and the flash light activates. All this comes together to ensure this affordable, all-screen phone ends up being incredibly charming and very capable.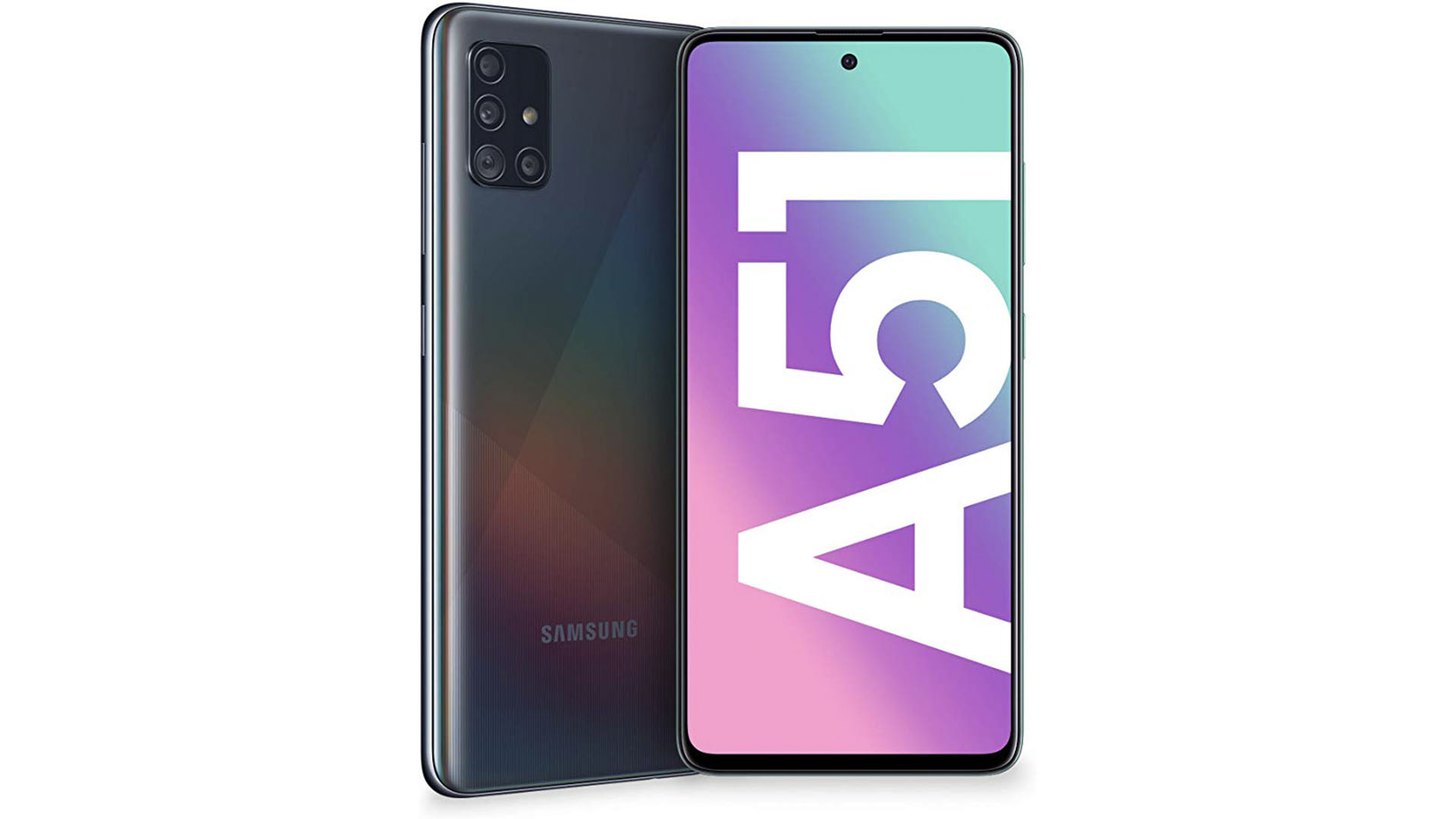 If you like the idea of a Samsung Galaxy S20, but aren't a fan of the phone's price, then the Galaxy A51 could be a great shout. It combines a big 6.5-inch screen with punchy Super AMOLED technology for inky blacks and punchy colours. Running Samsung's custom take on Android, it works like a charm with Samsung's smart connected gadgets, and it also sports the brand's charming, customisable camera interface.
Flip the A51 around, and its quad-camera looks similar to that of the S20 - and it is, just without the zoom. It all starts with that main 48MP sensor which is paired with an f/2.0 lens. Alongside it, a 12MP ultra-wide camera, a 5MP macro camera and a 5MP depth sensor. The macro camera is noteworthy, given the fact it's higher resolution than the 2MP options on most other phones, so can grab more detail as close as 4cm away from subjects.
Storage choices are plentiful, with the A51 available in a 64GB or 128GB option, and the added microSD card slot means this can be bumped up by a hefty 512GB. Additionally, the phone's in-screen fingerprint scanner, Infinity-O hole punch selfie camera and large battery all add to the sense of premium the Galaxy A51 brings to the table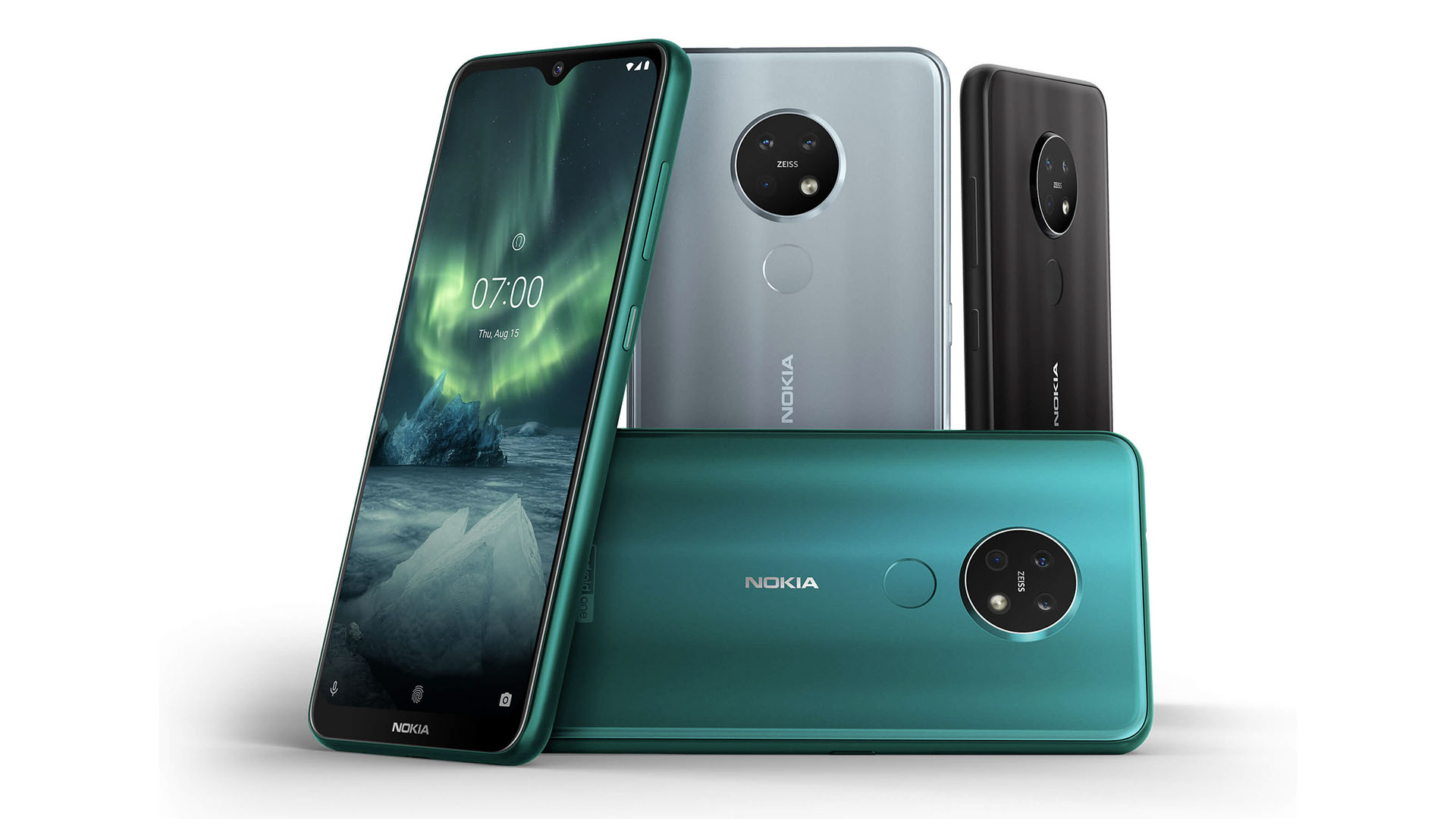 The Nokia 7.2's frosted glass finish is instantly striking, especially in its Cyan Green colour option. Despite the price, it feels fantastic in the hand, with a solid frame, and scratch resistant screen, rich to the touch screen. At 6.3-inches, while that screen isn't huge, it has got a bit more border than most of the phones in our list, so isn't quite as immersive; but with its HDR 10 credentials, it's quality is at the top of the pile.
As for those triple-cameras, the Nokia 7.2 combines a 48MP main sensor with an f/1.8 lens. There's also an ultra-wide angle camera around the back too, along with a depth sensor. Selfie fans should take note, the front camera is a pixel-tastic 20MP resolution combined with a Zeiss lens, for some of the best self-portraits you'll be able to grab on a non-flagship smartphone.
Also noteworthy, the Nokia 7.2 shoots 4K video, packs a respectably sized 3500mAh battery inside that will get you through a full day of regular use, and is the only phone in our list to run Android One. This version of Android is guaranteed software updates for two years, and security updates for three, leaving it nicely future-proofed despite its budget price.
Related articles:
The best laptops for programming in 2020
The best laptops for easy and efficient coding.
One of the best laptops for programming can have a big impact on your working life. If you're a programmer, you'll know the benefit of having a powerful laptop, or if not,  the pain of having a sluggish machine. While computer programming or coding doesn't necessarily need the most powerful laptop money can buy, your work probably also involves tasks like complex image editing that do require more powerful hardware. 
And, of course, testing and running the apps, websites or games you've created, often using emulation, can also be fairly intensive. With this in mind, we've rounded up the best laptops that coders and developers can use for day-to-day work. 
Bear in mind that ergonomics make a big difference if you're going to be at your machine for hours on end – as most of us are. It's a good idea to complement your laptop with some top accessories too, to get the best out of it. Check out our guides to the best keyboard, the best mouse and best monitor. 
Best laptops for programming: What to look for
Programming can be done on many different types of machines but many programmers want something more than just a basic laptop. 
Screen size is really important when selecting a top laptop for programming. You'll get more on a 15-inch screen than a smaller one, for example, so it's easier to read through code and make GUI adjustments. Of course, with a bigger display you sacrifice portability. 
Memory is also key. Heavyweight development environments such as Visual Studio will run better with a healthy dollop of RAM and we'd recommend considering a minimum of 8GB but 16GB ideally. 
Also consider getting an Intel Core i5 processor as a minimum – that level of power isn't exceptional but it will guarantee you enough performance, especially if you're doing things like working with complex website layouts that have a lot of background code. Large, complex programs compile faster with a faster processor.
Graphics can also be key depending on the development work you're doing. If you're working with game development in an environment such as Unreal Engine or Unity then you need to consider the graphical requirements of those apps. 
And remember it's a good idea to use an operating system that's aligned with your goals. Want to develop in Xcode for the iPhone, iPad and Mac? Then you're going to need a Mac.
The best laptops for programming right now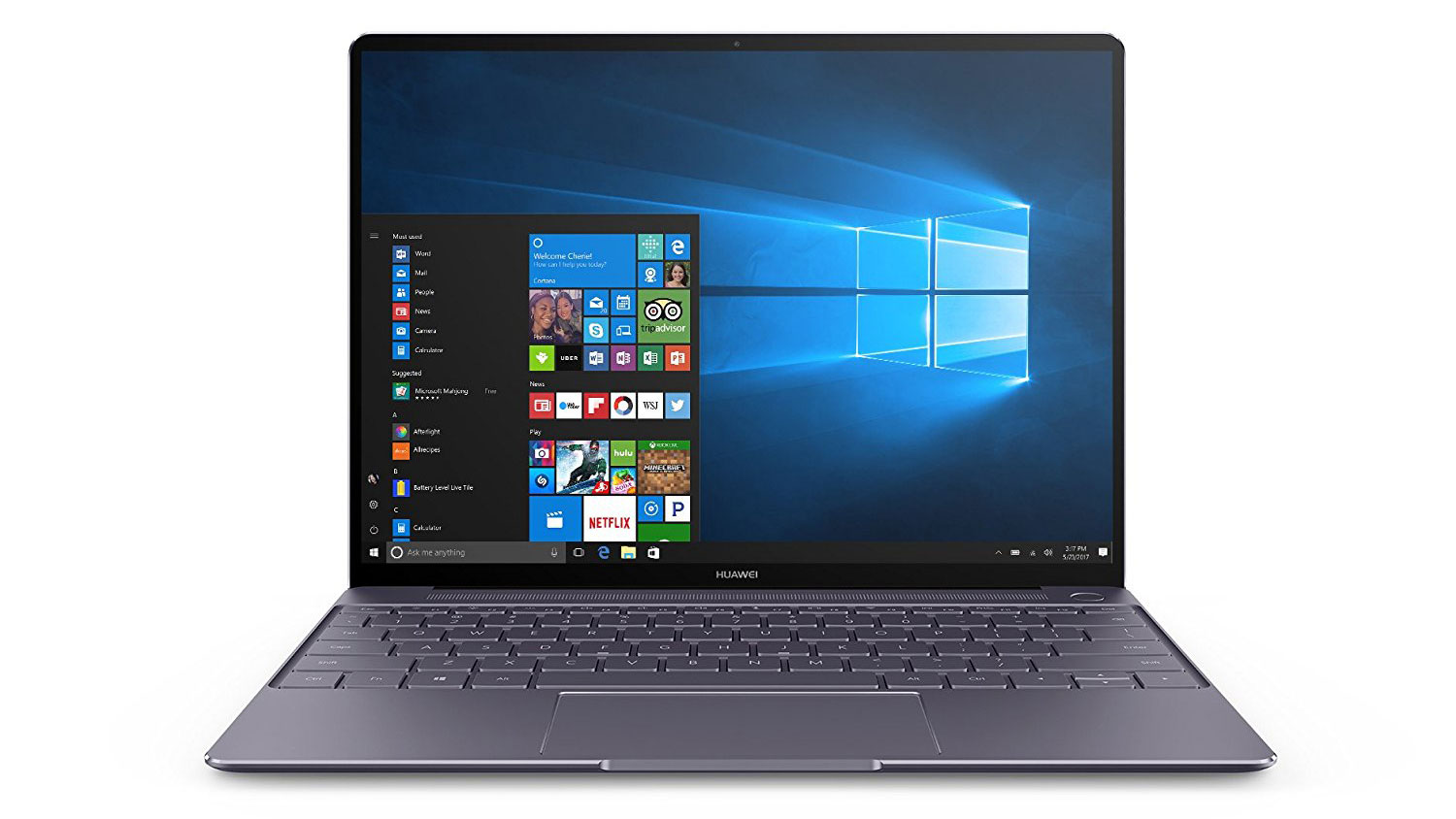 The Huawei MateBook 13 is our pick for the best laptop for programming right now. Huawei stormed into the phone market with its excellent, competitively priced range of handsets, and now it's done it again with laptops: this portable has great specs for coding work.
For a (relatively) modest asking price, you're getting all the power of a Core i5 or Core i7, a crisp, bright, high-resolution 13-inch display, and loads of SSD storage. It makes Apple (and other high-end manufacturers) look like thieves. What's more, it's super portable too, weighing just 1.3kg and less than 1.5cm thick. This is worth a look before considering anything else.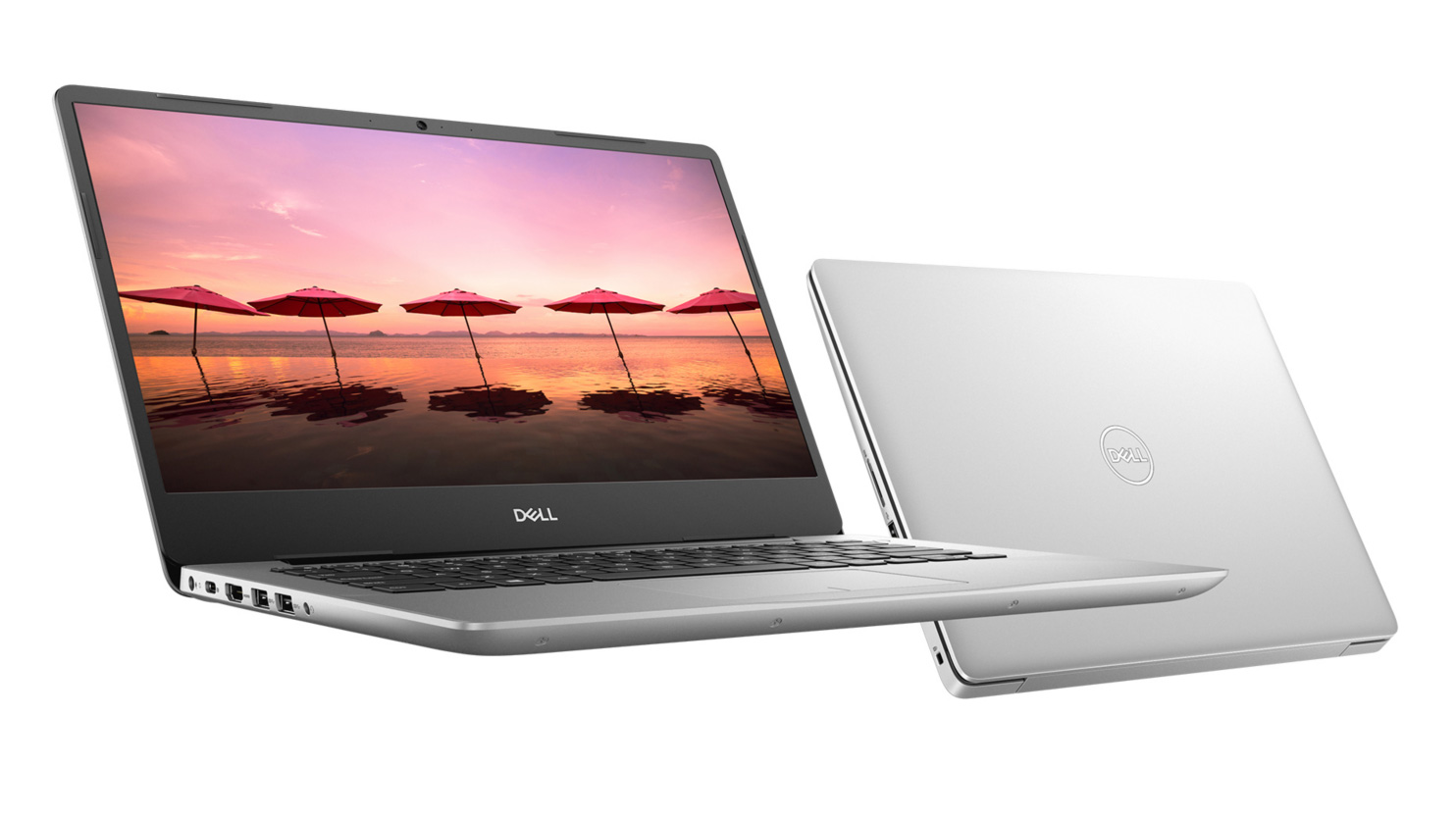 The Dell Inspiron 14 5000 is a great all-round laptop for programming. There are three key things to look for if you want a great modern laptop – a Full HD (1,920x1,080) IPS display, a quad-core processor (at least) and speedy SSD storage. Aside from that, it's easy to get fixated on bells and whistles when talking about laptops but many coding tasks don't require anything particularly exotic.
Dell's Inspiron 14 5000 ticks all these boxes, and guarantees great running performance and an excellent system for all computing tasks, including more taxing processing jobs. The starting specification gets you the aforementioned high-resolution display, a quad-core Intel Core i5 processor, 8GB of memory and a 256GB SSD, with a sleek build and a starting price that really isn't too extortionate. Go up a level and there's 1TB of storage and a Core i7 processor.
There's also a 2-in-1 version of this machine, but that's not what we're referring to here.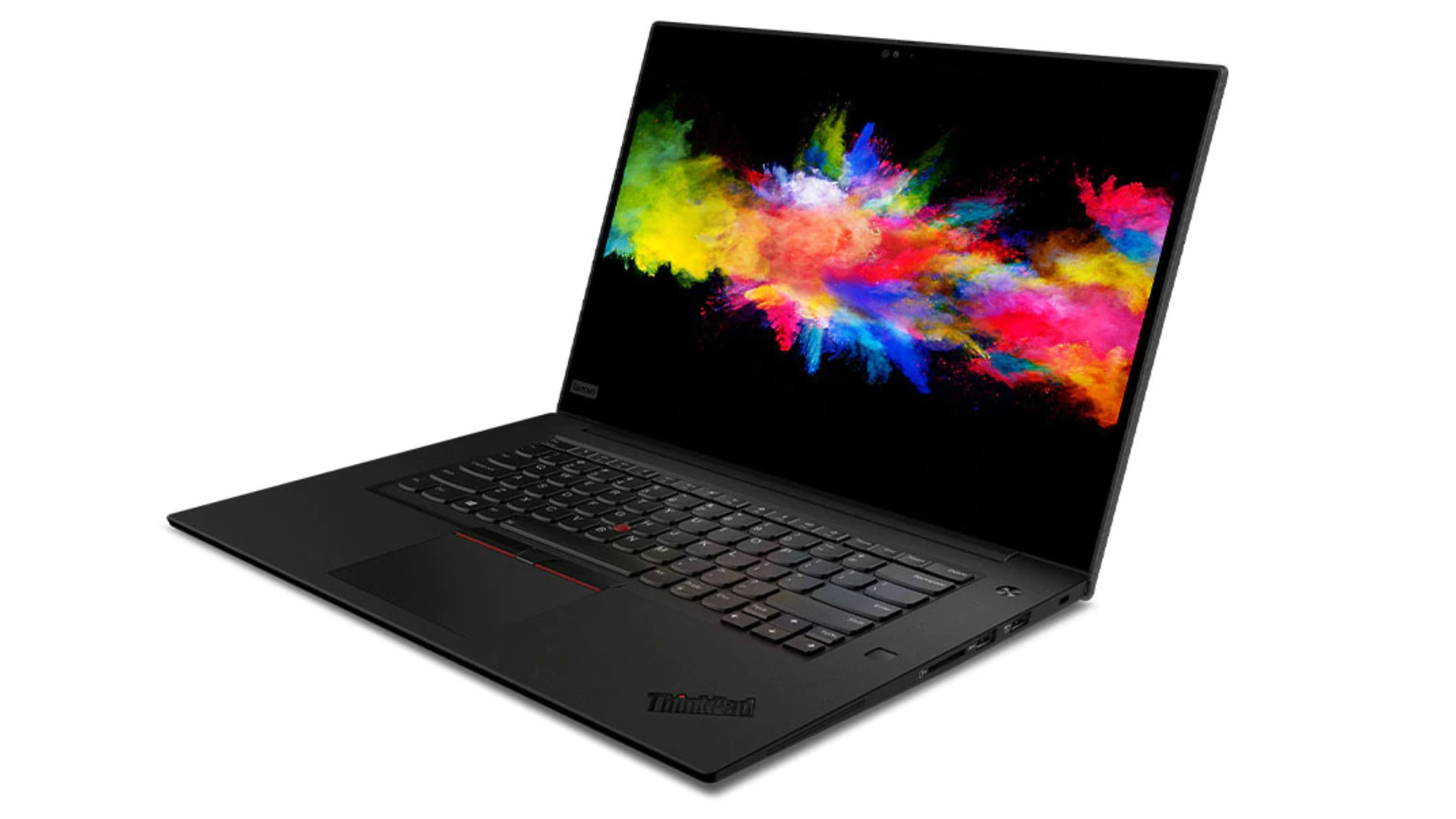 With this model, Lenovo has taken the kind of computing experience most of us assume is only possible with a desktop workstation housed in a large box under a desk, and not only made it portable, but squeezed it into a thin design. 
It's ideal for those that need workstation power. The Lenovo ThinkPad P1 offers professional-grade Xeon processors, with up to six cores, an Nvidia Quadro T2000 graphics card and up to 64GB of memory.
You can stuff it with up to 4TB of nVME SSD storage, and opt for a 15.6-inch 4K display that's not only touch-sensitive but colour-accurate too. It's a great general-purpose workstation, capable of all kinds of visual design work and heavy lifting processor-intensive tasks. 
Of course, it works great for coding as well. That's partly thanks to Lenovo's excellent keyboard design, but in general, the ThinkPad P1 is superbly built, including a semi-rugged chassis that can survive light knocks, and a very healthy selection of ports.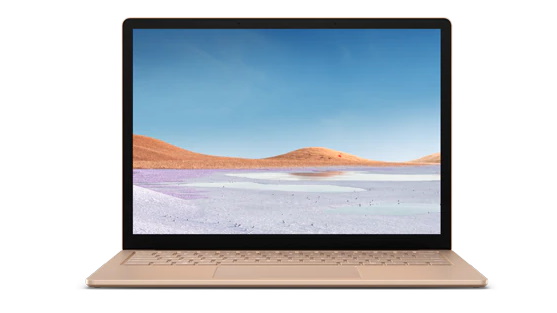 As it comes from Microsoft, the Surface Laptop 3 effectively offers a pure Windows 10 experience, making it a benchmark for testing and developing Windows software. It has a great design, a solid aluminium shell and a very comfortable keyboard. The newest version comes in matte black and offers fairly meaty specifications, with a Core i7, up to 16GB of memory, 1TB SSD storage and a high-resolution 13.5-inch screen that works with Microsoft's Surface Pen stylus.
There are a lot of other variants, too, meaning you can get the power that you want. It isn't as cheap as some options out there but you do get a superb laptop, now with USB-C.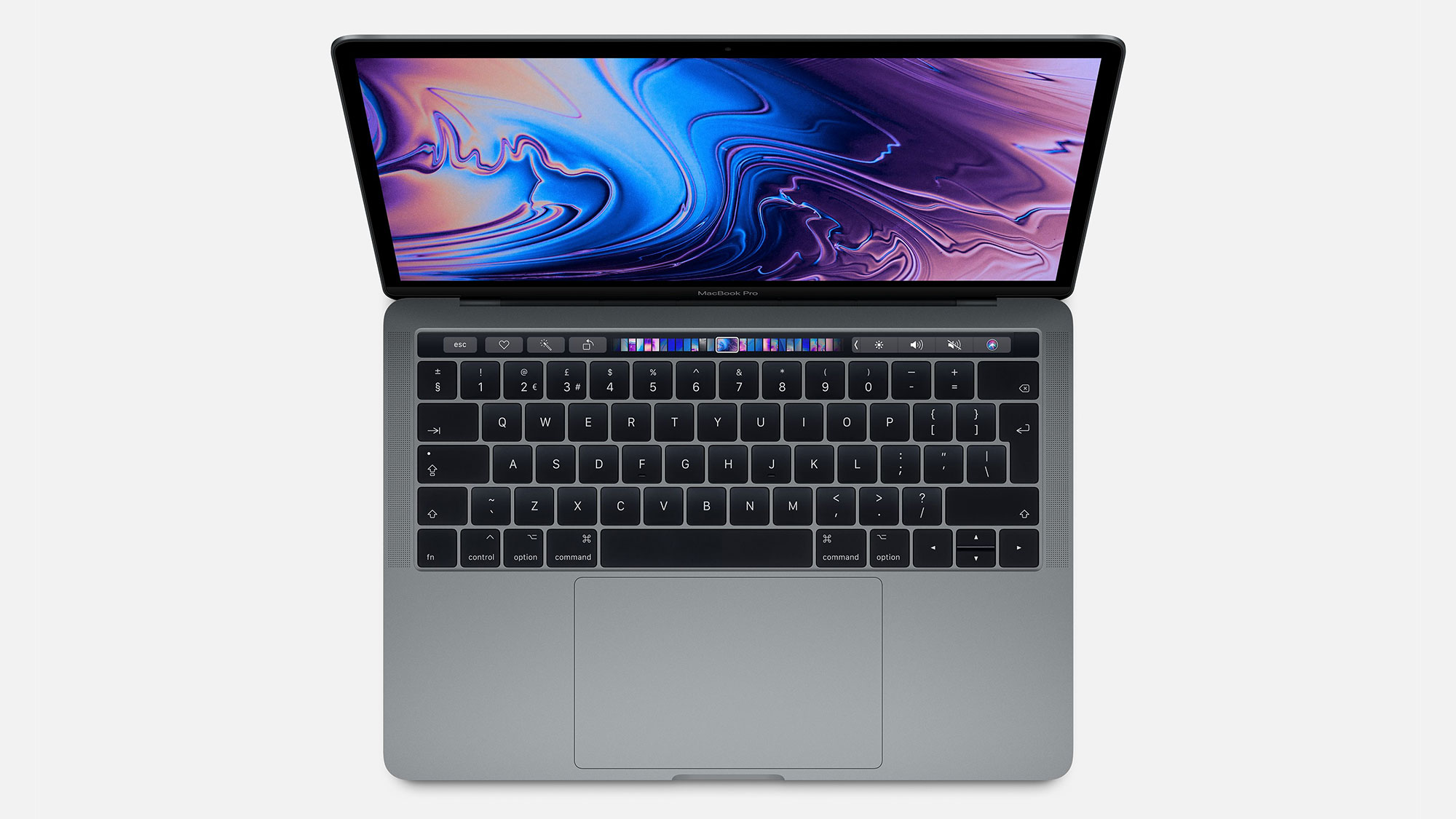 While Apple's MacBook Air is the most portable Apple laptop, the 13-inch MacBook Pro is now our first choice for working with Xcode to develop apps for iOS and macOS when on the go.
Quad-core eight-generation Intel CPUs are now an option, delivering across-the-board performance improvements, making this MacBook both portable and powerful. While it might weigh slightly more than the aforementioned MacBook models, the performance boost will be worth it when running taxing processing tasks, such as heavy-duty coding projects.
And since Macs can run Windows just fine via Boot Camp or in a virtual machine such as Parallels, you'll be able to use your Mac to develop apps for any platform on Earth.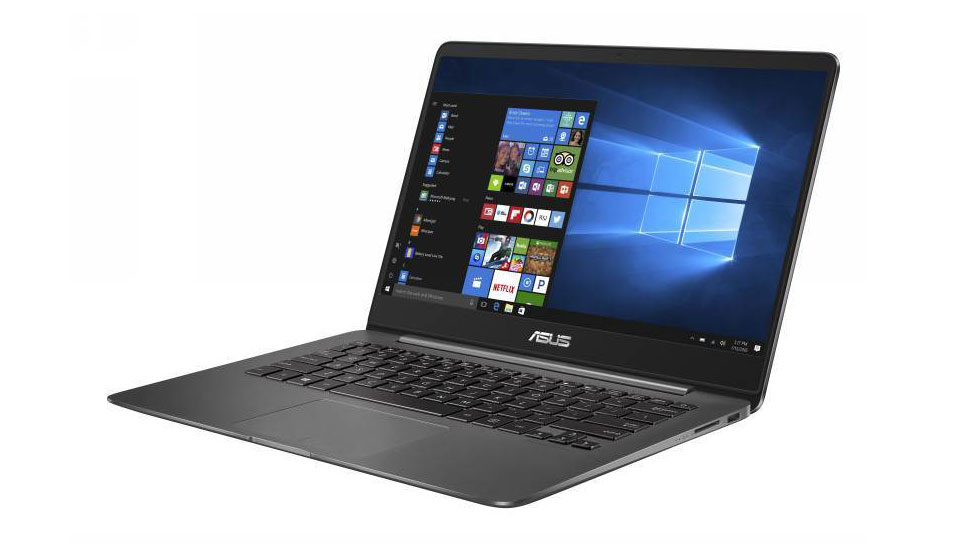 Despite dated stereotypes of programmers being stuck in bedrooms and offices, many coders see the profession as highly sociable – whether it's working together on group projects, or attending one of the numerous workshops and conferences that exist all over the country.
In that case, you might prefer an alternative to the bulkier laptops we've suggested and instead, put portability at the top of your wish list. The 13-inch Asus Zenbook UX-430 is an ultraportable option – weighing just 1.25kg and measuring 15.9mm – without a massive price tag. However, even though the Zenbook is slim and well priced, it has a specification that's still great for coding work.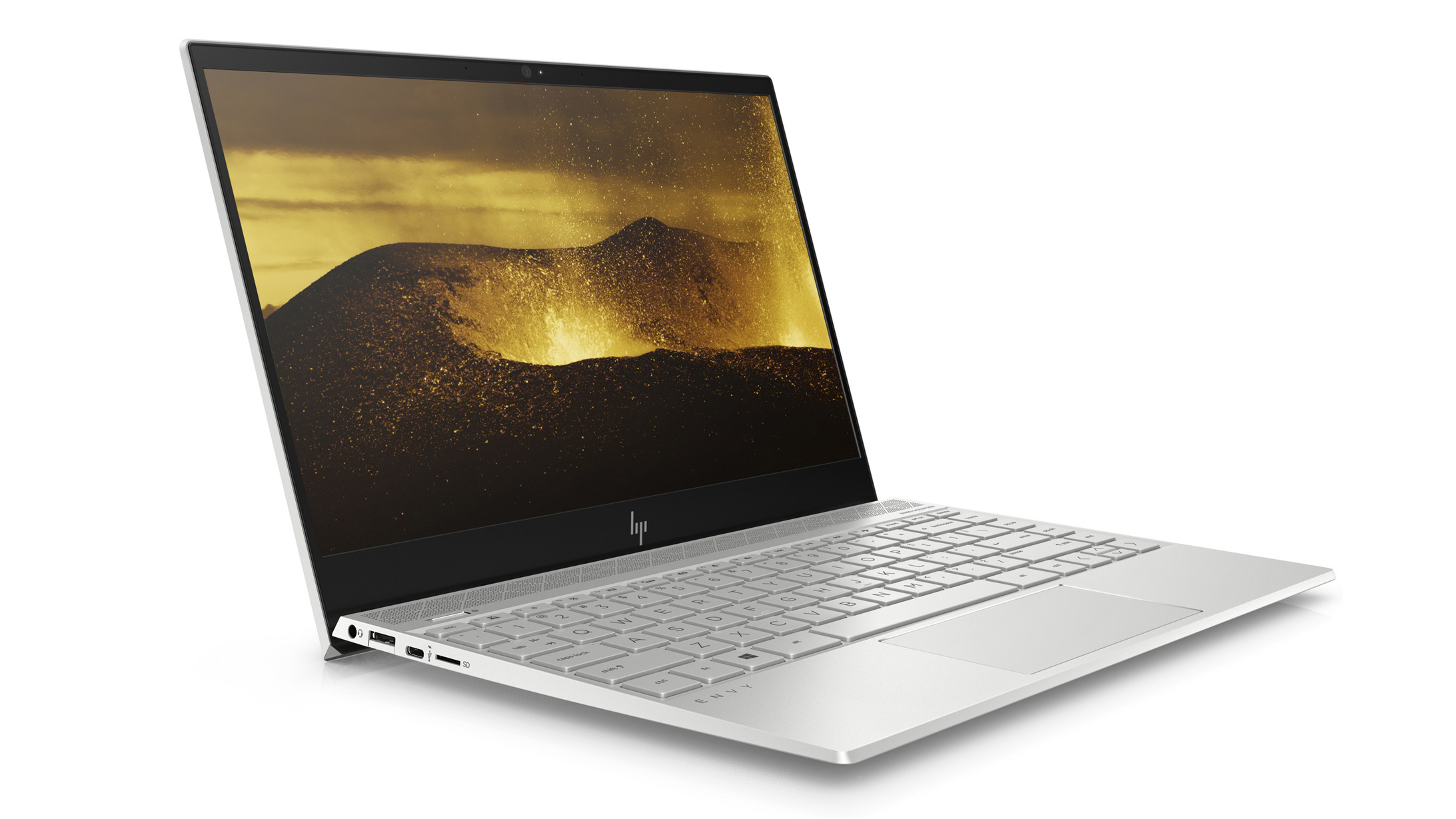 The latest HP Envy 13 is a great pick for programmers. HP recently made big changes to this popular 13-inch laptop by reducing the size and weight. Coupled with a high-quality touch-sensitive display, it's both powerful and super portable. But perhaps the most noteworthy change is the stunning all-metal design, covering the keys and around the screen area that absolutely earns this laptop the 'Envy' moniker.
The keyboard has plenty of travel, with page up and down keys, and the trackpad is large enough to be extremely comfortable - both critical aspects of a laptop for long coding sessions.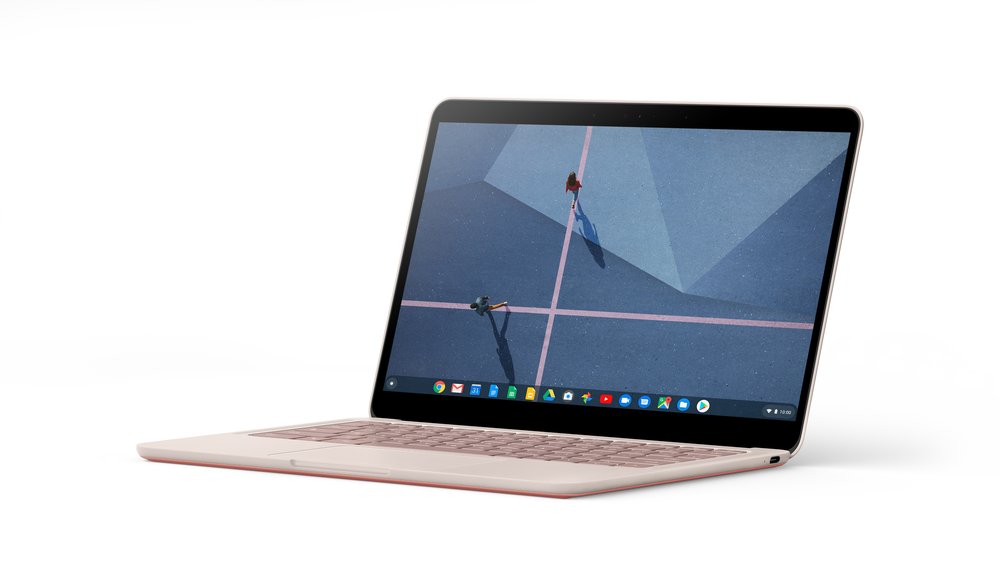 For Android developers, a Chromebook might seem a natural choice for the best possible integration with Google's software and services, with full support for running Android software natively. However, many Chromebooks are designed to be highly affordable, with lower-spec features and performance suffering to bring the price down.
The Pixelbook Go is an upgrade from more basic models, designed to compete with the bigger laptop manufacturers. It still runs ChromeOS, which supports Google's Android Studio development tools, but the hardware is right up there with a standard Windows laptop. You can also run Linux apps as well.
The Pixelbook Go is certainly the best Chromebook ever made. It packs some impressive hardware, including an Intel Core i7 processor, a choice of 8GB or 16GB RAM and a large and vibrant 1,920 x 1,080 screen or 4K touch screen if you really want to show off.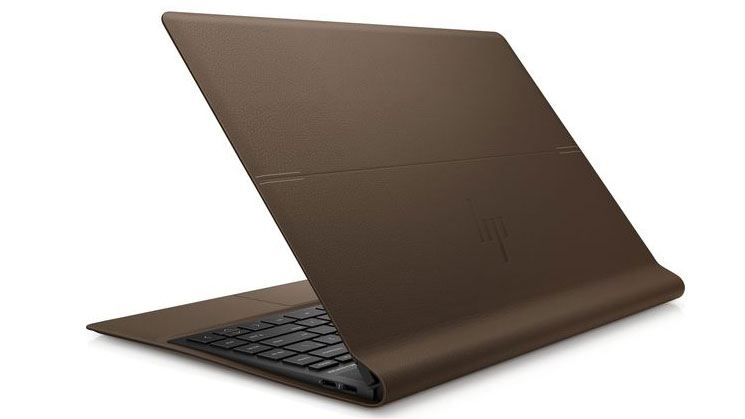 The 13.4-inch HP Spectre Folio is a great 2-in-1 device for programmers. We'd generally pick a laptop over a tablet for pure coding, but a 2-in-1 is a worthy substitute, as it gives you an environment where you can test tablet applications as well. 
This high-end example oozes quality thanks to its gorgeous leather cover, which earns it the Folio name. There's a great internal specification as well – with up to 16GB of memory and a Core i7 processor, it's not going to disappoint in the performance stakes, but it might leave a hole in your wallet.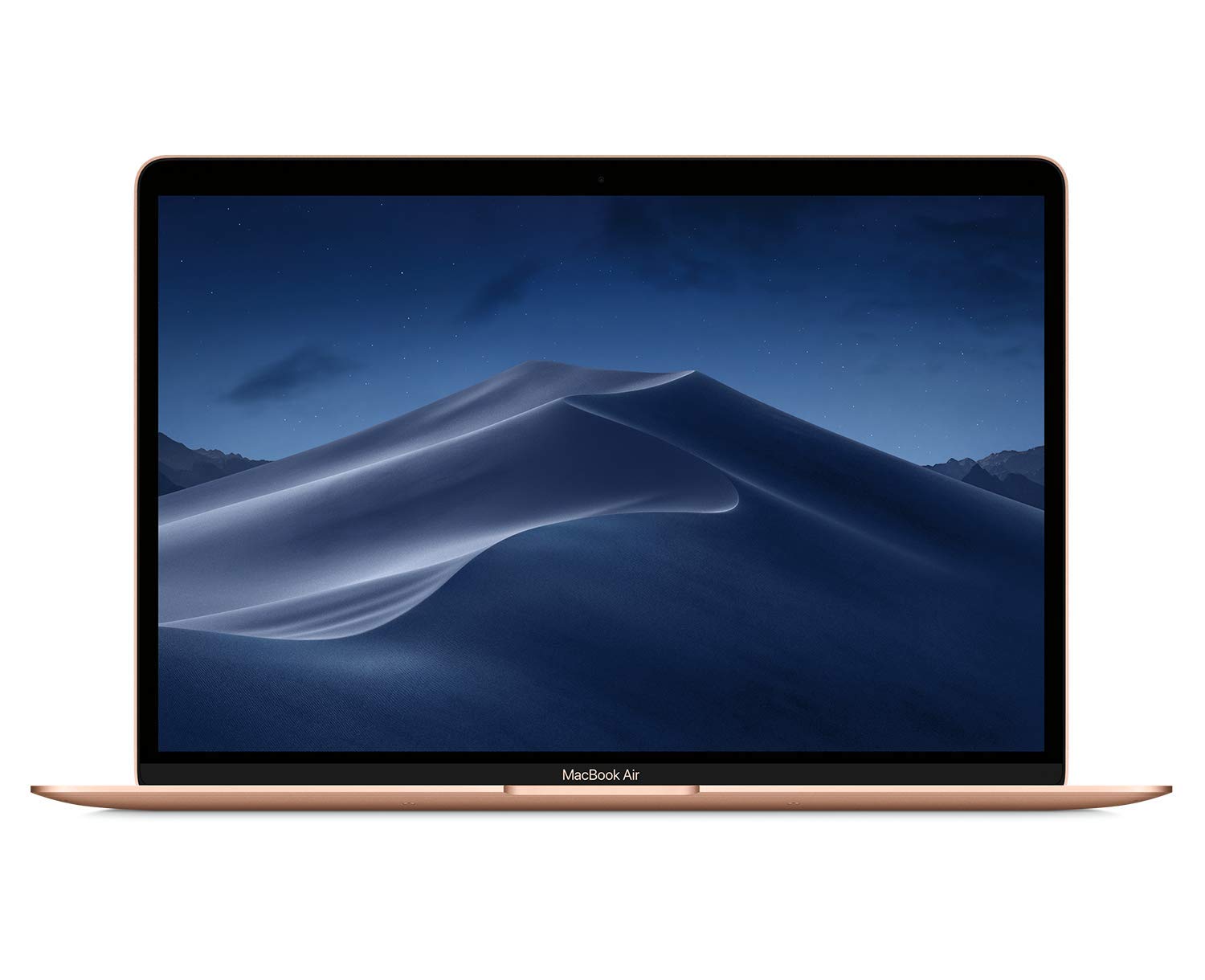 The MacBook Air hadn't been upgraded for ages and it was becoming a problem. It was still a good entry point, but was being upstaged by other models. That all has changed with upgrades in both 2018 and 2019. 
The newest MacBook Air has been completely redesigned with a high-resolution display, faster processors and more memory, all of which make a big difference to programmers who don't need the more comprehensive MacBook Pro we've covered above. And, naturally, it's extremely portable and so very light. 
Read more:
How to draw a dog
This simple step-by-step guide will teach you how to draw a dog that's realistic and anatomically correct.
Today's tutorial will show you how to draw a dog. The skeletons of dogs and cats are quite similar, especially in the simplified version drawn here. But it's important to remember that these animals move differently and look very different from each other.
This tutorial will take you through the step-by-step process of how to draw a dog. We will be sketching an anatomically correct portrait of a German Shepherd. This will start with sketches and move on to drawing the skeleton, muscles and fur. By the end, you'll be drawing a dog with ease. For more advice, take a look at our roundup of tutorials exploring how to draw animals.
01. Observe in quick sketches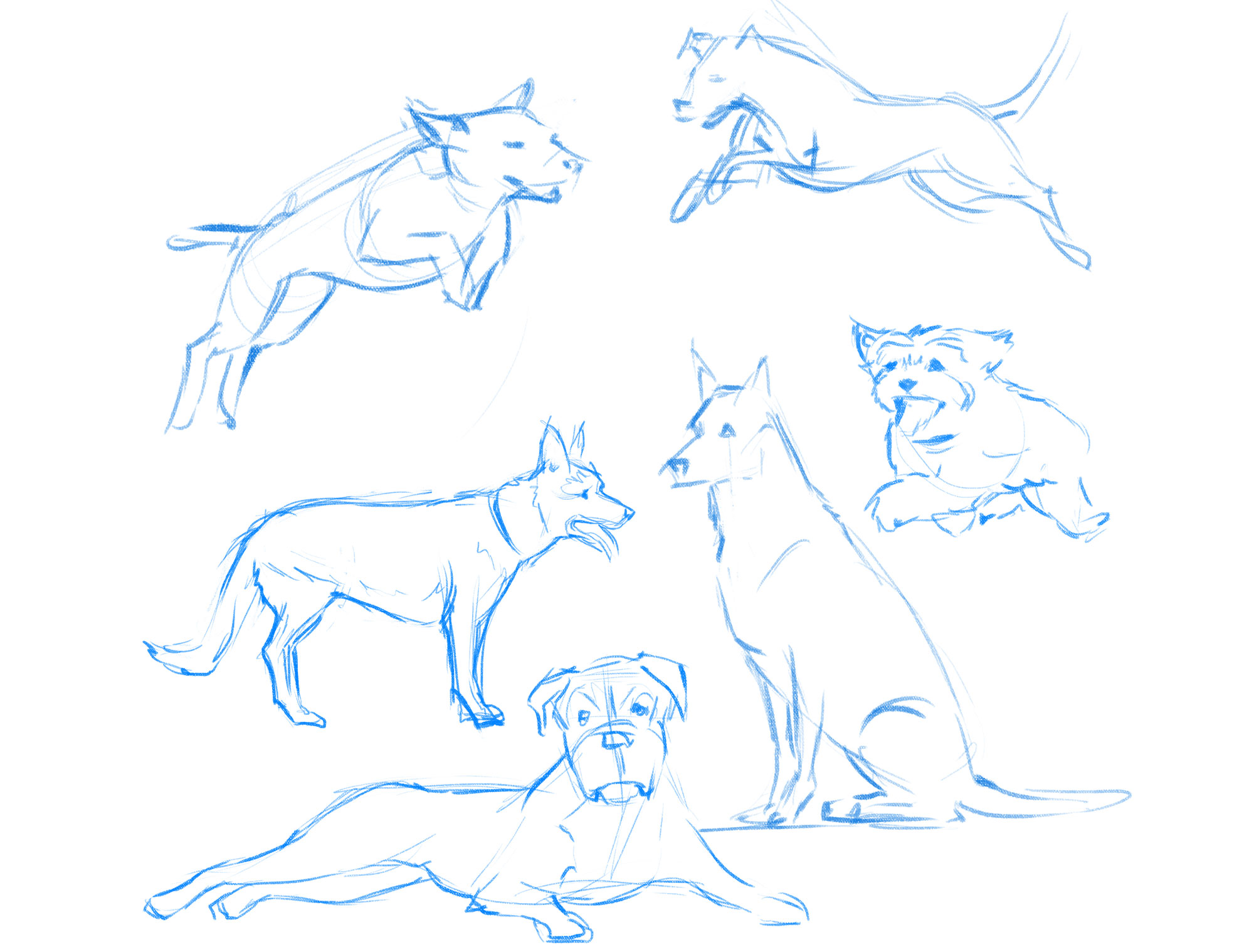 Many people – especially those who are new to art – disregard the sketching phase and consider it a waste of time. Often they will draw one or two sketches and call it a day. It's very easy to be tempted to speed up this stage. After all, details are much more fun to draw, aren't they? 
The problem is, if we're too eager to get to the details, it's easy to ignore the overall anatomy. And trust me on this: beautifully rendered fur on a creature that only partially resembles a dog will impress no one. 
If you own a dog yourself, observe how they walk, run, jump, sit or lie down. You may think you know how they move, but you really won't until you consciously observe the animal. You can also google some photos of dogs and use them as reference to quickly sketch different poses. Try not to spend time on details – the sketching phase is not about that. 
02. Find the skeleton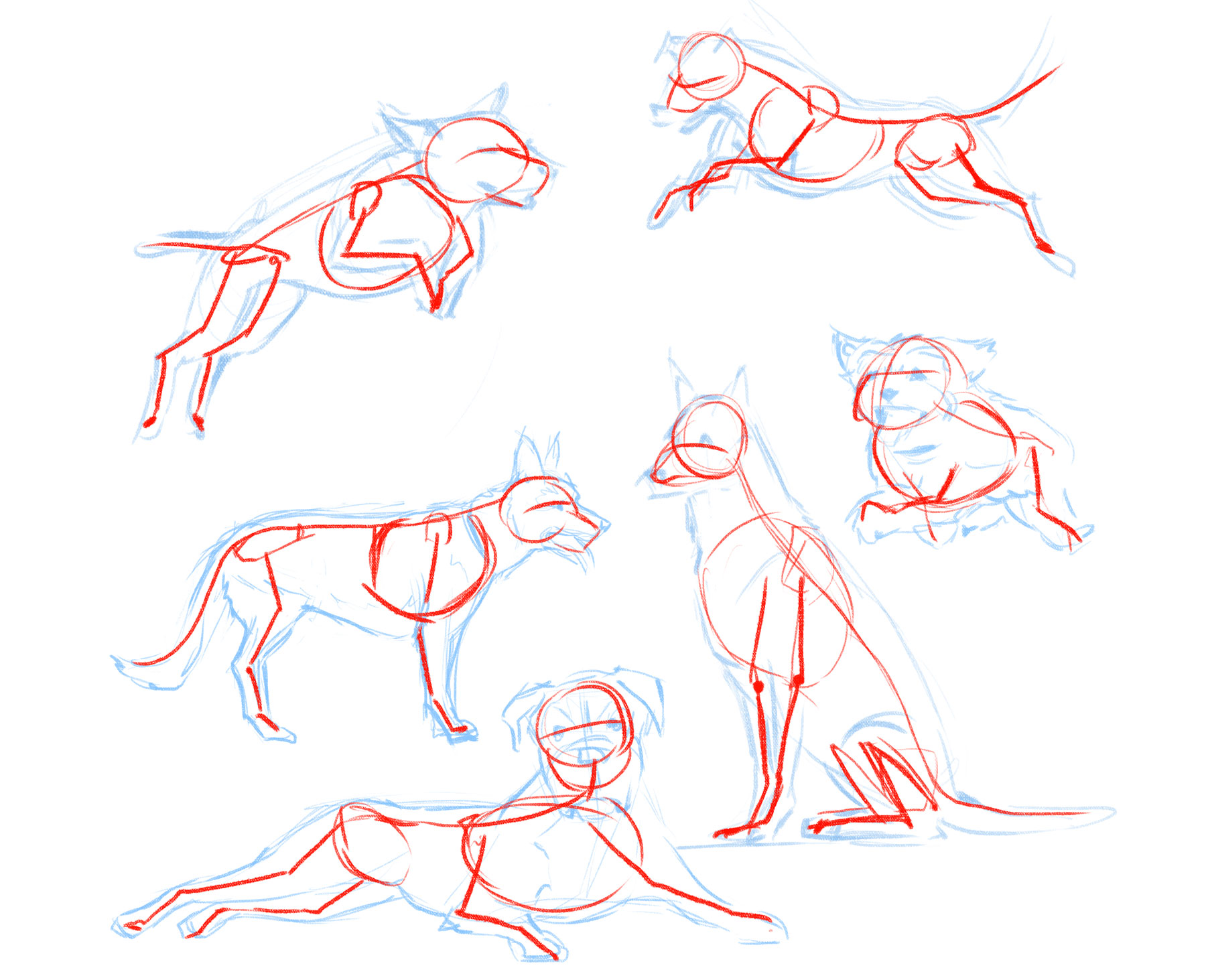 Focusing on the skeleton is a key part of mastering how to draw a dog. Even though in the end no one is going to see it, it's essential to understand the skeleton and be able to draw it in proportion. As you become more proficient you may start drawing the skeleton more loosely or perhaps even be able to skip this step altogether because by then the proportions will be engraved in your memory. 
Before you move on to drawing the skeleton in your chosen pose, a good exercise would be to draw the structure on top of your previous quick sketches. This will help you become more familiar with the idea of a skeleton underneath all that cute fur that dogs are covered in.
03. Draw the skeleton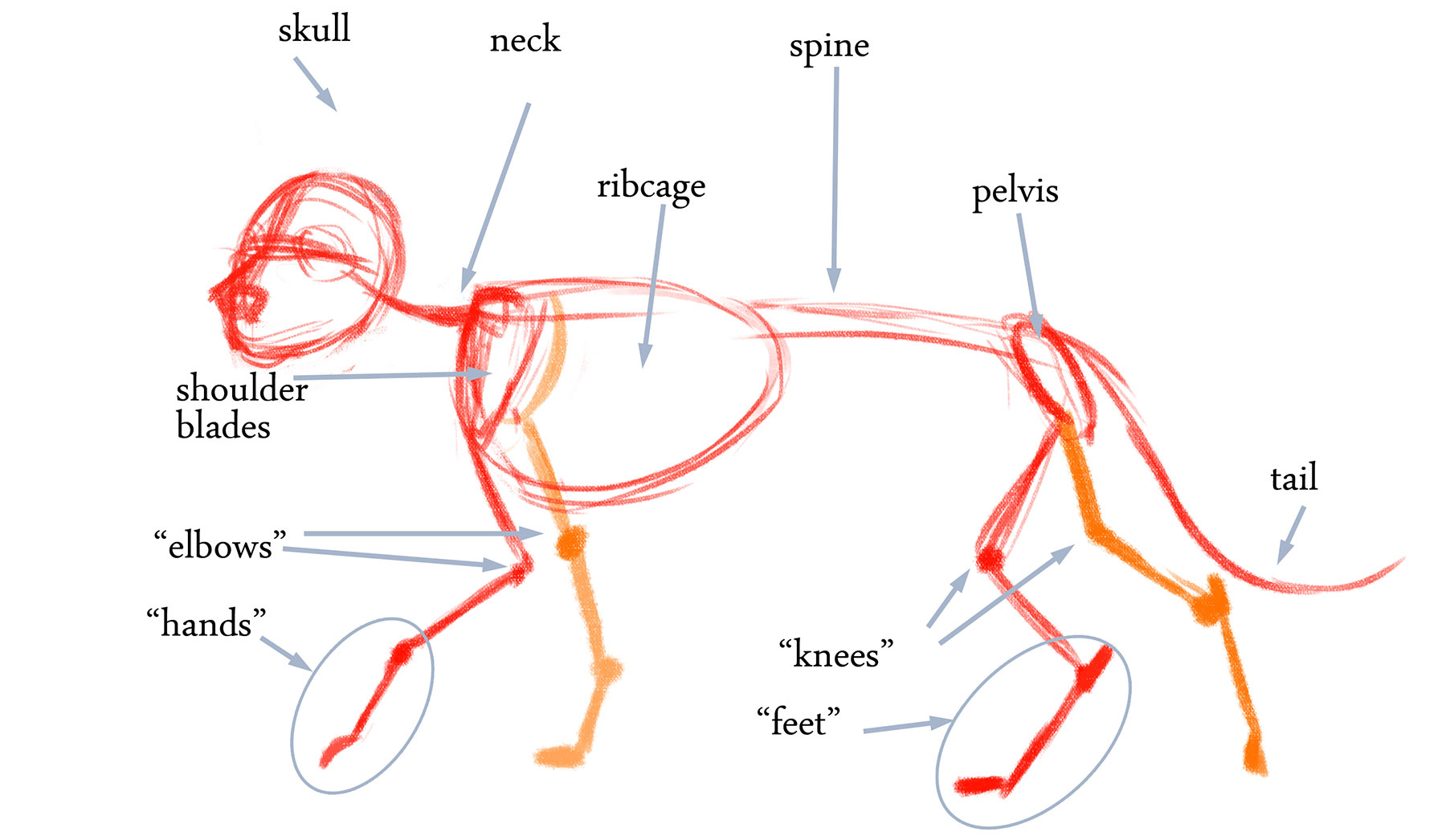 As you sketch dogs in different positions you will soon realise which one appeals to you the most. Perhaps you'll choose to draw a dog napping, or sitting. This tutorial will use a walking pose as this shows the animal and its anatomy in the best possible way. 
Loosely draw the skeleton of a dog in your chosen pose. A good tip is to draw the skull, ribcage and pelvis bone, and use single lines to indicate the spine, tail and limbs. 
Dogs' skeletons have many similarities with human skeletons. You can clearly see the equivalent of human knees, elbows, feet and hands. Dogs' legs are not that different from our arms and legs – the only real difference is in the proportions of the bones. 
If you look closely you'll see that dogs walk on the balls and toes of their feet, sort of like a woman in high heels. Notice how opposing front and back legs carrying most of the weight of the dog. They are firmly placed on the ground, while the other two barely touch the floor.
If you work in traditional media, use very light strokes for the skeleton, so that you can erase it later. If you work digitally, draw each step on a separate layer.
04. Draw in the muscles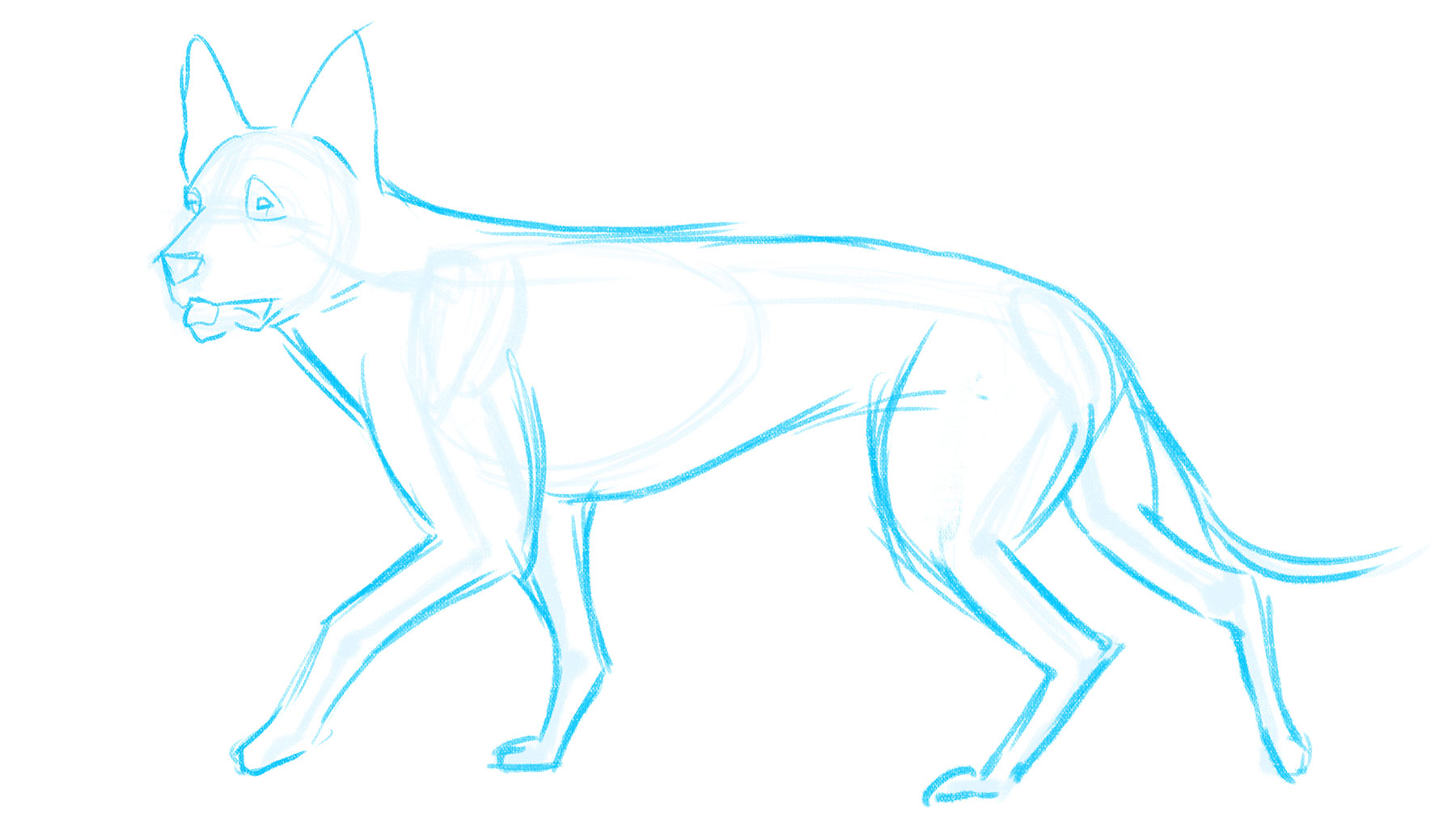 The point of this step is to establish the anatomy beneath all the fur. German Shepherds are not particularly fluffy, so the muscles will be visible through the outer coat. However, if you choose a breed such as an Afghan Hound or Bernese Mountain Dog you'll face a slightly bigger challenge finding the muscles under all the fur. 
It is important to understand how the muscles sit under the skin. Understanding the general rules will give you the tools you need to draw any dog, regardless of the hair length.
05. Focus on the face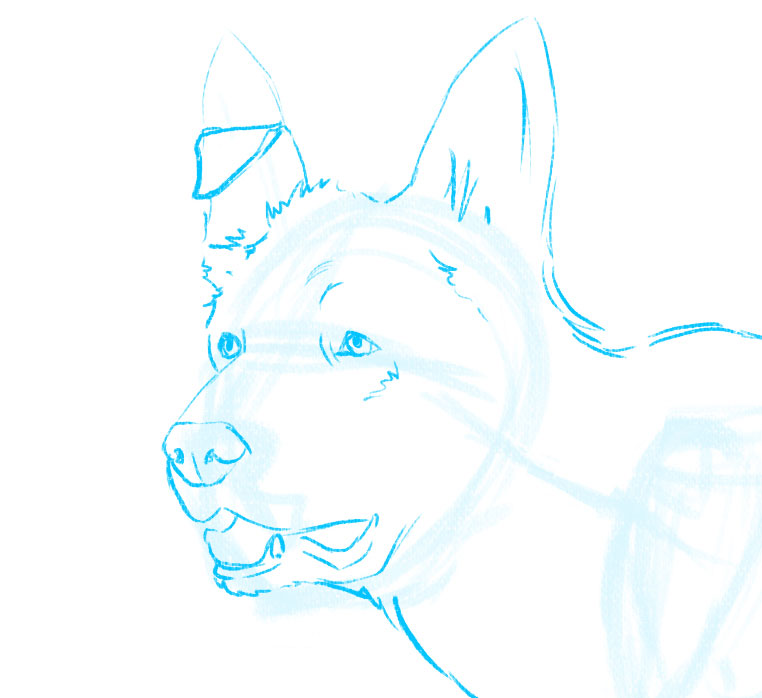 Now it's time to refine the drawing, beginning with the head. We want to start using stronger, more decisive lines at this point.
It's very important to observe the correct position of the eyes. If you're drawing a dog's head straight-on, it's fairly easy to maintain the correct proportions between the eyes and nose. However, drawing the face in a slightly turned view can be much trickier. Not only are the eyes now at a different angle, which changes their shape and size, but their position in relation to the nose also changes. 
It's important to remember that the eye that is further away from the viewer will not be the same size as the one in the foreground. Perspective means the closer eye will be slightly bigger. 
06. Draw in the muzzle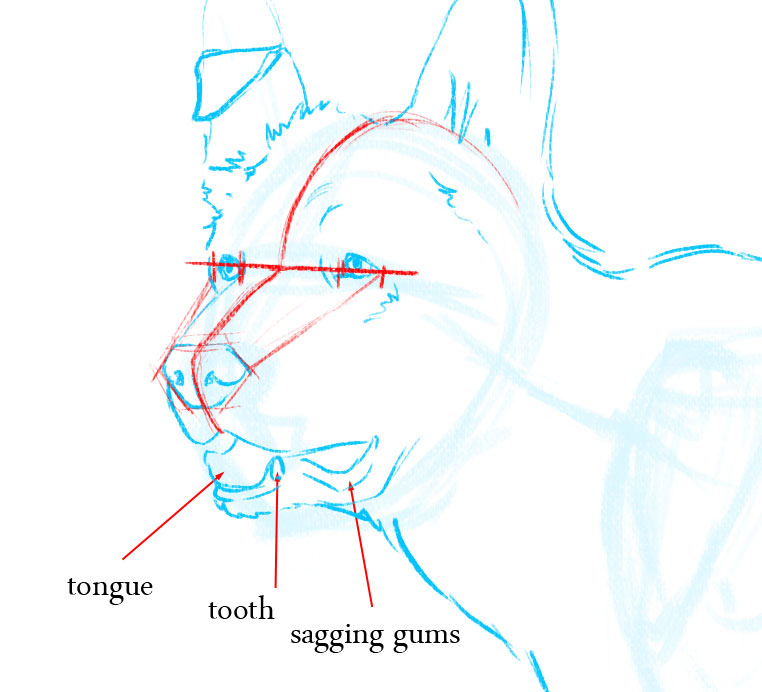 Like many other dogs, German Shepherds have quite long muzzles. Even pugs, which don't have prominent muzzles, don't have entirely flat faces. The length of the dog's muzzle will vary depending on its breed, so make sure to observe this carefully. 
Making the muzzle too long or too short will drastically alter the likeness of the dog. Remember that in a three-quarter view, the muzzle will appear shorter. 
Pay close attention to the shape and size of the nose as well. Most dog's noses look quite similar, but depending on the breed they can be bigger or smaller in relation to the rest of the head. If the dog has an open mouth they will usually show their teeth, gums and tongue, which is typically quite long and flexible.
07. Move on to the ears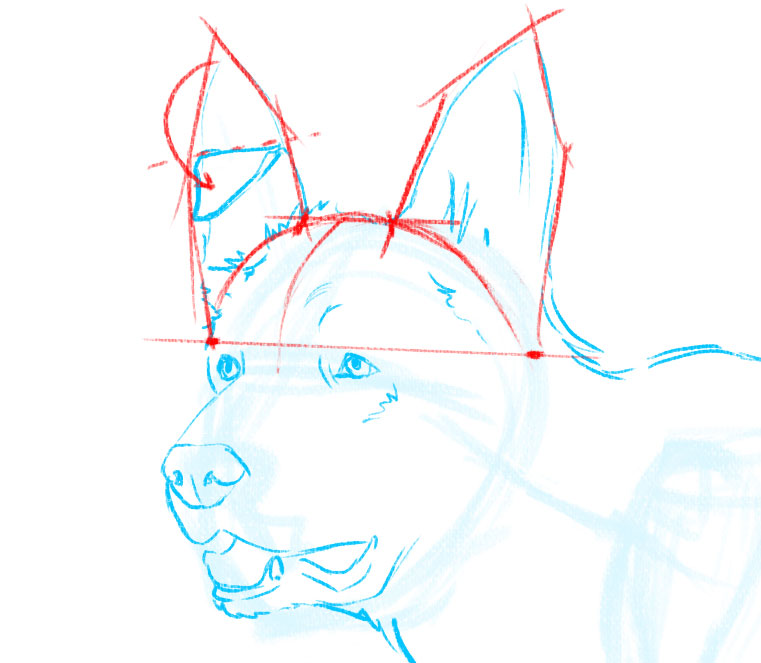 As with the eyes, it is necessary to pay close attention to perspective when drawing ears. Observe the shape of the head and how the ears are attached to it. The ears are generally a mirror image of each other, but even when painting uneven ears (some dogs have one droopy ear, for example) they will stay a consistent shape at their base. In this example one of the ears has been altered on purpose as an example
08. Refine the body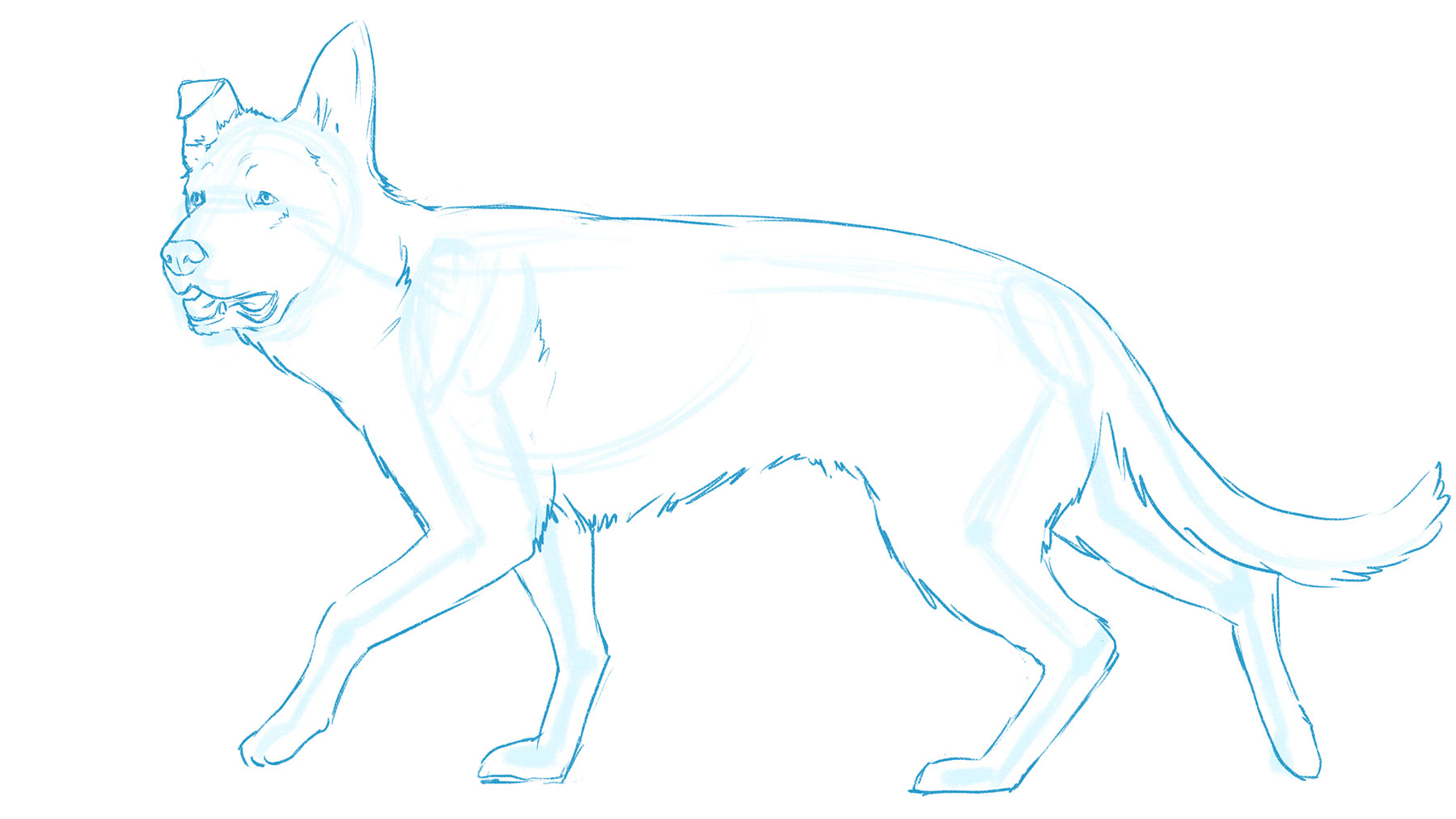 We already have a good idea of the musculature of the body, but on top of the muscles there is skin and fur. In some cases this can drastically change the look of the dog (think about how different certain dogs can look after they've been groomed). 
German Shepherds are still hairy in places, so where necessary use smaller strokes to indicate fur. The dog we're drawing has thicker fur around its neck, under its belly and on its tail, but on the rest of his body, especially the head and legs, his hair is shorter. Avoid using the same kind of strokes all over unless it's a short-haired breed. 
When you're done, erase the underlying lines if working traditionally or turn off the skeleton/muscle layers if you're working digitally.
09. Consider fur patterns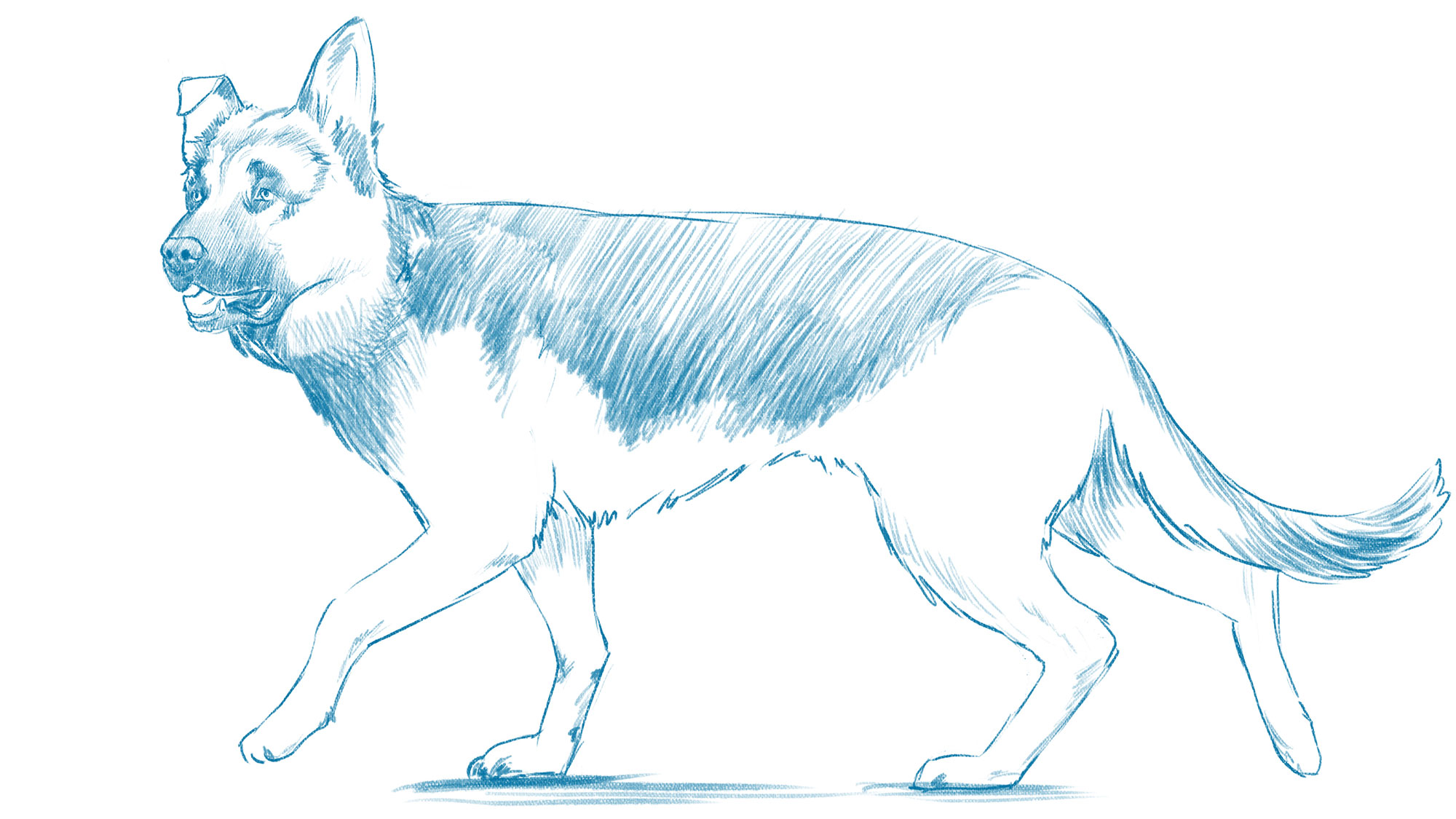 Every dog is a little different, and their colours can vary greatly. This can still be shown even in a black-and-white sketch. Use varying pencil strokes when shading to ensure the coat pattern doesn't look flat. 
This dog's hair is mainly brown and black. It's not necessary to recreate all of the tonal values, so instead you could sketch in only the black parts of the fur. A good tip is to use lighter strokes along the dog's back to indicate a light source hitting the fur.
10. Add final touches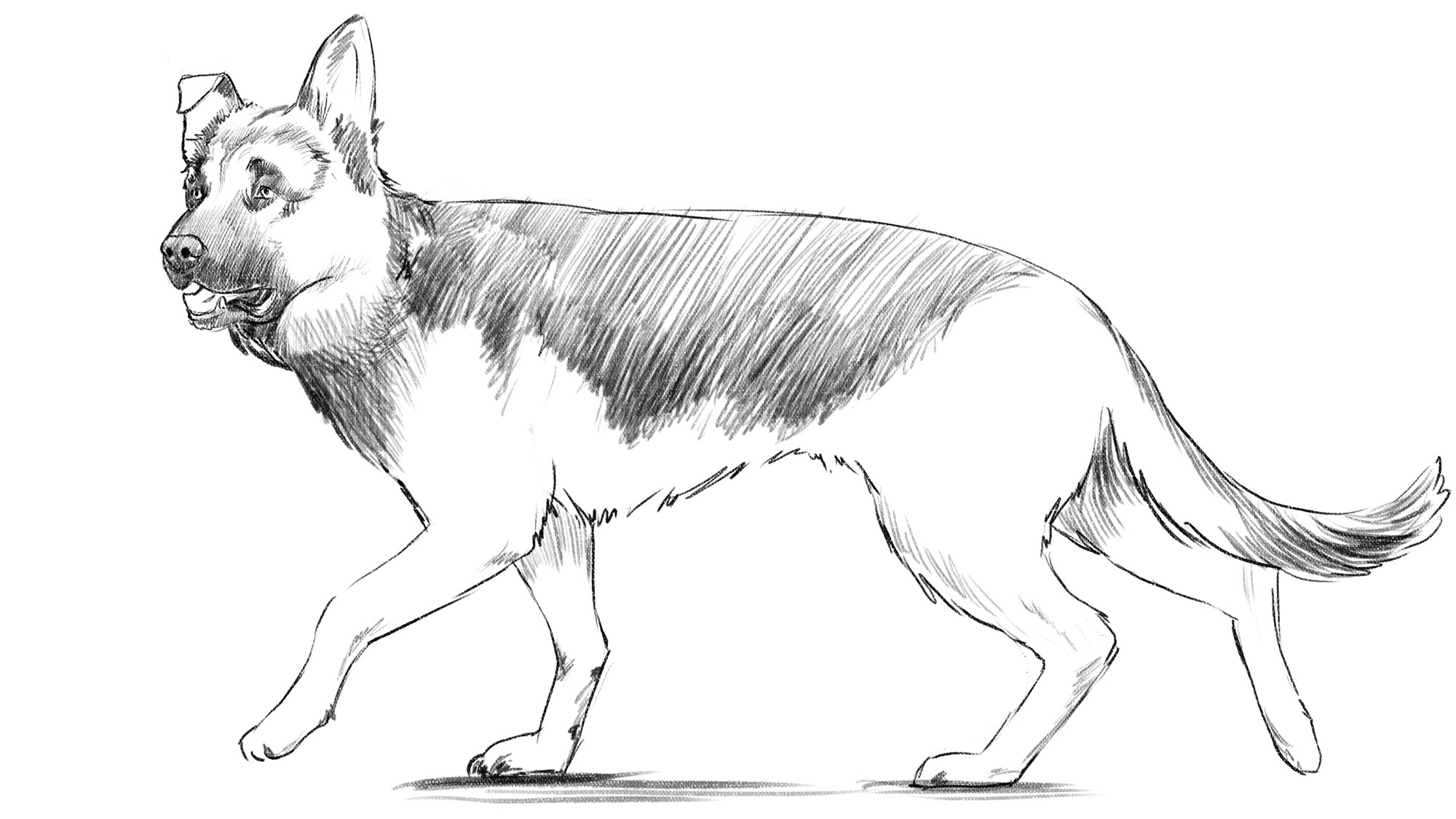 Finally, add some subtle strokes along the dog's legs to give a suggestion of muscles showing underneath the fur. The idea is to convey enough information to give the dog character without having to shade the entire silhouette. The last touch is to add some shadows under the paws and voilà – you drew a dog!
If you want to learn more, you could check out how to draw a pencil portrait of a dog or discover a guide to drawing a dog's muscle groups.
Read more:
How not to live in creative isolation
4 things you can do to set yourself up for success.
We started our agency, DixonBaxi, 19 years ago and I have worked as a designer for over 25 years now. As a company, we've weathered difficult storms, including two economic recessions, and arguably now we are amidst one of the most challenging times of all. 
But in this strange period of isolation there is also opportunity. An opportunity to really examine and understand your views of the world and what creativity means to you, which are the habits and behaviours that are critical to the work of any good designer.
When I interview people early in their career, I don't look at CVs or work. Instead, I want to speak to that person and get an understanding of what they truly care about. I want to figure out not what they've learnt but what they can do with that learning. I want to hear about the problems they have creatively overcome, and even more crucially, why.
This is fundamental for me – the ability to see how someone applies critical thinking and can understand how to communicate on behalf of a brand. Everyone is different: we see people who are natural leaders, practitioners or strategists, but we also can see those who are lost because they're not quite sure why they want to be a creative. And so this is what you need to work on – now more than ever.
If you are looking for a new role, see our design jobs board.
01. Be bold and focus
Focus on the type of work you want and like to create. It's far easier to succeed and grow if you know what you want. If you've not yet had a chance to create the work you love, don't worry. Just get on and make it. 
While working, create something interesting that pushes the boundaries. When we meet with clients, we like to offer ideas across what we call the 'scale of bravery' - if one is playing it safe and 10 is radical, we always aim for five and above. 
We understand that creativity improves things and makes things better and that's why we often say that we are 'always in beta' – we always have new things to learn, new ways to grow and adapt to the world around us. This is really important – stay interested and aware of how the world is culturally and socially shifting and you'll maintain a critical perspective.
02. Meet and talk to people (virtually)
Whether via video chats, LinkedIn, blogs or social media, start small conversations with people you find interesting and admire and talk. Start conversations where you can really add value and develop a relationship. This allows you to think beyond yourself which is important as creativity is collaborative. Be open to ideas and ways of working that might be different to yours and learn to understand them.
03. Use this gift of time
There's a lot of uncertainty at the moment and that can drive negativity – the best way to challenge this is to make things. This is a really great way to get back on the front foot and be productive, and when you make things you have something to talk about. Whether you help a struggling local business with messaging, create an app or ideas with friends to help the community or simply develop your own designs, you are creating work with a tangible meaning. This is then a self-fulfilling prophecy as you are feeling productive and also becoming part of the industry. 
Another good thing to do is to use this time to systemise your folio so it's easy for people on the outside to understand and get a good idea of who you are. Be brutal – get rid of deadwood, the work that is too broad or weak. It's better to have fewer pieces that are brilliant than a lot of work that is average. It's easy to fall into the sea of sameness where work can look and feel like many others - learn to aggregate your work in a way that makes you stand out. 
Explore our top Wordpress portfolio themes
04. Find your tribe
Research studios that can help facilitate your ways of working and play to your strengths as you develop. Don't get caught up on job vacancies or titles – worry about the quality of the work you are producing. Far too many people focus on getting specific roles when the only thing that matters is that you are doing vital and rewarding work – chase the projects and the exciting ways of working instead. When you're ready, reach out to them. Be positive and additive – people buy into people. So the more natural, interesting and upbeat you are, the more you will connect.
Ultimately, use this time to explore who you are and what you want to communicate as a creative. When we hire, we look at attitudes over skills. You can teach technical skills but you can't teach creative perspectives. We help to draw that out. You may design using a pencil, charcoal or a computer but if you don't understand the reason or meaning to what you are doing it becomes pointless. Design today is no longer a fixed state – it scales, it breaks, it changes and adapts with how people use it. So you must learn the engine that drives it as well as the specific technical skills, and that will keep you designing with passion throughout your, hopefully, long career.
Read more:
The best drawing tablets for kids in 2020
Encourage budding artists with a child-friendly drawing tablet.
Welcome to our guide to the best drawing tablets for kids. As much of the population spends more time at home, parents are finding more and more creative ways to keep their little ones entertained. And a quality tablet can be a brilliant extra resource.
Loads of children love to draw, and if you want to encourage them to explore this interest, a kid-friendly pen display or graphics tablet is a great (and certainly less messy) way to do so. Many of the best tablets for kids are available for a great price, so you don't have to break the bank, and it means an end to paper and pens left all over the house. The affordability of tablets for kids also means you don't have to stress so much about it getting dropped or bashed (which, let's face it, may well happen).
Drawing tablet devices have proven to be big hits with kids (and adults, check out our round up of the best drawing tablets for big kids too!). The touchscreen surfaces make them intuitive to use, and many are capable of interfacing with all your kid's Windows/Mac/Android devices, whether wirelessly or via USB, so their creations can be safely stored. Bear in mind that there are a few different types of drawing tablets for kids: 
Pen display tablets: Come with a built-in touchscreen monitor with a pressure-sensitive surface that you draw on with a stylus
Graphics tablets: These plug into a computer – kids draw and paint on the surface, and the image is shown on the monitor of your computer
Tablet computers: Like pen display tablets, these work well with styluses and display the art as its being drawn (think

iPad

, for example)
You'll find a more detailed explanation at the bottom of this article. 
To help you choose the best drawing tablet for your kid, we've listed our top picks here: every option below is child-friendly, easy to use and makes learning how to draw a joy – so you can't go wrong. Even better, our price comparison tool is continually checking all the major retailers to make sure you'll get the best deals as well.
The best drawing tablets for kids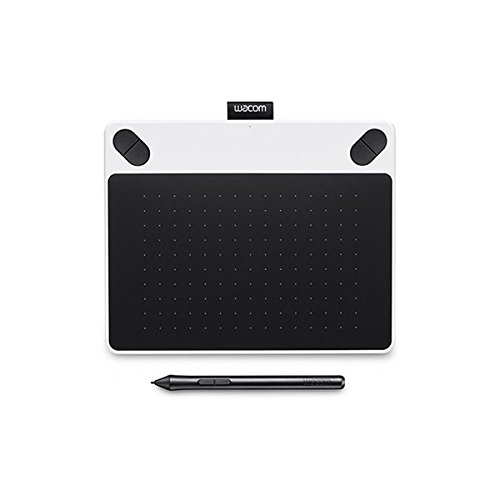 The Wacom Intuos Draw is our pick for the best overall drawing tablet for kids. This is down to its affordable price, along with the sturdy build quality and feature set that we've come to expect from Wacom (a brand to be reckoned with in this area). It's a great drawing tablet for beginners, and it can cope with more advanced uses as your child grows in skill and confidence. There's an optional wireless module you can buy to make it easier to use as well. The major downside is that the small version may quickly start to feel a little cramped.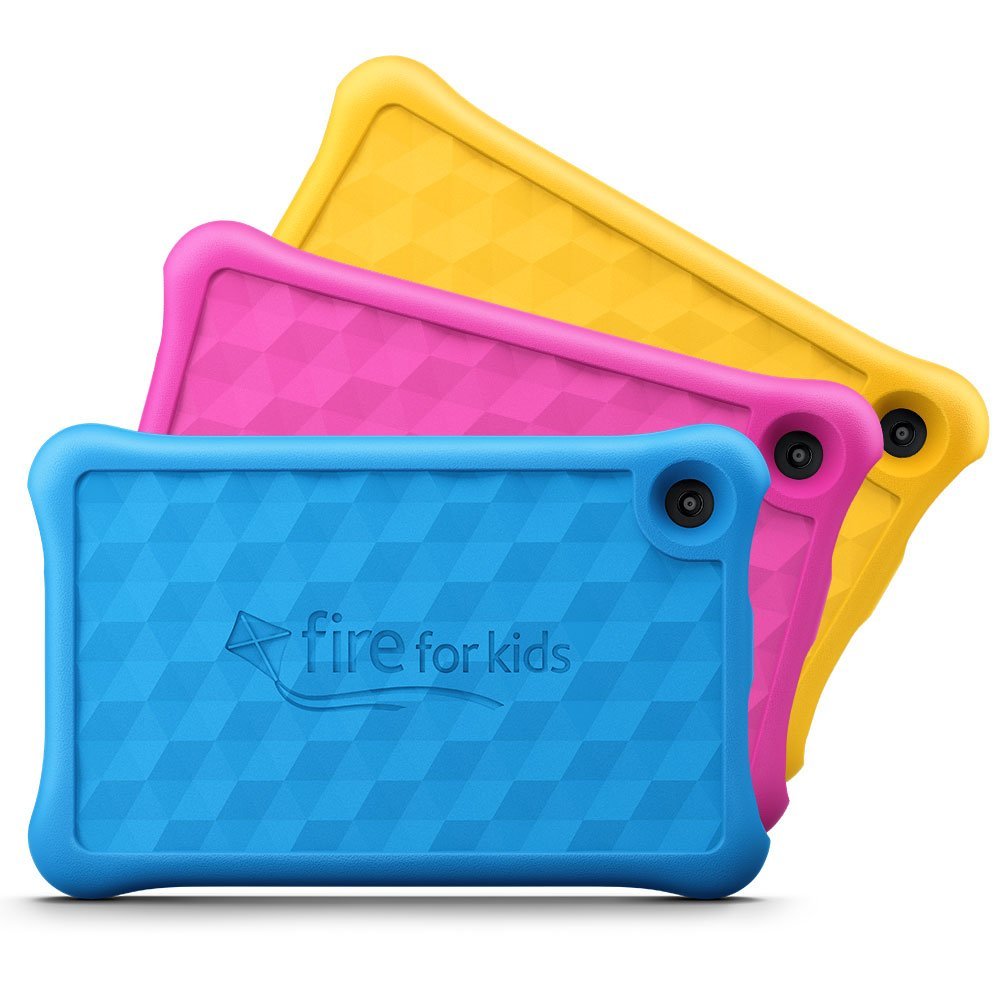 In our view, the Amazon Fire HD 8 Kids Edition is the best affordable drawing tablet for kids in 2019. That doesn't necessarily mean it's the cheapest, but the functionality you get for the price is hard to beat. It comes with a rugged case and a two year no-quibble warranty, which means you won't have to worry about it being dropped. It's a tablet PC device, which means it wasn't built solely for digital art. This has benefits, as it means it's a more versatile device that can perform other tasks, but it also has drawbacks. It doesn't have some of the more advanced digital art features, and it doesn't come with a stylus, so you'll need to buy one separately.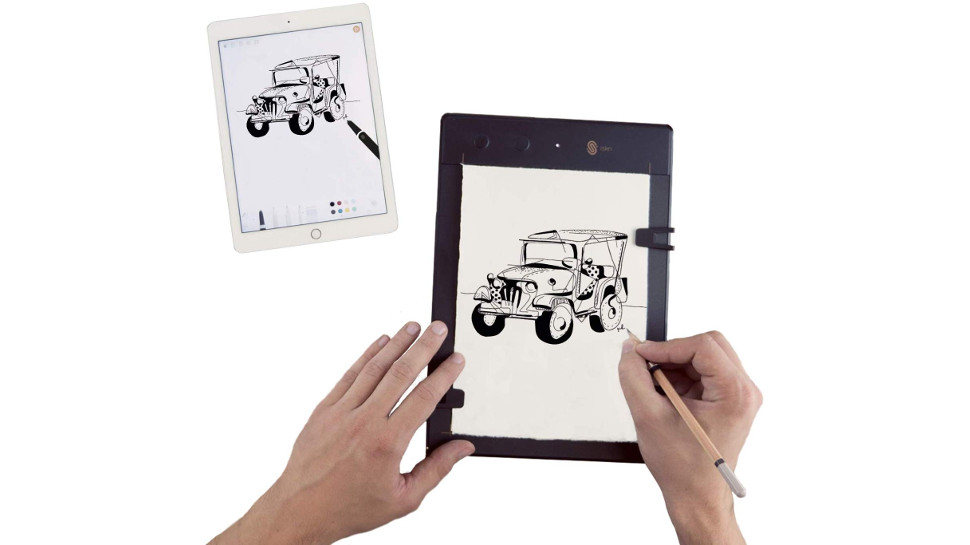 The best tablet for the kind of kid who's always doodling in a notebook, iskn's The Slate 2+ is based on a really neat idea. It's effectively a digital notepad that works with actual physical paper – simply attach it to the front of the slate, then start drawing with your own pen or pencil (with the supplied magnetic rings attached) and the tablet will create an instant digital copy that can save straight to a connected device (computer or smartphone). A great tool that a budding artist can carry everywhere.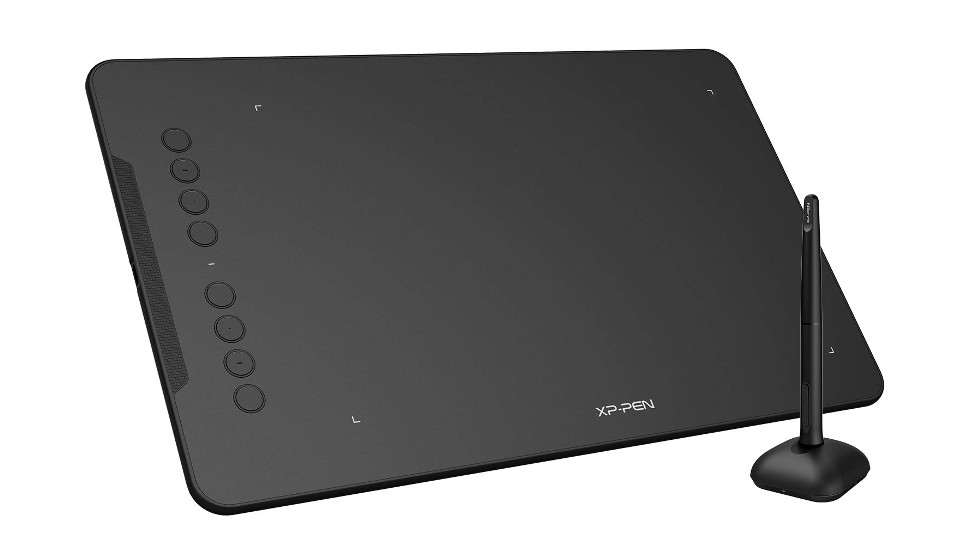 One of the best things about XP-Pen's tablets is that they offer tremendous value for money, so you don't have to stress quite so much about giving a tablet to a kid who might not take care of it as assiduously as an adult. The XP-Pen Art Deco01 V2, for instance, is not only fantastically affordable but also offers a great drawing experience, with full connectivity that includes Android as well as Windows and Mac. Though the pen does feel a little cheap and plasticky, it does offer 8,192 levels of pressure sensitivity, allowing for precise, fine detail work.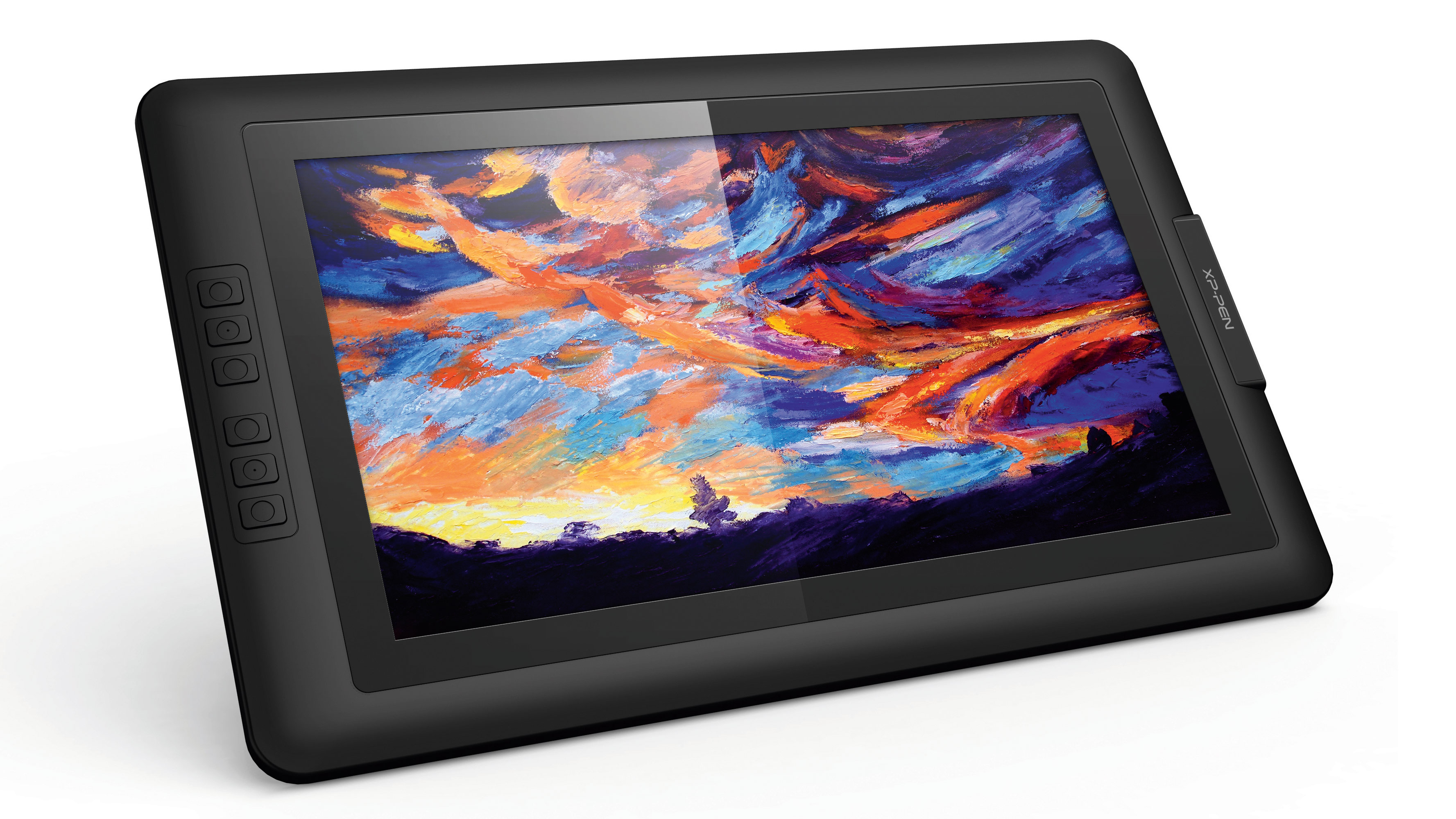 The XP-Pen Artist 15.6 is an excellent pen tablet for kids, offering a good-sized drawing area, comfortable pen with a good range of sensitivity levels and a very good screen. It has a robust design that means it can handle knocks and bumps pretty well, and it's a great introduction for kids who want to use a pen display tablet for their digital art.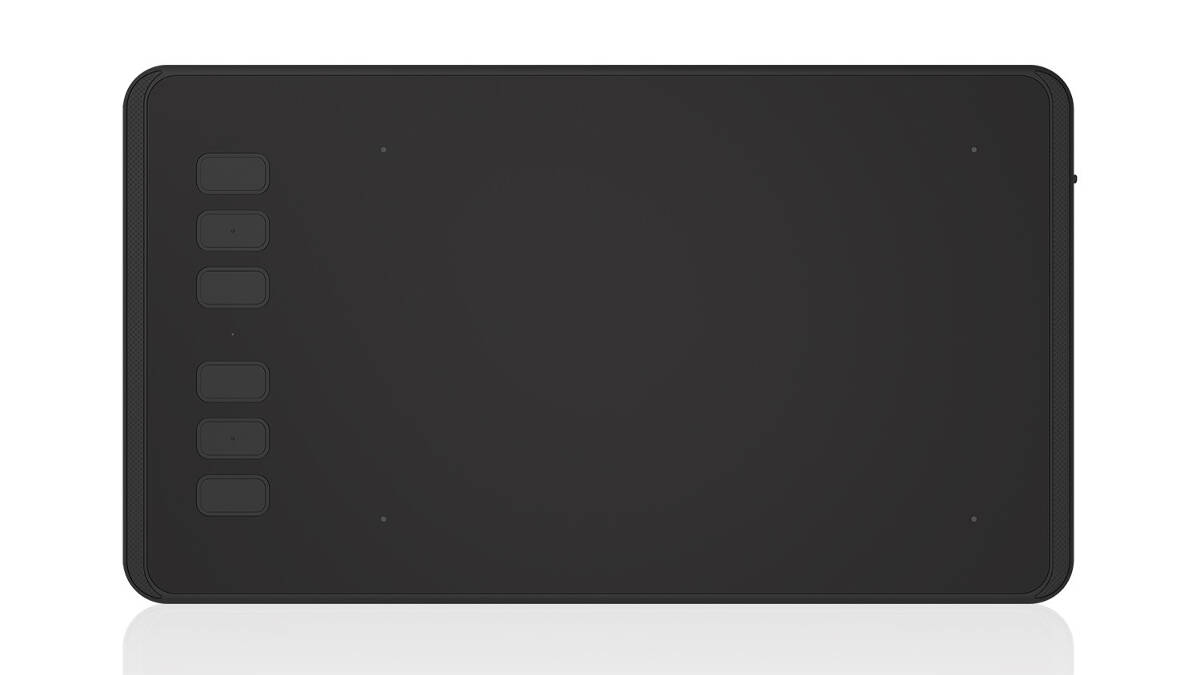 The Huion H640P is an excellent drawing tablet for kids. It's small and portable, making it perfect for little hands – and also easy to carry around in a backpack. At just 10.2 x 5.8 inches, this option is no thicker than a smartphone, but offers a handy set of shortcut keys, which makes up for its compact size. It's pretty competitively priced as well, which makes it an ideal choice for young beginners.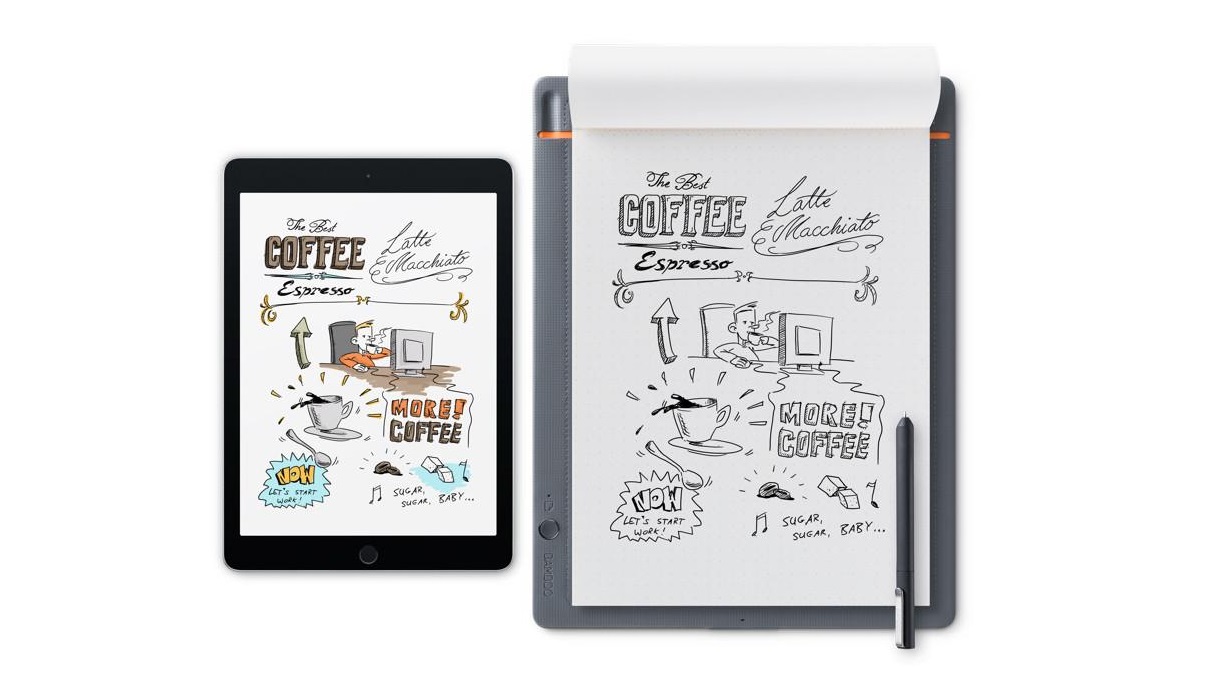 Wacom Bamboo Slate isn't technically a graphics tablet – it's what Wacom calls a 'smartpad'. This turns handwritten notes and sketches into digital art that can be sent to a tablet via Bluetooth, or a PC via USB. It's a great choice if you have an arty kid who's just starting out: they can doodle on the Bamboo Slate, then edit their work on a PC or tablet.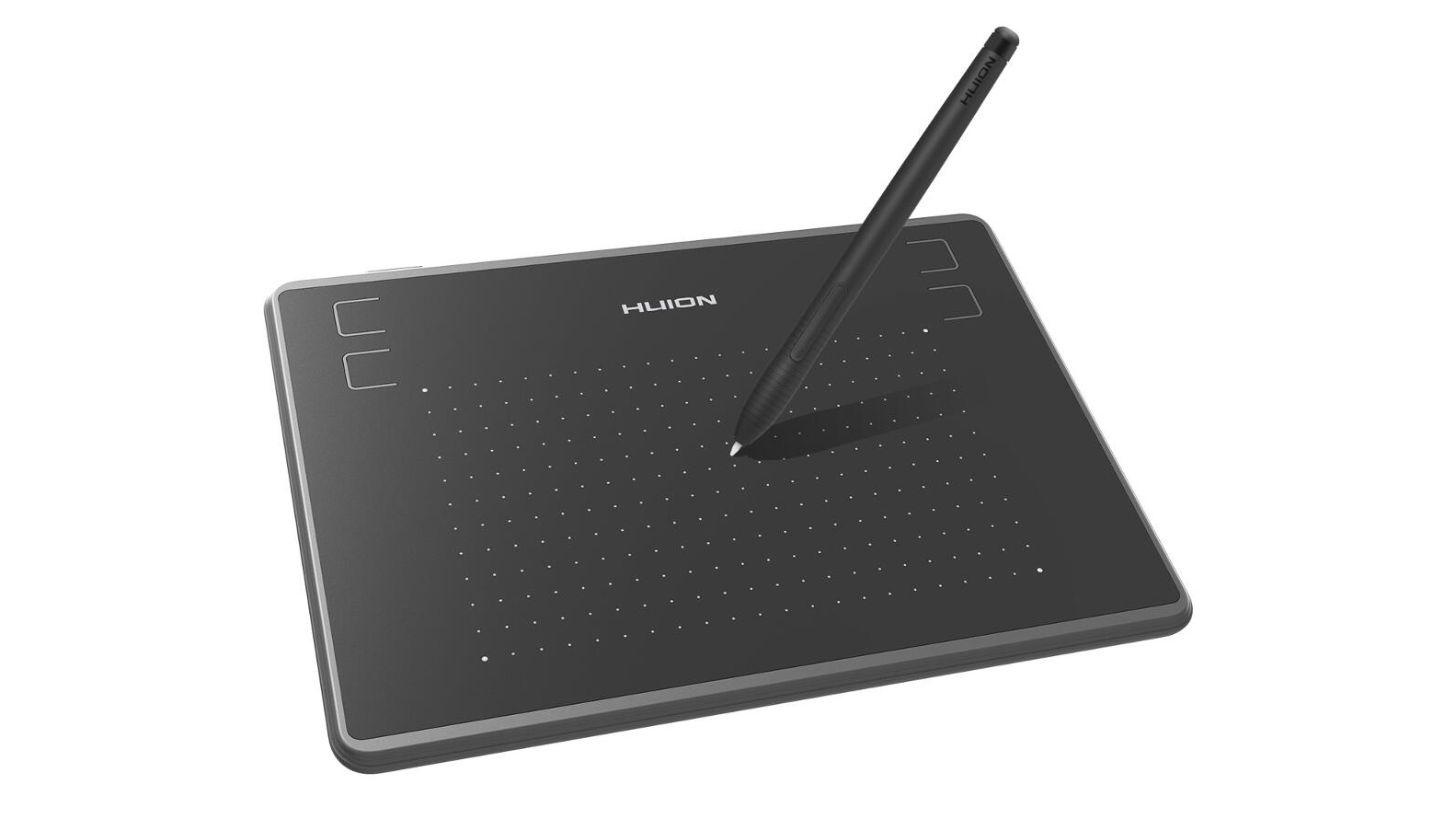 The H430P is a great graphics tablet for kids, as it gives you all the basics without requiring a big investment. This means, if they lose interest or quickly outgrow the small drawing area, then you've not lost out on too much money. While the drawing area is small, the pen is sensitive enough to allow kids to draw and paint easily, giving them a taste of what it's like to create digital art using a graphics tablet.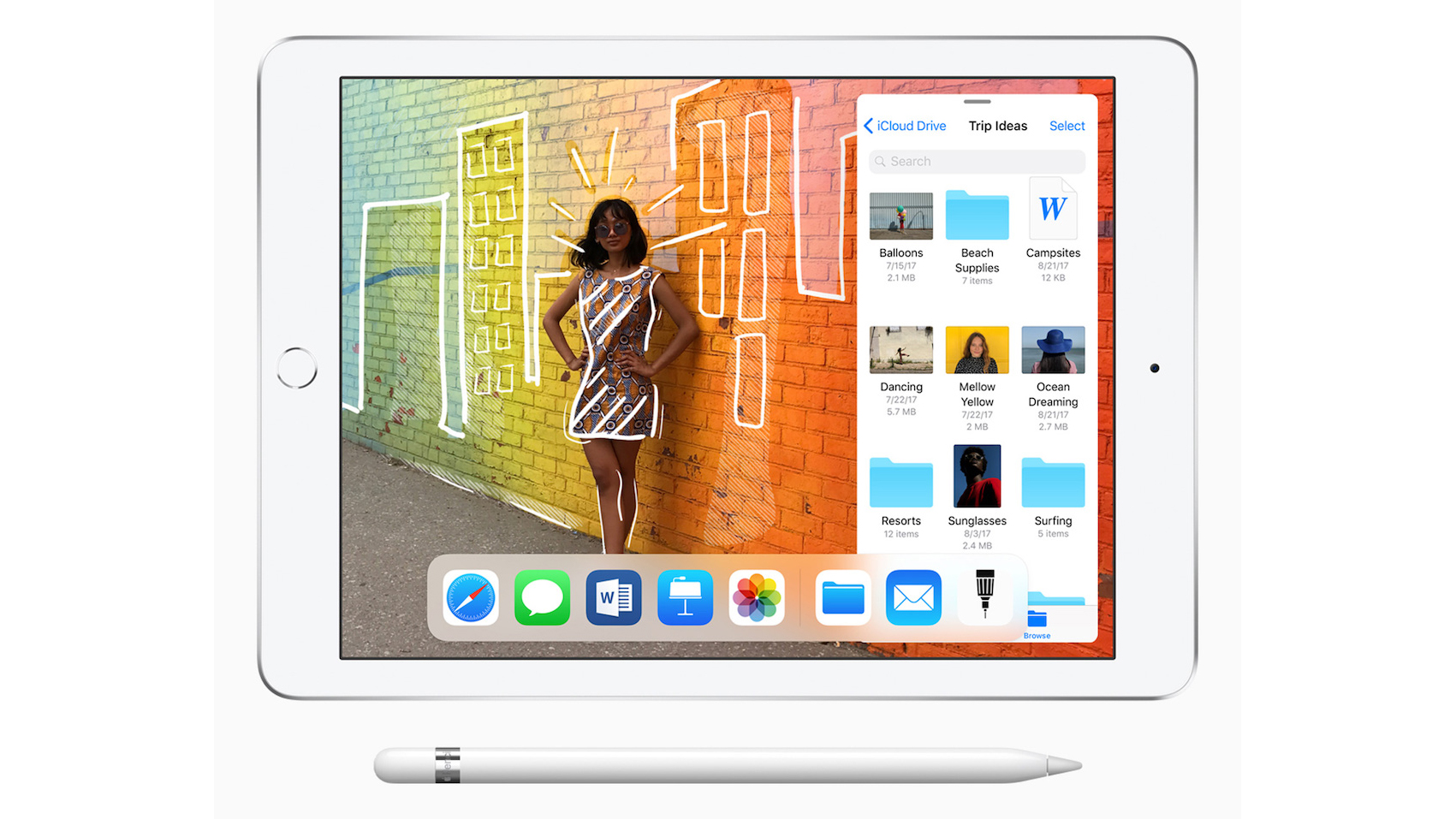 If you want the best iOS drawing tablet for kids, then the new iPad (2019) is the one to get. It gives you the best of Apple's tablet world – including an upgraded A10 processor and access to all the best iOS art apps – in a form factor that's not only beautiful, but highly portable. The headline feature? It works with the Apple Pencil (although you'll have to buy that separately – you'll find the best Apple Pencils deals here), making the new10.2-inch iPad a huge win for artists everywhere. It's also reasonably affordable, for Apple, anyway. Throw in the fact that you can use the iPad for a lot of other tasks besides drawing, and this model iPad is easily one of the best drawing tablets for kids you can buy.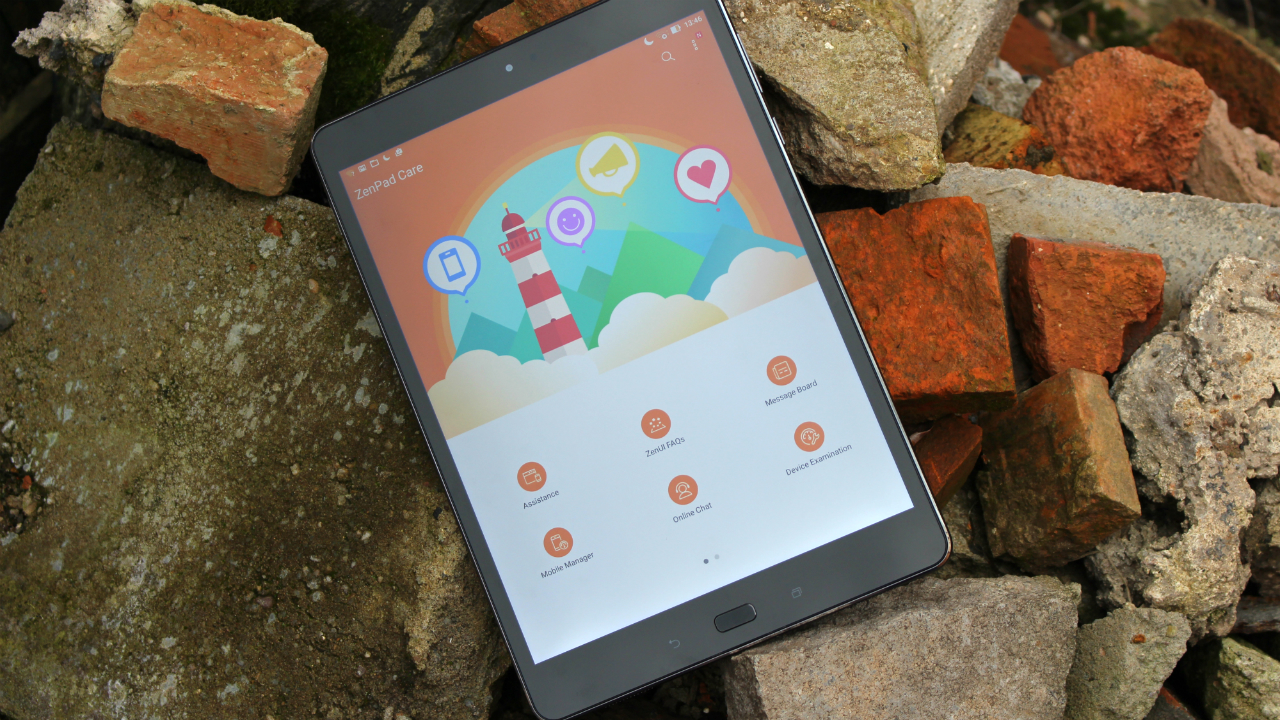 Note: this item is currently out of stock.

The Asus ZenPad is something of a direct rival to Apple's best tablets thanks to a slick and stylish design, yet it's also quite a bit cheaper than any of its iOS rivals. It has a sharp and bright touchscreen that works well with stylus devices for drawing, and the size of the display is larger than other tablets at this price point. If you're looking for the best Android drawing tablet for kids, then Asus' recent offering is the one to go for.
How to choose the right drawing tablet for kids
There are three main types of drawing tablets... 
Also read: The best drawing tablets | The best Apple Pencil deals | The best cheap 4K monitor deals | The best cameras for creatives | Top keyboards for creatives | The best mouse | The best office chair | The best desk
New Bing logo has curves in all the right places
Microsoft's search engine gets a fluid new look.
The past couple of years have seen Microsoft update many of its icons to bring them inline with its Fluent Design System. A process, which, in short, aims to create simplicity and coherence across its entire platform. Today, Microsoft's search engine Bing is the latest of its services to receive the Fluent design treatment, and the results are surprisingly impressive. 
The new Bing logo keeps the immediately recognisable lowercase 'b', but loses the sharp edges in favour of a much curvier design. There are also some very subtle, gorgeous new gradients in there too. While it seems like a simple change, the effect is quite profound, with the old, quite harsh design replaced with a sleek, classy new look. Is it enough to make it on to our list of the best logos of all time? Or make people choose the service over Google? Doubtful. But it's definitely a step in the right direction.

However, we can't help but think Microsoft could have extended the redesign to update the font as well. Or maybe gone all out and changed the name too – is it just us or does Bing feel super-'90s? 
Whatever you think, there's no denying the new Bing logo falls in line with the uniformed, more modern look Microsoft is going for. The Windows logo led the way, with Microsoft's Office app icons quickly following suit. 
The new Bing logo doesn't appear for everyone just yet, and there's no news on when – or indeed if – it will be fully operational. The Thurrott website suggests the company may be A/B testing the new logo with a limited number of users, so whether it will make it to the masses remains to be seen. If it does make the cut, our guess it will be rolled out to everyone in the coming weeks and months. 
Read more: